Whatever you do, do it well. Do it so well that when people see you do it, they will want to come back and see you do it again, and they will want to bring others and show them how well you do what you do.
                                                          – Walt Disney, Founder of Disney.
The best thing about trends is that they change and they tend to change everything with them. The same thing happened to the business world.
With advancing technology, the way people do business also changed. Competition increased and now the customers are having choices. As a result, they had control over the market. This began affecting business strategies. Sooner customers became the whole and soul of the business world. Business trends took a steep turn.
The 20th Century is marked as the Age of Customers. By then, businesses had realized that customers were the most important factor in deciding the fate of a product or even a company. As a result, every company started shifting its focus towards Customer Support. 
The Age of Customers has seen a lot of changes in business ideas and marketing strategies, especially in the field of customer support. From telephonic conversations to emails, human interaction to automation. All these trends changed with time and they still do.
In this article, we will see some of this year's top trends in customer support that have emerged to the aid of businesses. It will give you an idea of how the business world is evolving. And will also help you to deliver better customer experience.
1. Extensive support for Self Service
Customer support has seen a major change in customer preferences. Now customers prefer self-service more than contacting customer support. They can't afford to spend time contacting customer support for every big or small issue.
According to Microsoft's Global State of Multichannel Customer Service Report, it was found that more than 90 percent of all consumers prefer self-service. Customers want to resolve their issues quickly. For them, it is better to refer FAQs and well-documented knowledgebase instead of contacting customer support.
Hence most of the websites have a well-maintained and frequently updated knowledge base. It is not only the fastest way to solve issues but one of the easiest too.
This way customers can ensure if they ever need to resolve the same issues again, they won't need the help from support agents. Instead, they will resolve their issues themselves.
2. Personalized Customer Interactions
One of the many things that have changed in customer support is the way customer interactions happen.
Customer support has been moving toward a more personalized interaction with customers. The interactions between a customer and support agents are becoming less formal and more personal. Moreover, customers expect support agents to keep in mind their personal details such as name, contact details, email address as well as order details.
This has helped in building a strong relationship between customers and the company over time. Customers now trust support agents and expect them to deliver an outstanding experience every time.
According to Shep Hyken, customer service, and experience expert :
One of the most powerful trends in customer service is personalization. While personalization has been around (and trending) for a number years, today's organizations have the ability to capture even more usable data on individual customers; their likes, dislikes, preferences, buying patterns and more. The companies that can use that data to properly and ethically connect with the customer and give them a better – more personalized – experience will have a powerful competitive advantage.
But at the same time, support agents need to take extreme care with customers. Crossing the thin line between being personal and being professional can cause a great deal of damage to the company.
3. Live Chat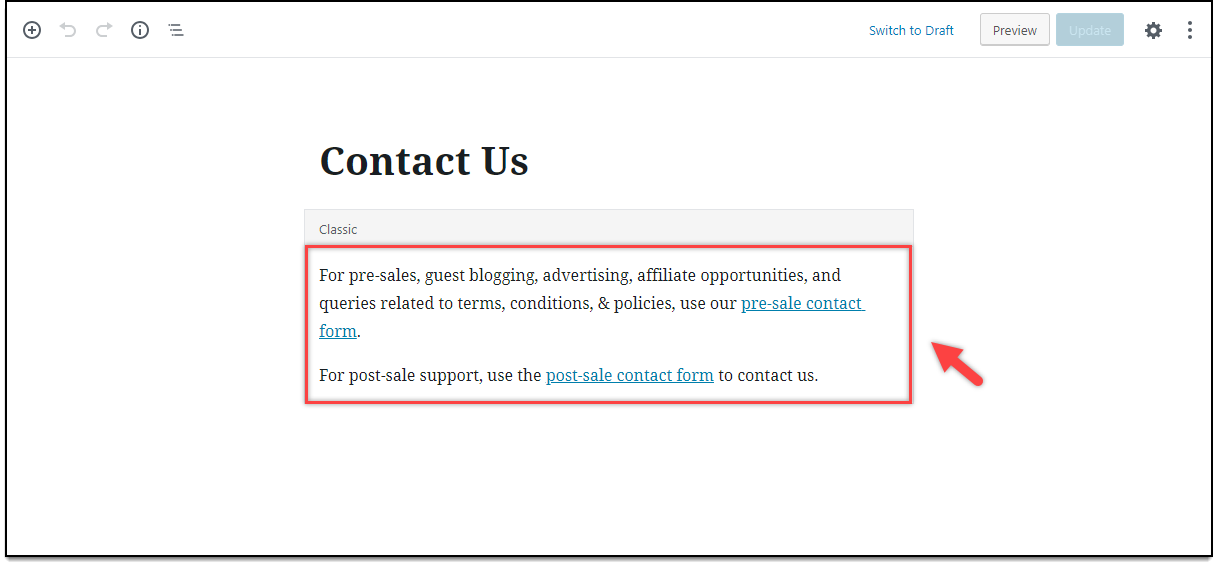 Talking about personalization, one more thing that makes customers happy is availability. Customers want their issues to be resolved quickly, anywhere, anytime.
Live chat is one of the best ways to provide customer support on the go. Now customers prefer help while going through the products or in the middle of a purchase. They don't want to wait for hours just to seek answers for simple questions.
But coping with such a responsibility is not easy. Support agents need to be well trained for live interactions. One wrong move can result in a bad reputation. Faster response times and to the point interactions are the basis of live chat.
This is why most of the companies are investing a lot in training support agents. Plus, a lot of live chat software is coming with new ideas like quick suggestions, AI-based replies, etc. This makes live chat one of the best way to provide support to the customers.
A survey found that almost 62% of the customers were more likely to return to a website that offers live chat. It says:
62% reported being more likely to purchase from the site again. A further 38% of respondents said they had made their purchase due to the chat session itself. All these attitudes were even more prevalent among respondents who bought online at least weekly.
Live chat not only increases sales but also gives you an edge over competitors. All you need to do is make sure the support is well-trained to interact with customers.
So if you are still thinking not to introduce live chat to your customers, think twice.
4. Social Media Support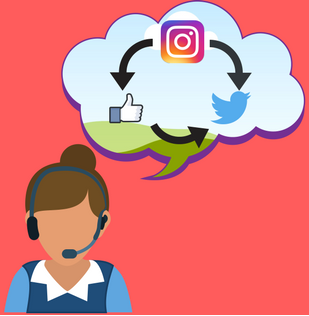 Social media has become one of the most important ways of communication. With its help, geographical and linguistic boundaries do not limit human interactions.
For customer support also, it is proving to be of great help. Social media not only connects huge masses to the company but also acts as their voice. It can easily help in analyzing customer satisfaction as well as popular trends in business.
But a single dissatisfied customer on social media can damage the brand reputation that you have created. As a result, there has been a lot of investment in the field of social media support.
J. D. Power's social media benchmark study explained a lot about the social media trend among customers. Some of the key findings were:
1.) 67% of consumers have used a company's social media site for servicing, compared with 33% for social marketing.

2.) Younger consumers (18-29 years old) are more likely to use brands' social media sites for servicing interactions (43%) than for marketing (23%).

3.) The automotive industry balances marketing and servicing engagements better than any other industry included in the study.

4.) Consumer expectations for social interactions vary across industries, although quality content and responsive service representatives are keys to higher satisfaction levels.
As a result, most of the companies today have dedicated teams that have separate Twitter or Facebook accounts just for providing support to the customers.
So if you want to cover a larger customer base and offer an outstanding customer experience, this is the time to invest in social media support.
5. Multi-Channel Integration
We already talked about the role of social media in customer support. But that is not all.
Social media is not the only medium that is proving to be best suited for providing support to customers. Emails being the traditional way opted for by companies after voice calls, there is now a number of ways companies provide support.
Grasp has developed a software that lets companies use messengers like WhatsApp and Facebook Messenger as customer support tools. It has helped personalize customer support even more.
With social media support and live chat becoming popular among customers, the companies need to simplify the way they provide support. Be it social media, emails, live chat, messaging or any other media, customer support need to be centralized. This will increase customer support simplicity and make customers believe that a dedicated team is answering their issues.
Most of the companies are trying to integrate all their support channels. This can be easily done with the help of certain customer support helpdesks.
Based on your needs and preferences you can choose among the following support helpdesk software:
6. Automation with Support Agents (Hybrid Support)
Technology is advancing rapidly and everything is now working on automation. Hence, automation had its impact on customer support too. With most of the helpdesk software supporting automation, providing a fast support to customers became easier than ever. All the tiring and tedious tasks have become easy and less time-consuming.
But most of the customers still want a personalized interaction which can not be achieved through automation. They wanted a real person to talk to them and solve their issues.
As a result, companies are now opting for a different strategy. By combining the personal touch of human interaction, and the accuracy and speed of automation, both customer satisfaction and efficiency can be achieved.
There are a lot of tools that help to achieve automation without sacrificing the human interactions with the customers. These tools handle all the tasks at the back end while support agents interact with the customers.
Some of these tools are:
Helpdesk software (Zendesk, WSDesk, Freshdesk, etc)
Organizer apps (Trello)
These tools help support agents to organize their work automatically and then all they have to do is talk to the customers and solve their issues. It has not only helped in increasing customer satisfaction but also the efficiency of the customer support staff.
7. Chatbots
We talked about the role technology is playing in developing customer support scenario. It is evolving as we speak. One of the amazing gifts it has given to the business world is Chatbots.
In this competitive world, a slight bit of advantage can make a difference. Hence, a technological advancement like chatbots can prove to be very helpful. With their introduction to the business world last year, chatbots are still to prove their dominance in the field of customer support. But this is mainly due to the companies were reluctant to invest in chatbots.
But slowly, many companies are adapting to chatbots. This is mainly due to the fact that they can self-evolve with time and experience. Also, the accuracy and computational abilities of chatbots are way higher comparatively. These qualities give chatbots an edge over human support.
Chatbots are still in the early phase in terms of popularity as well as learning. But still, some big names have taken initiative to introduce chatbots to the business world. Some of them are listed below:
Facebook already launched its Messenger platform with chatbots last year.
Zendesk's Automatic Answers
It uses machine learning to help answer your customers' questions with content from your Zendesk Guide knowledge base. The answers it provides are tailored to each customer's question accurately and reliably—every time. And when in doubt, Answer Bot loops in your support agents to offer the customer a human touch.
Solvvy is a machine learning add-on that helps your knowledge base generate automatic answers.
Solvvy provides great self-service answers to your customers' questions by instantly presenting relevant and specific step-by-step solutions.
So these are some of the top trends to follow. If you are still thinking about some ways to boost your customer support you need to add something special to your process or workflow.
Based on your business needs as well as your support staff's preferences, you can choose to follow any of these trends.
You can also read more about some customer support tips and tricks, to help your support team become more productive.
---
Check out WordPress and WooCommerce plugins in ELEX.