What can we help you with?
Does DHL Deliver On Saturday? Provide Accurate Estimated Delivery Date On Your WooCommerce Store.
DHL is one of the largest logistics companies that have operations around the globe. It is based in Germany and offers shipping services to over 220 countries across the world. You will be able to display DHL Express services on your WooCommerce store with the help of ELEX WooCommerce DHL Shipping Plugin with Print Label. The plugin also offers several other features to help you automate DHL shipping on your WooCommerce store, including printing labels. In this article, we will see if DHL delivers on Saturday. Along with discussing the weekend delivery options of DHL, we will also discuss how you can display an accurate estimated delivery date [ Compare the Shipping Cost & Estimated Delivery Date from Leading Shipping Carriers ] for DHL services on your WooCommerce store.
Does DHL deliver on Saturday?
The simple answer is Yes!
DHL does provide delivery options on Saturdays. In most European countries, DHL standard delivery days are from Monday to Saturday. However, in places where Saturday is not a standard delivery day, you can avail of optional services for this. We will see more details on how this works.
In addition to their regular services, DHL provides several optional services like non-standard delivery and billing options. That means you will have the flexibility to choose a service according to your requirements while using DHL. Please note, the optional services of DHL won't be available in all locations. It is a good idea to contact the nearest DHL office to understand which optional services are available.
Optional Saturday Delivery – Additional charges
For international and domestic shipments, Saturday Delivery is charged at an additional €40 per shipment or €0.45 per kilogram if higher.
Saturday Pickup options
For international and domestic shipments, Saturday Delivery is charged at an additional €20 per shipment or €0.45 per kilogram if higher.
Advantages of offering Saturday delivery on your store
Adding one more day to your delivery schedule can help your store strategies in many ways. Let's take a quick look
Customer-friendly option
When you are featuring multiple shipping services in your store, you are providing more control and convenience to your customers. in fact, it will improve the available choices for the customers. Moreover, a lot of customers would want a Saturday delivery because the chances of them being at home are more. So, overall by offering Saturday delivery, you will be making your store more user-friendly.
Better operational efficiency on your store
Adding an additional day for shipping would make your store more efficient operationally. You will be moving your inventory faster, and as a result, you will be making more space available at your warehouse as well. This means your store operations would be more productive and there will be a consequent growth in revenue as well.
Reduce cart abandonment
Not able to find a suitable shipping option is one of the reasons for shopping cart abandonment. When you are offering Saturday delivery, you are practically providing more options to your customers. The outcome will be lesser cart abandonment and better conversions on your store.
How to enable Saturday Delivery on ELEX WooCommerce DHL plugin?
To make use of the optional service of DHL for Saturday delivery, you need to enable the option in the plugin settings. For this, navigate to WooCommerce > Settings > Shipping > DHL Express. On the Label & Tracking tab, you will find a field to enable Saturday delivery. Tick the checkbox to enable it.

Displaying DHL Express services and rates
While using the ELEX WooCommerce DHL plugin, you can display rates of the following DHL Express services on your WooCommerce store. However, as the APIs don't allow it, you cannot display rates using DHL Packet or DHL eCommerce. Here is a list of DHL Express services that you can display on your WooCommerce store with rates and estimated delivery dates.
DOMESTIC EXPRESS 12:00
B2C
JETLINE
SPRINTLINE
EXPRESS EASY
EXPRESS EASY
EUROPACK
AUTO REVERSALS
BREAKBULK EXPRESS
MEDICAL EXPRESS
EXPRESS WORLDWIDE
EXPRESS 9:00
FREIGHT WORLDWIDE
DOMESTIC ECONOMY SELECT
ECONOMY SELECT
DOMESTIC EXPRESS 9:00
JUMBO BOX
EXPRESS 9:00
EXPRESS 10:30
EXPRESS 10:30
DOMESTIC EXPRESS
DOMESTIC EXPRESS 10:30
EXPRESS WORLDWIDE
MEDICAL EXPRESS
GLOBALMAIL BUSINESS
SAME DAY
EXPRESS 12:00
EXPRESS WORLDWIDE
EUROPACK
ECONOMY SELECT
EXPRESS ENVELOPE
EXPRESS 12:00
From these available services, you can choose to selectively enable services to display based on your store requirements.
For this access the plugin settings through WooCommerce > Settings > Shipping > DHL Express.
On the Rates and Services tab, you can choose to enable specific shipping services.
Here, you can also specify the working days of your store. If an order is placed on a non-working day, the next business day will be automatically chosen as the shipping date.
Price adjustment option with ELEX WooCommerce DHL Plugin
On the Rates and Services tab, you will be able to make price adjustments to each available shipping service. If you are paying additional charges to provide Saturday delivery for a specific shipping service, you can adjust the price of that shipping service. It is quite easy to make a price adjustment with this plugin. You can enter a fixed amount or percentage value on the respective service's price adjustment field. A positive value will increase the shipping charges by that amount, whereas a negative value will create a discount for that service.
For example, to add a markup of €10 to a shipping service, you can simply add 10 to the first price adjustment field. On the other hand, adding -5 to the second price adjustment field will reduce the price of that service by 5%.
How to display the estimated delivery date for DHL Express services?
With the help of this plugin, along with the services and rates, you can also display the estimated delivery dates on the Cart and Checkout pages. Being able to know the estimated delivery date would help your customers choose the appropriate delivery option while placing an order on your store. How can you manage with our WooCommerce DHL plugin?
On the rates and services tab, there is a field "Show Delivery Time".
When you enable this option, the estimated delivery date will be displayed for each service on the cart and checkout pages.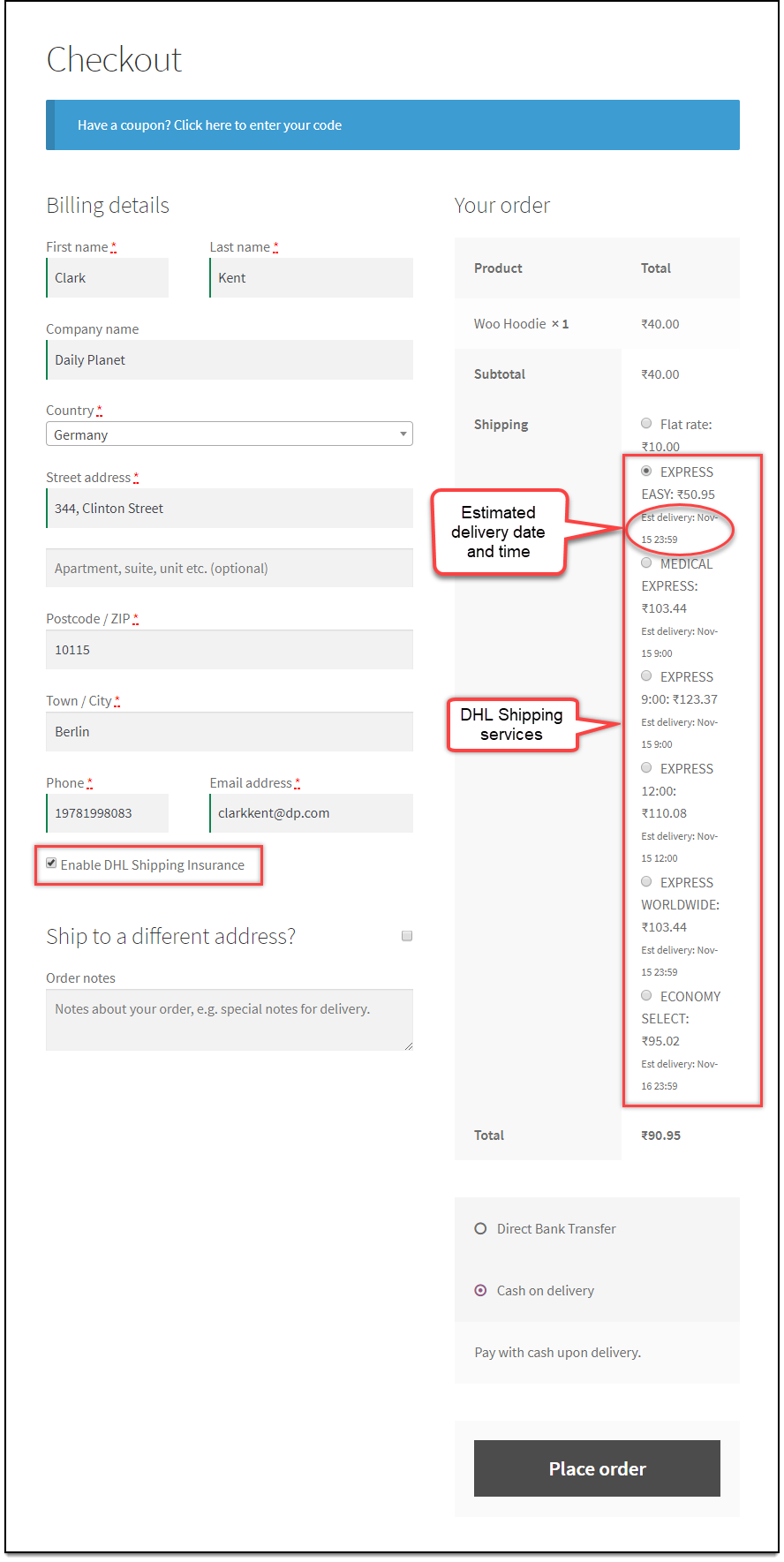 Benefits of displaying estimated delivery date
You might have seen two options while displaying shipping rates and services on an eCommerce store. A common scenario is displaying the speed of the shipping service (2-3 business days). Another option is to display the estimated date (arrives on April 22nd). With the ELEX WooCommerce DHL plugin, you can display the accurate delivery time as well. This will help to improve the customer experience in your store exceptionally. Let's do a quick analysis of why displaying the delivery date is better than providing an estimate of delivery time.
Customers prefer the exact date of delivery
When they are about to place an order, customers would want to know when they will get the product. If that information is provided upfront, they would be more clear about their purchase decision than when the average shipping speed is presented. There is also a chance that user misinterprets shipping speeds and expect different dates. There is no such problem when you are displaying the delivery date on your store.
Avoid miscalculating shipping speeds
Often shipping carriers provide the delivery speed based on their standard delivery days. So, when a particular shipping speed is displayed, the user will have to take into account the holidays or weekends that come in between the shipping window. This leads to a misrepresentation of the delivery date, and the result would be an unsatisfied customer. When estimated delivery dates are provided, you don't have to encounter such troubles.
Compare multiple shipping options easily
When you are displaying multiple shipping services and rates on your store, your customers are able to compare each of these and pick the most suitable option. Due to the above-mentioned reasons, comparing multiple shipping services becomes tougher when only shipping speed is presented. With estimated delivery dates available for each service, customers will be able to easily make their pick among multiple shipping services.
The delivery date is more user-friendly than shipping times
When you are providing shipping speeds associated with each shipping service, it creates a certain ambiguity about the outcome. Moreover, it is kind of leaving the responsibility of assuming a date of delivery on the customers. However, with estimated delivery dates, you are promising a specific date to deliver the product to your customers. Most eCommerce customers would perceive this as a positive sign and would consider your store more user-friendly and reliable.
Features of ELEX WooCommerce DHL Shipping Plugin
Apart from displaying DHL Express services, rates & delivery times, you can do much more with the ELEX WooCommerce DHL plugin. Here is a quick look at some of the features.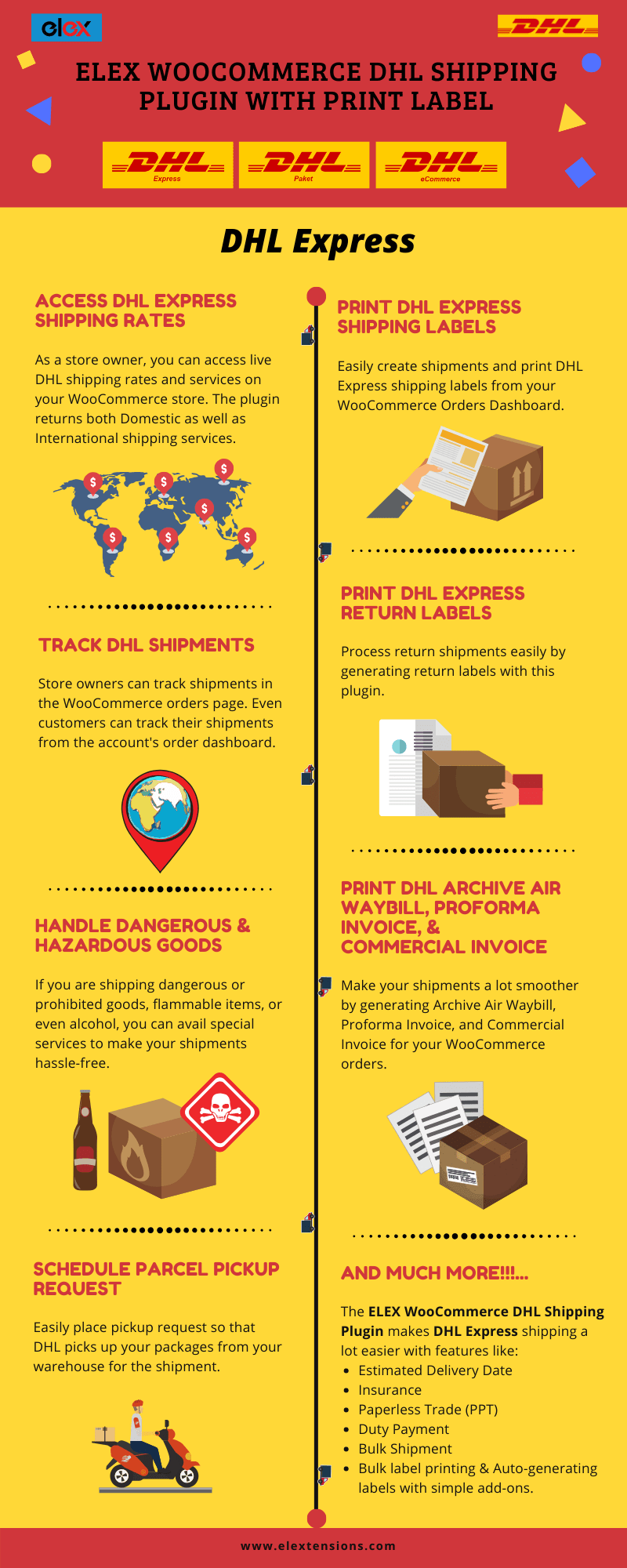 Print shipping labels
The plugin integrates your DHL account to your WooCommerce store. This way, you will be able to create DHL shipping labels from within your WooCommerce admin itself. When you receive an order, you can create the shipment for that order from the order details page. The shipment details will be automatically sent to your DHL account, which enables you to create and print shipping labels. The charges for the labels will be deducted automatically from your DHL account.
Print return labels
You will be able to create return labels as well with the help of this plugin. When there are multiple items in a single shipment, you can choose the individual items for which you want to process the return shipment.
Print archive airway bill
Waybills help you ensure proof of consignment, package safety, faster customs clearance, etc. With the help of this plugin, you will be able to print one or two archive airway bills on your store. When enabled, this will attach an airway bill to both shipping and return labels.
Generate and print a commercial invoice
While shipping internationally, you can create commercial invoices with the help of this plugin. Using the DHL paperless trade feature, the invoice will be sent to customs through DHL. This saves you from printing physical copies of the invoice.
DHL tracking
While generating the shipping label, a tracking number will also be created. This number will be added to the order notes section of your order as well as to the order completion email. Customers can see a visual representation of the tracking status on their My Account page. Providing the live status of a shipment in transit would help a lot in letting customers know about the whereabouts of their orders.
Box packing
The plugin also helps you choose a box packing option according to the requirements of your store. You can choose a packing method based on the three available options:
Individual Item Packing
Pack Into Custom Boxes with Weights and Dimensions
Weight-Based packing
---
To explore more details about the plugins, go check out ELEX WooCommerce DHL Express / eCommerce / Paket Shipping Plugin with Print Label.
Read the product documentation to understand the plugin, in detail. Or check out the knowledge base for more related articles.
You can also check out other WooCommerce and WordPress plugins in ELEX.