Customer Support and Marketing- The two sides of a coin!
Introduction
Customer support and Marketing are the two inevitable factors in a business. We all know that customers are the most important key to a successful business. Marketing and support are the two sides of the same coin and their roots have to be strong enough to ensure the long-term growth of the company. Thus providing them with the best support and marketing your products is mandatory. This article gives you an insight of 'How important is customer support and marketing in your business?' and some tips to improve your customer experience.
Why Customer Support and Marketing?
By 2020, Customer experience(CX) will be one of the deciding factors for choosing different brands. Most of the customers these days are responsible and concerned about the quality of support they get from their company. Nowadays, before spending some bucks on a particular product the customers first look for the overall customer experience reviews of the company. The positive customer experience will lead the customers to stick on to a particular company and probably they will spend more on their products.
Marketing your products are also as important as providing good support to the customers. It's not all about developing the products by spending a lot on infrastructure and employees. Suppose you have developed a product which has a good potential. What if this product doesn't reach the targeted customers? The products you develop should reach out to the right people at right time. This is where marketing plays a crucial role in your business.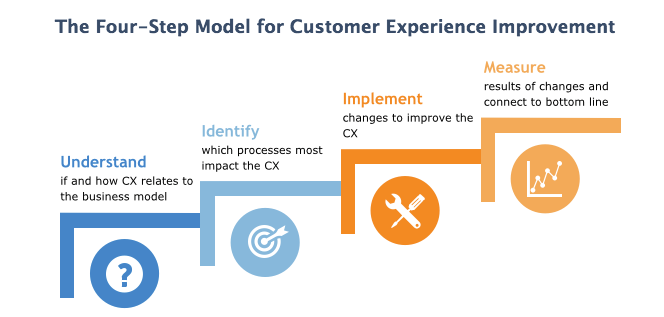 Where do they lack? Customer Support and Marketing
The main reason for poor customer support and marketing are the 'de-silo' mentality, which means a mindset present in some companies when certain departments or sectors do not wish to share information with others in the same company. This type of mentality will reduce the efficiency of the overall operation, reduce morale, and may contribute to the demise of a productive company culture.
Lack of communication between the teams leads to solutions that don't match the customer expectations and thus leads to disappointed and frustrated customers.
Scenario

Let us suppose a software company's marketing team markets a particular product stating that the company provides support on issues related to all sections. But the support team may not provide solutions for some issues which are not directly related to customers which was not specified by the marketing team. These situations causes the customers to be disappointed and frustrated.
Why do they need to work together? Customer Support and Marketing
You may have guessed the answer from the previous scenario. It's the normal human nature that they stay with people who treats them better. Once the products are sold the job of the marketing section is done. But after that, it is the customers and the support team who suffer. The customers are not getting what they expect. They are being dragged in different directions for trying to meet their expectations leading to frustration.
Thus, the products which are sold on high expectations couldn't reach up to the mark. Thus leading the customers to get diverted from the company. All these problems would be solved if both the customer support and marketing teams work in an alignment. If all the customer support policies are clearly stated while marketing, the customers get what they expect which may lead to increase the customer reviews that can affect the sales of the products.
7 Reasons: Why should you focus on improving the customer experience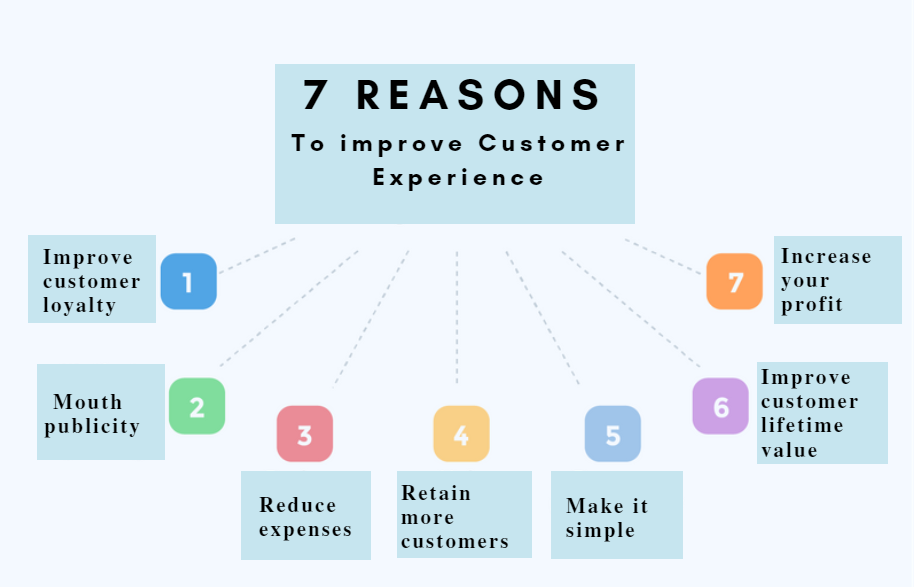 1) Improve customer loyalty:
When you are running a business, there are some ethics that you should follow. Most important among them is customer loyalty. Keep in mind that, your job is not done soon after the customer buys your product, It is then your responsibility begins.
Customer satisfaction is worthless. Customer loyalty is priceless.
– Jeffrey Gitomer
Customer loyalty impacts how buyers make the decision. If you are loyal to your customers you are not only gaining good customer experience but also a long time relation with the customers. When you deliver a good customer experience they are less likely to go with your competitors even if they provide more incentives. Customer values you on the basis of how you treat them more than the incentives you provide.
2) Mouth publicity
Nothing influences more than a recommentation from a trusted friend.
– Mark Zuckerberg
When your customers are really happy with the experience they had with you, they themselves feel motivated and recommend your products to their friends/colleagues. It is the cheapest marketing strategy. This will really help in the organic growth of your company and you can notice a huge boom in the active users of your product without investing time and money in marketing. Hence helping in increasing your overall margin of profit.
Recent studies show that 92% of the customers in the US ask recommendations to their friends or colleagues before buying a product. This shows how important is the customer experience in your business.
3) Reduce expenses
Kind words do not cost much. Yet they accomplish much.
– Blaise Pascal
Many of the companies do not take initiative to improve their customer experiences thinking that it would increase their expenses. But the thing is that when they spend more on improving their customer experience, they get the benefits of it in many other ways. As we explained in the previous point it increases the mouth publicity and thus increases your business.
4) Retain more customers
There is extraordinary chemistry that exists in long-term relationships.
– Conrad Levinson
The main reason that makes customers switch to your competitors is the poor customer experience. Once the customers feel that they are getting a good experience with your company the chances are very less that they switch from you. Hence you are bonding them in a long-term relationship. These customers can also bring more and more people to your business.
5) Make it simple
Customers may forget what you said but they'll never forget how you made them feel.
No issues are not a good news always. Most of the unsatisfied customers don't raise a complaint because the companies make it more complex or create some unnecessary barriers making it difficult for their customers to get an easy resolution.
Many of the websites have their support form in an unnoticed area which is very difficult to find for customers. Even if they find it they ask for more information which make the customers frustrated and they never raise their issue. But let me tell you that no product is perfect and everything needs constant improvements. This is only possible with more customer interactions. After solving many of the problems your product will be more and more perfect.
6) Improve customer lifetime value
So I think instead of focusing on the competition, focus on the customer.
– Scott D.Cook
It is not just about the first time purchase. The customer's lifetime value cannot be gained by giving incentives since it is based on repeated purchases. When you give incentives the customers may buy just at that time but it does not provide you a lifetime value. But ensuring the best customer experience can improve your customer lifetime value.
If your roots are strong with a bunch of happy customers, it is less likely for you to face a crisis in your business. By building a good customer experience, you are also building a strong foundation for your business. Many of the top companies invest a lot to improve their customer experience since they know well how important are the customers for them.
7) Increase your profit
All business success rests on something labeled a sale, which at least momentarily weds company and customer.
– Tom peters
Amazing customer experiences can indirectly help you in increasing your profit margin. As we saw in the previous points the customers can bring more and more customers by mouth publicity which reduces advertising cost. Not only that a great customer experience can give you the flexibility to charge a premium for the services you provide.
How to align Customer Support and Marketing teams?
Since the importance of Customer Support and Marketing in a business is very high, it is important to make these two groups aligned for improved productivity. These are the steps that should be taken in order to manage both these teams in an efficient way.
1) Make it more transparent
Keep away the 'de-silo' mentality. Every process should be transparent to everyone in the company. By doing this you can eliminate the unnecessary issues raised from the customer's side. Make both teams understand the importance of working together for more productivity.
2) Encourage meaningful communication
Both the Customer Support and Marketing teams can share their brains to provide their customers with the best solution they need. If the support team needs to know marketing strategies to provide solutions for an issue, they must be comfortable in discussing it with the marketing team and vice-versa.
3) Share success and responsibilities
Once your product gets a good movement and the company gets a good profit, It is due to the efforts of both the teams. Make them clear about this and share the success. Not only in success if the company is in a difficult situation they should share the responsibilities too.
To improve the marketing strategies it is important to know the customers well. In this situation, the customer support team can help the marketing team since they directly deal with the customers and know what are their needs.
Concluding comments
So How important is Customer Support and Marketing in your business? It is as important as developing the products for your business without these two teams you cannot run a successful business. The Customer Support and Marketing teams have to work together so that they can achieve :
Better Social Media Support
Content Creation Ideas
Deeper Understanding of Buyer Personas
Setting Customer Expectations
Unified Messaging & Communications
PR/Marketing Promotion of Customer Success & Happiness
Informing Product Marketing Initiatives
At the end of the day, all it matters is that 'Is your customer getting what he expects'
Hope this article was helpful. Feel free to add more points in the comment box below, that you think is important in improving the customer support and marketing.
---
Explore our blog section for more articles.
You can also check out WordPress and WooCommerce plugins in ELEX.