Visuals in the product image gallery section can make a huge difference when it comes to eCommerce. If you've ever shopped online, you know how important it is to have clear, product-specific images along with videos. It's hard to know what you're getting, not to mention trying to figure out how it will look in reality without a proper visual for reference.
But what happens when there is no proper product image? Or when you want to go above and beyond the basic visuals? That's where YouTube videos come in!
With new and improved integrations, it's now easier than ever to add videos alongside your product images on WooCommerce websites. In this article, we'll go through some easy ways to include YouTube videos in the product image section of your WooCommerce website.
Let's get started!
Benefits of Adding YouTube Videos to a Product Image Gallery
Adding YouTube videos to your product image gallery or page can be a great way to bring your products to life and give potential customers an even better understanding of what you have to offer. Not only does this make for a more enjoyable shopping experience for existing customers, but it can also help reduce the bounce rate on your website,
There are several different benefits you can get from adding YouTube videos, including:
The ability to showcase multiple angles of the product in an interactive way

Demonstrate how the product works and its features more easily than with static images or text descriptions

Increase customer engagement, building trust and confidence in the brand

Offer customers a visual demonstration of the product being used, so they can make an informed decision about their purchase.
Adding YouTube videos to your product page is a great way to give your customers more information while also driving up conversions. By showcasing your product more effectively with video than you could with just images or descriptions, you'll make it easier for potential customers to decide if they want to buy it – and increase their chances of making that purchase.
Best Practices for Creating Effective Product Videos for the Image Gallery
YouTube videos may be an excellent supplement to the product image area of your website. They may provide a dynamic, entertaining approach to promote your items and give buyers a better sense of what to expect  when they buy.
When developing YouTube videos for your website's product image gallery, keep the following suggestions in mind:
Begin with a clear concept:

Before you begin producing your product video, you should have a good understanding of what you want to say. Consider the primary features and advantages of your product and how you might graphically represent them. Create a narrative or storyboard outlining the structure of the video.

Keep it short and simple:

Because people's attention spans are short, it's critical to keep your product video brief and to the point. Your video should ideally be no more than 2 minutes long. Avoid getting down in too much detail by focusing on the most critical elements of your product.

Use high-quality visuals:

Your video's visual quality is critical to its success. Use high-quality equipment to record your film, and pay close attention to lighting and framing. Close-ups and slow-motion images can be used to highlight essential details, and animation or graphics can be used to aid emphasize critical ideas.
You may create excellent product videos that attract clients and boost sales for your business by following these best practices. Always put the consumer first and deliver a clear and straightforward message that emphasizes the value of your product.
Using a Plugin to Add Videos to the Product Image Gallery
Have you ever imagined how great your WooCommerce store would be with product videos? Videos are a great way to add an audio-visual element to your store and help customers learn more about the products. Adding videos can be tricky though, but you don't need to worry! With the ELEX WordPress Embed YouTube Video Gallery plugin, you can easily include YouTube videos in the Product Image section of your WooCommerce Website.
Here are 3 easy steps on how to use the ELEX WordPress Embed YouTube Video Gallery plugin to add YouTube videos to your WordPress website's product image gallery section:
Step 1: Installation and Activation
Install and activate the ELEX WordPress Embed YouTube Video Gallery plugin on your WordPress website first. Go to your WordPress Dashboard, navigate to Plugins > Add New, and search for "ELEX WordPress Embed YouTube Video Gallery." After installing the plugin, click the Install Now button and then Activate it.
Step 2: Edit the Product
After activating the plugin, browse to Products > All Products in your WordPress Dashboard. Select the product to which you wish to add YouTube videos and then click the Edit button to access the product editor.
Step 3: Add the Videos to the Image Gallery
Go to the ELEX YouTube Video Gallery window in the product editor. The window will appear on the right of the page.
You'll notice a place in the window where you can add the YouTube video URL. Enter the YouTube video's URL and click on the arrow to add it to the product gallery.
The product image gallery will now include the YouTube video. You may add more YouTube videos by repeating the procedure. Additionally, you may choose whether to add the videos at the start or end of the image gallery by selecting the respective options.
When you've finished adding all of the YouTube videos you want, click the Update button to save your modifications to the product.
When clients browse the products on your website, they will now see the YouTube videos added to the image gallery.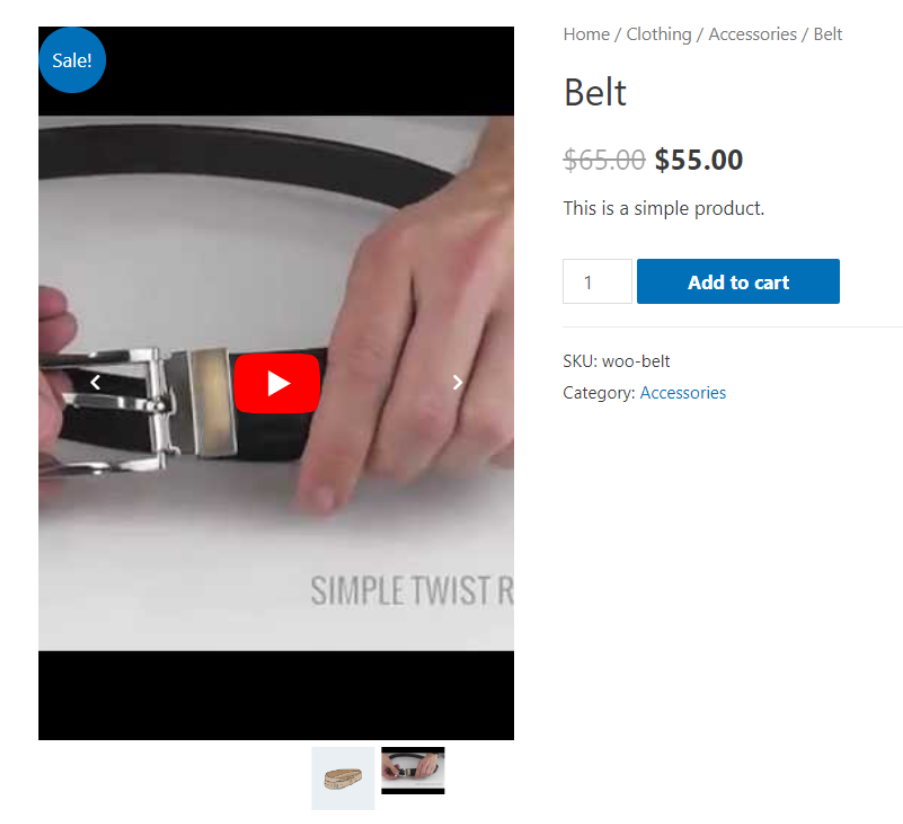 Troubleshooting Tips 
If you're having trouble getting YouTube videos to show in the product image section of your WooCommerce website, don't worry, here are some troubleshooting tips and strategies for you to try.
Check the URL
First things first, make sure the URL you're using is valid and working. If it isn't, it won't be able to display properly in WooCommerce. To double-check, simply copy and paste the URL into a browser and see if it loads correctly.
Make Sure the Video is Unlisted or Publicly Viewable
If your URL contains a video that is listed as unlisted or publicly viewable, then it won't show properly on your website. To confirm this, go to the video itself on YouTube, if you can see it without signing in or clicking any links, then it should be good to go for showing on your WooCommerce website!
By following these simple troubleshooting tips, you should have no problem getting YouTube videos to show up perfectly within your product image section of the WooCommerce website.
Conclusion
Using YouTube videos in your product images is a great way to stand out from the crowd, show off your products, and even drive more sales. With a few simple steps, you can easily add YouTube videos to the product image section of your WooCommerce website.
Not only does including YouTube videos in your product photos help you stand out, but it also helps customers visualize a product better and more accurately evaluate the product before purchasing it. This is especially helpful for products that rely heavily on demonstration or motion to show customers exactly how it works.
We hope this article helped you solve the issue at hand!
Further Reading