Let's discuss the three plugins that help you print USPS shipping labels from within WooCommerce. As you know USPS is the most economical shipping solution in the United States and it reaches in every corner of the US. Along with the spread of WooCommerce stores, people have used USPS services for saving unwanted shipping charges. USPS provides additional services in packing materials and tracking too, thus saving USPS customers form extra engagements.
WooCommerce USPS Integrations
You can integrate your WooCommerce store with USPS and print USPS shipping labels with three plugins at the ELEXtensions. All the three plugin helps you in showing live USPS shipping rates. While shipping and tracking of your parcels are taken care of by USPS servers. Basically, Stamps.com and EasyPost are the online vendors of USPS postage and have separate API's to show live shipping rates and offer discounted postage charges to their customers. We'll see how you can set up these plugins and print USPS Shipping Labels with them.
ELEX WooCommerce USPS Shipping Plugin with Print Label

Check out the Live Demo                     Get the Basic Version                            Get Premium Version
ELEX uses the official USPS API to connect the USPS service to WooCommerce. With the integration, you can almost inherit a mini USPS in your WooCommerce store. Be it showing live shipping rates based on the weight and dimension of the products or processing shipments and tracking them, you can do all of it from within WooCommerce. The plugin also witnessed a recent update inspired by the changes in USPS. As per the new policy of USPS, you'll need the following for printing of postage paid labels with the API.
An e-VS account
A minimum shipment volume per week
Once you install the plugin, it requires a one-time setting and you can keep on printing labels thereafter. Printing of labels is as easy as a click on "Print Label". Of course, you'll first need to create a shipment, which is again a one-click process.
Printing Labels with USPS Shipping Plugin
Before you start printing label, let's see the basic settings required before you are ready to print labels. You can move to Label Generation Tab in the USPS settings and if you are going through the setup for the first time, follow the string- Dashboard> WooCommerce> Settings> Shipping> USPS> Label Generation.
You should get a screen like this. Let's see the options available here.
Hold for Manifest- Select Yes or No in case you want to hold manifest records for inclusion in SCAN request or not.
Shipping Label- Enable the printing of Label here. If you disable this option, the option of Print Label will not be available on the order overview page. So make sure you enable this option.
Default Service- You can choose any default service for creating the label each time. If you want to print labels based on customers selection in the cart/checkout page, select the option "Automatic".
Print Label Size- There are two options available for the size of the Label. The default size is 8X11 and the compact size will contain the barcode only for domestic shipping and 4X6 for international shipping.
Print Label Type- You can select between PDF or TIF formats for the shipping label.
After setting the label preferences you are ready to print shipping labels for your orders. Find the 'orders' option in the dashboard. This takes you to the orders page which lists all the orders received and their status. To print a label for any specific order, click on the order number to open the order overview page.
In this page, you can make changes to the billing and shipping address entered by the customer. Finally to start printing of label you need to generate packages. If you don't have an e-VS account you can still create shipments and generate labels without USPS Postage.
Clicking on the Generate Package Button opens the following box, where you get an option to select the service to be used to print labels. A different service will have different shipping charges. The pre-existing service is either the one selected by the customers or the default service you choose for printing labels.
As you can see the 'create shipment label' button in the above screenshot, the button helps you generate the label. Next dialogue box that appears has the tracking information in it. This tracking information is sent automatically as soon as the labels are created. This new dialogue box has the 'Print Label' button too. Clicking on the 'print label' button takes you to a new tab, where you'll find your postage-paid and ready to use USPS shipping labels. You can find a sample label below.
Each generated package will have a shipment label and you can print all the labels one by one. If you are not having an e-VS account you'll find a label without any postage. You can use them send packages one you pay for the postage.
Bulk Shipment is available with the plugin. You can create bulk shipments using bulk action on the order page. Bulk USPS Shipping labels creation is still unavailable.
EasyPost Shipping Method Plugin for WooCommerce
Check out the Live Demo                      Get the Basic Versio                            Get Premium Version
EasyPost Shipping Method plugin combines services from USPS, FedEx, and UPS to your WooCommerce store. For someone referring EasyPost for the first time, it is an advanced integration of 100+ shipping carriers through its advanced RESTFul API. Inside of WooCommerce the plugin currently integrates FedEx, UPS, and USPS services.
With this plugin, you can
Check rates for services like USPS, FedEx, and UPS in real-time
Buy shipping and postage on demand and generate labels
Track packages in real-time
Verify customer addresses
Add customs forms to any international shipment
Generate 1000s of labels simultaneously for high volume shipping
Create scan forms for large shipments.
and all of these from within WooCommerce, which means you don't have to use a different setup of each one of them. Not much before, the plugin got a revival with the addition of some useful features.
Printing USPS Shipping Labels with EasyPost Shipping Plugin
Your EasyPost account is almost managed by EasyPost. Not only USPS, but you can print postage-paid labels from services like UPS and FedEx with the plugin. And you can print these shipping labels with few clicks only. The settings in the 'label generation' tab have few things that impact the printing of the labels, but you don't need to select the services provider for the label in the settings.
While you are in the order overview you have to select which service you want to use for the shipping. For USPS labels select the USPS service from the drop-down. The service selected by the customer remains the default selection in the label creation.

Print Label Type- Choose from PDF and PNG file formats of Labels
Address- Enter the correct address. An incorrect address may lead to unsuccessful attempts at label creation, as EasyPost use address verification and the address needs to be identified.
Custom Description- Add a global description for all labels. You can add descriptions individually while printing labels in the order overview page.
Return Address- Enter a return address if different from the sender address.

Shipment creation leads to a new dialogue box, where you get the tracking numbers and the options to create the USPS shipping labels as you saw in case of USPS Shipping Plugin above. After successful creation of labels, you get the option to print the labels(screenshot below). In this example, you can see two labels created. This is because there were two packages. The number of labels corresponds to the number of packages created. So now you can print the labels one by one and ship the parcels with USPS.
Below is a sample of USPS shipping labels created with EasyPost. The label contains the name of the service used, postage barcode, and USPS tracking number.
And finally, you can use Stamps.com Shipping Plugin for WooCommerce and print USPS shipping labels from within WooCommerce. Let's see how?
Stamps.com Shipping Plugin with USPS Postage for WooCommerce

Printing of USPS Shipping Labels is available with this plugin too. Unlike USPS shipping plugin you don't require any extra account other than a Stamps.com account. Plus you don't have to do a minimum volume of shipping to get access to discounted USPS shipping prices. You can start printing USPS postage paid shipping labels even if you send one shipment per week.
Printing of USPS Shipping LabelS with Stamps.com Shipping Plugin
Head to the shipping tab of your WooCommece settings and click on Stamps.com. To set the label printing click on label generation to get the following options.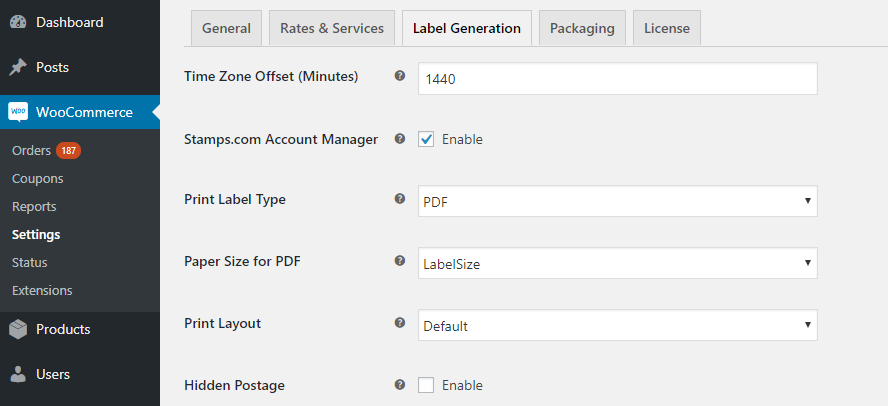 Look for the following settings for better execution of shipping.
Time Zone Offset- The date and time printed on the label can be varied using this. A negative value will reduce the time.
Label Type and Size and Layout- Select preferred option as per your printer and the package sizes.
Hidden Postage- Stamps.com offer the function where you can hide the postage paid to Stamps.com. Thus enable this option if you want to hide the postage from the labels.
Now go to your orders page to select the order you want to print the label for. In the order overview page click on generate shipment to get the following interface. Select the desired service if you wish to use a different service from the drop-down. The service selected by the customer remains selected by default. Further, select the flat rate box or envelop. This option appears if flat rate box option is enabled.

Once the shipment is created you'll the following option. You get the tracking information and view label option for each shipment created previously. So you can just click on the View Label button to open the labels in new tabs. You get the options to save the labels there. You can find a sample label created below.
About the Plugins
As you saw that all three plugins help customers to print USPS Postage paid shilling labels. And you are ready to ship the packages with these labels on them. You can either request a pickup or deposit the packages in your nearest post offices.
One interesting thing about depositing the packages in the post offices is that the billing is done from the post office to the destination. It works on the fact that more closer you take the package to the destination, the lesser you'll pay. With the introduction of e-VS, all three services accept online payments for your postage consumption now.
Plugin
WooCommerce
USPS Shipping
Plugin with Print Label
EasyPost shipping Method For WooCommerce
Stamps.com Plugin
with USPS
Postage for
WooCommerce
Version
4.0.1
1.6.5
2.0.1
Last Updated
 2018-03-29
2018-04-03
2018-03-15
Active Installations
 6000+
200+
700+
Ratings
4.89
4.5
4.69
Cost of Plugin
$69.00-$199.00
$69.00-$199.00
$69.00-$199.00
Charges other than Postage
None
1 cent/ package
$15.99/month
 Price Plans
Click-N-Ship (less than 50 pieces/month)

Click-N-Ship Business Pro (Min 50pieces or 50lbs at a time) Contact USPS for eligibility

    Commercial Plus Pricing (Discounted Postage Rates)

        Negotiated Service             Agreement based on high volume usage

Pro@ $15.99

Premier@ $24.99

Carrier
USPS
USPS/FedEx/UPS
USPS
Free Demo
Available
Available
Available
Live USPS Rates
 Yes
 Yes, with additional Shipping Rates from FedEx and UPS
 Yes
 Location
Domestic, International
Domestic, International
Domestic, International
Label Printing
 Needs a minimum quantity of  shipment in the prior year to use e-VS
Prints Labels with USPS Postage
     Prints Labels with USPS    Postage
Tracking
 Automatic and Manual
 Automatic and Manual
 Automatic and Manual
 Taxes
Automatic and Manual
Automatic and Manual
Automatic and Manual
Edit Name of Services
 Yes
Yes
Yes
Shipping Rate Adjustments
Available
Available
Available
Insurance
Available up to $500 @ various rates. Click to check.
Fully Insured @ 1% the total cost of postage
   Covers up to $10,000           @up to 40% lesser than USPS rates
Closing Comments
So as you just found out that not one, not two but there are three ways you can print USPS shipping labels from within your WooCommerce store, you can use any of these based on your business requirement. In case you don't meet the requirement by USPS, you can opt for EasyPost and Stamps.com. EasyPost charges you 1 cent per shipment whereas Stamps.com charges $15.99 per month for any number of the shipment. So it depends on the number of shipments you send. Further, if you use UPS and FedEx services, EasyPost can be your choice.
For more information visit the product pages of ELEX USPS Shipping Plugin with Print Label, ELEX Stamps.com Shipping Plugin, and ELEX EasyPost Shipping Method Plugin. You must explore more of our plugins. Or you can contact our Online Support for pre-sales inquiries or concerns. Happy Selling!
Consider exploring other plugins by ELEX.