Put your USPS Shipping in Auto-Mode using Auto-generate & E-mail AddOn for Stamps.com WooCommerce USPS Shipping Plugin
In this article, we will discuss the steps involved in automating the generation of shipping labels and email notifications. To integrate USPS shipping methods and options into WooCommerce, we will use the ELEX Stamps.com Shipping Plugin with USPS Postage for WooCommerce. And to automate the generation and emailing of shipping labels and other information to both customers and yourself, we will use the ELEX Stamps.com USPS Auto-Generate & Email Labels Add-On.
Introduction:
Constant communication with your customers is essential to the process of building up a brand. By including the customer in communication channels, for instance, the fulfillment status or tracking information offers businesses the opportunity to improve brand recognition. Moreover, customers do not need to contact you for the same information. This can greatly improve the customer shipping experience on your WooCommerce store, ultimately leading to repeat customers.
What will you need:
ELEX Stamps.com Shipping Plugin with USPS Postage for WooCommerce allows you to access real-time rates shipping labels, track shipments and helps in packing items into boxes.
ELEX Stamps.com USPS Auto-Generate & Email Labels Add-On: For auto-generating and emailing USPS labels.
Stamps.com Account: The ELEX Stamps.com Shipping Plugin with USPS Postage for WooCommerce is Stamps.com Approved Integration Partner. They charge a small monthly fee for buying postage and printing labels.
Automating Shipping Label Generation:
Step 1: Configuring WooCommerce USPS Post Shipping Labels and Tracking:
Once you have the core plugin installed and activated, you will need to configure WooCommerce USPS Shipping labels and tracking. The add on uses these settings for the generation of Email notifications. You can find these settings under the Label & Tracking section of the plugin settings found under WooCommerce > Shipping > Stamps.com-USPS > Label & Tracking. 
You need to first enable Email Tracking and DIrect Downloads. Email Tracking makes the plugin contact the USPS servers to fetch Tracking URLs. These will then be used by the plugin and the add on to include in the email notifications. Moreover, you can even choose to include USPS Logo on all generated shipping labels. The plugin lets you set customer address type and select default WooCommerce USPS shipping methods for international and domestic customers. Choose the Layout of the labels and shipping documents.
From the Label & Tracking section, you can even set a declaration of the Shipment Contents used for customs purpose. Additionally, you can use the Custom Shipment Message to be displayed to your customer on your site, once an order is shipped. Using place holders for Date, Service and Tracking ID you can easily craft a detailed custom shipment message.
Step 2: Selecting Order Status and configuring Email Content
Once you have the WooCommerce Austalia Post Shipping labels and tracking configured in the ELEX Stamps.com Shipping Plugin with USPS Postage for WooCommerce settings, you can configure the add on from WooCommerce > Shipping > Stamps.com – USPS > Auto Label Generate Add-On.
First, choose the Order Status. The add on lets you set various stages of order fulfillment as the trigger for sending order status emails and tracking details to your customers.
Then you can select the recipients of the auto-generated email. You can set the Customer, the Shop owner or a Custom email of your choice. You can then use the Add Email field to specify the email of the custom recipient.
You can set the From Email, From Name, and Email Subject to your liking.
Using the Email Content field you can specify the content of the auto-generated email for your recipients.
Step 3: Configuring Shipment Failed Notifications:
Shipping is tricky and sometimes your shipment might not reach its intended destination. In such cases, it's prudent to convey the same to your customers at the earliest. The add on lets you configure notification emails for failed shipments. 
Simply enable the Email Notification checkbox, set the Email Subject and Email Content to your liking. When an order's status changes to "Failed" the add on generates an email to send to that customer's address.
Once it is configured, when an order reaches a status that matches the one you set in the add on, a notification email is generated that is sent to your customers. A sample order status email looks like this: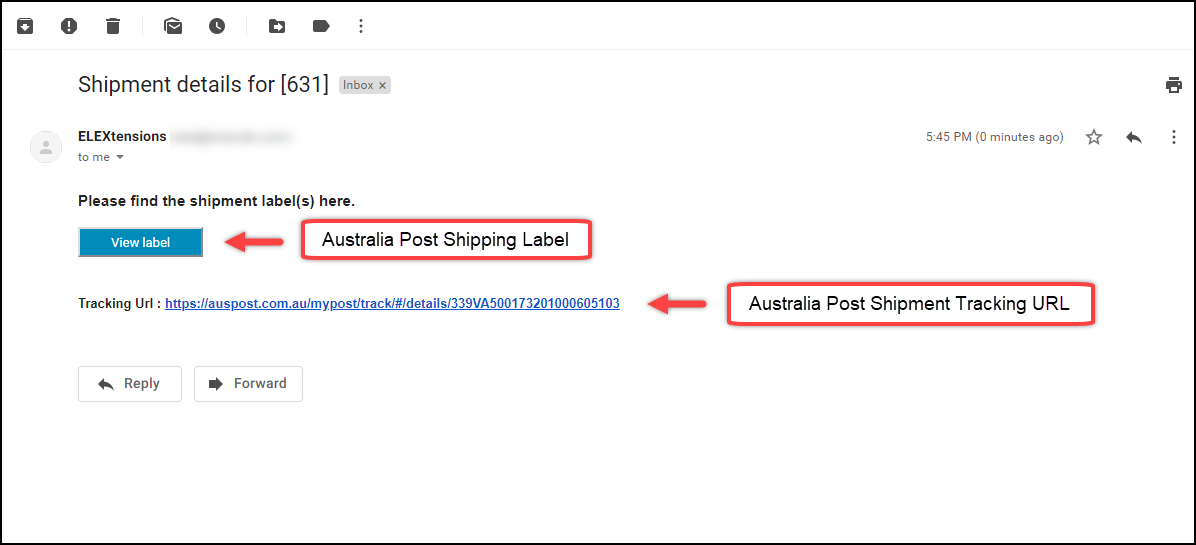 Customers can view the shipping label generated for their order by clicking on the
View Label
button. What's more, you can choose to include the
tracking URL
of the order the email notification for your customers' convenience. A WooCommerce USPS Shipping plugin looks like this:
Conclusion:
Providing email notifications for your WooCommerce customers is a great way to improve customer experience and increase brand awareness. We detailed the steps involved in configuring Label and Tracking using the ELEX Stamps.com Shipping Plugin with USPS Postage for WooCommerce. Apart from this, the plugin can also be used to
Enable Live Shipping Rates and Delivery Tracking
Generate Order Summary/Manifest
Pack items into custom boxes.
Adjust prices of WooCommerce USPS Shipping services.
Ensure packages with insurance
Generate bulk shipments and more.
The add on provides the functionality to automatically generate and email notifications containing shipping labels and tracking URLs. You can find more information about the add on here.