Online shopping has grown in popularity over the last decade. People prefer to shop online rather than in physical stores, which is especially true now that the world has been forced to stay at home due to the pandemic. Many WooCommerce stores are performing extraordinarily well, with sales three times more than they were a few years ago. Did you know that you too can triple your store's sales in a short period of time? You will notice an immediate increase in sales if you create your Catalog Feed correctly and advertise it through Facebook Ads. In this article, we will list the best WooCommerce Catalog Feed Plugins for Facebook for making the process of creating catalog feed easier.
About WooCommerce Catalog Feed
The product feed includes information about the product that you want to demonstrate to your customers. A feed file contains information such as the product title, price, description, image, stock information, and more. It also includes the product data that merchant sites like Google, eBay, and Facebook require.
A product feed can be customized and expanded to include more product-related information by store owners. All of this product information is eventually presented to customers through various marketing channels.
Merchants are free to distribute the product feed file to multiple marketing channels. The feed file is typically in CSV, TXT, or XML format. The structure of a WooCommerce feed file determines its format.
The primary goal of a catalog feed is to consolidate all of your store's product information into a single file. Another critical step is to upload the feed file to your preferred marketing channels. Finally, you will be able to manage all of your product information in a streamlined manner.
The ELEX WooCommerce Catalog Feed for Facebook & Instagram is a great plugin for driving more qualified leads and increasing exposure to your eCommerce store by displaying your products on Facebook Marketplace. It extracts product details from WooCommerce stores and displays them in Facebook's marketplace, creating product feeds automatically. It lets you create a TSV, CSV, or XML feed for your store and upload it to your Commerce Manager account. You can promote additional sales and increase the visibility of your products by using the ELEX WooCommerce Catalog Feed for Facebook & Instagram Plugin.
You can quickly generate and manage WooCommerce product feeds for prominent merchants and marketplaces like Amazon, Google, Facebook, Instagram, and others with the WooCommerce Product Feed Export plugin. Not only does ExportFeed make it simple to create product feeds, but it also supports any product category with variations for native import files.
You can also create custom feeds tailored to your needs in minutes using their user-friendly interface. ExportFeed is the most straightforward method of optimizing your product listings and campaign results. It also dramatically increases your reach, which leads to higher conversions. With this product feed solution, you save time and avoid the technical complexities of product listings. You can even automate product feed management and optimize merchant product listings for increased sales.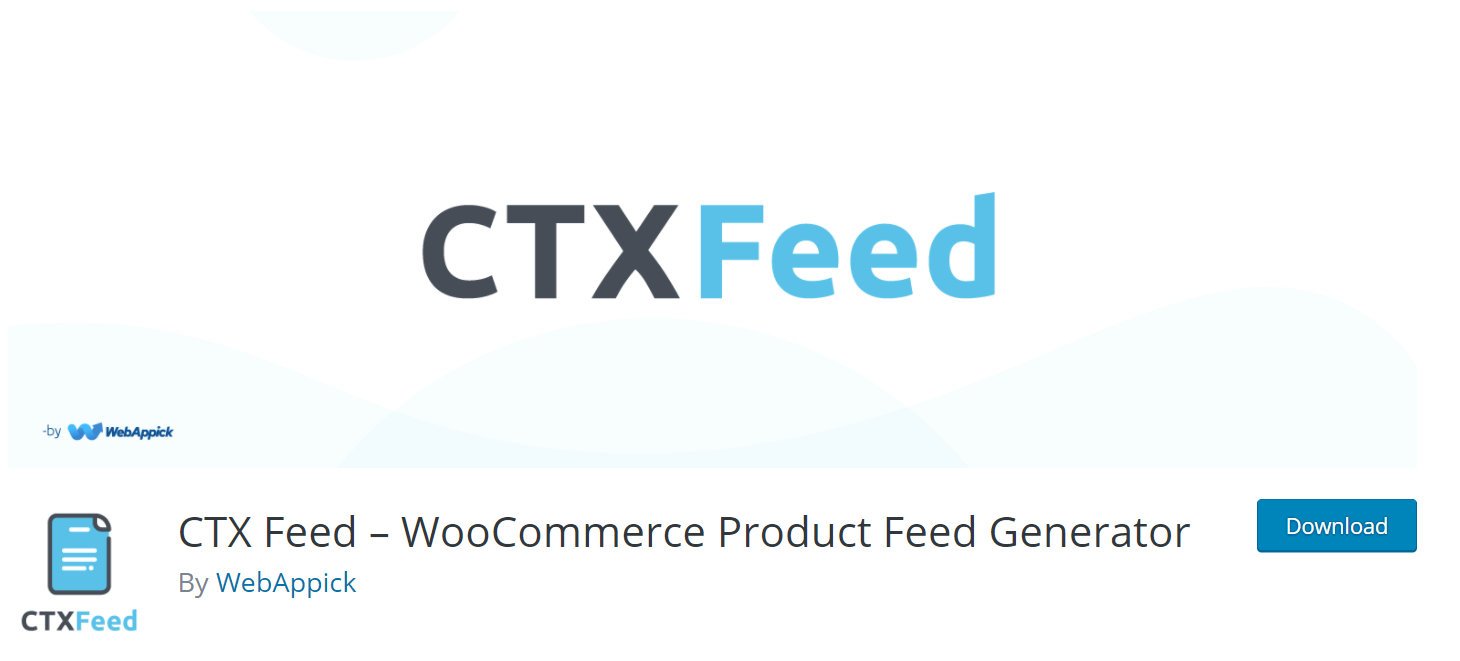 WooCommerce Product Feed Pro is a product feed generator plugin for WooCommerce-powered online businesses. More than 100 marketing channels are now supported by this plugin, allowing you to create the most optimized and error-free product feeds for your WooCommerce store, which can be used to target the most popular global and local product marketing channels such as Google Shopping or Google Merchant, Facebook Dynamic Product Ads, Instagram Shopping Ads, Pinterest Shopping Ads, and more. As a result, you can focus on the marketing channels, price comparison sites, and affiliate networks that you want to use.
You can generate a WooCommerce product feed for all of your marketing channels with the Product Feed PRO plugin, including Google Shopping, Facebook, Bing Ads, and many others. There are over 100 pre-defined templates for marketplaces, shopping, and search engines in addition to customized catalog feeds. This plugin generates high-quality product feeds for Google Shopping and a range of other platforms.
It has advanced rule-based filtering and product variables support, as well as category and field mapping. This plugin not only creates product feeds but also adds the Facebook pixel, and Google Remarketing pixel to your website and aligns them with your feeds.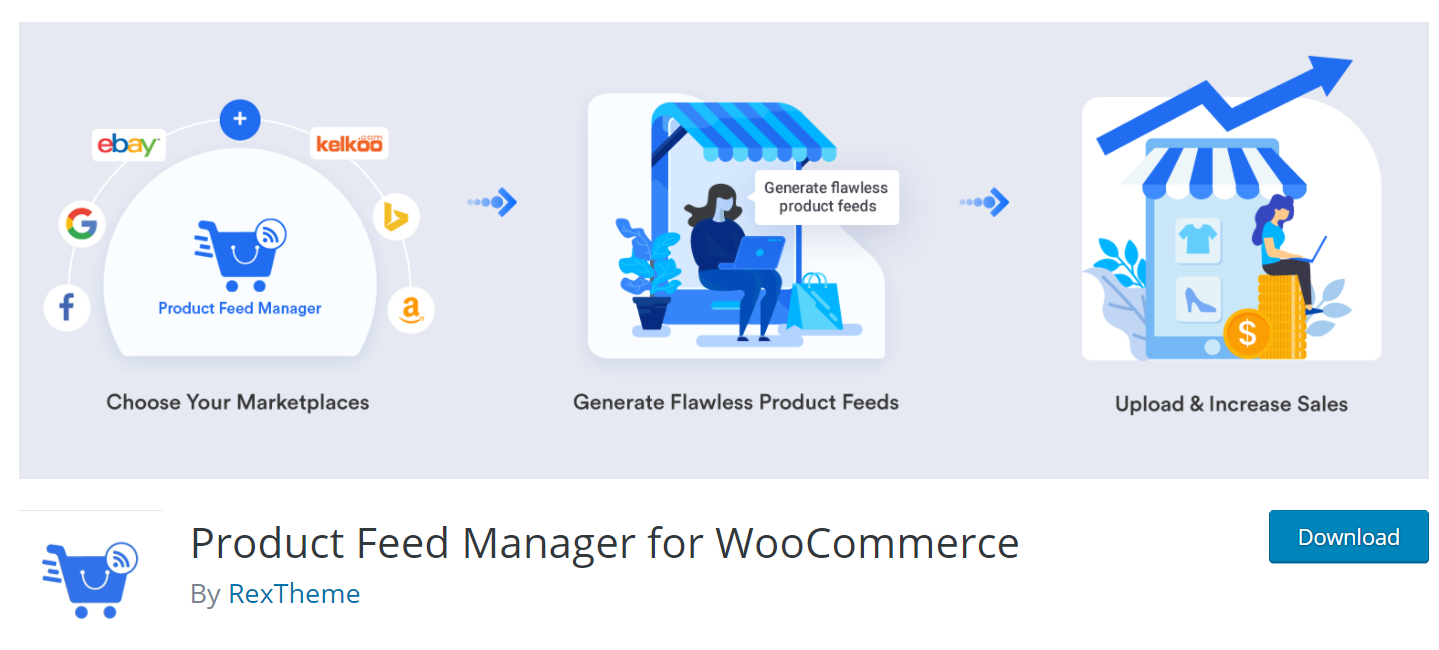 In just a few clicks, you can create an accurate catalog feed with your WooCommerce products using this plugin. You can produce impeccable feeds for over 180+ retailers using pre-defined merchant templates, including Google Shopping, Facebook, eBay, Instagram, PriceRunner, and many others. It comes with several capabilities, including category mapping, custom fields, product filters, Google Auto-sync, and more, to help you create an optimal feed that gets you more results.
This WooCommerce Product Feed Pro plugin makes it easy to create product feeds for popular shopping sites like Google, Facebook, and Bing. You can create numerous feeds for Google Merchant Center, including Google shopping, promotions, dynamic remarketing (DRM), dynamic search Ads (DSA), local items, and inventories. You don't need any technical coding abilities to use this plugin because it automatically maps product IDs and other data to Google, Facebook, and Bing standards. This plugin maintains your product feeds up to date by using a Cron Job to automatically add new products. Cron Job can be set to update the feed hourly, daily, or twice a day, depending on your preferences. You can build a shopping feed for any country and sell your products anywhere in the world with the WooCommerce product feed plugin.
To conclude:
Facebook Marketplace is the most important advertising platform for WooCommerce store owners, with the highest ad spend and registered ad clicks. Manually creating a feed to add products to your Facebook Marketplace account, on the other hand, can be difficult and time-consuming.
You can easily set up your Facebook Marketplace campaigns by using the best WooCommerce Catalog Feed Plugins. Hopefully, these Plugins for Facebook will assist you in easily managing your WooCommerce product feeds. If you have any questions about the plugins, please leave a comment.
Further reading