The process of delivering a package can be quite a tedious task especially, if you don't know which service aligns best with your needs. The last leg of delivery of a package is where the costs double automatically irrespective of the number of kilometers leading to the destination. In this guide we will learn what is UPS SurePost and 7 Reasons to ship with it later we will discuss how you can integrate UPS SurePost with WooCommerce using an ELEX plugin.
The numerical value can range from a couple of miles to hundreds and this is when you opt for UPS SurePost. Reducing your shipping bills drastically is not the only perk provided by the carrier which aims at reducing the last-mile expense.
The last mile tends to be inefficient as small-quantity deliveries are made to various residential locations as compared to bulk deliveries to a few commercial destinations. One of the prominent strategies for reducing shipping costs is by using services delivered by UPS Ground that is quite popular and uses an efficient mechanism for targeting last mile delivery costs. This led to UPS finding another way to ensure that the final leg of delivery is inexpensive and named this service UPS SurePost. This is an excellent solution for many businesses which are focused on reducing shipping costs while retaining the quality of delivery and experience.
What is UPS SurePost?
UPS SurePost is an economical final delivery service by the US Postal Service. One can term SurePost as the amalgamation of UPS/USPS options. It has emerged as a quality alternative for eCommerce business owners who aim to provide affordable, reliable and speedy delivery services to their customers. UPS SurePost not only satisfies these conditions but its contract-only delivery service can be accessed by retailers who are involved in shipping orders that tend to weigh less than 10pounds and require tracking IDs.
UPS teamed up with USPS to come up with UPS SurePost which aims at minimizing the number of trucks on the road to reduce multiple deliveries to the same location per day. This would also help in creating a labour-efficient system which thus helps in creating an economical mechanism. One can spot various  savings in the simplified system of UPS transferring packages to a USPS location for speedy local deliveries. These estimates hint that UPS SurePost can help save up to 20% in delivery costs itself.
UPS SurePost is involved in post office pickups and delivering the package to the customer's doorstep. These shipments can be sent within a range of 48 contiguous US States to 50 American states along with Puerto Rico and various other US territories, PO boxes and military destinations. The service is yet to extend to international destinations.
There is also a cap on the total dimensions of packages which means SurePost packages cannot exceed 130 inches. SurePost Bound Printed Matter or Media must be less than 1 lb, or 1 lb or greater, or 108 inches. 100 dollars per box/package is the UPS obligation limit for the loss or damage to a SurePost package. 
7 Reasons To Ship With UPS SurePost
UPS SurePost was designed to help fasten up the process of shipping and cater to all kinds of users. Check out these 7 reasons as to why you should immediately switch to UPS SurePost.
Simplifies the most expensive segment of shipping:
The last mile of shipping can make quite a difference to your bill and budget. It's expensive nature makes it difficult to manage the finances efficiently, which leads to 28 percent of the shipping costs being affected. SurePost is involved in directly countering this high cost and focuses on creating more economical options for those who are engaged in shipping large volumes of packages thereby, saving your one-third shipping expenses!
Saturday delivery made accessible:
The model of SurePost demands that most packages be passed onto USPS on the final leg of delivery. There are no extra charges for delivering your packages on the weekend as it is included in the service.
Flexibility of addresses:
UPS does not usually deliver to P.O. Boxes. As per your business, this may not be a crucial or deciding factor but it is important to understand that since USPS is involved in delivering to all the addresses through this amalgamated model, all businesses have the ability to reach to as many geographical locations as possible.
Lightweight packages delivered to residential addresses:
The UPS My Choice Membership gives access to features which help in rescheduling or enable direct delivery to an alternative address or a UPS store of choice. Upgraded packages arrive a day earlier than usual or estimated.
Availability of Normal Pick up options:
SurePost does not need additional efforts like drop-offs or pick-ups. It curbs the trip to the post office and shipments are allowed to be mixed with the typical UPS Pick-ups.
Thorough tracking availability:
UPS's key feature is the ability to provide its users to track packages even till the last leg. USPS packages are trackabe with the tracking number received by you while the shipping was initiated.
Shipping-software integration is a reality:
Software plays a key role in managing large volumes of shipments and integrating aids in that. SurePost allows integration with most software which is essential if there is already a software program in use.
How To Integrate UPS SurePost To Your WooCommerce Store?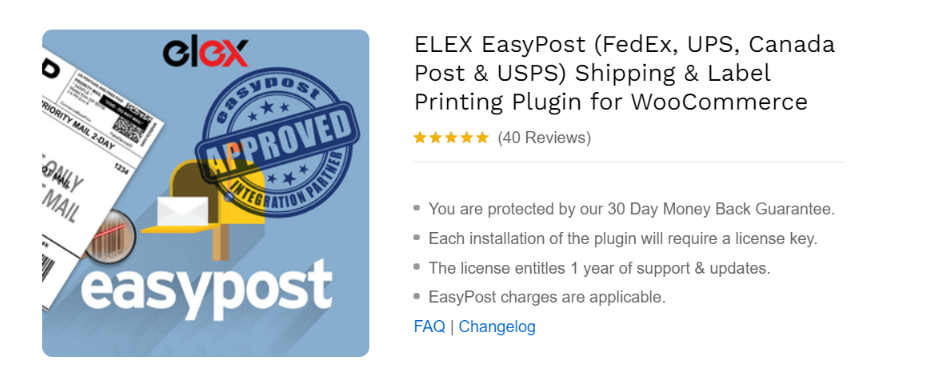 EasyPost Shipping Plugin allows you to display live shipping rates from UPS SurePost and Print specific shipping labels.
The UPS SurePost services included in this plugin are as follows.
SurePost Over 1 Lb (UPS SurePost)

SurePost Under1Lb (UPS SurePost)

SurePost Bound Printed Matter (UPS SurePost)

SurePost Media (UPS SurePost)
Now, let's try and set up this plugin.
Install the Plugin:

ELEX EasyPost Shipping & Label Printing Plugin for WooCommerce

Enter EasyPost Account details. You can register with EasyPost using

this link

.

You can read this detailed guide on how to setup and integrate all the available features of ELEX EasyPost plugin:

How to set up ELEX EasyPost Shipping Method Plugin for WooCommerce? (with Video)

In the plugin settings panel you can enable real time shipping rates for UPS SurePost, customize UPS SurePost Labels, enable insurance for shipment, customize packages for delivery etc.

The Customer is able to take a look at the UPS SurePost shipping rates, calculated using the items in the cart before placing an order.

Easily Print Label and Pay Postage using the information within the WooCommerce order page.

The plugin can be customized using various setting options. Have a look at the support section for any specific customization required for your business.
I hope this guide will help you understand what UPS SurePost is and 7 reasons to ship with it. If your products fall under the UPS SurePost category you can opt for this shipping service. Do let us know in the comments if you still have any doubts or ideas to implement.
Further reading