EasyPost has simplified the shipping process by helping store owners automate the entire process. Thousands of businesses have improved their shipping efficiency and customer experience by employing EasyPost API for their WooCommerce store. You can easily integrate features like real-time rates, purchase of postage-paid label, address verification and, tracking with our ELEX EasyPost Shipping Method Plugin for WooCommerce.
The traditional 'click and ship' service used by most carriers are improving but are not fully automated yet. For instance, USPS insurance for some services is still supposed to be bought from the Post Offices™. On the other hand, other fully automated services like Amazon shipping are too expensive for small and medium businesses. This is where EasyPost saw its business model and now provides complete automation of shipping processes with simple API.
Let's see how easy it is to employ EasyPost and its services for your WooCommerce store.
Integration Technology
While traditional logistics companies are still using SOAP and XML (heavy and complicated in use), EasyPoast works on RESTful API. REST deals more with operations that can be performed on Web entities whereas SOAP uses XML allowing users to frame a contract between consumers and service providers. But in today's business climate, the use of strict and long-term contracts between clients and servers are not preferred by consumers. And the traditional logistics companies are based on such operations. On the other hand, EasyPost eliminates any direct interaction between logistics companies and consumers, so that customers don't waste time waiting for long internal processes and use the services without any hassles.
What Does Store Owners Using EasyPost Get?
Users of EasyPost API gets access to real-time shipping rates and other services from more than 100 carriers. It also allows its users to retain their existing user accounts and pricing plans from the carriers. EasyPost also:
Show real-time shipping rates
USPS Commercial Plus Pricing with no minimum shipment volume required
Instant Access to USPS, UPS, FedEx, and DHL & 95 Other Carriers for printing labels
Use fulfillment services of the supported carriers
Tracking, Rating, Address Verification, and Insurance Features from all carriers
Retain existing account/plans and billing details
Reprint same label without charges, in case of errors
Get refunds instantly from EasyPost without involving the logistics company
Easier insurance claims from EasyPost
ELEX EasyPost (FedEx, UPS, Canada Post & USPS) Shipping & Label Printing Plugin for WooCommerce
Using Multiple Carriers
The concept of using one shipping carrier may fail sometimes. For instance, USPS is great when you are shipping domestically in the US while FedEx and DHL are global leaders in international shipping. So each time you want to deliver products with the best logistics service, you may end up with multiple options. ELEX EasyPost Shipping Method Plugin for WooCommerce helps you connect multiple shipping carriers and automate all of their services with ease.
The top 5 multiple-carriers features that become easier with EasyPost are:
Easy Comparision of Rates and Delivery Options
Store owners usually go for single carriers to reduce the time taken in research. They also want to avoid hassles and long guidelines from different carriers. But if you are using multiple-carriers you and your customers get to compare services in real-time and choose the best service. With EasyPost you can compare all rates and services from different carriers in real-time.
ELEX EasyPost Shipping Method Plugin for WooCommerce helps you easily add multiple carriers in WooCommerce. And the good thing is that it is not really expensive @ 1 cent per label.
Risk Mitigation
Risks like damage or loss during shipping have reduced significantly in recent times, so you can rely on most carriers for safety. But putting all your eggs in one basket may result in unwanted situations. So you should choose suitable carriers for different types of products you ship. It may also happen that a particular company may change some rules or stop one particular service. In these cases, a single carrier strategy will suffer a lot. For instance, the online label printing from USPS was discontinued due to revenue reasons which affected a huge number of USPS users in WooCommerce and other e-commerce platforms.
EasyPost Shipping Method Plugin for WooCommerce takes care of this problem in an easy way. EasyPost users get services from multiple carriers and can enable or disable them whenever they want. Visit the product page for detailed information.
Greater Negotiating Power 
One more problem with a single carrier strategy is that when you want to switch to a different service you'll consume a lot of time. Both leaving one service and moving to the other can take up to several months. And taking such risks with shipping impacts your sales and social reputation. Also if you use a single carrier you'll have limited choices with services too.
But if you have multiple carrier accounts you have the power to negotiate for lower shipping charges. You can also ask for additional services that the other carrier is providing without any upfront charges.
With EasyPost Shipping Method Plugin for WooCommerce, you get to retain your existing accounts from different carriers and also get a Commercial Plus pricing plan of USPS as soon as you register with EasyPost. This allows you to negotiate lower rates and reduce shipping costs.
Ability to Accommodate Customer Requests
The image below shows the cart page when you use our EasyPost Shipping Method Plugin for WooCommerce. Since it currently integrates USPS, FedEx, and UPS to a WooCommerce store, your customers get a lot of options to choose from the service list. Not just this, you can also choose to show the lowest available shipping rate and confidently put a tag of 'cheapest shipping cost' to get more customers.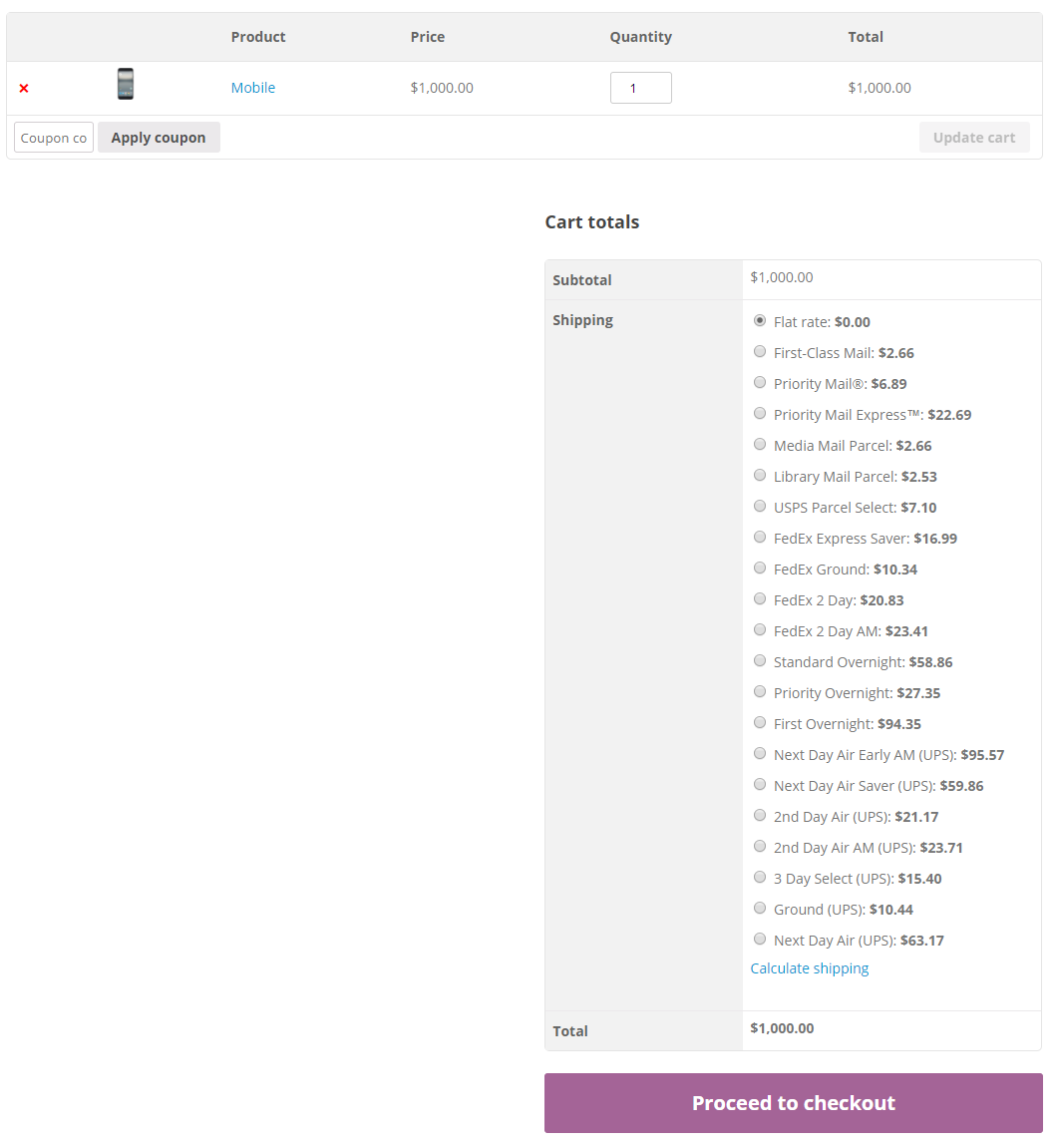 As the shipping cost and available service options play a crucial role in converting a customer, you should have multiple carriers providing services that suit the customer's needs. The above image shows the different prices and services you can offer to your customers. Such a wide range of choices increases the number of customers actually buying the product as some of them may need the product on the next day while the other can wait for days and pay less.
More Flexibility on Returns
Since products are bought in a virtual environment and customers buy them based on images, products are highly prone to returns nowadays. If you don't offer a free and convenient return, there are high chances that you'll lose return customers on your website.
Return services are either not offered or are not automated with most of the carriers. Whereas EasyPost has a complete automated solution for returns. It provides return label service to all its EasyPost Fulfillment customers. Just log in to your EasyPost dashboard, find the particular order in the 'Orders' section and then click on "Details" followed by "Return Order". You'll get a form to fill and once you are done filling it you can print your return label. The process remains the same for any carrier you use.
Easy Refunds, Insurance, and Claims
Refunds
EasyPost provides refunds of shipments created by many carriers supported by EasyPost. You need to submit a request and the duration of the refund will depend upon the carrier. If your previous refund request is rejected you can submit a request for the same again. You can also track and manage your refunds on the EasyPost dashboard.
Insurance
EasyPost provides an easy insurance process. Unlike traditional shipping companies, EasyPost does not categorize packages based on the declared value and you can apply insurance to all your packages for just 1% of the declared value as premium. Insurance with EasyPost is available for all countries of the world. Claims are also settled in a quick and efficient manner.
Claims
And in case, you want a reimbursement for a lost or damaged package, you just need to fill out a form and attach relevant documents like the invoice and a note from the customer explaining their item was damaged or wasn't received, in support of the claim. To claim insurance send your email at insurance@easypost.com and attach the documents required. The claim is filed within 24 hours with any calls and you receive your check within 30 days of the claim.
Address Validation and Tracking
Address validation is an important aspect of the delivery process. If an incorrect address is entered on the labels there is no way the package reaches its destination. You can minimize such mistakes by using Address Verification services by EasyPost. You can improve your overall deliverability by up to 62% with their CASS certified Address Verification. You get address verification API for free with the EasyPost Shipping API.
Tracking is available for all packages and all carriers. This service is also automated and is free for all EasyPost users.
Bottom Line
No doubt a shipping service with an established infrastructure makes it faster and cost-efficient. But with the tremendous growth in e-commerce, you will require an automatic and robust shipping software. So just connecting to a world-class carrier is not enough in e-commerce. For better results, you'll require a robust shipping software that automates the entire shipping process without leaving your website.
ELEXEasyPost Shipping Method for WooCommerce is the junction which brings together the services from USPS, FedEx, and UPS to your WooCommece store and does automate your entire shipping process. For more information go for the Documentation for a detailed troubleshooting and frequently asked questions on EasyPost and its integrations. Our Online Support is always there for your pre-sales and technical issues. Happy Selling!