Billions of packages are shipped annually through the top four shipping services (USPS/UPS/FedEx/DHL) in the US. These are no doubt the most reliable carriers in the logistics industry. Packages sent through them are handled with responsibility and care. But since the packages pass through multiple hands and carried on different modes of transport, there is always a risk of damage. Also, a relatively smaller package has a high risk of getting lost during shipping. This is where shipping insurance come into the scene. You can cover your packages against any damage, loss or theft during the shipping with various insurance services available.
What is Shipping Insurance?
Shipping insurance is a service that reimburses senders for the products lost, damaged or stolen during the transits. The service is sold by shipping carriers, insurance companies and other third-party service providers like Stamps.com and EasyPost. Logistics services like USPS, FedEx, UPS, and DHL provides insurance to its direct customers up to the declared value of packages. It is free up to a certain limit (usually $100), which means packages worth up to that limit are financially reimbursed (subject to claims). Beyond this limit, insurance is charged based on the declared value of the package. Stamps.com provides insurance at a discounted rate while EasyPost charges a fixed 1% of the declared value.
Shipping Insurance comes with some restrictions too and not all packages are covered by these services providers. For instance, USPS does not provide insurance for monetary bills & precious stones and packages worth more than $5000. FedEx does not use the term insurance but 'liability' for the declared value of the package. And almost all carriers don't provide insurance facilities when you send packages to war-hit countries like Afghanistan, Iraq, Syria and few countries in Africa.
Is Shipping Insurance Worth It?
As we saw, insurance is free up to a limit, so it is great for products with declared valued at less than $100. But the real question is if you should go for paid insurance? Is shipping insurance worth it? I would say yes, insurance is worth buying for your high-value packages.
Consider the case of products like electronics, artworks, and other valuable items. These products are costly and need special care while shipping. In spite of choosing the best carriers for these items, you can never be 100% sure of a safe delivery. Thus, buying an insurance will give you a peace of mind and if there is a damage, loss or theft, you get a financial reimbursement. So if you are shipping high valued products or a specific product type, go for insurance.
Also, when you sell online, it is important that the package reaches safely to your customers. A safe and sound delivery paves ways for future sales, great reviews, and ratings and a good reputation. So if a package is damaged during shipping, you will happily spend on refunds, replacements, and shipping again. In this case, it is smart to use the insurance facility here. so that you don't spend extra and maintain a wonderful seller-customer relationship.
Factors to Consider Before You Buy Insurance
Insurance becomes somewhat necessary in some situations. In case of international shipping, the risk of damage and loss of packages is significantly higher when compared to domestic shipping. Also, the 'type of product' can be decisive in this case. Let's see some factors that can help you decide if you should buy insurance for the particular shipment or not.
Destination country/Area- When the destination is a highly developed area or a developed country, you can expect a safe delivery of packages. But if the destination is a rural area or an underdeveloped country, the safety of packages will somehow be compromised.  Also, a low level of professionalism in the destination country may ask for an insurance of the package you send.
Shipping Carriers- A world class shipping service always helps in the safer delivery of packages. Carriers like FedEx, UPS, DHL and public postal services like USPS, Canada Post, and Australia Post provide tested expertise through their fulfillment service. They also employ a trained workforce and an established infrastructure which minimize risks. These established carriers provide free coverage up to the declared value of $100 and charge certain fees for packages with a value higher than $100. Not only this, these carriers help shippers in important processes like packing, pickup, and hand to hand delivery. But if you are using relatively newer services, it is nice to go for insurance, as the risk of loss or damage is more with less experienced carriers.
Product Type- Fragile items will always have a risk of damage. The slightest of mistakes in packing or mishandling of a package will lead to damage. Also, consider electronic item packages you receive from a manufacturer in the same town. These packages may be good for local transport as they are shipping with care. But when you send the same product to your customer in a different city or a country you will be concerned about the package. As you never know if the package was strong enough to protect the product among other packages.
So it is worth considering insurance and choosing the right carrier based on the volume of your annual shipments. You can also switch to a cheaper alternative based on the insurance cost. Or you can leave this option to your customer if they want a cover for the product during delivery. ELEX WooCommerce DHL Shipping Plugin with Print Label has the option that lets your customers to select if they want insurance or not. The option of insurance appears on the checkout page. Find out more about this feature.
Shipping Insurance Overview: Important Shipping Services
Shipping Services
USPS
FedEx
UPS
DHL
Cost
No charges up to package value of $100 for Priority Mail Express

Chargeable in case of package value of more than $100

Charge Sheets by USPS

No Charges up to $100

Pricing Details by FedEx

No cost up to $100 for all service with no declared value

Pricing Details by UPS

10.00 EUR or 1% of stated shipment value if higher

The actual value of your parcel in case it gets damaged or lost.

Extended Liability cost you @ 4.00 EUR* per package

Pricing Details by DHL

Automatic Coverage
None
up to $100
up to $100
up to $100
Declared Value Limit
 $5000
 Declared Value up to $100,000 per shipment on specialty items.
You can declare a value up to $50,000 per package extended up to $70,000.
No specified Limit
Terms & Conditions
 Terms and Conditions for USPS Insurance and Claims
Insurance Verification FedEx
Terms and Conditions
Claim Before 30 Days.
Enabling Insurance from within WooCommerce
Best Options with Shipping Insurance
EasyPost
EasyPost is a convenient and economical way of getting your packages covered. It provides insurance at its own risk, which means you don't need to contact the carriers for claims of the insurance amount. Further, the insurance rates are fixed at 1% with a minimum of $1 per package you send using the EasyPost API.  So it would be the best option if you are looking for insurance for products valued at or more than $100. While other shipping services charge exponentially after a certain limit, EasyPost remains at the fixed 1% of the decreased package value.
Stapms.com
Insurance with Stamps.com works in a manner similar to the discounted postage rates. It provides a flat 10% off on all insurance rates for First class and Priority Mail services from USPS. It also does the maths for you and calculates the cost or insurance based on the declared value of the package. And if you are a high volume customer of Stamps.com you can receive a 40% off the insurance expenses to USPS.
Tabled Comparision of Stamps.com and EasyPost Insurance Facilities
Shipping Services
Stamps.com
EasyPost
Cost
Guaranteed 10% off USPS insurance rates for First-Class Package Service and Priority Mail.

Professional Shipper Plan offers up to 40% off USPS insurance rates on most mail classes.

International Shipping Insurance at Domestic Rates

Purchase full coverage of your shipment for just 1% of insured value with a $1 minimum for both Domestic and International Shipping
Automatic Coverage
$100
No automatic Coverage
Claims
Quick and hassle-free claims. Usually, claims are settled within 7-10 business days.
A small list of documents required to complete a claim. Relatively faster and consumer-friendly process. Usually, claims are settled in less than 30 days for reimbursement.
Terms & Conditions
Since the carrier is USPS, the product restrictions are followed as per USPS. Stamps.com Insurance Policy.
Product restriction and value declaration as per carrier terms and conditions. More info can be obtained at insurance+claims@easypost.com
Enabling Insurance from within WooCommerce
You can enable insurance from the respective plugin settings. We'll take ELEX WooCommerce DHL Shipping Plugin with Print Label and demonstrate how you can enable insurance from within WooCommerce. So to enable insurance, navigate to Dashboard> WooCommerce> Settings> Shipping> DHL Express> General and scroll down to Enable/Disable section. Here check the box corresponding to Enable Insurance. This also opens up the option where you can choose to enable DHL Insurance on the Checkout Page. All shipping plugins from XAdapter has the option to enable Insurance. Visit the respective plugins for more information.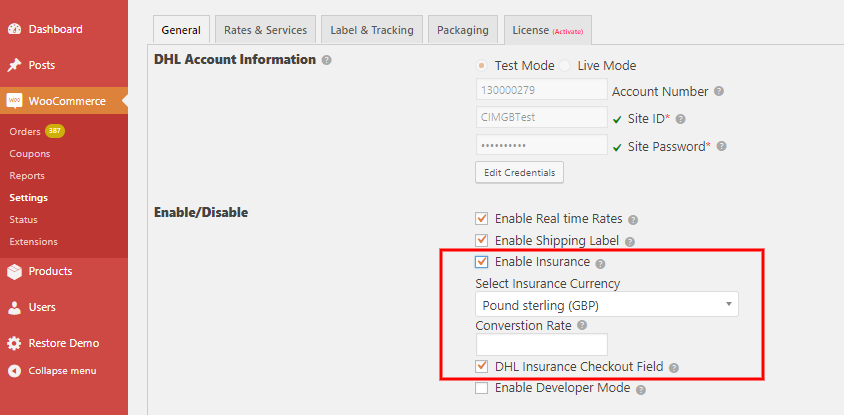 Conclusion…
Shipping packages may contain products that are valuable to you, both emotionally or financially. And when these packages reach the receivers in the best possible condition, it is always a wonderful feeling. But there are events that you can't avoid sometimes, so it is better to be on the safe side. As a shipper, you can be at peace once you buy a cover or insurance for your packages. And if there is a loss or a damage you get a reimbursement in return. An insurance may not give you the emotions attached to a product but it does support you financially. So it is better to be safe than sorry.
To get the automatic insurance feature in your WooCommerce store, you can integrate our shipping plugins to easily enable insurance to your packages You can visit our plugins section for more information and contact our online support for any technical assistance and pre-sales queries.