Multi-carrier shipping makes it possible to compare shipping rates from the best shipping carriers and pick the most competitive prices, delivery dates, and service types for your unique shipping requirements. You might be aware that various shipping carriers have their strengths and weaknesses. Relying solely on a single shipping carrier for all types of shipments might be detrimental to your business in the long run. In today's world, diversifying your delivery alternatives through high-quality plugins and effective multi-carrier shipping systems is a wise business decision. The multi-carrier shipping plugin connects practically every part of the shipping funnel. These plugins integrate directly to your WooCommerce store, allowing you to monitor customer orders, compare and select the most suitable shipping services from various shipping carriers, track your orders, and a lot more. Let's look at the many benefits of multi-carrier shipping in detail.
Benefits of using multi-carrier shipping
Risk-free shipping
During busy seasons shipping carriers might often encounter an overload of shipments. E-commerce businesses will benefit from multi-carrier shipping and the various choices it offers when they don't have to rely on a single carrier. Furthermore, businesses that rely solely on one carrier to manage all their shipping, risk their processes being halted if that carrier encounters a service interruption. Using a multi-carrier shipping approach, on the other hand, avoids the company from halting operations due to a single carrier failure or dispute. Multi-carrier shipping makes it possible to be immune to these incidents and continue doing business as usual. If one service faces some issue, you will always have another shipping carrier to fall back on.
Diversification
Diversifying shipping options is crucial when e-commerce businesses have so many shipments to make. This is because not all carrier networks and capabilities are alike. Businesses can expedite their delivery process and scale their shipping capacity based on seasonal fluctuations by diversifying shipments through multiple shipping carriers. Businesses can switch between shipping carriers to identify the optimal, cost-effective carrier for shipping items.  With a customizable shipping and delivery process, e-commerce businesses can save significant amounts of money and time while also staying ahead of the competition.
Build Brand Loyalty
In the world of one-day deliveries and same-day deliveries, customers expect their products and shipments to arrive faster than ever before. You will be able to minimize transportation time and improve customer satisfaction and brand loyalty by utilizing a multi-carrier shipping plugin. Ensuring quick deliveries is a wonderful approach to improve your reputation and keep existing customers while also attracting new ones. Apart from that, many customers are willing to pay a bit more for a quick delivery whereas many of them do not consider quick delivery to be a priority. With a multi-carrier shipping strategy, you will always be able to meet your customer's unique requirements.
The Best Value for Money
A multi-carrier plugin can often help you get a better deal and better shipping options. You will typically obtain more cost-effective shipping rates on speedy services to a wider variety of locations if you compare shipping carriers. This is great news for your business and your customers.
Best Multi-carrier Shipping Plugins
The ELEX EasyPost Shipping Method Plugin for WooCommerce is the easiest way for any eCommerce business to compare shipping rates from UPS, USPS, FedEx, and Canada Post in real-time. Using EasyPost APIs, the plugin displays shipping rates on the cart and checkout page of your store and helps you pay postage and print shipping labels right from your WooCommerce Store. The plugin also shows the estimated delivery dates for each service type from all of the available shipping carriers on both the cart and checkout pages. With price adjustments, parcel packaging options, and the option to choose separate shipping services in case of multiple packages, this plugin is the answer to all your shipping problems.
By presenting real-time shipping rates on the cart and checkout page, the ShipEngine Shipping Method Plugin for WooCommerce allows you to effectively automate WooCommerce UPS and WooCommerce FedEx shipping. Using ShipEngine APIs, you can pay for postage and print shipping labels directly from your WooCommerce store. It also shows the estimated delivery dates and allows you to track shipments from one centralized location. In addition to that, you also have the option to add handling fees, pack shipments, and choose separate shipping services in case of multiple packages.
How can ELEX Multi-Carrier ShipEngine plugins be a solution to WooCommerce Shipping problems?
Choosing the Best Shipping Carrier
Choosing the best shipping carrier is a struggle every eCommerce business is aware of. Especially if you only employ one shipping carrier, it feels like putting all your eggs in one basket. A multi-carrier shipping strategy eliminates this challenge as a whole. With the ELEX Multi-Carrier ShipEngine and EasyPost plugins, you can choose the most suitable and cost-effective shipping carrier for each shipment. 
Providing your customers with the most appropriate pricing
Deciding how much to charge for shipping, whether or not to add handling fees, and setting the product price are all very important steps and they determine the success or failure of your eCommerce store in the long run. With the help of ELEX multi-carrier plugins, you can easily determine how much you are being charged for shipping and set the costs accordingly while keeping your competitors in mind.
Reducing overall business expenditure
Gone are the days when shipping carriers could make you pay bizarre amounts of money for shipping. With real-time shipping rates from multiple shipping carriers, you have the option to make sure you never overspend on shipping. With the ELEX multi-carrier plugins you are provided a comprehensive list of all the possible shipping options from all the available carriers to make sure you always make the most suitable shipping choices.
Glitches while integrating the carriers with your WooCommerce store
Integrating each of the shipping carriers like FedEx, UPS, USPS, and Canada Post into your WooCommerce store can be quite tedious. You will have to manually enter all of their APIs and might frequently face technical problems while doing so. Even if you successfully integrate shipping carriers, generating shipping labels and shipment tracking will continue to be an inconvenience as you will have to visit the individual website for each of the shipping carriers to do so. With a multi-carrier shipping plugin from ELEX, all you have to do is enter the ShipEngine or EasyPost API into the plugin and you will be able to monitor everything from your WooCommerce store.
Multi-package delivery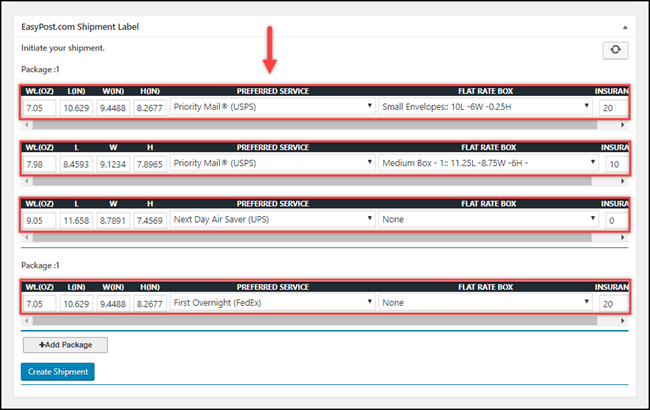 With the option to create shipments from separate shipping carriers for multi-package deliveries the multi-carrier plugins make sure you are using the best shipping carriers for each kind of shipment and making the most out of your options.
To Conclude
A multi-carrier shipping plugin makes the shipping procedure more efficient. A good multi-carrier shipping plugin can drastically improve the efficiency of your shipping operation. This shipping approach can reduce delays while also increasing customer satisfaction. Choosing the correct plugin, on the other hand, is critical to making the solution work for your company. Thankfully, ELEX multi-carrier shipping plugins not only offer a variety of shipping options but also help you streamline your entire shipping process. We hope this article gave you a clear idea regarding multi-carrier shipping and its various benefits. If you have any questions regarding this shipping strategy, please let us know in the comments section below.
Further Reading