The meaning of FedEx home delivery is right there in the question, which is the FedEx door-to-door shipping service; however, there is a lot more that goes into it. Among the many FedEx delivery alternatives available to meet the needs of each customer, FedEx Home Delivery consistently ranks as a top choice.
The FedEx Home Delivery service is responsible for the processing of dozens of billions of shipments on an annual basis. FedEx's speedy, low-cost, and dependable shipping service has won the hearts of many customers who appreciate being able to receive products ordered from eCommerce stores without spending too much.
In the following article, you are going to learn everything there is to know about the FedEx Home Delivery service. We are going to discuss the advantages of choosing this service as well as the difference between FedEx Home Delivery and FedEx Ground.
What exactly is FedEx Home Delivery?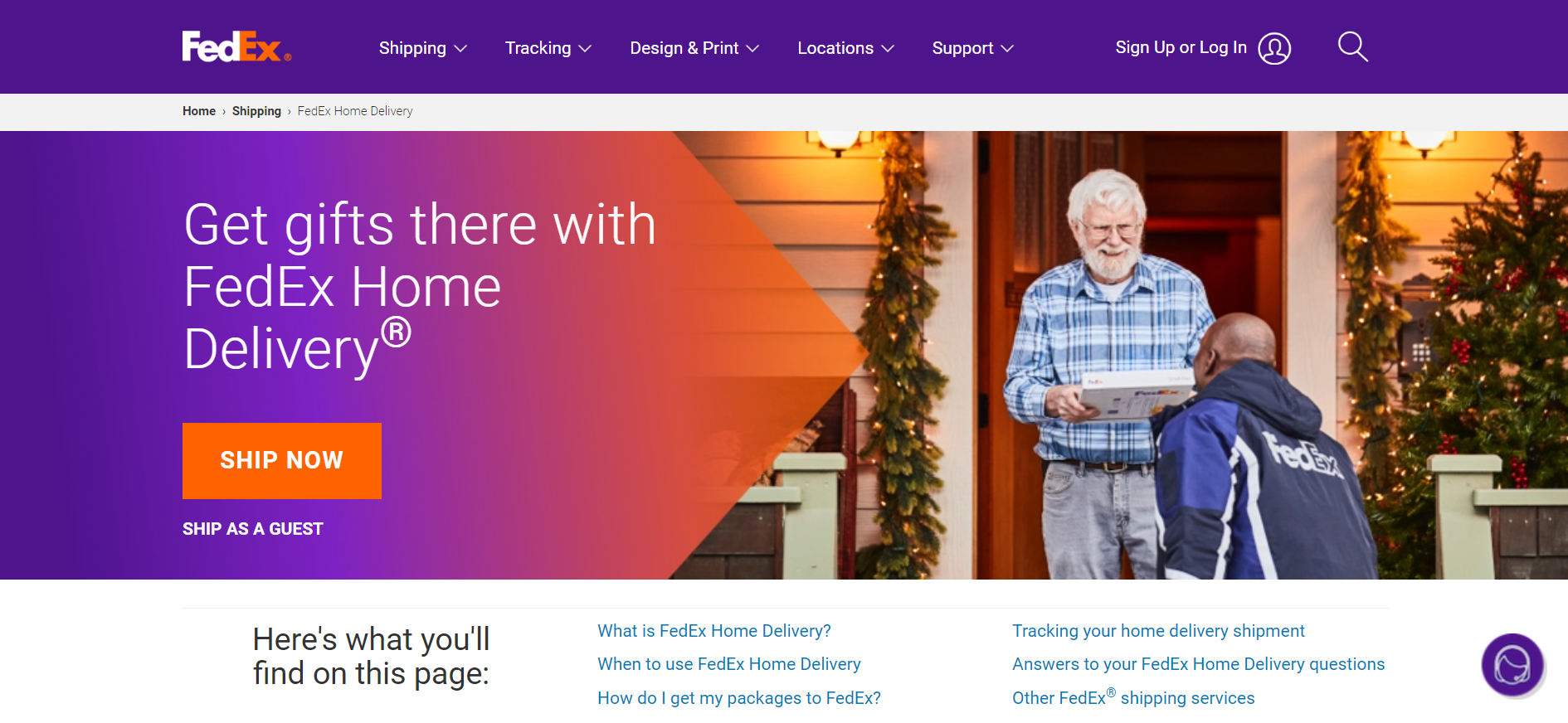 The FedEx Home Delivery service utilizes ground transportation for deliveries. When compared to UPS Ground, it offers speedier delivery to a greater number of residential locations. On the weekend, FedEx Home Delivery makes deliveries to a greater number of residential areas compared to UPS Ground.
Because packages can be delivered to customers' homes on any day of the week, holiday shipping can be both versatile and inexpensive.
We'll compare FedEx Home Delivery to FedEx Ground in a bit, but for now, know that the main difference is that FedEx Home Delivery packages can only be sent to residential addresses.  The services are fast and comparatively less expensive because they are integrated into the FedEx Ground network.
The reason why Home Delivery takes up to a week is that your shipments will never be placed on the FedEx network of air transport planes. Instead, they will always be shipped by ground transportation. So as a whole, the service is cost-effective if your shipments are not time sensitive.
Features of FedEx Home Delivery services include:
Shipping timeframe – Deliveries typically take between one and five days to reach their destinations within the contiguous United States. It takes three to seven days for packages to arrive at their destination from Alaska and Hawaii.
Weekend Delivery Service – Shipping and delivery happen seven days a week. In comparison to UPS Ground, FedEx Home Delivery serves a larger number of home addresses on the weekends. Deliveries can be scheduled for the evening or at a certain time. 
Shipping Cost – The FedEx Home Delivery service has a higher price point than the FedEx Ground service, but it is significantly faster than the UPS Ground service. If you want to get a shipping quote right away, click here.
Weight restrictions and maximum dimensions for packages – It is possible to send packages with dimensions of up to 108 inches in length, 150 pounds in weight, and 165.5 inches in combined length, width, and height measurements.
Service Region – The fifty United States are serviced by FedEx Home Delivery's delivery operations.
Order Tracking – Your purchase will always come with free and unrestricted access to FedEx Home Delivery's tracking information. Actually, FedEx data is automatically added to every shipment you generate, at no additional charge. This is one of the most significant advantages of using FedEx.
When Should You Use FedEx Home Delivery?
When shipping to someone's residence or apartment, you should use FedEx Home Delivery, whereas when shipping to a business, you should use FedEx Ground. The primary distinction between the two is that FedEx Home Delivery is intended for residential delivery.
When you are generating a shipping label on fedex.com, you need to make sure that the check box that says "This is a residential address" is selected. There's no need to stress if you can't confirm whether or not the address you're shipping to is a residential address.
Select the option that says "Perform a detailed address check." You will be informed by the FedEx system as to whether the address you entered is residential or business. The next step is to choose the address that has been confirmed or to select "Use address as entered" and tick the box next to "This is a residential address."
On which days does FedEx offer its home delivery service?
FedEx's Home Delivery Services are especially convenient because they are available almost every day of the year. FedEx simplifies package shipping and delivery Monday through Sunday, with a regular delivery window that extends from 7 am to 8 pm.   That's a significant reason why FedEx is so popular, and why they've been able to monopolize the U.S. domestic and global shipping markets practically from day one.
To receive FedEx home delivery packages, do I need to be present?
FedEx Home Delivery packages can be accepted when you are not there, so it is not mandatory for you to be home to personally receive the packages. 
However, with FedEx's Evening Home Delivery or Appointment Home Delivery, you can schedule a certain time for your packages to arrive, ensuring that they will only ever arrive when you are home to receive them and not when they are delivered to your neighbor down the street.
This provides you with a little more control over the exact time that these packages will be delivered to your doorstep, as well as a greater opportunity to organize your day so that you will be available to accept the packages when they arrive.
Every one of FedEx's home delivery options includes DSR, or Direct Signature Required, services. 
You have the option of requesting that "Adult Signature Required" choices be enabled as well, which means that your packages will only be delivered to adults who can provide a photo identification card issued by the government to verify that they are at least 21 years old.
FedEx's Home Delivery service always includes these add-ons at no extra cost.
How Is FedEx Ground Different From FedEx Home Delivery?
Do you agree that FedEx Home Delivery and FedEx Ground have a somewhat similar ring to them? FedEx Ground shipments can only be delivered Monday through Friday unless an additional fee is paid for Saturday delivery. On the other hand, Home Delivery provides customers with the option to have packages delivered on the weekends at no additional cost.
As far as we can tell, FedEx's network treats residential and business addresses equally, so packages sent via either service travel on the same vehicle and are delivered in the same fashion. However, as a business owner, you should weigh the costs and benefits of each shipping option before deciding which to provide your customers with.
In most cases, FedEx Ground will be less expensive for both you and your customers than Home Delivery. If you ship frequently and have a large volume, FedEx Ground may be the most cost-effective option, even if the recipient's address is a residential one.
FedEx Ground is usually the more practical choice, but if your residential customers need their packages delivered on a weekend, they can select Home Delivery instead.
How does one connect FedEx Home Delivery with WooCommerce?
The most efficient way to connect FedEx Home Delivery services with your WooCommerce store would be to use the ELEX EasyPost Shipping & Label Printing Plugin for WooCommerce. This plugin integrates numerous shipping services from leading shipping carriers such as USPS, UPS, FedEx, UPS DAP, UPS SurePost, and Canada Post.
This plugin will allow you to display real time shipping rates for FedEx home delivery services, as well as those of other carriers. Through its seamless integration with EasyPost APIs, you can create shipping labels, display estimated delivery dates, track packages, set up USPS Flat rate boxes, and make your own custom box packing.
Packed with a handful of other powerful features, this plugin is all you will need to start displaying FedEx Home Delivery as one of the shipping services on your WooCommerce store.
To Wrap Up
We hope this article has given you a fair idea about FedEx Home Delivery shipping services, its many features, and its difference from FedEx Ground Shipping services. If you have any questions regarding the FedEx home delivery service, please let us know in the comments section below.
Further Reading