UPS SurePost: What You Need to Know
eCommerce has grown incredibly popular in 2020 with the majority of retail shoppers purchasing from online stores, according to online surveys. This has contributed to the need for reliable and fast shipping services. UPS SurePost is one of the best known UPS shipping services, which is an affordable, residential ground service. Here we get to know in detail about UPS SurePost.
What is UPS SurePost?
UPS SurePost is a fast, reliable and affordable option for eCommerce businesses. It combines the reliability of UPS and the final delivery is offered by USPS. It is like a hybrid of both USPS and UPS as it combines features of both shipping services. This service is mostly used by retailers who ship orders weighing less than 10 pounds.
This service also offers post office pickups and even delivery of packages right at the doorstep of the customer. The shipments can be sent from 48 contiguous states of the US to all 50 American states, as well as Puerto Rico and other US territories also military destinations, and PO boxes. However, the UPS SurePost services are available beyond the borders to international destinations.
How Much Do You Save Using UPS SurePost?
UPS SurePost rates are quite affordable as the services are mostly meant to be for domestic delivery only. The charges levied by them include:
UPS SurePost Less – this allows sending parcels that weigh less than 1lb and also do not exceed 130" in volume.

UPS SurePost 1lb or Greater – these services are meant for heavier packages, but should not exceed 130" in volume.

UPS SurePost Bound Printed Matter – this service is used specifically for shipping books and printed materials.

UPS SurePost Media – this service is meant for packages weighing between 50lbs-70lbs and is restricted to send only binders, films, and medical binders.
Let's take a look at the charges roughly applied for UPS SurePost while:
Shipping from Florida to NewYork
UPS Ground Residential – $13.64

UPS SurePost Residential – $10.52

Saving – $3.12
Shipping from Florida to California
UPS Ground Residential – $15.04

UPS SurePost – $11.92

Saving – $3.12
Find more about the shipping rates while shipping with UPS SurePost here.
Remember you need to pay extra charges when your package weight exceeds the weight limitations mentioned by UPS. For example, if the package's dimensions are more than 17 inches but less than 30 inches, you need to pay an additional $2.50 approximately. But the best part of this service is that it doesn't charge you extra for weekend deliveries.
How Long Does UPS SurePost Take to Deliver?
Timely delivery is an important aspect when it comes to eCommerce. Most online business owners are looking for options to deliver goods timely without compromising the quality of the service. UPS SurePost does deliver within 2-7 days apart from other regular deliveries. It also offers weekend (Saturday) delivery services to most of the locations.
How Do I Track UPS SurePost?
UPS SurePost offers delivery in conjunction with USPS across locations. Hence the tracking service is also done in conjunction with USPS. While in the case of FedEx shipping service once the package is handed over to USPS, the tracking number needs to be changed, but with UPS SurePost, this is not required as the tracking can be done using the UPS tracking number itself.
Normally in the case of UPS shipping, a signature is required while delivering the package, but in the case of this service, a signature is not mandatory. The delivery happens securely at the given address. Before sending the package for delivery, the customers are notified about the package being sent for delivery.
Few Things to do before using UPS SurePost
Here are a few things that you need to ensure before using the service.
Choose a shipper and a perfect profile.

Mention the address to which the item is shipped to.

Provide the address from which the item is being shipped from.

Enter the package weight and dimensions.

Choose the service type and endorsement type (if applicable).

Mention the reference numbers for shipping.

Enter the package description clearly on the box.

Mention if in any special instructions to be followed.

Enter package ID on the package.

Get printouts of the UPS SurePost label for your package and Customs Declaration CN 22 form (if this box is checked).
If these above-mentioned steps are followed, it will help you track any UPS SurePost lost packages also. Ensure that you mention the return policies on the package on the shipping label. It is also important to indicate who bears the transportation cost, the shipper or the receiver.
Who Should Use This Service?
For any business, before choosing the shipping option, it is important to check whether by using this service the business is benefitting or not. The next thing you need to make sure of is whether you need to use ground service or UPS SurePost. The UPS SurePost Services works for businesses if any of the following applies:
You are shipping a large number of packages every week

When the last-mile delivery costs are more

Your shipments are not urgent
Pros and Cons of this Service
Like all other services, UPS SurePost also has its pros and cons. Here are a few things to be considered.
Pros:
No extra costs for Saturday delivery.

Increased weekly spend.

Unified tracking services for packages.

Reduced shipping costs.
Cons:
Slower delivery time, compared to other services.

Shipping items must be packed in your boxes.

The unified tracking can be confusing at times.

Do not allow to ship from outside the contiguous 48 US states.
UPS SurePost Vs Other Services
If you compare the UPS SurePost services with other UPS Ground services, then you can see that the speed of delivery, the tracking, as well as the cost and the packaging, are better in the case of other UPS Ground services. If you are looking for last-mile delivery options in a cost-effective manner, then UPS SurePost is ideal as it offers services just like FedEx SmartPost services.
How to Integrate UPS Services into your WooCommerce store?
If you are looking to offer UPS services to your customers, then you can easily include the UPS shipping services using the ELEX EasyPost (FedEx, UPS, Canada Post & USPS) Shipping & Label Printing Plugin for WooCommerce.
The plugin is ideal for providing real-time shipping rates for your customers and helping them choose the right service according to their needs.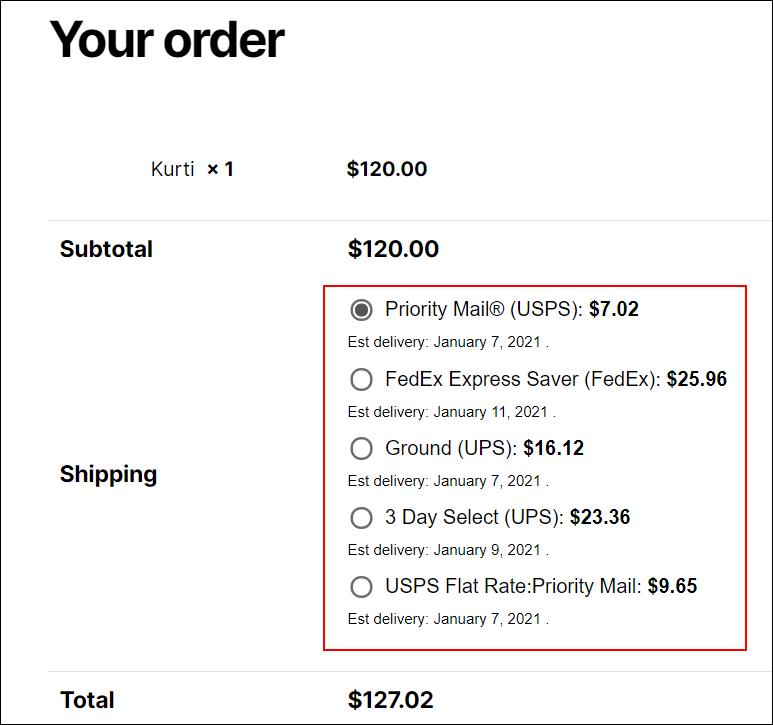 Also, as shown in the image above, you can show the estimated delivery dates along with the service and the overall cost of the shipment. Moreover, the plugin also helps you track the shipment in transit as well as print requisite shipping labels for the package.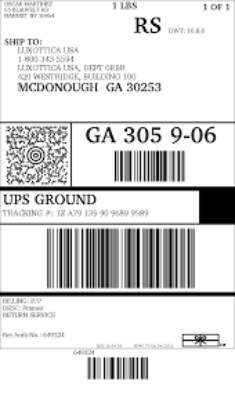 If you want to include UPS services in the list of services you can choose the service from the UPS services listed in the plugin.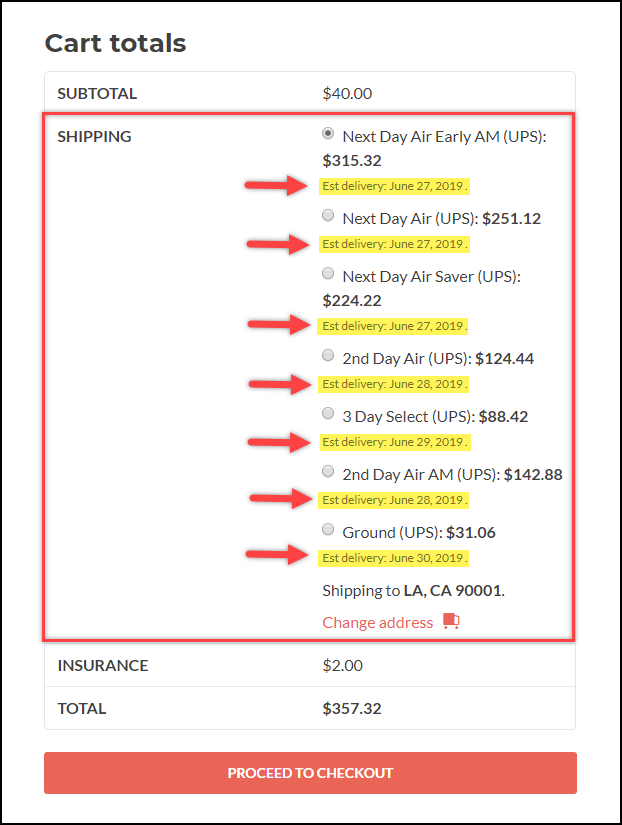 Currently, UPS SurePost service is not available with us, but if you would like to obtain the service for your WooCommerce store, you can always contact ELEX Support.
Use UPS SurePost for your Business Rightly
After careful consideration from the above factors, you can see that UPS SurePost does seem to be an economical option for businesses to consider for their shipping needs. The UPS SurePost has its own merits and demerits, but again it is the most affordable option that is ideal for last-mile delivery and also if you require Saturday deliveries.
Further Reading: