Shopping- doesn't it seem to be the most exciting thing to do at times? Most of the people in all age groups are fond of shopping. Whenever we are confused about what to buy, we all end up googling it. As a store owner, you might want to know how to do WooCommerce Google Shopping integration.
Introduction
With all these high indented searches for shopping-related queries, Google introduced Google Shopping (Froogle earlier).  Google Shopping is a platform to bring in all kinds of products into one single window. It becomes easy for customers, when all the similar products are on the same page, to compare and choose the one they prefer to buy.
Google arrived at Google Shopping, based on this general consumer behaviour, wherein they compare products listed by various vendors to help the customers arrive at a profitable decision. Google also lets small to big vendors get their space on Google shopping. Moreover, whenever the product was clicked, it was taken to the vendor's website which in turn brought in popularity for the vendors.
What is Google Shopping?
Google Shopping results are the eye-catching ones, you see whenever you search for a product, through search engines.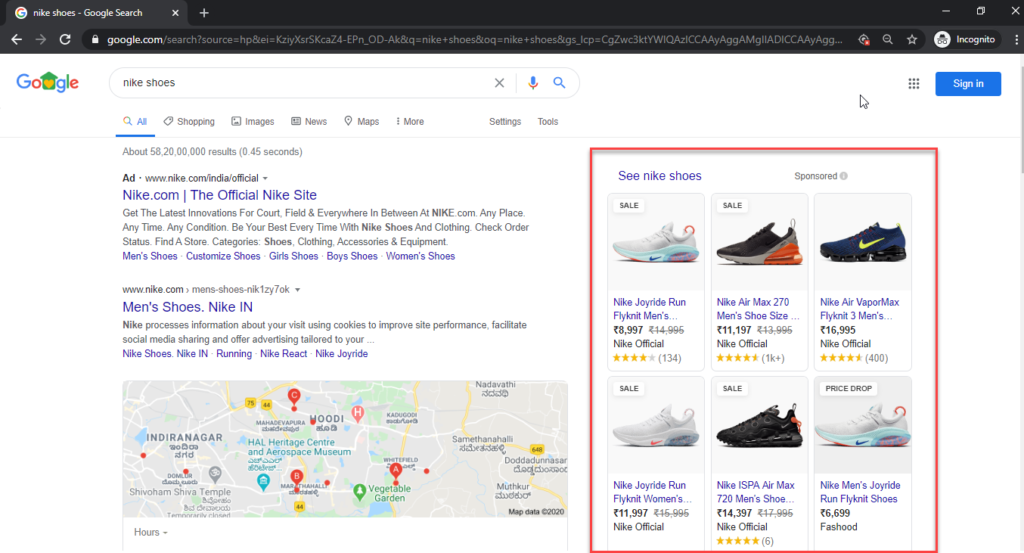 The results are clean and very well condensed. It is quite helpful for the ones who are looking for precise results. When you search on Google Shopping, you get products segregated in an orderly manner.
As you can see, the results are well organized and easy to filter. You can easily filter the products based on brand, price, seller, department, style, etc. which makes your comparison easier. Moreover, since all the products are listed together, you can easily look for the ones, you want to choose based on the overall ratings or comments by other customers.
Google Shopping slowly evolved from a simple product search page to a platform for all the eCommerce vendors. Anyone who is adhering to the Google Shopping policies can sell on Google Shopping, makes it all the more enticing. Everyone has their own space on Google Shopping.  And eventually, Google Shopping has become a primary choice for vendors to sell and customers to buy or look for a variety of products on one go.
Google Shopping is a new product discovery experience. The goal is to make it easy for users to research purchases, find information about different products, their features and prices, and then connect with merchants to make their purchase.
Why do people come to Google Shopping?
Most of the shoppers are quite sceptical about which channel to shop from. Whether it is Amazon, eBay or any specific store website or Google Shopping. When they are presented with rich information on products, the customers feel confident about choosing one among the sources. Online shopping has proven to be driven entirely upon this. Hence as a business owner, it is essential to let your business be visible to the crowd.
Why is Google Shopping the best for businesses?
Google Shopping has been a proven platform for any business – be it small or big to gain good traffic to their pages. It is quite hassle-free to set up and use. Moreover, Google Shopping has no constraints concerning selling. Anyone with an eCommerce site can sell their products on Google Shopping. Most of the Google Shopping ads appear above the regular organic traffic and are much more appealing.
Since the Google Shopping results have images, it stands out from the rest of the text results. They are mobile-friendly too. Google Shopping results create awareness and credibility for all vendors. Here are some reason, why Google Shopping is ideal for any business :
Benefits of Google Shopping results
The benefits of Google Shopping results are :
Prominent- The visual appeal makes the Google Shopping ads stand out among the other listings. The ads are most welcomed by the shoppers, who are well off in their research and provide a gateway to a better understanding of products. The results are highly targeted by shoppers.

Attention grabber-  Google shopping runs on visual optimization of products. Unlike other results that appear on the search results, Google Shopping stands out to visually appeal the shoppers. It focuses on attracting the buyers and steering their attention towards the products.

Quality Leads- Most shoppers who are searching must have already done factual research on the products. Hence once they see the results appearing in Google Shopping, they are almost determined to buy. Hence they are more likely to follow the links provided.

Better conversion rates- Compared to the text-only ads that appear, the visually appealing ads are much more cogent, hence there are high chances of the traffic that drives in through these results, ending in creating a customer. Ideally giving better conversion rates.

Easy to Manage- All you need is just a solid and error-free google product feed that is used with proper visual optimization to bring in potential customers. You need not worry about keywords to drive in traffic. 

Broader Reach and popularity- Google do not imply any restrictions in terms of vendors, that is why they are the favourites of any vendors be it small or big. The ads give a better reach among the public and drive in potential buyers for the business and also popularity.
How to optimize Google Shopping Performance
Google Shopping completely depends on visual appeal. Thereby it is important to optimize the appearance to boost the performance. Here are some tips to optimize Google Shopping :
Use only quality images – Look and appearance does matter on Google. It is important to use quality images that are unique and helps to identify your products among the competitors. It is important to ensure you use better lighting, clear backgrounds, and even better resolution to optimize conversions.
Ratings and Reviews- Most of the customers identify the better from the good with the help of reviews and ratings. Those stars that appear alongside the product names are just the right eye grabber. It is vital to obtain ratings and reviews for your products.
SEO Practices- The product feed that you generate plays a vital role. Ensure that your product feed data like the title, description etc. are crafted with clean SEO. This will help Google to connect your products to the searches on Google.
Focus on Google Analytics Campaigns- To boost conversion, ensure that you focus on the Google Analytics campaigns on your best products to drive sales. You need to focus on ad groups and your audience for improving the performance.
Use Negative Keywords- When you focus to arrive in the right searches, you also need to ensure you are not appearing in the wrong search. Hence it is important to use negative keywords so that your products don't appear in the irrelevant searches.
Using unique identifiers- The more unique your items are, the better they get exposure. Most products either have their unique identifiers, that can be used in the description or the Google product feed.
How does Google Shopping work?
Google Shopping purely works on data – ie the product information from the vendors who update it from time-to-time. Most online retailers submit their product feed or the data via Google Merchant Center. It hosts the product information that will be used in Google Shopping. Since the product data in the form of product feed are fetched directly from the vendor's page, it contains all the necessary information like the current price, quantity, the availability etc.
Therefore it is important to feed the data accurately to your Google Shopping. To do the same, and help every vendor find its space on Google Shopping, Google introduced Google Merchant Center.
A to Z about Google Merchant Center
Google Merchant Center is your key to Google Shopping. It offers an opportunity for zillions of online shoppers to discover, compare and buy products from any vendor who is selling online from anywhere.  In a way, it connects a potential buyer to the potential merchant.
Prerequisite :
You require a Gmail or a Google account to access your Google Merchant Center. Create one if you do not have.
Once you create an account you can log in to Google Merchant Center.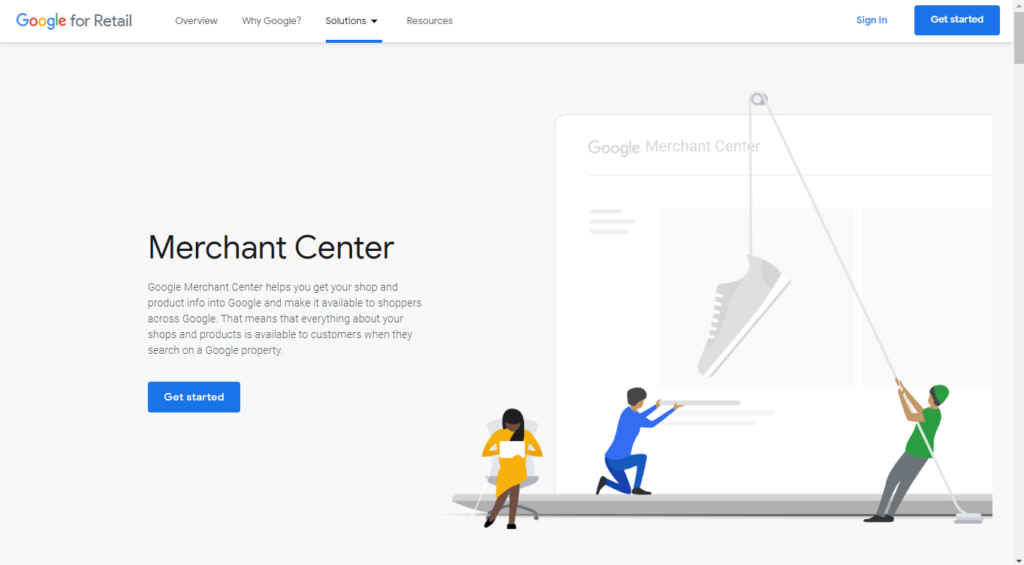 When you click on sign in, you get to see other integral options you need to propel your products to Google Shopping.
Using the Google account you can sign in to Google Merchant Center, Google Ads as well as Manufacturer Center. The Google ads let you design specific ad campaigns for your online customers, depending on the products you sell and the area or even customer interests. Google Manufacturer Center is yet another platform exclusive for Manufactures who are interested to showcase their brand, unlike the store owners. GTIN Numbers are essential if you want to start using the Google Manufacturer Center though.
Steps to getting Google Merchant Center activated
Once you login to the Merchant Center you will be asked about the business details to get started.
Enter the following information :
Business Country – Specific or any region, you want to focus your business sales.
Business display name – Provide the brand or the business name or your store name.
Time zone – You can provide a time one for reporting and calculating your store performance.
Follow the terms and conditions specified by Google Merchant Center.

Choose a suitable program that suits your store
You can either go for Surfaces across Google, wherein your products will be displayed on the search results. Or you can choose for Shopping ads, which will be paid advertising options to get better results.

Finally, you get your account created after complying with the Google Merchant Center account rules and regulations. Learn about the other programs offered.

And thus, the Google Merchant Center account is created.
Programs offered by Google Merchant Center
Google Merchant Center offers multiple programs for merchants to propel their sales graphs to a greater range using the following :
Surface across Google: 

A free option offered to get your products displayed across several pages. Your products will appear on several web pages, giving you visibility.

Shopping ads:

An added visual appeal for advertising, with images, prices and product details on Google Shopping. Here we use the Google Merchant center to submit the products and create ads using the Google Ads

Shopping actions: 

Since numerous people search for products, Google helps global buyers to purchase the products using Shopping actions by helping them to instantly purchase.

Dynamic Remarketing:

With this, it enables product ads to be displayed to your past visitors. With the dynamic display of ads, you can post specific product information that is tailor-made for your customers, focussing on their previous site activities.

Customer Reviews:

Reviews stand important in the case of products. Using the customer reviews, you can earn a badge to display on the website. With customer reviews, you can collect reviews from the customers and seller reviews to get evaluated.

Local Surfaces Across Googles: 

This is ideal for merchants with a local store. You can easily show your local inventory on Surface across Google and then your shoppers can easily see what's available on your local store.

Local Inventory Ads: Using this, you can show your ads, for your local inventory store in your shopping ads. Whenever a shopper clicks on the ads, they will be redirected to the store page, where your local store timing, location and various other details will be provided.
Merchant Promotion: Using this, your online promotions are displayed alongside the Google Shopping ads, with no extra cost.
Product Ratings:  Using this, you can add a 5-star rating to your shopping ads. It also lets you add reviews, to help your shoppers feel confident about the products they will purchase from you.
Creating Product Feed for Google Merchant Center
The next important task is to create a product feed. For this, Google Merchant Center offers you several options to do so. Merchant Center accepts Primary feeds and supplemental feeds. Primary feeds need to meet all the product data specification and policies by Google Merchant Center. You can use the primary feed to set the data, product image, language, target country etc. Supplement feed is used for additional details that can also be connected to the existing primary feed data. One supplement feed can also be used as supplementary information for multiple primary feeds.
Here are the steps to create a primary feed :
Firstly to create a feed, go to Products >> Feeds.

Upon clicking create product feed, you get the page wherein you need to enter the country of sale and the language.
Also, choose the destination, which decides the google products which can display the product feed data.
Next step is to choose how to enter the feeds to Google Merchant Center. Here we provide the primary feed name, to distinguish the feeds and the method to upload the feed.
We have four options :
Google Sheet – You can add a new sheet or select an existing Google sheet provided by Google Merchant center. When you make changes in the sheet, it'll be automatically reflected on your Google Merchant Account.
Schedule Fetch – Lets you provide a URL of your product feed and the data is fetched from your website, whenever the time is specified.
Upload – Lets you upload a file in XML, TXT or other supported file format, which are usually stored on your system, which is timely uploaded from your system using FTP, Google Cloud etc.
Content API – The Content API for Shopping enables you to automatically upload product listings and helps to make your products easily discoverable through Google Shopping using potential Google Ads.

If you choose Schedule fetch, from your store, then you need to specify the following details. Like the file name of the feed, the intervals at which the fetch needs to happen. If you are planning to fetch the data using a specific URL, then you need to ensure that the data in your website is updated timely and the feed contains the update that will be fetched at regular refresh schedule.  Also, you need to provide the file URL and the timezone you want to operate your shopping ads.



If you use password-protected sheets, ensure to provide the same in here.
Finally, the feed is listed in the primary feeds.

How to create Google Product Feed?
If you have less than 500 or so, products in your store, you can simply manage to create a Google Product Feed using the Google Sheets. But again, the process is tedious and takes plenty of your time. To quicken the process, for stores built on WooCommerce, you can make use of popular plugins that let you generate Google Product feed efficiently.
When your popularity is on stake, you may not want to risk it with any wrong information. When you want to popularize your products on a platform with a wider range, you might want to create accurate data. To create the same, you need to integrate with the right WooCommerce Google Shopping Feed plugin.
Here we can see how you can easily establish WooCommerce Google Shopping Integration using the freemium plugin ELEX WooCommerce Google Shopping Plugin (Google Product Feed).
ELEX WooCommerce Google Shopping Plugin (Google Product Feed)
The freemium plugin is quite handy for generating multiple products feeds for Google Merchant Center. With your better store details on your product feed, you can generate better traffic and leads to your store. The plugin is quite handy and robust to use in your store. The free version of the plugin does not support variable products. If your store deals with variable products, then the premium version is ideal for you. The price is worthy enough for the performance enhancement you will experience on your store.
Features of the Plugin
Here, the plugin will create feeds concerning several conditions specified by the store owner, to reach the audience in a better way. (explained further in the article) . You can generate a feed, in various formats like XML, TSV, CSV etc. Let us take a look at the prominent features of the plugin:
Helps to display WooCommerce Products On Google Shopping.
Unlimited Feeds can be generated.
Create unlimited Cron jobs.
Create a feed for simple as well as variable products.
Support Multiple countries while generating feeds.
Supports Multiple Feed Formats.
Schedule feature to update the feed promptly.
Supports Multiple Languages for feed based on the countries.
Easy to map products to Google Product Category.
Strong attribute mapping based on rules and conditions, to give better feeds.
The plugin allows full customization of feed attribute values.
Allows to create a custom field using meta-keys
Allows adding unique identifiers (GTIN, MPN, and Brand ) to the products directly in the product page.
Quickly manage product feed generated from the dashboard.
Create Google Product Feed using ELEX WooCommerce Google Shopping Plugin (Google Product Feed)
Firstly you need to purchase the plugin and download and install the same on your WooCommerce store. Once the plugin is active, you can open the plugin from the dashboard and go to Create Feed.
Here you can enter the following:
Project Name: which is the desired project name for the feed, preferably unique.
Project Description: that defines the product feed or you can even leave it blank in which case the project name to be taken as the project description.
Select Country: Select your country from where you are selling the products.
Include Variations: Tick this checkbox to include all variations of your WooCommerce products. The feature is not available in the free version.
Default Category: You can choose the default Google category, for all your product categories. The category can be modified at a later point while mapping the product category if needed.
File Format: Currently supports CSV, TSV and XML format.
Refresh Schedule: You can schedule Cron jobs to refresh the feed generated, this is effective whenever you make changes to your products, the changes will be fetched timely using these Cron jobs set. You can choose to refresh Daily (at a specified time), Weekly (at a specified time and on a specific day of the week when the feed was created), or even Monthly (at specified time and date of creation of the feed).
Advanced Options: When you tick the Set Auto-set identifier exists, it allows the product feeds without unique product identifiers (GTIN, MPN, and Brand)  to be uploaded to the Google Merchant Center.
Map Google Categories
Secondly, you need to map the product categories to Google Categories. Google has listed a few categories, which are available in the Google Taxonomy. If you have selected a default category in the previous step, all your products will have defaulted category selected. You can change the same here depending on the product category.
If you haven't chosen any default category, when you enter the google product category, automatically the product is selected.
Mapping Product Attributes to Google Attributes
Once the categories are mapped, next we need to map the product attributes to the Google Attributes.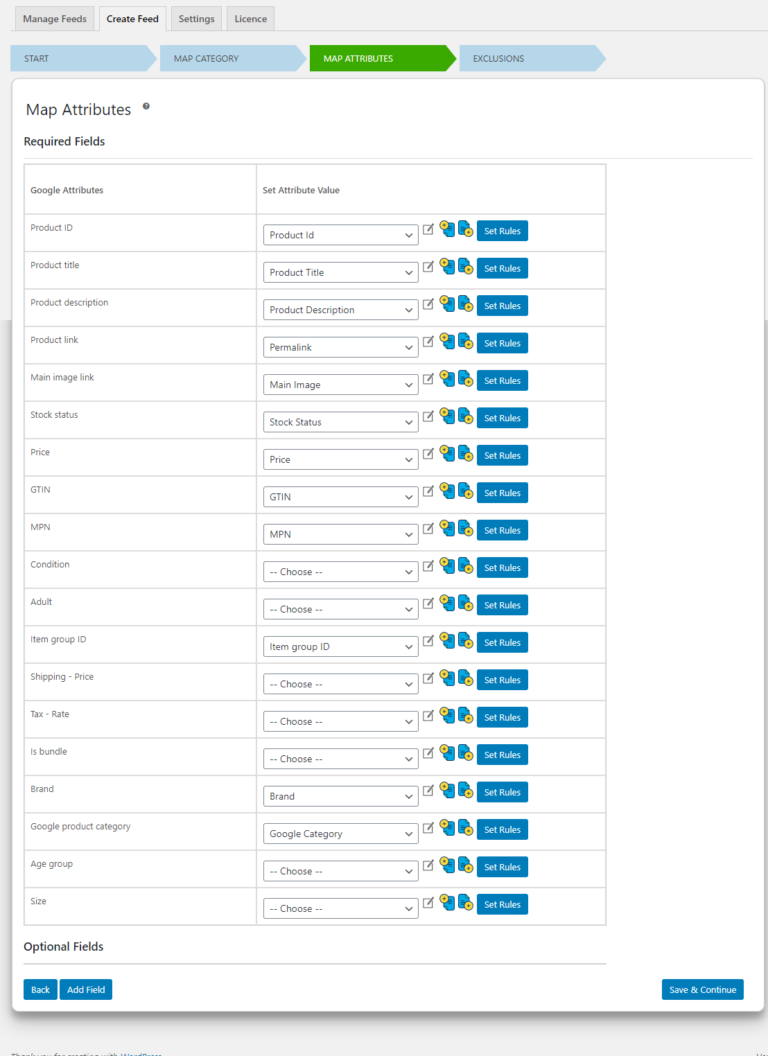 Here, you can append or prepend any other field to the corresponding field.
Also, you can set conditions to the attribute mapping for effective mapping solutions.
For example, if the regular price is greater than 100 and less than 500, you set the value as the sale price or default the value as regular price.
You can also add one or more additional optional fields to your feed, that will help you customize the feed for your store.
Product Exclusion
Finally, you can exclude any products from the product feed using the plugin. You just need to enter the name of the product and the rest appears in the list, from which you can choose which one to exclude.
And finally, generate the feed. The Feed generated appears in the Manage Feed tab. The manage feed tab lets you copy, regenerate, pause the feed, view or edit the feed as well as delete the feed. Whenever you want to pause the refresh schedule for your feed, you can pause here and whenever you want to resume you can do the same from the Manage Feed page.
Additional options
If you want to add any specific product attributes and map to the Google Product attribute you can add meta keys to the plugin. The custom keys will become visible in the product attribute mapping, and you can map the google attribute to it. Also in the settings, you can provide the pathname to store the product feeds generated.  The plugin offers multilingual support depending on the country chosen.
Once the plugin generates the product feed, you can fetch the URL and provide the same in the Google Merchant Center.
Note: If you are providing Schedule fetch, then ensure that the refresh schedule in the plugin for your feed, must be priorly happening before Google Merchant center fetch the feed from the URL provided.
Linking Google Merchant Center to Google Ads
Creating a feed and just uploading it to the Google Merchant Center doesn't help. You need to focus on where exactly you want to post your product ads. To do this, you need to link the Google Merchant Center to the Google ads account. Google Ads is supposed to be the backbone of your Google Shopping. To implement the complete Google Shopping integration, you need Google Ads.
Here you need to Verify the website URL. To verify you must use any of the four channels of Google  Console which are Google Analytics, Google Tag Manager, HTML Tag, HTML file upload. When the URL Verification is done, you get a confirmation mail. To claim your website you need to provide the URL of the merchant site. Then you need to link your Google Merchant Center account to the Google Ads. 
When you click on the link, you are navigated to another page, wherein you can enter the Google Ads customer ID which is available on your Google ads account.
When you click the link, the Google Ads accounts receive a confirmation to link the accounts. And then the status is updated in the Google Merchant Center.
After linking, you need to create campaigns for your shopping ads. To do so you can make use of the Google Ads campaigns:
While creating a campaign you can target your goals, like whether you want more sales or leads or improve the website traffic. You also need to select the target locations for your ads.
If you are a store owner, you would like to improve your sales by promoting your products on Google Shopping. So you can create a respective Google Ads campaign for the same. Once the campaign is chosen, you can bid for the same as well as specify the budget for your shopping ads. 
Next, you need to focus on what kinds of ad you want to run for your store. 
Here you set the ad groups. The product shopping ads are mainly meant for single products. And Showcase shopping is subjected to a group of related products.
Once the ads are created and saved, you can set the ads to run and showcase your products.
Setting up Google Analytics for your WooCommerce store
If you are a local vendor and want to redirect your shopping ads to your local store, then you need Google Analytics. With Google Analytics, you can measure the online behaviour like the page views etc. and then redirect your valued customer to your store with ease. With Google Analytics you can capture the audiences in a better way and analyse your store traffic.
Firstly you need a Google Analytics account. Also a website URL. You also need to choose the category of your business and then obtain a tracking id. If you own a local store, then create a local storefront and then submit the tracking ID for the activation. Then once activated, you can see all the data on your reporting tab.
In this way, you can link your Google Analytics to Google Shopping ads and Google Merchant Center to promote your store.
Final Thoughts
With all the above details, you can easily integrate your WooCommerce Google Shopping effectively to produce impressive results and propel your WooCommerce products to Google Shopping.
Further Reading: