You're losing out on key benefits if you haven't already created your WooCommerce store to have a significant online presence. Today's consumers rely on internet resources and search engines to discover new businesses and create online connections. Additionally, there are numerous advantages to establishing an online store for small businesses because you may get the same exposure as larger corporations.
One of the finest strategies for expanding your audience apart from a WooCommerce store is Facebook marketing and promotion. If you work in marketing or operate a small company, you are aware of the best ways to use Facebook advertising.
WooCommerce store owners can also agree with the aforementioned statement. Imagine being able to link your WooCommerce store with your Facebook store! That would definitely be a game changer.  
You are in the right place if you want to learn how to do so.  With the help of this, you may effectively attract more clients, traffic, and leads via Facebook to your WooCommerce store.
How about if we told you that it is feasible to combine your Facebook Store with your WooCommerce store? A Facebook for WooCommerce plugin is all you need.
We'll talk about how to utilize a Facebook for WooCommerce plugin and effortlessly combine both platforms in today's blog. This will help automate your entire marketing and create tons of revenue.
Understanding Facebook Marketplace
Let's understand some noteworthy Facebook information before getting started with a Facebook integrated store. Facebook is the most widely used social networking site worldwide, with approximately 2.85 billion active monthly users and 1.84 billion active daily users. As a result, Facebook offers enormous potential for businesses to interact with this vast audience.
Online virtual storefronts known as Facebook Shops or in whole called Facebook Marketplace, function in tandem with Facebook Business Pages. Customers may simply find their desired items in your store, complete with all the data. Additionally, they may communicate product details and buy the goods without switching to other sites. As a result, your store enables you to give your clients a natural shopping experience.
You will have to tag and map every product after your Facebook store is prepared and optimized. The tags will therefore be shown alongside your Facebook posts and advertisements. As a consequence, your highlighted products will be readily found by your followers, and you will see an increase in conversions.
Consequently, you may reach out to new potential clients with little effort. Facebook's algorithm displays the items that users are interested in based on their activities. It is therefore simpler to use this platform to target the appropriate customers with the right goods at the right time.
Why Should You Connect Facebook with WooCommerce?
Since its inception, Facebook has been utilized to advertise online companies. Many of its features have been improved in order to support internet enterprises. For instance, you may create specific brand pages to advertise the items in your WooCommerce store.
We may thus conclude that by integrating our company with Facebook, we will increase our lead generation, audience reach, and client base.
Your business will benefit from using Facebook marketing to attract new clients, strengthen existing relationships with current ones, and boost online shop sales.
Benefits of Facebook Marketplace
Customers may easily browse, investigate, and eventually buy products directly from Facebook. The platform solely showcases your brand using a number of Ad kinds and creative options. In the end, a customer's purchasing experience is perfect and pleasant.
The following are some of the main benefits that Facebook Marketplace may provide your company:
You may compile goods and present them with eye-catching graphics and layouts. As a consequence, developing an original brand identity is simple.

Leverage individual audiences and their targeting with various ad formats. As a result, you may interact with consumers who come across your ads and store.

You get access to all the necessary insights on your sales success using Facebook Commerce Manager. You may thus tailor your advertisements and shop depending on the insights.

Once you've finished creating your Facebook business page, you may use well-known shopping websites like Facebook Shop and Instagram Shop.

Customers have a variety of methods to access the contents of your Facebook shop. Through your Facebook business page, shoppable feed, product tags, stories, live, etc., they may purchase your goods or services.

There are several options on Facebook for responding to customers right away. Customers may easily get in touch with you via WhatsApp, Instagram Direct, and Messenger to get any help they need. 

Additionally, these services may be utilized to track the delivery and respond to customer inquiries.
Prerequisites for Linking WooCommerce with Facebook
Before understanding how to connect WooCommerce and Facebook, let's concentrate on a few necessities. We are highlighting certain conditions that are necessary for you to meet. 
WooCommerce Store
You must first set up a WooCommerce online store on your WordPress website since we require WooCommerce to work with the Facebook shop. Using the product data on your WooCommerce website, you must construct a product catalog. All of this product data must also be sent to the Facebook commerce manager. (We will get into this further in the article)
Specific Product Details
Make sure all of your WooCommerce product information is current and accurate before generating the product feed. Keep in mind that clients will be transferred from a Facebook shop to your WooCommerce business.
The customer's purchasing procedure will be hindered if a product advertised on Facebook Ads isn't offered in your online store. As a result, you will miss out on that prospective client and sales. Make sure that your product information is accurate.
Facebook Business Account
To advertise your goods on Facebook, create a Facebook page and Facebook catalog ads. You may access several Facebook Ad types by setting up a Facebook store. As a result, you may sell your items in a creative way by using various ad styles. Facebook offers the following ad formats:
Carousel ads: Each item is shown with a scrolling or swiping option, as well as links.

Product-tagged ads: These are useful for promoting particular goods. After clicking the product tags, customers are sent to the product page.

Collaborative ads: sales campaigns with participating retailers must be executed using collaborative ads.

Dynamic Ads:  When advertising items from a catalog in response to a customer's search query, these ads are the best.
The Facebook business profile also allows you to submit and advertise important information.
Product Feed File
Your WooCommerce store's product catalog has to adhere to Facebook's criteria. With the exception of illicit or adult products, weapons, and other items, you can add product information to a catalog.
You must produce a product feed file with comprehensive product information in order to construct a product catalog. Basically, you may include many product feeds in a single product catalog file.
Now that we have an understanding of the basic necessities for syncing WooCommerce with Facebook, let us get into the process.
Syncing Your WooCommerce Store with Facebook
Facebook uses catalog product data, thus your product catalog should include an exhaustive product feed. As a result, you must upload the feed file to your Facebook business suit account's commerce manager section. In the end, Facebook retrieves the product information from the feed file and displays it.
Use the ELEX WooCommerce Catalog Feed for Facebook & Instagram to create a feed file that complies with Facebook's requirements. We'll first go through how to create a feed file before moving on to the Facebook sign-up process. Finally, we'll demonstrate how to submit a catalog to connect WooCommerce to your Facebook Shop.
A Little About the Plugin
The ELEX WooCommerce Catalog Feed for Facebook & Instagram makes it simple to integrate your WooCommerce product stream on Facebook Marketplace. Once installed, the plugin will enable you to quickly set up your Facebook store. For simple and variable products, there is no limit to the number of product feeds you may generate and manage. (The plugin's free edition only allows you to process simple products.)
The plugin allows you to target a certain location and language when creating a store on Facebook and Instagram. It provides a variety of functions, including frequent updates to the product feed and automated product syncs. Among other things, the plugin's straightforward UI makes category and attribute mapping a smooth process.
The Plugin Dashboard
Following installation, the plugin will be able to create and sync product data feeds automatically, as well as gather all of the product data required for Facebook and Instagram from your WooCommerce store. We'll go through everything you need to know to finish the process effectively.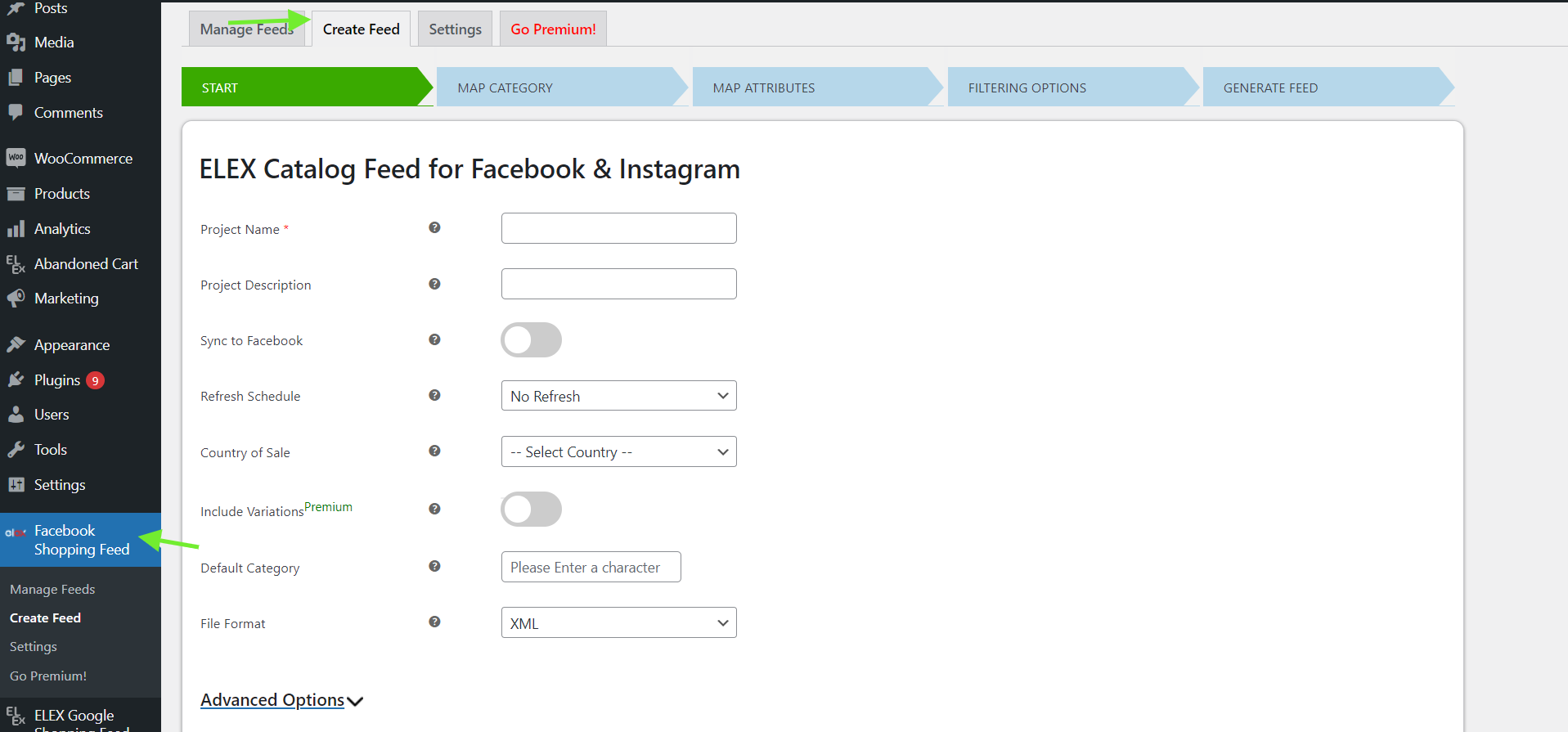 You may begin building a Facebook shopping feed by choosing ELEX Facebook Shopping Feed > Create Feed from the WordPress Dashboard.
Start Tab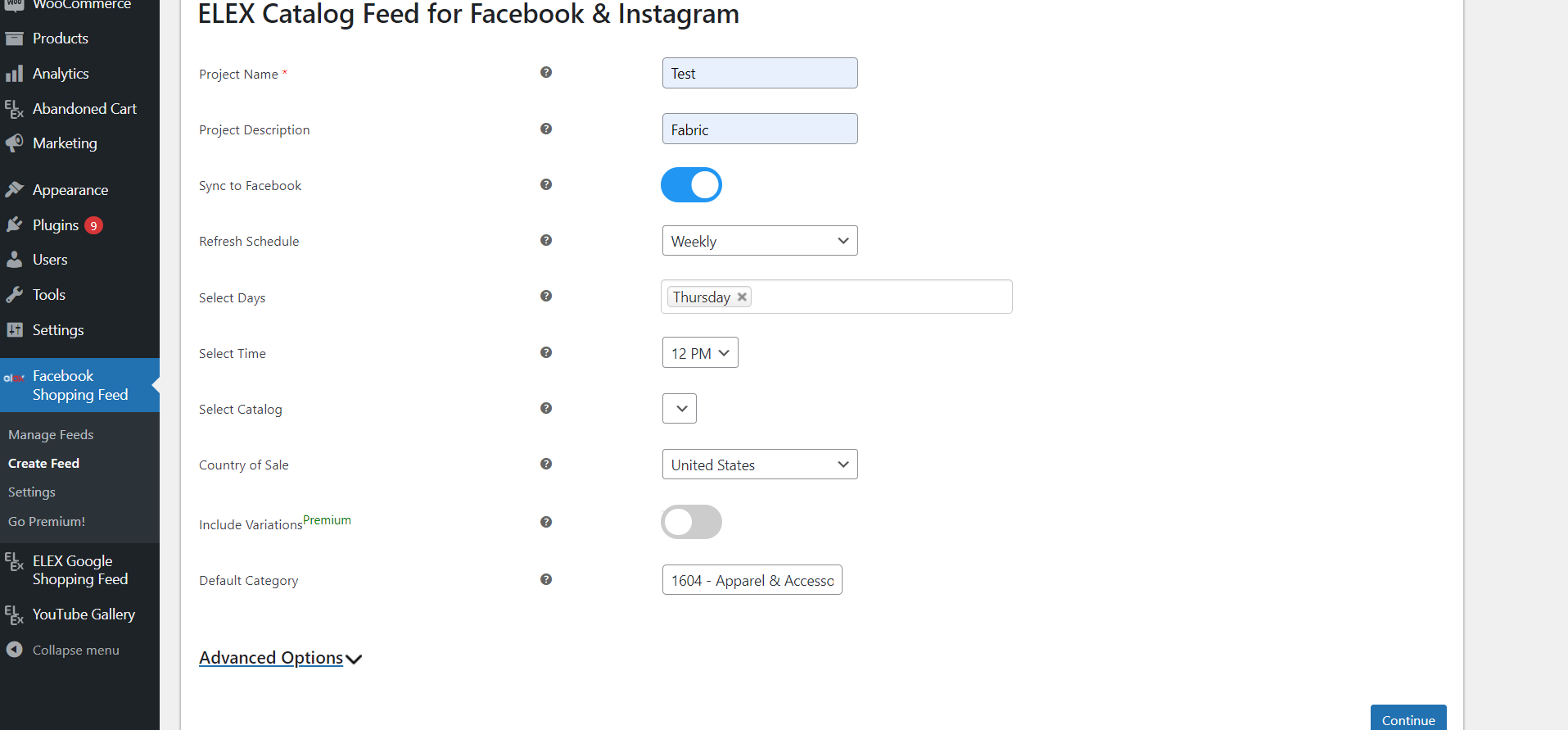 In the Start tab area, provide the project's name, description, country of sale, variations, categories, refresh schedule, currency conversion, and any other pertinent data.
Enable Sync to Facebook before moving on to the following step to automatically sync your WooCommerce items with the Facebook Catalog. Once the sync feature has been activated, you can choose the library to sync by choosing the appropriate file from the Select Catalog drop-down menu and scheduling it in accordance with your requirements.
If your items feature variants, keep in mind that the Include Variations option might be helpful. This feature is only provided in the premium version of the plugin. So, if you are satisfied with the free version and want to include variable products, get the premium version.
The Map Category tab will appear when you click Continue.
Map Category Tab
You may use Google's product categories as a reference when categorizing your items for sale into main categories and subcategories. When creating the feed, only the mapped categories will be taken into account. This makes it easier for customers to rapidly search for items without having to wade through several pages.
Remember that the proper Google categories should be assigned to product categories. Customers may discover your goods even if they were seeking something else if you provide a category that appears to be similar to your product but is somewhat distinct from it.
You will land on the Mapping Product Attributes screen after clicking Continue.
Map Attributes Tab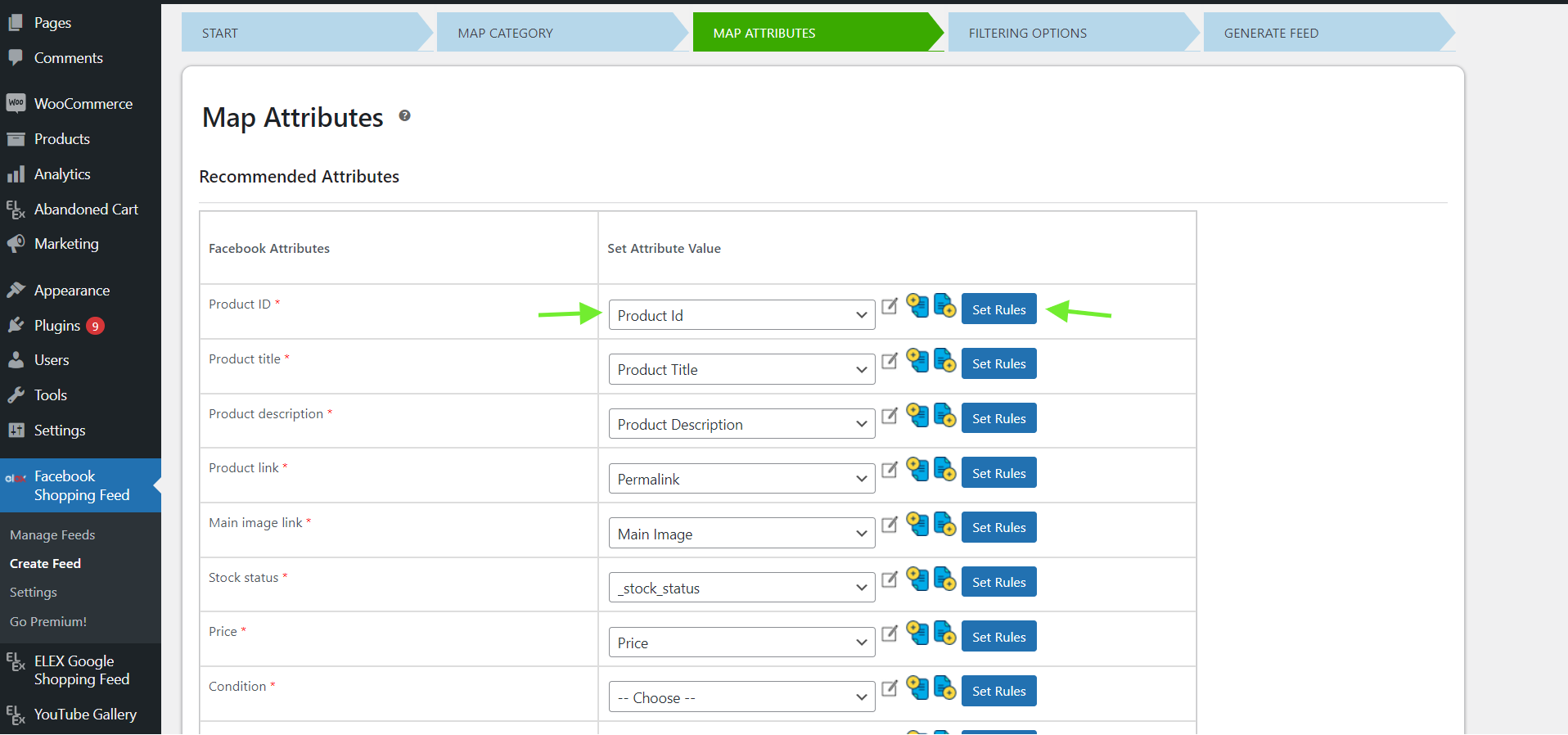 The attributes of your product must match with the appropriate Google attribute. All necessary Facebook marketplace attributes will by default be shown in the tab under Recommended Attributes. This set of default settings will be directly impacted by the sales location you select in the Start Tab.
Using the customization options for product characteristics, you can change how your product data displays on the Facebook Marketplace stream. By utilizing the plugin, you may also add values to optional characteristics by using the Add Field option.
If your items don't already have a predefined property that correlates to a Google attribute, you may enter a text value to create a special value. By selecting Set Rules, you may also add other values to the rules.
Click Continue after you are finished with the mapping process and move on to the Filtering Options tab.
Filtering Options Tab
The goods should be filtered based on their Stock Quantity and Sold Quantity in this area, Filtering Option Settings, before we establish Facebook Marketplace feeds with the required products. Additionally, you may create customized feeds with featured products. By entering their names in the appropriate text area designated for omitting products, you can exclude certain items from the stream.
In order to complete establishing your catalog feed, click Generate Feed. If the feed generation was successful, you will be sent to the Generate Feed tab, where all items will be updated. 
Let's look at the straightforward procedure for synchronizing that feed with Facebook now that we have generated a WooCommerce feed suitable for the Facebook Marketplace.
Facebook and WooCommerce Feed Sync
To upload the generated product feed, go to the Facebook Commerce Manager. To begin, click Get Started.
To begin creating your catalog, select Create A Catalog. Then choose Get Started.
Select the type of catalog. E-commerce is a great choice for company entrepreneurs. You will go on to the section after selecting Next.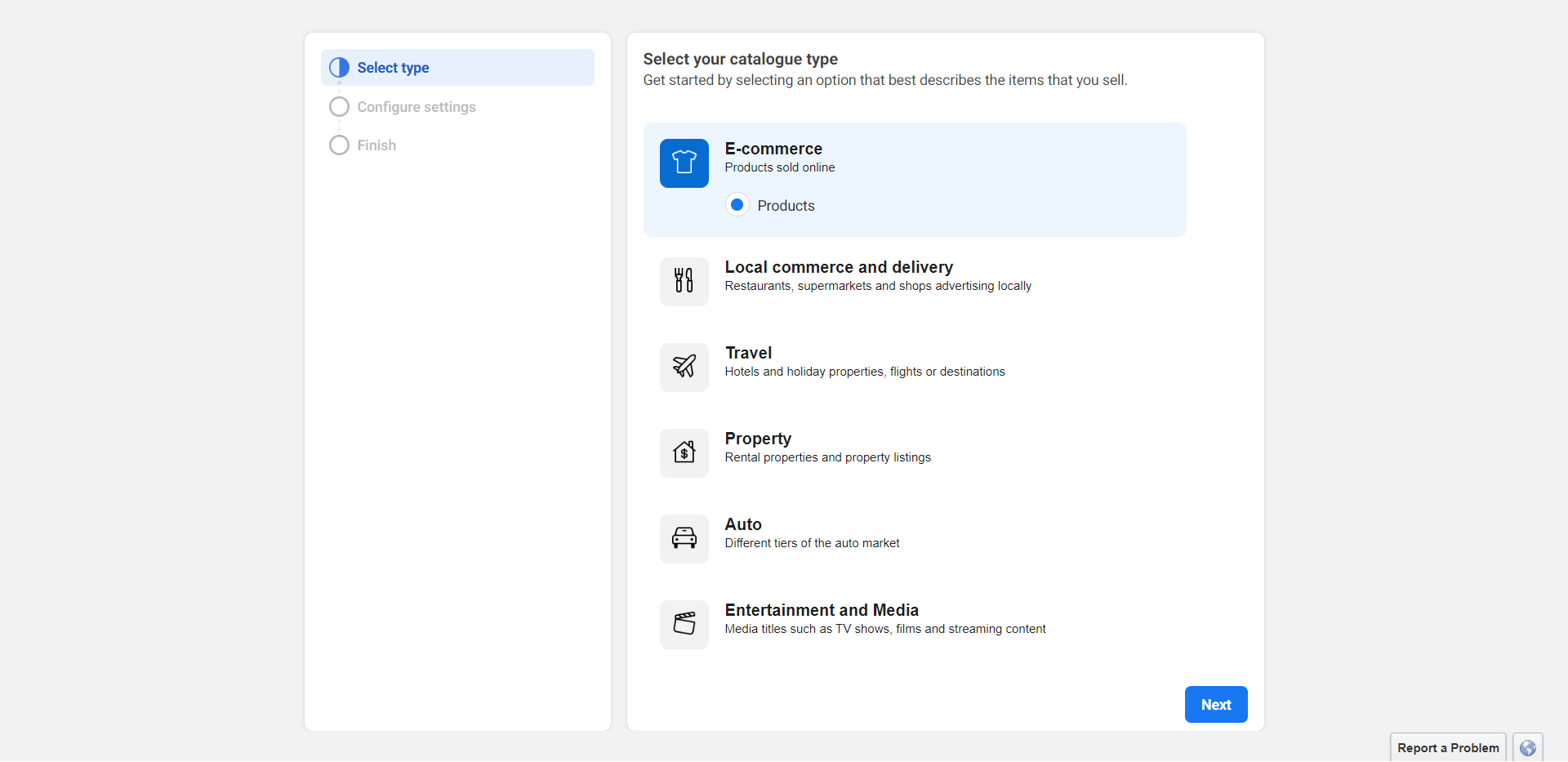 You may add product information by selecting Upload Product Info, entering a catalog name, and clicking the Create button. When you click Create, a new tab will open with a notice about the catalog's creation.
Click View Catalog to see the catalog. In the Catalog section of the window on the left, the data source will show up in a new tab.
Click Data Feed after selecting Add Items.
There are 3 ways to upload the details of your product (product feed) to the Facebook marketplace. You'll see the options Upload From Computer, Use a URL, and Use Google sheets In the following tab.
Click Upload after selecting your created feed. After the file has been uploaded, click Next.
You can repair any mapping mistakes discovered by Facebook on the tab that follows this one. Your online store's Facebook catalog feed has now been established.
Alternate Plugins 
To assist you to connect your WooCommerce product catalog with the Facebook marketplace, WooCommerce itself offers a plugin called Facebook for WooCommerce.
With the help of this plugin, you can launch product-based marketing campaigns and let customers browse your items from your Facebook storefront and WooCommerce catalog.
The Facebook pixel may be used to make carousel advertising, connect with consumers via Facebook messages, find potential customers, enable retargeting ads, and track marketing performance.
To increase sales, online retailers may feature their items on their Facebook business page. Any device may access the mobile-friendly shopping design of the Facebook store area.
Features:
You may make carousel advertisements to showcase your items.

You receive thorough reports on the effectiveness of your advertising and campaigns.

Facebook Pixel may be set up to improve your advertisements and grow your audience.

You may communicate with your clients using Facebook Messenger.
Price: Free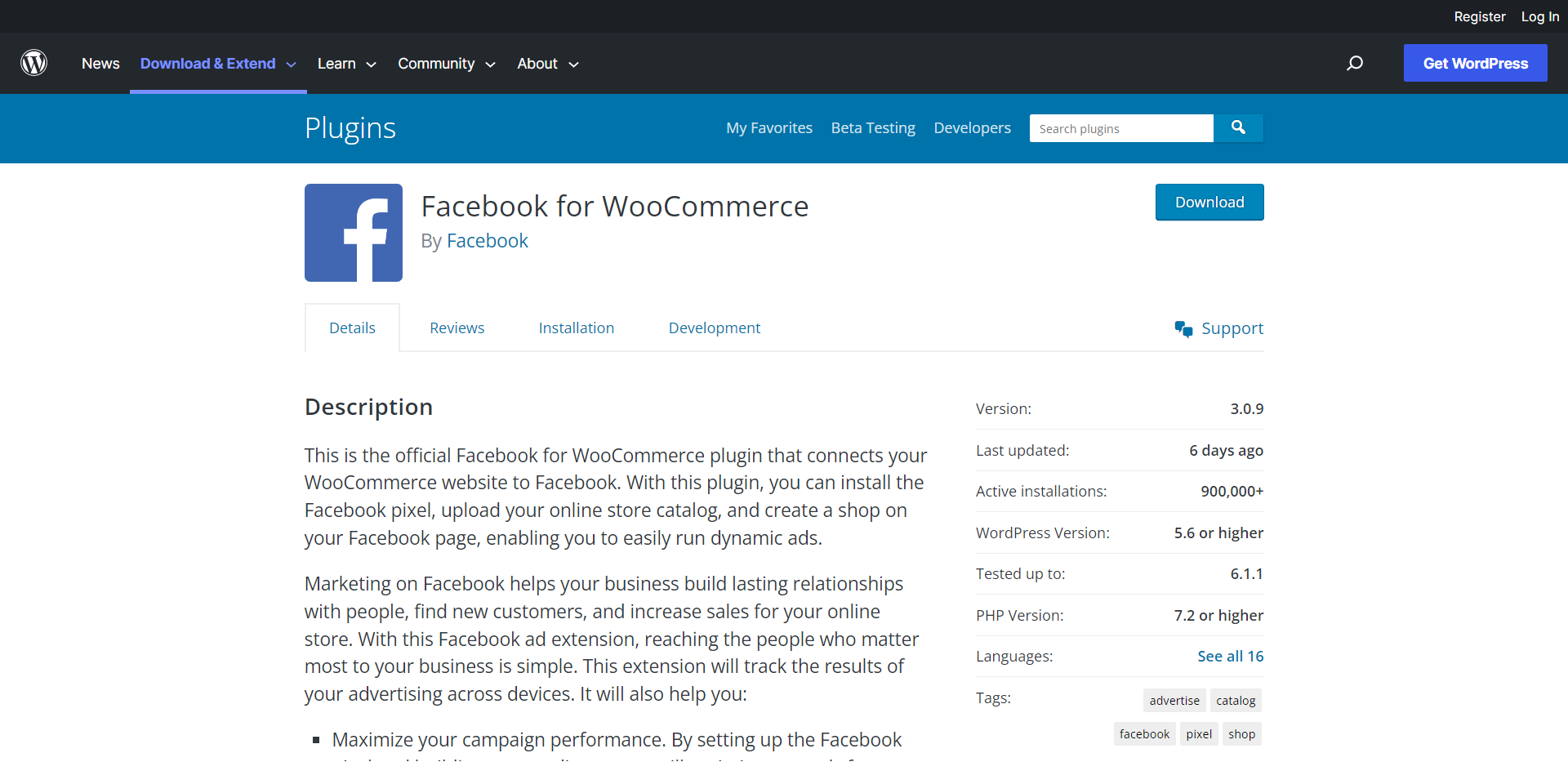 You can connect your WooCommerce website to Facebook with this official Facebook for WooCommerce plugin. You may add the Facebook pixel, upload your online store catalog, and establish a shop on your Facebook page with this plugin.
When you connect your product catalog, carousel advertisements that feature the items you offer are immediately generated, increasing website traffic.
Increase sales among visitors to your website.
When you link your product catalog to the Facebook pixel and set it up, you may use dynamic advertisements to contact customers on Facebook with ads for the goods they looked at on your website. A later version of Facebook for WooCommerce will have this.
Features:
With the help of the Facebook pixel, you may increase the effectiveness of your campaigns.

Building your audience is made simple by improving your advertising and campaigning techniques.

It enables you to easily earn revenue from a targeted audience.
Price: Free
To get Facebook to approve your product catalog more quickly, conditionally update product data frequently, exclude underperforming products, and consistently update product data across multiple channels, and create error-free product feeds for your WooCommerce store.
Additionally, This WooCommerce product feed management plugin supports more than 100 popular channels. So, you may advertise your products on any channel, such as search engines, affiliate websites, and price comparison websites.
Its objective is to simplify the process of creating product feeds and disseminating them across a variety of marketing platforms. There are several options for synchronizing the update to the right platforms and updating the product information according to your defined timeframe.
Features:
Combine numerous product variables such as color, size, brand, dimension, weight, etc.

Although your products don't have all the information your channel requires, the Dynamic Attributes feature enables you to swiftly satisfy their requirements.

With a few clicks, add unoptimized goods to the stream.
Price: A single site costs $119
Conclusion
You can quickly and easily reach organic customers with your WooCommerce store linked to Facebook. If you use Facebook for WooCommerce correctly, you can make a lot of money while just investing a little. WooCommerce for Facebook Shop further increases the flexibility of a customer's buying experience.
Additionally, by making it easier for customers to find the business, more transparent for them to choose the right items, and more reliable for them to build their audiences, the integration of WooCommerce with Facebook Shop enhances the purchasing experience for customers.
We hope that syncing your WooCommerce store to Facebook was made easier by this post.
Further Reading