Buying and selling have evolved greatly from the past to a quick online selling with the advent of eCommerce.In this current century, eCommerce is booming and gaining its momentum gradually. Now with eCommerce, you can easily sell door-to-door without much hassle. If you look for popular eCommerce platforms like Amazon, Flipkart, eBay, etc. they are all successfully running and letting people enjoy the fruits of hassle-free shopping using eCommerce. Nowadays multi-vendor marketplaces are letting multiple vendors come together on a single platform to sell their goods. Let us take a look at what a multi-vendor marketplace is and how you can make one successful multi-vendor marketplace using WooCommerce.
What is a Multi-vendor Marketplace?
A multi-vendor marketplace is a website, which hosts multiple vendors on its website and provides an opportunity for various vendors to sell online on a single platform. The owner of the website only manages the website and the third-party vendors get to sell their products online. Popular multi-vendor marketplaces are Amazon,eBay, Flipkart, etc. which are successfully helping various small to big vendors to sell across locations easily.
The Multi-vendor marketplace benefits both the seller and the owner of the marketplace. The owner gets the commission upon every sale and the seller gets the profit for the same. The seller need not worry about the website maintenance and the owner need not worry about the products and its shipment.
Types of Multi-vendor Marketplaces
Every multi-vendor marketplace is named on what they sell. They are known for their niches they are popularly selling. Like for Amazon, it is a third-party website used for selling, Craiglist is a marketplace to post shopping ads, whereas eBay is an auction site. All these are popular multi-vendor marketplaces. There are many in the market, which are popular in selling unique as well as niche items like books, baked goods, art, and craft, etc.
Mainly if you see, there are 3 types of online-multi-vendor marketplaces.
B2B – Multi-vendor marketplace like Alibaba, Walmart, etc, mostly sell products to other businesses at a wholesale price.
B2C- Amazon, Flipkart, etc are some popular multi-vendor marketplace that helps to sell to the customer. These focus on business to customer businesses.
C2C- Craiglist, eBay, etc. are some popular C2C multi-vendor marketplace that lets customers sell to other customers.
How do a multi-vendor market place works?
A multi-vendor marketplace works efficiently with efficient owners and sellers. It is important to keep the communication straight and keep the customers updated about offers as well as ensure the shipment is delivered right on time. Here are a few details on how a multi-vendor market place works :
The sellers register with the marketplace through paid or even free registration.
Once the seller registers and uploads his products, the customers can start purchasing from them.
Admin of the multi-vendor market place can charge a nominal fee on each transaction.
Most of the payments are transferred to the Admin, and from there to the seller chosen.
Product delivery is handled by the seller itself or even the admin.
Communication on faulty products can be conveyed to the seller or even the admin, which the seller handles.
Components of a Multi-vendor Marketplace store
The multi-vendor market place needs perfect management in terms of handling customers and even sellers. Even though for a customer, there might not be much difficulty in purchasing the orders and getting it. There are several components of a multi-vendor marketplace to consider when creating one. Managing a multi-vendor marketplace requires a lot many steps to considers:
 Manage a large number of vendors who are into selling different kinds of products.
 Handling end-to-end the order when the customer places an order from multiple vendors.
 Ensuring the orders are purchased and delivered right to the customers and even paid for.
 Providing the vendor with their rightful share of the sale happening on the website.
Managing Inventory
When your vendors are from different locations selling different products, then it is important to manage the inventory efficiently to provide an ideal service. Ideally, as a multi-vendor market place admin, you have two choices :
Let the vendors add their product themselves,
Add the products on your own.
The second option is not a feasible one when you have to manage multiple vendors. Moreover, the vendors who are selling the products have a better understanding of the products hence it is ideal to have them write the description and various other details of the products. It is important to keep a quality check on the products before they go live in the marketplace. To moderate the products that go live while on a quality check, it is ideal to use WooCommerce plugins that will facilitate you with plugins that will help you restrict the view of certain products in the frontend until you have verified the quality of the product.
Order Management
Handling a single order and then ensuring the end-to-end process related to the order is a maneuvering task. When you are handling various vendors then it is important to handle the orders very skillfully to assure your customer satisfaction does not fall apart. When you are into managing the vendors and orders then it is important to let  Vendors have access to the store dashboard. WooCommerce offers certain plugins that help vendors efficiently manage their products and orders. Popular WooCommerce plugins like Dokan, WooCommerce Product Vendors help you make managing vendors easily on a multi-vendor marketplace.
Shipping Management
Shipping is an important part of an eCommerce network. Managing to ship in a multi-vendor place must be done efficiently to help sellers deliver promptly. Since as an owner you don't own any inventory, it is important to check on how the products are delivered to the customer. One way to efficiently manage to ship is to come up with an authorized shipping method that all the vendors can practice. You can use popular shipping plugins that can easily integrate with your store and then lay rules to be followed while shipping the products. WooCommerce provides certain shipping plugins that integrate flawlessly with the store and also helps you keep track of the same. With a transparent shipping provider and a cohesive shipping policy admissible to all vendors, you can maintain a healthy conflict-free system.
Pricing Model for your Vendors
When you have to deal with multiple vendors, you need to design a pricing model for your Vendors. It is important to pay for your vendors whenever a sale happens. With a solid plan on commissions and other price-related formalities in maintaining the multi-vendor marketplace, it becomes flexible. Like for example, Alibaba offers subscription fees like basic, silver and gold memberships for its users.
Pros and Cons of Multi-Vendor Marketplace
If you look out for the advantages then there are various options in terms of a Seller as well as a Customer and the owner. Here are  a few of them:
Quick Launch for products
When you are a seller, your ultimate aim is to sell your products and earn a profit. With a multi-vendor market place, it is easy to do the same. The vendors can host their products and earn profit by selling them. Since the majority of people look out for online purchasing like Amazon, Flipkart, etc. it is easy to sell online.
Offers product Variety
In a multi-vendor marketplace, customers can obtain a variety of products and vendors can sell a variety of products.
Higher Revenue
It is always better to get more vendors and get more commission in terms of a multi-vendor marketplace for an owner, as it allows you to board more vendors and sell more products than a single vendor eStore.
Advantages of a Multi-Vendor Marketplace
Opening up a Multi-Vendor Marketplace is much more advantageous because :
Firstly, you need not open a marketplace and even manage the inventory. Most of the multi-vendor marketplace earns on a commission basis as well as upon any sale happening on the website. Hence lesser management efforts need to be put in, in terms of inventory and shipping.
Secondly Expanding is faster and easy. When you are into a multi-vendor marketplace, you can bring in new products and expand your market easily. In this way, you can easily support small to big vendors in every way to sell products.
It is easier to find more buyers, as you are selling a variety of products in your marketplace. You are providing a wide range of choices and a secure way to interact with buyers.
Easy promotion of websites using the multi-vendor marketplace. If you are into niche products, then target audiences are easy to find and promote your products.
It is easy to expand your business globally when you offer a larger marketplace for various vendors to sell.
Challenges in managing a Multi-vendor Marketplace
There are a couple of challenges in managing a Multi-vendor Marketplace.
When you begin a multi-vendor marketplace, you need to attract both a buyer and a seller. A seller might want to have a better selling space to increase his business whereas a customer or a buyer might want a multitude of choices while purchasing.
Secondly, you will need to research well enough to match the buyers and sellers. It is important to study the market and then place the matching buyers and sellers in one space.
Offer ideal vendor and customer experience else they might look out for choices.
 Attain higher performance compared to competitors, else you might end up losing both vendors and customers.
Monitor your store, even though the vendors manage the orders and products. Else you might lose the authority over your store finally.
Choosing an online platform for your Multi-Vendor Marketplace
Now you know why a multi-vendor market place is far more a better option to earn good profit. So how do you go about making one? If you look for eCommerce platforms there are many available in the market like Magento, WooCommerce, Shopify, etc.
You need to understand and choose which platform is most suited to host your multi-vendor marketplace and also a suitable domain for the same. If you look out for an open-source platform, then WooCommerce is one such option to easily make a simple multi-vendor marketplace.WooCommerce provides a multitude of plugins that will make look the eStore much more compelling. With WooCommerce it is uncomplicated, to begin with, and manage an overall store.
WooCommerce plugins give a host of plugins that will make the store management better.
How to create a Multi-vendor Marketplace on WooCommerce Store
To begin with, creating a Multi-vendor Marketplace using WooCommerce, initially you need to follow these steps:
Choose the Domain and Hosting Service
A domain name is an address that the user enters to the browser to access the website. Choose a domain name and a hosting service from the popular ones available. You can quickly create a domain name and then purchase the same along with a hosting space. Choosing a domain name that is most suited for your store. Creating a domain is easy to do from the most popular domain name providers like Bluehost, GoDaddy, etc. A hosting service is also integral. It is the space where all the web hosting is done. hence you can get hosting service providers like Hostinger, SiteGround, etc which provide hosting for your eCommerce store. A domain name, as well as the hosting service, can be purchased from the same or different service provider itself.
Get WordPress
You need to install WordPress on your eCommerce website. Download and install WordPress from WordPress. You can install and then provide a username and password to access the dashboard of the website.

Install WooCommerce in your WordPress
WooCommerce is one of the acclaimed freeware software to choose to create an impressive eCommerce store. To install the same, search for WooCommerce in the plugins in WordPress. You can download and then install the WooCommerce.

Choose a Theme to suit the need
A Theme that's best suited for your Webstore to make it look appealing.WordPress has many themes that will make your website look impressive.


If you are planning to create a Multi-Vendor Marketplace, then you need a few plugins, that will help you to make the marketplace work efficiently.  They are :
Third-party Multi-vendor Marketplace plugin like Dokan, WooCommerce MultiVendor plugin, etc.
A WooCommerce add-on that helps to integrate shipping plugins to the Multi-vendor eStore.
Any popular WooCommerce shipping Plugins which are easy to integrate with WooCommerce.
Install a third-party Multi-Vendor Marketplace plugin
To give access to multiple vendors, you can make use of several WooCommerce plugins that facilitate the same. Dokan, WooCommerce Product Vendors, etc. are some of the popular plugins that are used for the same. All these plugins are easy to download from WordPress easily.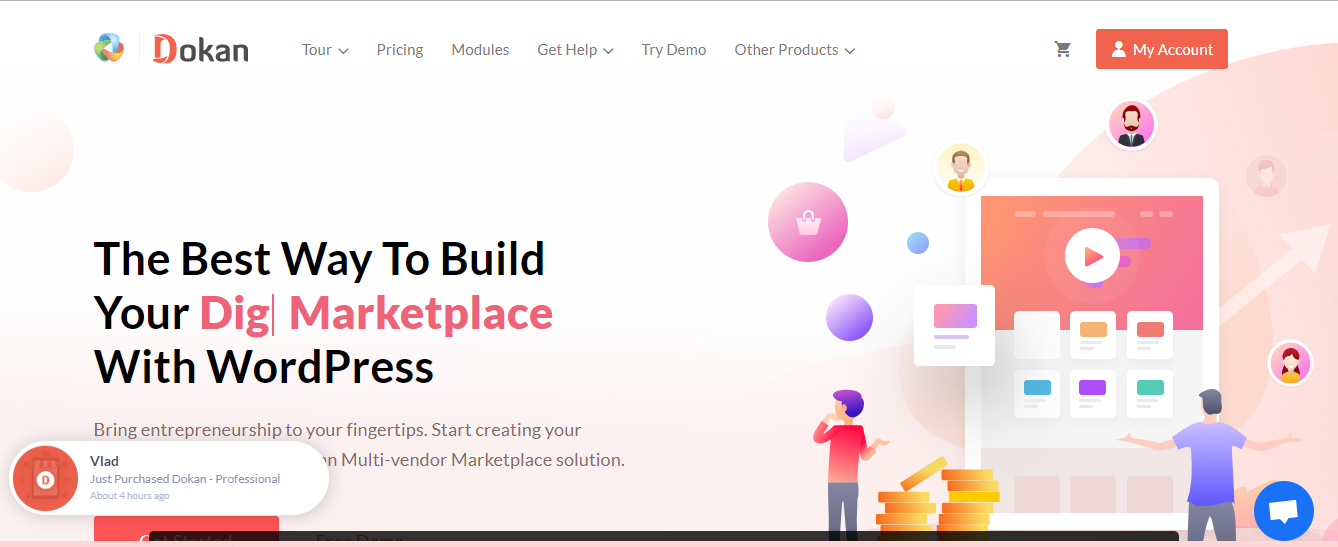 Once the multi-vendor plugin is installed you can easily add the vendors who are associating with the eCommerce store. Dokan, for example, has multiple options to set up for a successful multi-vendor marketplace which will look into in the following steps.
Why Dokan is a better multi-vendor plugin?
Dokan is a self-managed, easy to use a multi-vendor plugin with intuitive designs. It is one of the most popular multi-vendor plugins in use. Here are some features that make Dokan popular :
Impressive store insights and statements as well as reports.
It supports various product types with easy customization on shipping rates available.
The frontend Dashboard for vendors is impressive.
Easy to offer coupons and discounts on sales happening.
Hassle-free management of orders.
Creating a Multi-Vendor marketplace using Dokan Multi-vendor plugin for WooCommerce
Dokan provides plenty of options to make your store work with multiple vendors. Firstly you need to create vendors in the users and assign them to products.
You can easily add Vendors into the store using WooCommerce.

Here on clicking Add New Vendor, after filling in the name you can create a new Vendor. After the new Vendor is created, you can easily edit the profile and additional required details like Vendor Logo, company banner, addresses, etc.

 To create a new Vendor, you need to create a user and assign a vendor role to the user which is appearing under the Dokan option on the User page.
 The Dokan Dashboard allows easy management of Vendor profiles on WooCommerce.

In the Dokan interface, you can easily set up the selling options for the Vendors. Here the commission and vendor capability are also set up. You can set up additional vendor capabilities as well.

Once the Vendors are ready for selling, they can also withdraw the profit they receive upon selling. As a multi-vendor site owner, you can easily set the withdraw limit on your multi-vendor website. You can set the withdraw methods like PayPal, Bank Transfer, and Skrill which are the available options with Dokan. It is also easy to set a withdraw limit as well as when the amount can be withdrawn. The multi-vendor site owner can set the withdrawal limit upon the order status which is basically –  Completed, Processing and On-hold.

Dokan provides an easy interface for vendors to interact on the frontend of the website. The page settings are done in the Dokan plugin in the backend.

Appearance settings are also possible using Dokan, for the vendors. This customization will give brand visibility
Every Seller has certain data that is required for verification purposes, which needs to be entered. Dokan facilitates such options to provide only verified sellers the options to sell.

Verification Sms is sent to the vendor for verification

Multi-Vendor Website owner can also send email verification to the Vendor before the vendor is eligible to sell.
 It is easy to integrate even Social API of the vendor after proper verifications.

Dokan Vendor Registration
Once these Dokan settings are done, the Vendor who logins to your multi-vendor market place get an option to register. On selecting "I am Vendor", your vendor gets a form to fill in.

Once the registration is complete, the Vendor gets a quick Setup page to enter the details of their products and shop.

When set up is run, then Vendor gets to fill in the details as given below :
Then the payment steps are provided, you can skip the step as well.
Then the store is ready for the vendor.

Then the Dashboard for the Vendor appears. Here all the vendors can see the transactions and various other details. At first, the account is not enabled for selling, which is then activated by the admin in the admin's dashboard.

In the Admin Panel, the Vendor newly created appears and is awaiting approval. As the admin enables the vendor, they are ready to use the marketplace for selling.
Now the Vendor is ready for selling.
Payment Options
Dokan lets you integrate certain payment gateways to let the multi-vendor marketplace make payment to the vendors associated with it.  Since the multi-vendor cart uses a single shopping cart, multiple product payments are sent to the owner directly. Hence the owner of the marketplace can issues payments by scheduling the payments on an interval basis or use a platform that automatically sends payments to the vendors when the order is processed.
An easy option is to use PayPal. Using PayPal, the vendors need not use any valid account details, but a valid email address to process the payment. It is again a quick and safer way to send payments.
Once the Vendor is added, then the marketplace needs to configure the Vendor Payment channels to pay for the sales happening. This can be done by configuring the PayPal Adaptive Payment in Dokan. Once this is enabled, then in the WooCommerce settings, you can enable the PayPal payment method with the API Credentials and also provide the email address to ensure the payment is done.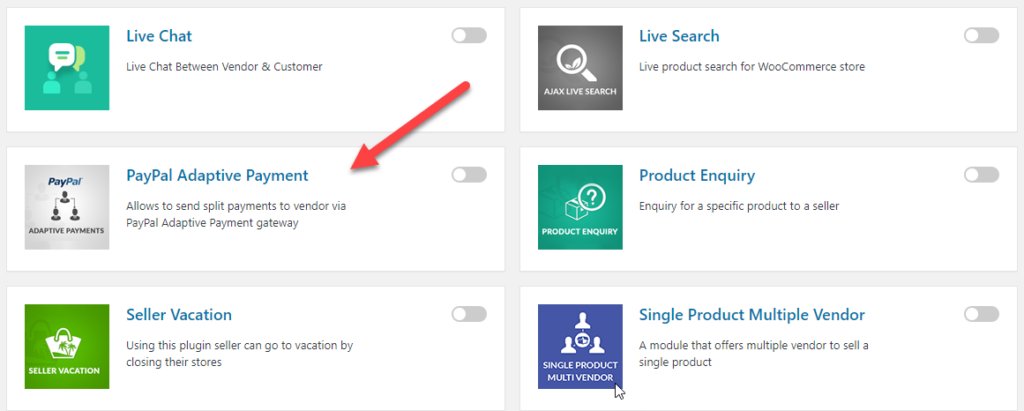 The vendor can set the necessary details for the shop as well as optimize the shop page with SEO to market the shop.
Adding Products to the Shop using Dokan
To add the product to the shop, the vendor can navigate to the Product page in the Dashboard and add new products.
On clicking the Add new product, you get :
Once the values are entered, the product gets added to the store. In a similar way, more products can be added. Once the products are added, check the store page.
To look out the number of vendors in the store, you can easily navigate to the store-listing page, created by Dokan at the time of creating vendors for the multi-vendor marketplace.
Dokan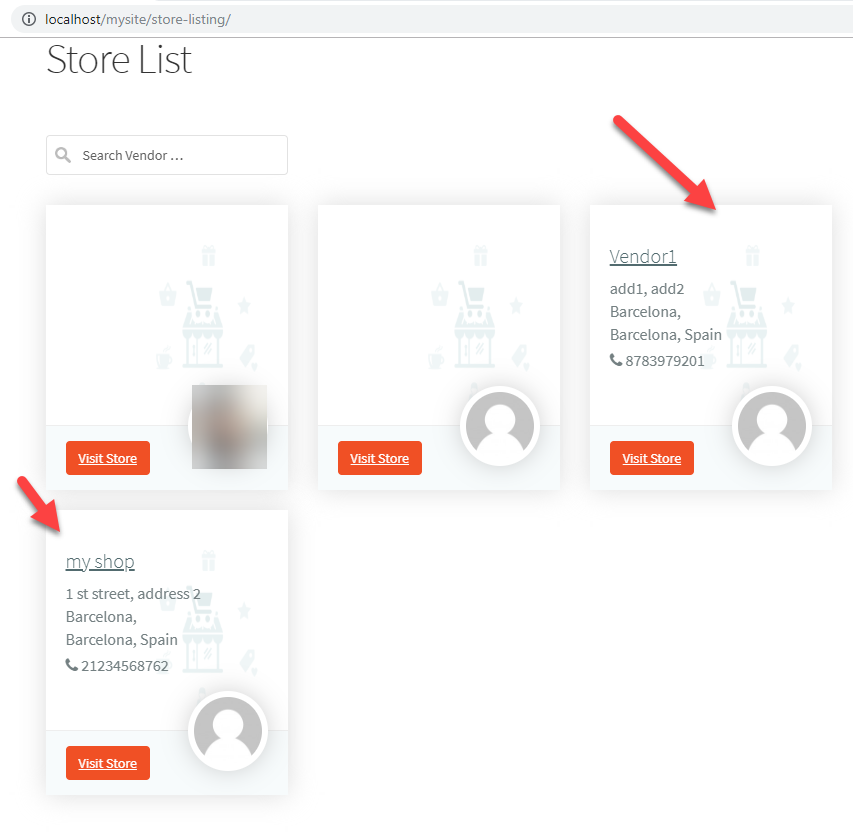 provides various modules, that make store management easier. You can choose from varied modules that are available in Dokan to do the same. Like for example, there is a Vendor Verification module, which allows only verified Vendors to set up the shop.
Order Shipping for a Multi-Vendor Marketplace
When the product is ready to check out, you get the shipping rates concerning the shipping plugin you have integrated with the WooCommerce store. (here we are using the DHL plugin)


Dokan works with EasyPost, DHL and various other shipping plugins easily. Shipping needs to be sorted out in a flawless manner to ensure that your product shipping is not hampered and the customer receives the product. Most of the shipping plugins can be easily integrated with WooCommerce. When you are managing a multi-vendor marketplace it is important to configure shipping without conflicts. To get the shipping rates on order check out from the store, you can make use of a simple WooCommerce Multi-Vendor Add-On for ELEX Shipping Plugins which helps to fetch the real-time shipping rates. (explained further)

Since the order is processed by two different vendors, the orders are individually handled by the vendors themselves. With theWooCommerce Multi-Vendor Add-On for ELEX Shipping Plugins it is easy to segregate the shipping costs on vendor-basis.
When you have to process the order received for multiple vendors, you need to integrate it with a shipping plugin. The shipping plugin will help to segregate the rates displayed for each vendor for the respective shipping plugin in use. To integrate a multi-vendor plugin like Dokan to the WooCommerce shipping plugins like the ELEX WooCommerce DHL Express / eCommerce / Paket Shipping Plugin with Print Label, you need another plugin that will help you display the shipping rates at the time of checkout.
Here we can make use of the WooCommerce Multi-Vendor Add-On for ELEX Shipping Plugins which helps to fetch and show real-time rates on the screen when the customer checks out of the store. Yet another advantage is that it is easy to show the consolidated as well as unconsolidated real-time shipping rates vendor-specific to the customers. The plugin is compatible with any popular multi-vendor marketplace plugin like Dokan or WooCommece Multi-vendor plugin.
Why use WooCommerce Multi-Vendor Add-On for ELEX Shipping Plugins?
When you are dealing with multiple vendors, it is important to note that you have to provide individual shipping options to the vendors who are into shipping the products to the customers. Using the WooCommerce Multi-Vendor Add-On for ELEX Shipping Plugins, it becomes easy to accept Shipping carrier API for each vendor. Moreover, you can also choose to display the shipping rates in varied formats either in consolidated on an unconsolidated manner.
Dokan Dashboard
On the Dokan Dashboard, you can simply find out the overall sales happening as well as the number of vendors handed on the marketplace.
The following video provides an end-to-end detail regarding setting up a multi-vendor marketplace.

EndNote
Creating a simple multi-vendor marketplace takes a special study. Ideally, choose the eCommerce platform for creating a marketplace, then successfully integrate plugins to successfully run the marketplace flawlessly.
Further Reading
Easily set up a WooCommerce wholesale pricing-An Ultimate guide.