MyPost Business by Australia Post is godsent for small businesses that do not have a fixed order flow. Major shipping carriers do not offer savings unless you send in bulk, which is usually a fixed threshold parcel amount. This is why so many smaller firms rely on Australia Post MyPost Business for all of their shipping needs. It is a wonderful alternative for small businesses to buy and print shipping labels, and the more parcels they ship, the less expensive the shipping labels become. In this article, we discuss more about MyPost Business and how to track shipments for Australia Post MyPost Business. Let's get right to it!
What is MyPost Business?
MyPost Business is a business account and courier service by Australia Post that allows you to ship items for your company in a variety of inexpensive ways. It's great for businesses that send out fewer than 2,000 parcels each year. The Australia Post eParcel courier is a suitable alternative if you transport over 2000 goods each year. MyPost offers volume-based discounted rates and incentives to relatively new eCommerce enterprises. You save money on shipping with MyPost because the more parcels you ship, the more you save. MyPost Business, which offers volume-based discounts in five tiers, is likely the best place to begin for monthly sales of 10-200. The more parcels you ship, the higher the discounts, and your weekly limit is reviewed and adjusted. Plus, creating a MyPost Business account is completely free.
How to Track Shipments for Australia Post MyPost Business?
Any WooCommerce store's fulfillment process would be incomplete without shipment tracking. Packages frequently arrive at the incorrect location, are late, or are missing altogether. Customers will be dissatisfied, and your professional image and revenue will suffer as a result of unfulfilled shipments. 
There are two ways in which you can track shipments for Australia Post MyPost Business:
1) The Australia Post MyPost Business website
You can track MyPost Business shipments right from the dashboard by clicking on the 'Track' tab. This is where you will find all of the shipment order histories along with order details such as shipment status, date created, shipping location, number of parcels, and the option to view order summary.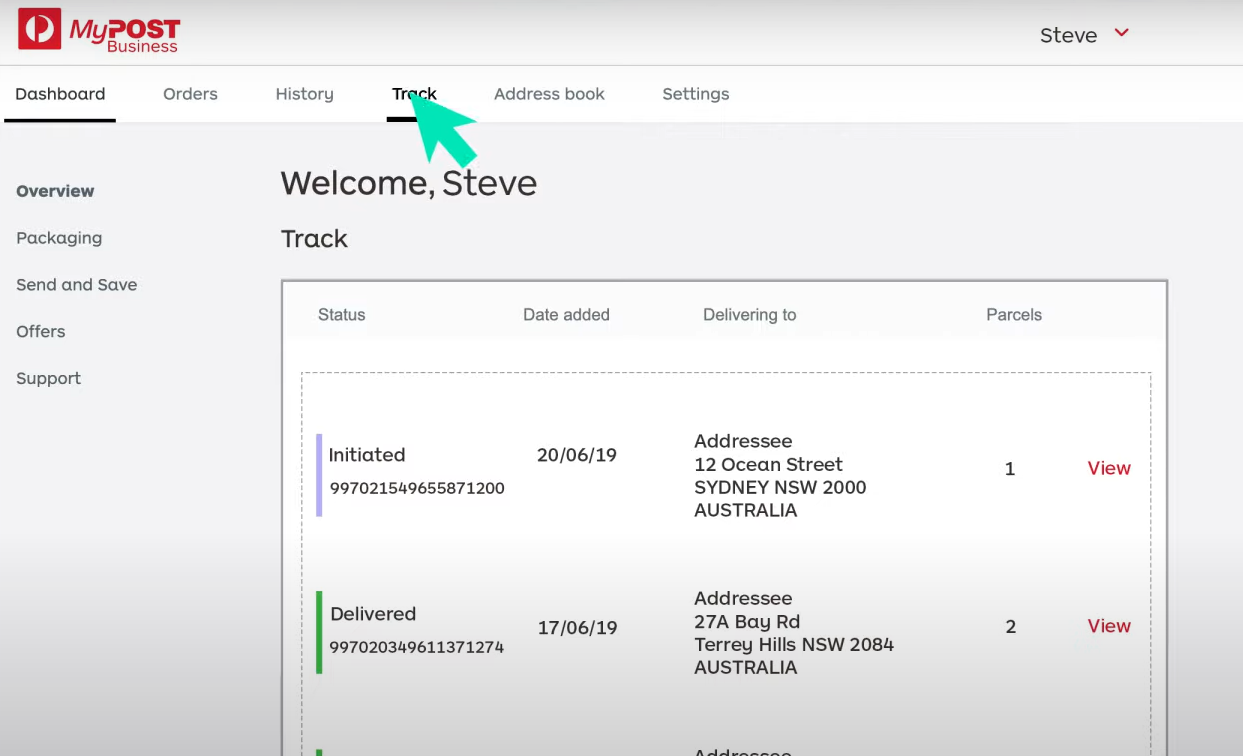 To get the tracking number click 'view' and under the order summary page, scroll down to the tracking number.
Finally, you need to visit the MyPost Business tracking site, enter your tracking ID, and click 'Track'.

2) ELEX WooCommerce Australia Post Shipping Plugin with Print Label & Tracking
The second and the easier option is to track your MyPost Business shipments right from the backend of your WooCommerce store. The ELEX WooCommerce Australia Post Shipping Plugin with Print Label & Tracking allows Australia Post products and services including MyPost Business to be seamlessly integrated into WooCommerce. You may use the plugin to obtain real-time shipping costs, shipment tracking, adaptive box packaging, and other features directly from your WooCommerce admin dashboard. 
You'll need to connect Australia Post MyPost Business and orders with WooCommerce in order to generate tracking numbers. You must first download, install, and activate the plugin before proceeding. After that, you'll need to get into the settings. The settings can be found by going to:
Dashboard > WooCommerce > Settings > Shipping > MyPost Business
or
Dashboard > Plugins > Installed Plugins > ELEX WooCommerce Settings > Australia Post Shipping With Tracking > MyPost Business
You may customize MyPost Business shipping settings from here. Under the General tab, enter your ReachShip client ID and client secret. Refer to this documentation to know how to connect your ReachShip account to MyPost Business from scratch. 
Next, under MyPost Business settings, enable real-time rates, choose whether you want to display shipping rates with or without GST, enable the shipping label, and the shipper address, and click save changes.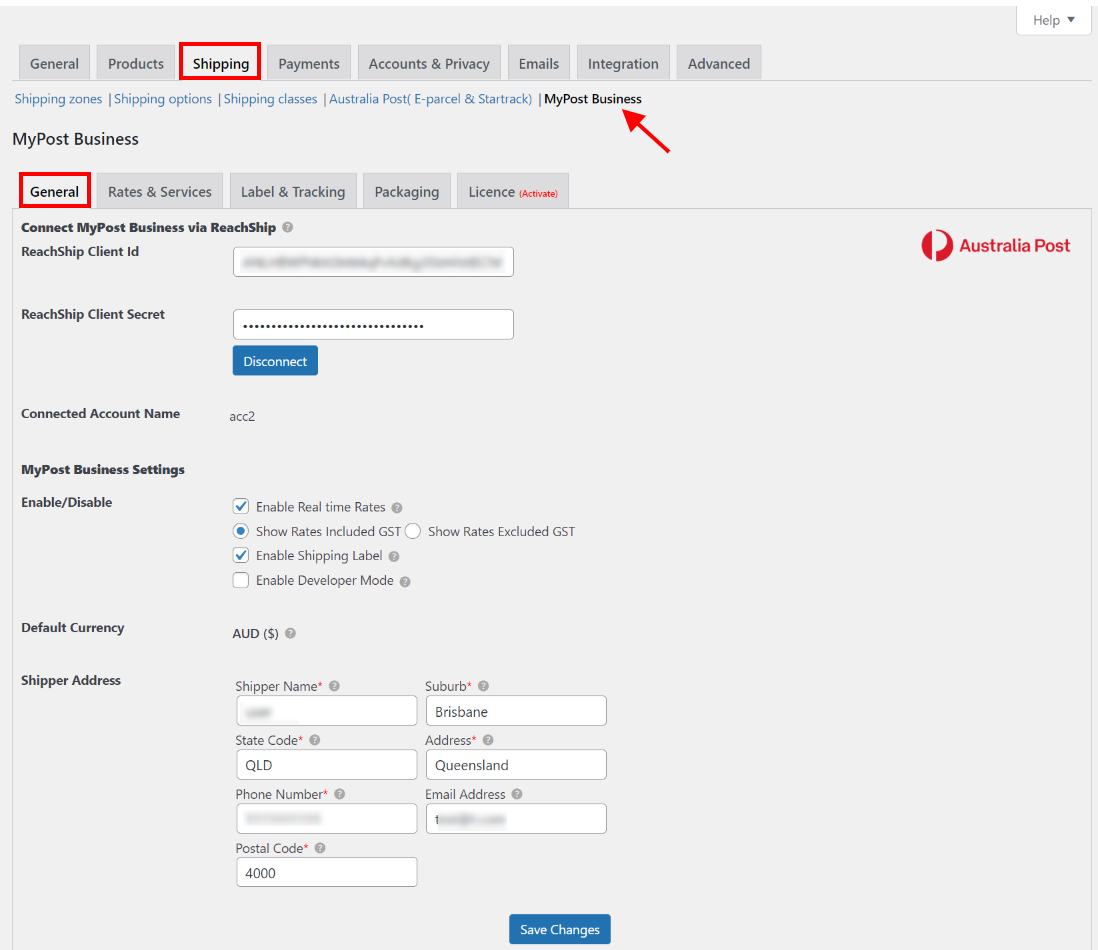 Next under the Rates and Services tab, you can choose to show the cheapest rates only, add extra cover charges and signature options, add a custom method title, and finally under MyPost Business services, choose the shipping services you would like to enable and click save changes.
Lastly, under Label and Tracking settings, enable email tracking to send shipment tracking information to your customers on their registered email address, enable direct download, enable save shipping labels, and choose whether or not to show Australia Post logo on the shipment labels, and enable pickup option.
Under the custom shipment message, you can personalize your shipment tracking message. This statement will appear in the tracking notification email, as well as on the WooCommerce Admin order page and the Customer's Orders page. By using placeholders, you may automatically fill in the details about the delivery. To frame the message, include tags such as [DATE], [SERVICE], and [ID]. These tags' specifics are listed below.
When a customer visits your website and places an order using one of the WooCommerce MyPost Business shipping options that have been activated, you must first create a shipment for that order before you can obtain the tracking information. To do so, navigate to your WooCommerce Orders page and choose the Order for which you want to obtain tracking information. You may locate the MyPost Business Shipment section at the bottom of the Order Details page and click Generate Packages. 

Next, enter the package details and click Create Shipment.
The shipping service ID and shipment number will then be generated, as shown in the screenshot. Create a shipment order by clicking Create Order.

After you've finished creating the shipment order, click Create Label.
Finally, click Download Label to save the MyPost label to your computer.
This is an example of a shipping label that contains tracking information:
When you enable Shipment Tracking in the plugin's settings, emails with WooCommerce MyPost Business tracking information for each produced package in the order are sent. You can manually send the tracking information to the customer by using the Order actions panel on the Order page to Email invoice/order details. An email with WooCommerce MyPost Business tracking information is sent to the customer. The email will also provide the MyPost Business Tracking Number as well as an estimated delivery date.
Sending email notifications to your WooCommerce customers is a fantastic method to boost user experience and brand engagement. We covered the processes for creating shipping labels and tracking. In addition, the plugin can be used to:
Allow for real-time shipping rates and delivery tracking.

Create an Order Manifest/Summary.

Pack products in custom packages.

Adjust Australia Post service costs.

With Australia Post insurance, you can be sure your items will arrive safely.

Create bulk shipments and a lot more!
Wrapping Up
We hope this article has given you a fair idea about tracking shipments for Australia Post MyPost Business. If you have any questions regarding MyPost Business shipment tracking, please let us know in the comments section below.
Further Reading