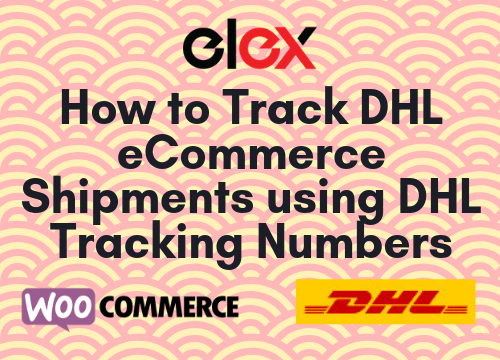 How to Track DHL eCommerce Shipments using DHL Tracking Numbers
This article talks about how to track DHL eCommerce shipments using the DHL tracking number. If you have a WooCommerce store, you can easily do this with ELEX WooCommerce DHL Shipping Plugin with Print Label.
Introduction:
Shipment tracking is an extremely vital part of the operations of any online eCommerce store and yet is overlooked often. If you are an online business that needs to ship physical products to both domestic and international customers integrating order tracking is important. Relaying information regarding the status of customer's orders can improve their experience immensely. International shipping carriers like DHL eCommerce can help you integrate and relay accurate tracking information to your customers with the help of their end-to-end tracking system. One can easily check the status of the packages they shipped using DHL eCommerce using DHL tracking numbers
Customers who placed an order on your eCommerce store, especially first-time customers, may get anxious about the status of their orders and would want to know when it would be delivered. Giving them the ability to track orders placed on your store by themselves helps alleviate some of this buyer's anxiety. Additionally, it can help reduce canceled orders as anxious customers might experience remorse and request refunds. Accessing tracking information can also be used to address any lapses in the fulfillment process as well as in locating wayward shipments.
What is the DHL tracking number?
DHL Shipment Tracking is a service that provides detailed item tracking and is available for most DHL shipping options. For DHL eCommerce users, having the ability to track their packages is extremely vital. As DHL eCommerce users, when you ship a product using one of DHL eCommerce's many shipping options, you will get a Shipment ID or a tracking number. Using this tracking number/ID you can check the status of the shipment, which waypoint in the DHL eCommerce fulfillment process it has reached, estimated delivery date as well as information regarding any delays or problems.
As DHL eCommerce customers, you can access the DHL tracking portal site for checking the status of your eCommerce shipments. There is no additional cost incurred in accessing the tracking information as this service is included in the DHL eCommerce shipping rates.
DHL eCommerce services that offer Tracking:
While DHL offers an extensive selection of services that you can use to ship items with, only a select few DHL eCommerce services offer Tracking. However, end-to-end tracking to the destination is limited for some of these services. The various DHL eCommerce services that offer shipment tracking are as follows:
DHL Global Mail Packet Plus Priority – it is more like postal shipping, and different from the DHL courier. DHL Globalmail picks up your order from the seller's warehouse, sorts it, applies the necessary postage, and handles the order until it reaches your country. Once the order arrives in your country, it is handed off to your local post office for customs processing (if needed) and delivery. The delivery is made by your national postal service, not DHL Globalmail;
DHL Global Mail Standard Tracking
DHL Global Mail Business Tracking
DHL SM Parcel Expedited Max – SmartMail boasts the fastest and most reliable service in DHL's portfolio. As DHL eCommerce's premium parcel service, Expedited Max is the ideal fit for customers who are looking for a fast and predictable shipping option at a cost-effective price
DHL Packet Plus International – economical, low weight shipping plus milestone tracking events;
DHL Parcel Intl Standard – Shipping up to 44 lbs;
DHL SM Parcel Expedited
DHL SM Parcel Ground
DHL Packet Plus International Standard – International B2C shipping to over 220 countries with range-definite transit times for items up to 2 kg, simplified postal customs clearance, milestone tracking with delivery confirmation in key destinations and insurance option.
DHL SM BPM Ground
DHL Parcel International Direct – Direct shipping up to 20 kg to high demand markets;
How does my Tracking Number look like and where to find it?
It's important to know what a tracking number from a particular DHL eCommerce service looks like. Heres the sample DHL tracking numbers for the various DHL eCommerce shipping services.
DHL eCommerce tracking numbers usually look like this:
Typically starts with GM, LX, RX, UV, CN, SG, TH, IN, HK, MY Example:
The ID length might vary from 10 to 39 characters
They also have a format like: L/R+a letter+nine digits+DE, CNAOG+ten digits, SGKEN+ten digits, sixteen/twenty-two digits, GM+sixteen/eighteen digits, A+a letter/number+000+fifteen digits, SGAGS+six digits.
Examples: SGAGS292388, CNAOG0000077749, RX444172478DE, GM275322484009027685, GM2951173225174494, LX000000000DE, CNAPZ300047833, INAUJGLAGD81, SGADN143797855, HKAETA30589534, MYAOI59866, THACEPKG685
When you place an order on an online shop that uses DHL eCommerce services for their fulfillment, they will provide the tracking number or ID. This information is relayed to you in the form of confirmation emails or shipment notifications. These typically contain the tracking number or ID. DHL eCommerce also features the ability to send an additional SMS to you on the day of the delivery with a link to track the shipment delivery status. Receiving DHL tracking numbers or IDs for orders placed on an online store depends on the type of DHL eCommerce service being used to ship it. You can also find the DHL tracking number/ID on the shipping labels stuck on packages mailed with DHL eCommerce services
How to check the status of your eCommerce Shipment using DHL tracking numbers?
Once the shipment is placed through the DHL eCommerce systems and you have your tracking number or tracking ID, you can check the fulfillment status using one of three official DHL sites.
webtrack.dhlglobalmail.com – The oldest and most popular ones. When you enter the tracking IDs in the webpage it will provide tracking information in multiple languages like English, French, Spanish, Portuguese, Chinese, German and Korean.
www.logistics.dhl – The site provides tracking information as well as details about the sender, recipient, declared value. This page also displays useful parcel attributes along with tracking events.
dhlecommerce.asia – This site is used to mainly track packages sent to/from Asian countries. It provides tracking information in multiple Asian languages like English, Malaysian, Vietnamese, etc.
As DHL eCommerce approved consignees you can also access tracking information from the DHL Customer web portal as well. Using the Customer Web Portal, you can evaluate the shipment statuses, track parcels and analyze shipping rates to manage and optimize shipping effectively. Furthermore, you can schedule the recurring reports on a daily or weekly basis. These reports can also be customized to your liking and can greatly aid in efforts to improve shipping.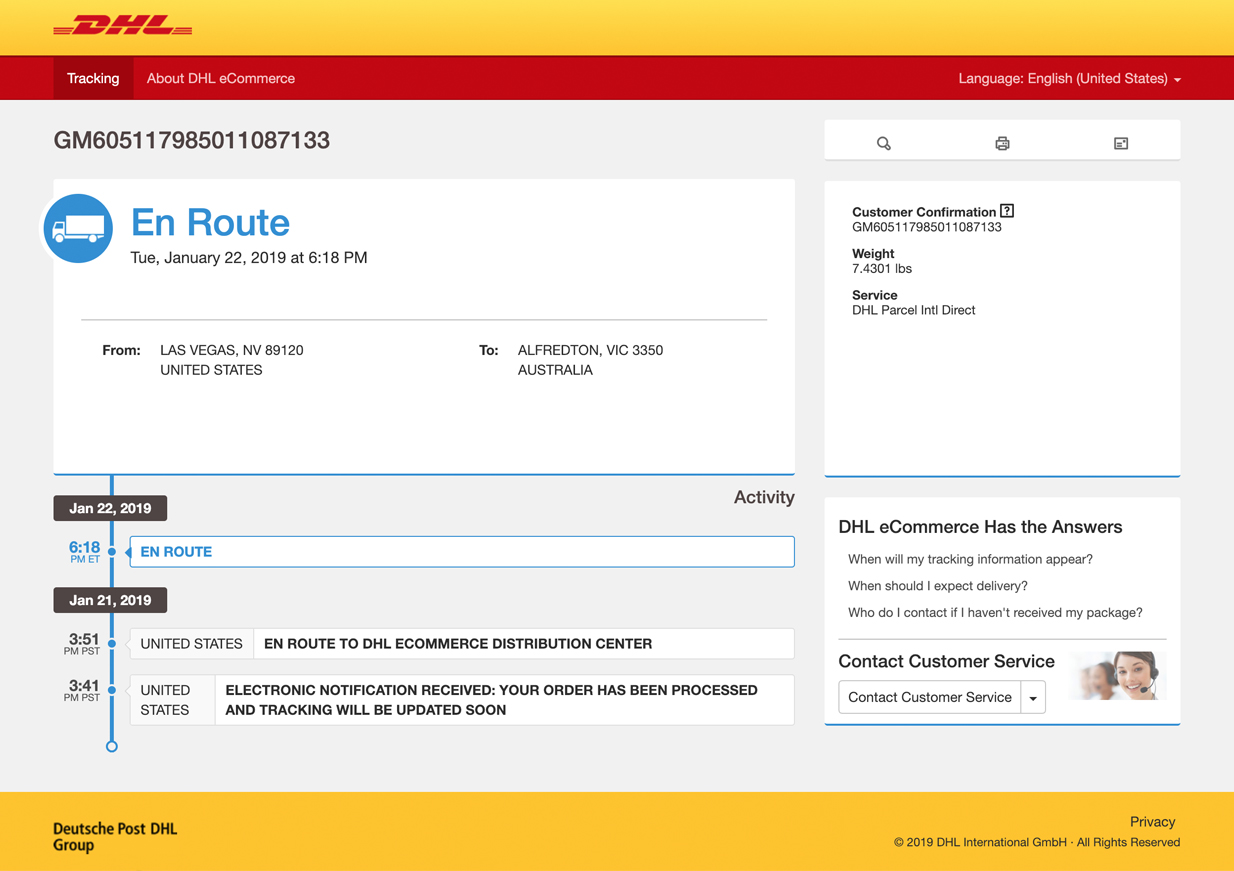 Most asked questions about DHL tracking
When will I receive my DHL eCommerce Tracking Number/ID?
When you place an order on an eCommerce store, you will see the tracking events updates within 24-48 hours after you have received the confirmation from the online shop or merchant. This delay in the updating of the tracking events is because of the way DHL eCommerce creates the first tracking event. The first tracking event is created only after the shipment is handed to them. So it depends on the merchant or online store to see that the shipment has been sent to the nearest DHL fulfillment center at the earliest.
Why is my DHL eCommerce Shipment Status not updating?
DHL provides milestone tracking only for most shipments. This means that it might take some time for a new tracking event to be displayed. The package is still in transit despite this delay in updating tracking events. How much time it takes for the package to arrive at its destination also depends on the distance to the destination country and transit time of the selected service. Additionally, delivery delays can be due to unforeseen weather, problems with customs or operational backlogs. You can contact DHL eCommerce customer service on their number or email if your shipment has been delayed for more than 5 days after the expected delivery time. Furthermore, there are some DHL eCommerce services that support limited tracking events in the country of origin and no tracking events in the destination country for international shipments.
eCommerce Platforms and DHL tracking
eCommerce stores that use DHL services to ship their products stand to gain a lot by offering DHL tracking to their customers. It will reduce buyer anxiety by letting them check on the status of their packages, by themselves. Customers that know where their packages are, will be less likely to cancel their orders or request for a refund. DHL shipping and services are also the most cost-effective way to ship out orders to customers, reliably. So if you're an online store that ships goods to domestic and international customers, you can't go wrong with integrating DHL into your shipping methods.
Setting up an eCommerce store with DHL shipping isn't as hard as it probably was earlier. With platforms such as Shopify, WooCommerce, BigCommerce, and others, you are given all the technical support you need to get your eCommerce store up and ready in no time. DHL eCommerce services best suited for the shipping needs of online stores and merchants. Integrating them into your WooCommerce shipping lets you offer DHL eCommerce shipping products and services on your online store. Plugins like the ELEX WooCommerce DHL Shipping Plugin with Print Label does this and more. Lets now see how the plugin can help in integrating DHL eCommerce tracking into your WooCommerce store.
Integrating DHL eCommerce Tracking into WooCommerce:
The plugin integrates DHL shipment tracking into WooCommerce seamlessly. When enabled, the tracking pins for packages that are being shipped with DHL eCommerce will have a DHL tracking pin generated and included in the Order Notes.

To enable the DHL tracking pin, simply tick the checkbox that says Add Tracking PIN to customer order notes. These settings can be found in the Label & Tracking tab of the plugin settings.
Additionally, the plugin lets you create Custom Shipment Messages for your customers. These messages contain placeholders that contain vital shipping information for customers. These placeholders are replaced with the information that they stand for, in every order. The place holders are as follows:
[ID] for Shipment ID
[SERVICE] for Shipment Service
[DATE] for Shipment Date
Using these place holders you can create a custom message to be sent to your customers when their orders are shipped. This can help in opening communication and promoting long mutually beneficial relationships with customers. By default, there's a message already configured with all of the placeholders and this will be sent to customers if a custom one isn't configured.
Furthermore, the plugin has a debug mode that can be enabled in case of any discrepancies in the rate, or errors in package and shipment creation.
Conclusion:
We have gone over the nuances of DHL eCommerce and how tracking can help you and your customers. We have also gone over the steps to be followed to easily enable DHL eCommerce tracking on your WooCommerce store. The ELEX WooCommerce DHL Shipping Plugin with Print Label features support for not only DHL eCommerce services but for products and services from DHL Express and DHL Paket as well.
You can check out the below infographic to see an overview of what the plugin has to offer for DHL eCommerce.
---
To explore more details about the plugins, go check out ELEX WooCommerce DHL Express / eCommerce / Paket Shipping Plugin with Print Label.
Read the product documentation to understand the plugin, in detail. Or check out the knowledge base for more related articles.
You can also check out other WooCommerce and WordPress plugins in ELEX.