Want to create an amazon like multi-vendor website? Then all you need is to use these multi-vendor plugins that integrate with popular eCommerce platforms like WooCommerce to make your multi-vendor marketplace looks appealing. Get on with the trend to create a multi-vendor marketplace and let various vendors be a part of the evolving eCommerce. Now just googling for efficient multi-vendor plugins will not solve your problems, hence here is an expert list of multi-vendor plugins that ease your work in creating a successful multi-vendor marketplace. Here we are listing the best multi-vendor plugins available in the market.
One of the popular, easy to use and simple multi-vendor marketplace plugin that is prevailing in the market is Dokan. It is the most intuitive and powerful plugin that can create even Amazon like a multi-vendor marketplace in just 30 minutes. The rich designs that Dokan has, make the plugin much more impressive for eCommerce website owners. The rich front end dashboard for vendors, which provide enough and cumulative data for managing a multi-vendor marketplace, makes it the first choice.
Popular Dokan Features are:
Marketplace with Independent Stores to manage
Easy withdrawal option for Vendors
Front end Dashboard For Each Vendor/Seller
Coupon management is possible from the Dashboard.
Earn From Each Sale processed on the store
Product Management is easier with Dokan.
Informative Reports (Pro Feature)
Easy Coupon Management (Pro Feature)
Increase as well as manage Product Reviews (Pro Feature) to understand which product augments the sale.
More Modules to help store management go successful.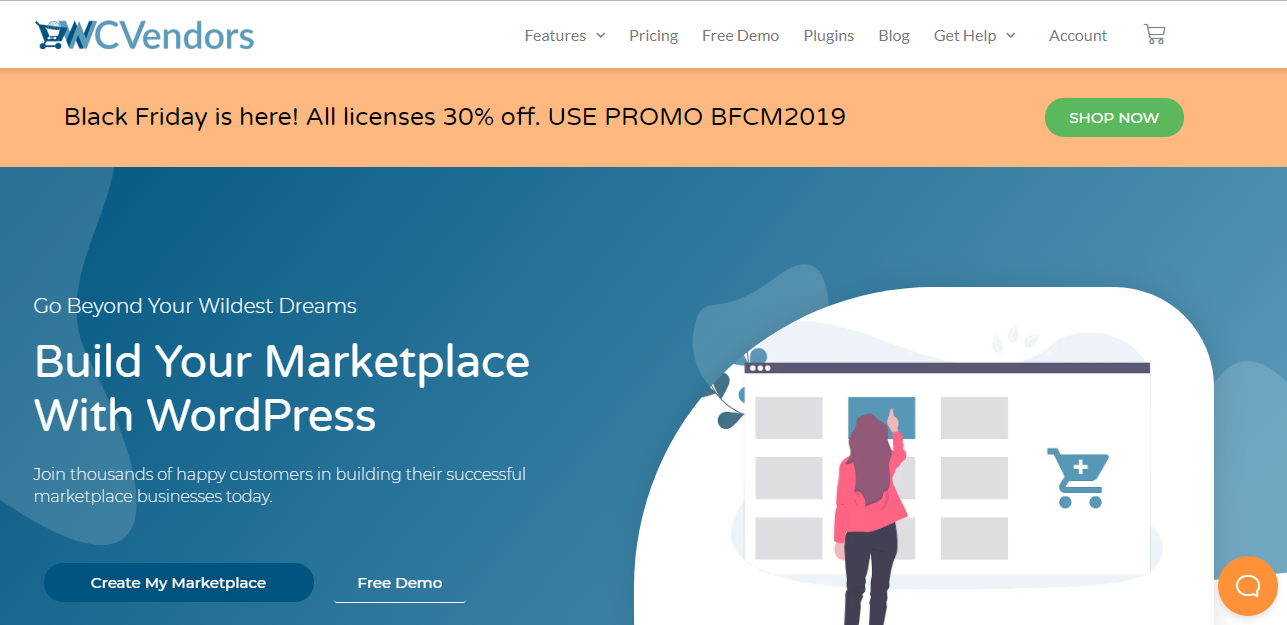 Yet another popular multi-vendor marketplace plugin, which is gaining popularity is WCVendors. It is similar to Dokan but stands out for its marketing techniques. Even though the front end features are not much impressive like Dokan, it is a cost-effective plugin with major features.
Features include :
Integrated Frontend Dashboard that blends with the theme used.
Offers individual Vendor Stores
Enables commissions to be applied per vendor or per product.
Vendor managed stores.
Complete Shipping solutions provided
Easy discount management
Easy for the marketplace store owner to apply their control over the store.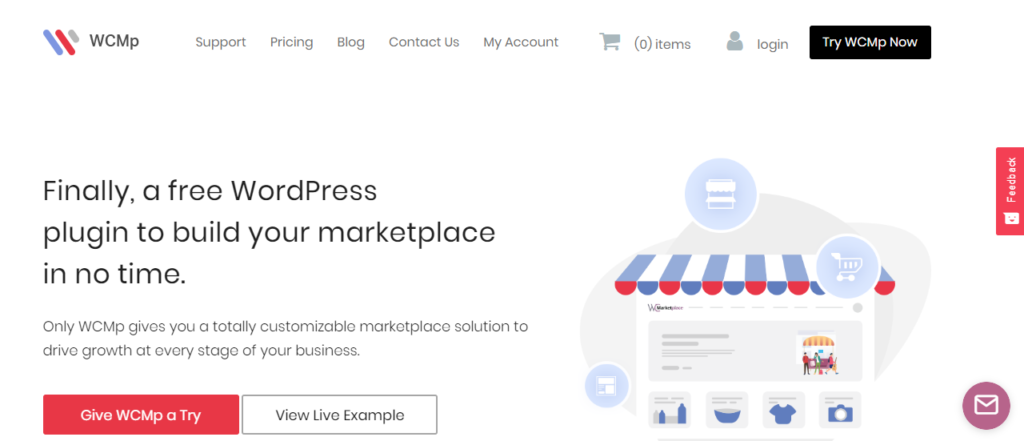 WCMarketplace is a free WordPress multi-vendor plugin that is easy to use. The plugin offers a bouquet of features that are worth using. Moreover, a large group of vendors can be managed using the plugin. There are bulk actions allowed in accepting vendor registration etc. Also the vendor registration is quite simple and easy to follow.
Features :
Simple and easy to use Plugin.
A single vendor can also sell products that already exist or listed previously by other vendors.

Actionable sales report for easy management

Comfortable commission handling.

Faster search results offered for purchasing.
The plugin is developed by WooCommerce to help WooCommerce store owners to set up a multi-vendor marketplace. The plugin is hassle-free in use and allows easy management of vendors in the marketplace. Various user-friendly features make the plugin a good choice for setting up a simple multi-vendor marketplace. It caters to the needs of both vendors and marketplace owners equally well.
Features:
Multiple Vendor profile settings are possible.
Feature-rich vendor management made easier.
Instant pay-out settings made easy.
Easy to add private notes to order for vendors or customers like the tracking numbers etc.
Any kind of products including bookings can be included in the store.
YITH WooCommerce Multi-vendor plugin lets you create a multi-vendor marketplace and then sell products from various vendors and earn sales profit from them. The plugin do not have a frontend dashboard though. Vendors can easily set the products and commission on the sale. Efficient payment processing is also possible. Vendors have the freedom to choose about selling their products, which reduces the burden of the owner.
Features
Global commission rates can be assigned.

Easy to filter product list based on vendor.

Advance reports on sale and other vendor performance related aspects.

Pay commissions manually.

Vendors can create individual coupon codes.
EndNote
Several plugins are upcoming in the market to make your dream multi-vendor marketplace work like magic. Each of the multi-vendor marketplace plugins has unique features to choose from. It is up to the marketplace owner to choose which suits them the best.
Further Reading 
An ultimate guide to building a multi-vendor marketplace website.