Top Sites to Read About WordPress, WooCommerce Blogs & Articles
Are you surfing for the top WordPress and WooCommerce blogs and articles to read? Searching for tutorials to brush up your skills in the WordPress and WooCommerce world? You are at the right place!
As a WordPress and WooCommerce enthusiast, you can refer to many interesting WordPress and WooCommerce blogs and articles for more information and keep updating the changes in the WordPress-WooCommerce ecosystem. In this article, I would like to suggest 13 sites from my list that you can follow or subscribe to improving your knowledge and updating the latest news in WordPress and WooCommerce.
There are also so many other resources you can read and follow other than these sites I have listed in this article. I have picked 13 useful sites in this article. Check out the plugins:
WPBeginner
The WooCommerce Blog
LearnWoo
Dessign.net
Yoast Blog
LearnWoo
ELEXtensions
WPExplorer
WordPress Tavern
Do the Woo
WPLift
WPKube
EnvatoTutsPlus
WPMU DEV Blog
Elegant Themes blog
Top Sites to Read About WordPress and WooCommerce Blogs & Articles
Let us go through the listed websites one by one for more details.
1. WPBeginner
I think almost all WordPress enthusiasts might be referred to WPBeginner as their first online guide. So how can we make this list without WPBeginner?! This WordPress tutorial guide started in 2009, still helps beginners to get acquainted with WordPress with their simple and precise explanations and expert advice to clear their doubts.

It also discusses the current changes and updates in the WordPress world apart from the tutorials. Yes, there are many other resources to learn WordPress, but still, WP Beginner is the perfect place to begin!
2. The WooCommerce Blog
If you are using WooCommerce for building your eCommerce business, you can definitely check its official blog for all the doubts and issues you have encountered with it. This irreplaceable resource for WooCommerce provides tutorials, discusses tips and tricks in WooCommerce business to improve sales, and so on.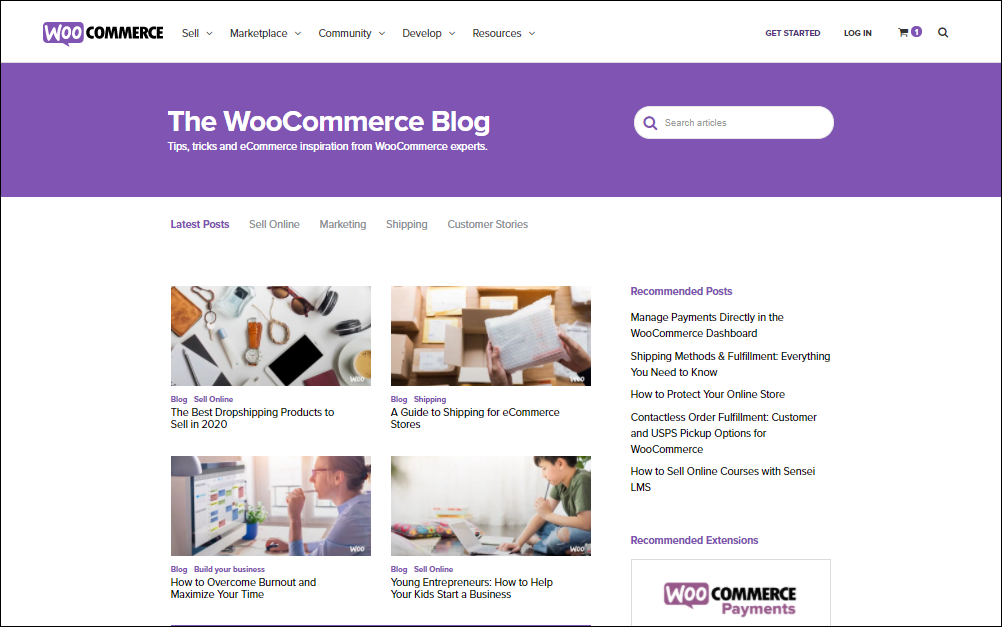 It also recommends the extensions and plugins for incorporating new features to your WooCommerce stores such as shipping, payment, and bulk edit plugins, etc.
3. LearnWoo
LearnWoo is a great resource for eCommerce related articles. Even though it mainly focuses on WooCommerce and WordPress platforms, it also discusses other eCommerce platforms such as Magento, Shopify, BigCommerce, and so on. They also offer with e-books in which you can find the tutorials and guides of WordPress and WooCommerce. It also provides the articles that list the best plugins and extensions that you need for improving your WordPress and WooCommerce websites.
Additionally, check the interviews of the experts, and find exciting deals on WordPress and WooCommerce plugins, themes, and other tools, etc. LearnWoo has become a preferred choice by store owners and obtained thousands of subscribers for its newsletters over the years!
4. Dessign.net
Since 2010 Dessign blog is a great source of WordPress related information, it covers everything from Best WordPress themes, design resources, WooCommerce articles, and tips on how to better optimize your online eCommerce store, to the best tips on how to install your new theme. It also covers the Gutenberg news the new WordPress editor. Dessign blog also has the best hosting reviews and the best deals when it comes to WordPress themes and plugins. When you need all the news and information about WordPress and WooCommerce this blog will cover all your latest resources.
3. Yoast Blog
If you are having a WordPress website, Yoast is a must-have plugin as it favors the SEO practices of your business, and thereby helps you to improve your website ranking on the top of Google's search result. Since it is the most visited SEO blog, they help you by providing articles that give the right solutions and guidance to improve your website's SEO. Unlike other blogs, it does not describe WordPress website development or other features. It mainly focuses on the article from the SEO perspective.
You can go through their articles regularly as they discuss the latest news in WordPress and SEO and will help you to be up to date on the changing trends of SEO practices. It also offers a number of plugins for your WordPress website.
5. ELEXtensions
ELEXtensions is one of the best places you can find high-quality WooCommerce and WordPress support plugins and add-ons. We are also providing content-rich articles that will help the store owners and WordPress-WooCommerce enthusiasts to refer. We have a dedicated blog section where you can find ultimate guides, how-to articles, listicles of plugins and extensions, and other articles related to WooCommerce shipping, payment, and so on.

We frequently update our articles according to the rising requirements from the customers and also publishes articles on the changes and transformations in the WooCommerce world!
6. WPExplorer
This blog is one of the best resources for WordPress guides and tutorials you can refer to, and also one of the popular theme authors on ThemeForest. Since they basically sell themes, they share free themes on their articles and publish reviews of WordPress plugins and themes. You can also find many how-to articles for the WordPress website which you are searching for.
They also publish several giveaways and deals that will help you to grab offers in the WordPress market.
7. WordPress Tavern
WP Tavern is owned by the co-founder of WordPress- Matt Mullenweg and he made it as the 3rd community for WordPress users as he delivers through this platform. Since this blog is so close to WordPress, you will get the latest news and updates as soon as possible even before any source publishing it.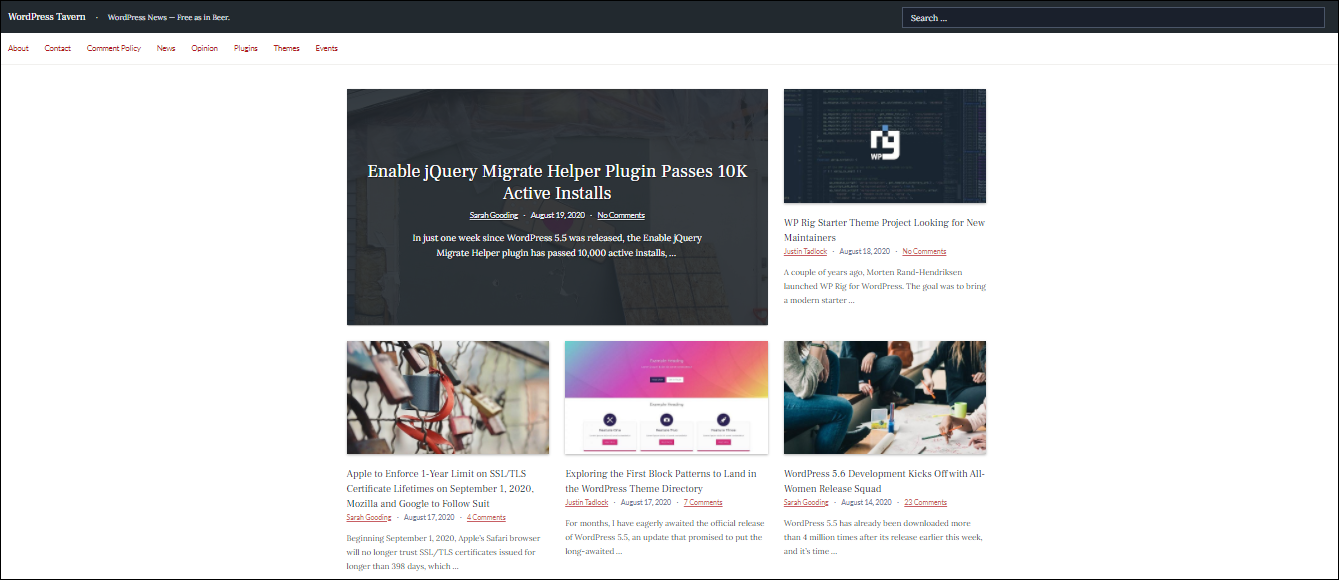 It also discusses BuddyPress, bbPress, etc along with WordPress. You can find the latest WordPress news, tips and hacks, theme, and plugin announcements on this website. WP Tavern makes sure they are up to date on the articles and news they share.
8. Do the Woo
Do the Woo website mainly focuses on podcasts, which are an upcoming resource that people prefer over articles and other sources. Do the Woo also provides articles and blogs regarding WooCommerce guides and tutorials along with the podcasts. You can also find the latest news and interviews of experts on this website. That will help you to get up to date on the WooCommerce market.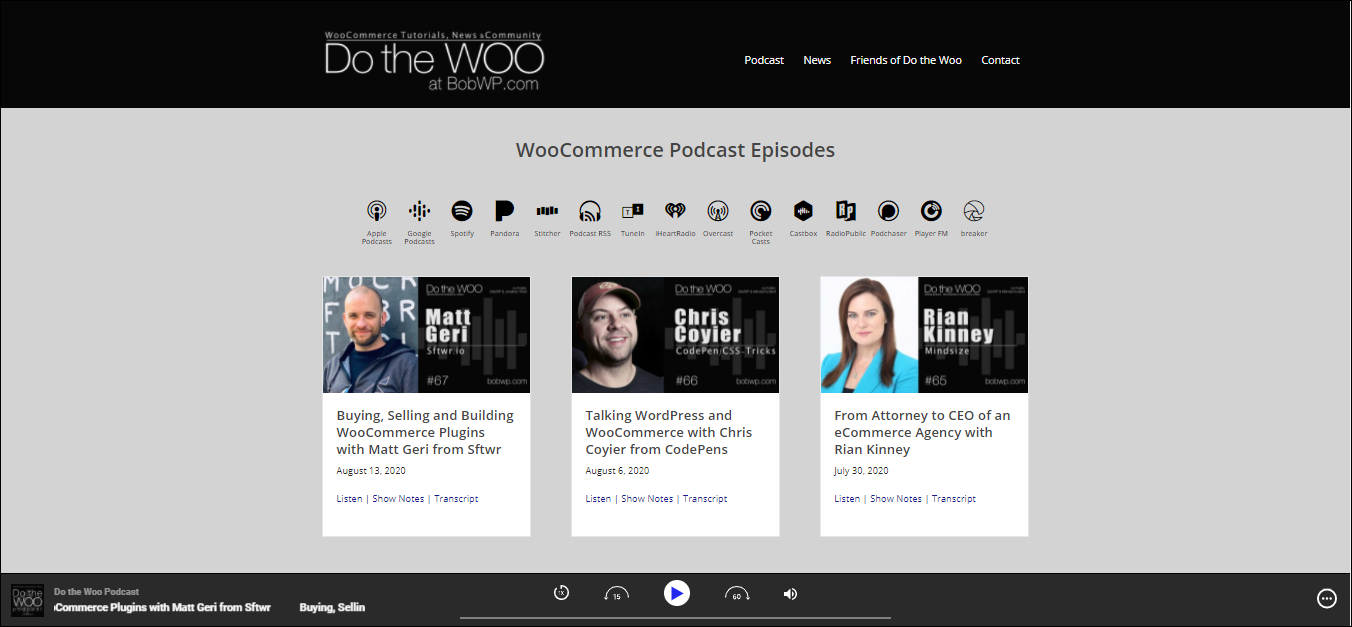 You can also find articles and sources on WordPress along with WooCommerce-specific articles. Since everyone has started to switch from reading to hearing for learning, this podcast site will help you to research WooCommerce through podcasts. You can either hear it while you are doing some other task or you can simply sit and hear like you hear a piece of music. And it is one of the reliable methods of learning!
9. WPLift
If you want to check what is the latest news in the WordPress world as well as what are the transformations and changes going on in the WordPress market, you can check WPLift. It publishes the latest news, plugins, extensions, and other entities related to WordPress from where you can find all information. An attractive feature in WPLift is, they conduct monthly free themes roundup. Yes, you can find the best free WordPress themes for that month that they share with you in this 'monthly free themes roundup'!
Apart from this news and roundups, they also offer tutorials and how-to articles which are beginner free but rich in content. It has its own theme gallery that you can make use of it after checking it out.
10. WPKube
WPKube is one of the best blogs, which provides content for beginners from how to install and set up WordPress to the high-level details for WordPress professionals. One of the peculiarities of this website is, they provide accurate reviews of plugins, extensions, and other tools for a WordPress website with a detailed explanation of their advantages and drawbacks besides the amazing tips and tricks for your WordPress website. This will really help you to decide which tool or plugin should be chosen for your website.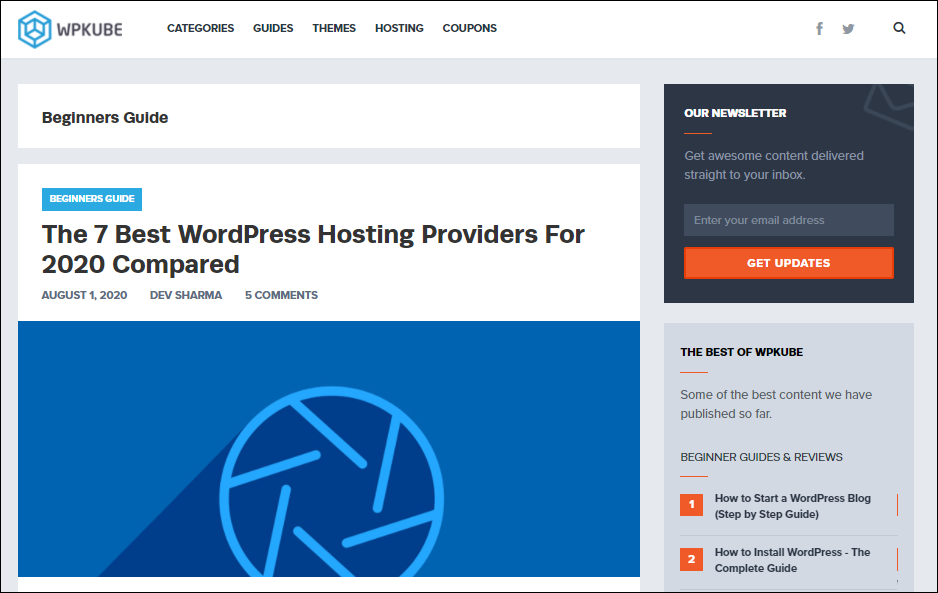 Since it has featured in magazines like Forbes, Entrepreneur magazine, HuffPost, and many others, you can go to this blog to get any kind of information and articles for clearing your doubts regarding WordPress.
11. EnvatoTutsPlus
TutsPlus offers a number of courses and e-books along with a handful of WordPress tutorial articles that you can subscribe to at a price of $16.50 for a month. If you have subscribed to it, you can make use of the thousands of its video courses and hundreds of e-books to learn WordPress concepts seamlessly. You can access various Envato Elements for downloading unlimited photos, design elements, and templates.
12. WPMU DEV Blog
You can go for this top-notch blog for getting the best tutorial and guide for designing and developing a WordPress website. Unlike WordPress tutorials, they provide articles regarding hosting plans, SEO and marketing tools, site management and security features, and so on. You can try these options for 30 days free of cost. After you have signed up for it, you will also get access to WP Academy membership.
The advantage of subscribing to WPMU DEV blog is, they provide quality and informative content that you will get ideas of different WordPress concepts rather than marketing contents of various tools and plugins. They also discuss WordPress Multisite, BuddyPress, and more from the WordPress ecosystem. You will also get insight into WordPress templates, plugins, extensions, security, updates, marketing & SEO tools with their articles.
13. Elegant Themes Blog
As the name implies it offers elegant themes. Yes, they do! But they are not stuck on providing WordPress themes, they also provide various tutorials and guides for WordPress. You can find articles for beginners as well as advanced guidelines and tutorials for professionals. Elegant Themes have a dedicated section for WooCommerce and offer their flagship WordPress theme and page builder, Divi. They also update the latest news and updates of WordPress and WooCommerce in their articles.
To sum up
There are many tutorial websites, YouTube channels, and podcasts available for us to know more about WordPress as well as WooCommerce. But there are some websites that give precise and accurate tutorials and updates in the WordPress-WooCommerce industry. I have listed 13 websites among them. There are so many other resources you can find other than these websites. You can definitely utilize these 13 websites without any doubt as they have already a large number of readers and subscribers. And many site owners and WooCommerces store owners prefer these websites.