Shipping is one of the major factors that determine customer satisfaction on your store. Lack of transparency in shipping rates or unavailability of shipping services may lead to cart abandonment as well. All these factors point to wards the necessity of integrating the rates and services of popular shipping carriers on your WooCommerce store. You can integrate one or multiple carriers according to your specific shipping requirements and customer feedback. In this article, we will discuss how you can choose the ideal shipping carrier for your WooCommerce store. You will also get a better understanding on some of the top free WooCommerce shipping plugins that will help you integrate rates of popular carriers like FedEx, UPS, DHL, USPS, etc.
Best Free WooCommerce Shipping Plugins for UPS, FedEx, DHL and USPS Rates
We will first discuss how you can integrate the services and rates of some of the popular shipping carriers such as UPS, FedEx, DHL & USPS using our free WooCommerce shipping plugins.
You will be able to display international and domestic services and rates of popular shipping carriers such as FedEx, UPS and USPS using this plugin. If required, you can set a custom title for the EasyPost shipping method on your store. While displaying real time shipping rates, the plugin provides you an option to display rates for commercial or residential addresses according to your requirements. In addition, the plugin gives you an option to set up a fallback rate. In case the EasyPost API does not return any rates, this fallback rate will be applied and customers will be able to checkout smoothly.
This is another popular one among free WooCommerce shipping plugins, which you can use to display live services and rates of USPS. As USPS is one of the largest shipping carriers in the world, you can expect your customers to be happy with USPS service integration. The plugin helps you customize a name for each service and also lets you prioritize flat rates when they are offer alongside package rates. You can set a fallback rate to ensure smooth checkout even if there is a problem with the API. The plugin uses Stamps.com API to capture live USPS rates.
You can display live USPS shipping rates using this plugin as well. However, this one of the free WooCommerce shipping plugins that offers more features compared to the above one. It gives you an option to choose between online and offline rates. Similarly, you will have the control to restrict USPS shipping option only to specific countries or across the world. Also, the plugin offers an option to restrict media mails. Like the other free plugins mentioned in this article,  you can configure a fallback rate using this plugin too to facilitate hassle-free checkout at all times. More importantly, you can choose to display all available USPS services, or display only the cheapest option.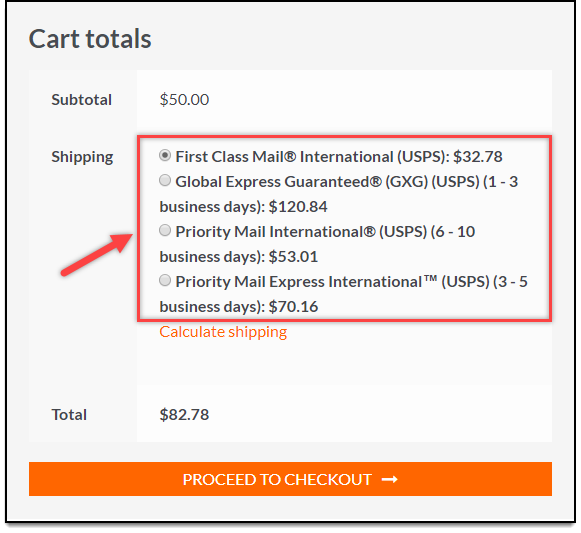 If you want to display DHL Express services and their live rates on your WooCommerce store, you can use this plugin, which is a popular option among free WooCommerce shipping plugins. You can use the plugin to display DHL account rates using this plugin. On the Checkout page, you can show estimated delivery time for each service and a price breakdown, if required. Furthermore, this plugin helps you make price adjustments to each DHL Express service that you display on your store. Also, you will have the control to display DHL Express services for shipping destinations across the world or only to specific countries. If you use a different currency on your store other than what mandated by DHL, you can set a conversion rate in the plugin settings.
How to choose the best shipping carrier for your WooCommerce store?
Choosing the most appropriate shipping carrier for your store is particularly important as it can give a good first impression to your customers and prospects. However, choosing the right shipping carrier is not an easy job. You need to carefully consider several aspects related to your store to get to the right one. Let's look into a few aspects you need to consider to find the right shipping carrier for your WooCommerce store.
Price
The charges you incur for shipping will be one of the primary concerns of an eCommerce store owner while choosing a shipping carrier. Most popular shipping carriers allow negotiated, account specific rates that you can offer your customers. Account specific rates are often provided based on the volume of shipping. so if you are using one shipping carrier for majority of your shipping needs, chances are high that you will get a better rate from them. Before setting up an account, you can talk to a representative of the shipping carrier to understand how negotiated rates work for them.
Weight and dimensions of your products
One of the first aspects you need to consider while choosing a shipping carrier is weight and dimensions of your products. The weight and dimensions of your products in fact determine the entire logistical plan of your store. Because, if you are products are of large size or on the heavier side, your shipping costs can increase accordingly. On the other hand, for smaller products you can easily find cheaper options to ship.
You need to check if any specific weight restrictions are there for the carriers you are considering to ship your products.
For FedEx Express services, you can ship packages up to 150 lbs.
UPS too have specific restrictions when it comes to weight and dimensions. Weight of package needs to be below 150 lbs, and the combined length and girth of the package should be 165 cm.
Commercial parcels send through USPS generally should be under 70 pounds, and a combined length and girth of 108 cm.
For DHL, parcel weight should be below 70 kg, and the dimensions should be 120 × 120 × 150 high.
If you have taken into account the weight and dimensions restrictions of the carrier beforehand, you might difficulties while shipping. To avoid such scenarios that can badly impact your customer experience, make sure that you find out about any weight restrictions well in advance.
Understand more about box packing options for:
Selling location
Your sales strategy is another important aspect you need to consider well before zeroing in on a shipping carrier. Different carriers will have different approaches to different destinations. This can have an impact on the costs you may have to incur as well. However, it is not quite easy to determine your shipping location very clearly when you are just starting a store. You might want to establish your products in a specific market, but there are chances that you become successful in another market. This is where a globally competent carrier can be a lot of help. Popular carriers like FedEx, UPS, USPS, DHL, etc., are equally good in destinations across the world.
Though global carriers are really good in most destinations, there will be cases where a local carrier offers better services in a specific destination. Opting for local carriers might be the way to go in certain specific cases like this. For example, if you are getting a lot of orders from a particular international destination, you may have to check out the local options instead of sticking only to the popular global carrier. Basically, you need to be flexible to experiment with carriers a bit according to the changing trends of your sales locations. With the help of some of the free WooCommerce shipping plugins discussed in this article, you can choose to restrict specific shipping services to certain countries alone.
International services
If you are selling to international markets, you need to pay extra attention towards international shipping services. International shipments need to go through strict monitoring from the customs team of the shipping destination. You need to ensure that the international guidelines are properly met by the shipping carrier. If your shipments are repeatedly subjected to customs delays, it can negatively impact your international business success.
Understand the specific logistical approaches of shipping carriers
Doing a background research on the shipping carrier will offer you a lot of insights on your shipping strategy. You need to find out if there are any recurring issues when it comes to delivering packages to particular shipping destinations or during particular times. For example, holiday season might be a time when you get a lot of orders. If a shipping carrier tend to struggle particularly during the busy periods, you may want to think twice before signing up with them.
You can find out more about the specific approaches of a shipping carrier from the user reviews available on their respective websites. These reviews can give you a wealth of information regarding how the shipping carrier is handling it when a parcel is lost or delayed. It is especially important to have alternative strategies when there is an unexpected delay in the delivery of a parcel. Understanding how a carrier deals with shipping mishaps would give you a clear understanding on their focus on customer experience. When you collaborate with a carrier who is naturally caring for customers, naturally it will reflect on your store's customer experience as well.
Insurance options
Another important aspect you need to pay attention to is shipping insurance. You have to find out the default insurance options for each carrier. Compare the coverage with your average order value to understand the dynamics of insurance better. Try to get more details to understand if you will have to pay additional charges to get your products insured.
Features and choice for customers
In the current digital landscape, customers have bigger expectations from each service or feature they are dealing with. So you have to ensure that your shipping carrier offers a range of customer friendly features and services.
Tracking
One of the most important aspect for an eCommerce customer in this regard is tracking. Being able to know the whereabouts of their packages is of utmost importance to eCommerce customers. More importantly, tracking helps store owners also to determine if there are any flaws or gaps in the fulfillment channel. If you notice recurring patterns that might be causing delays in shipping, you will be able to make Here are a couple of articles that will give you more insights regarding tracking options of major carriers like UPS, FedEx, USPS, DHL, etc.
If you can configure timely notifications when parcel reaches certain checkpoints, customers will be even more happier. While choosing a shipping carrier, it is important to understand the options available to set up tracking and notifications.
Estimated Delivery Date
Another important feature expected by modern eCommerce customers is 'Expected Delivery Date'. This is an important parameter for customers when they are considering multiple shipping options for an order. Sometimes a customer might pick up a slower, inexpensive shipping option, while at other times an expensive, faster shipping option will be more desirable. Displaying estimated delivery date is a crucial aspect under these circumstances. You might have seen two ways to do this; one is displaying the exact date (product will be delivered on 12th March, 2019) and the other way is to provide the days required (product will be delivered within 2-3 working days). Depending on the specific nature of your store, and insights from customer feedback you will be able to determine what is best for your store. Before deciding on a shipping carrier, you should check the available options to display estimated delivery date.
Pick up options
As an eCommerce store owner, you need to be aware of the pick up options of a shipping carrier before signing up for one. Understand the frequency of the pick-up service, if there is any minimum volume threshold, etc. Also find out the basic fees you have to pay to enable a pick up service by the shipping carrier.
Hope you got a basic idea on how to choose a shipping carrier for your WooCommerce store. To display rates of popular shipping carriers, you can use some of our free WooCommerce shipping plugins. For additional features like printing shipping labels or providing tracking to customers, you can check our free options as well. Contact our support team for any clarifications.