Chatbots are currently trending in every business. You can easily enable chatbots to engage your users with automatic replies. Chatbots are nothing but specialized software that provides spontaneous replies to queries and messages on the website posted by users who land on your page. Usually, chatbots are configured with some pre-defined rules which let it function faultlessly. Whereas there are a few chatbots that are completely artificial intelligence(AI) enabled, and take interactions to a greater level.
Most industries like eCommerce, healthcare, HR, etc. require chatbots. Businesses need more efficient chatbots to help them interact with customers. With AI, machine learning and NLP chatbots improving the overall customer experience day-by-day. Most widely, chatbots help in marketing and advertising. Chatbots make live chats much more lively and prompt. Most chatbots use natural language and are prompt to fewer errors. It also keeps users occupied and engaged throughout.
Here are some popular chatbots for WordPress: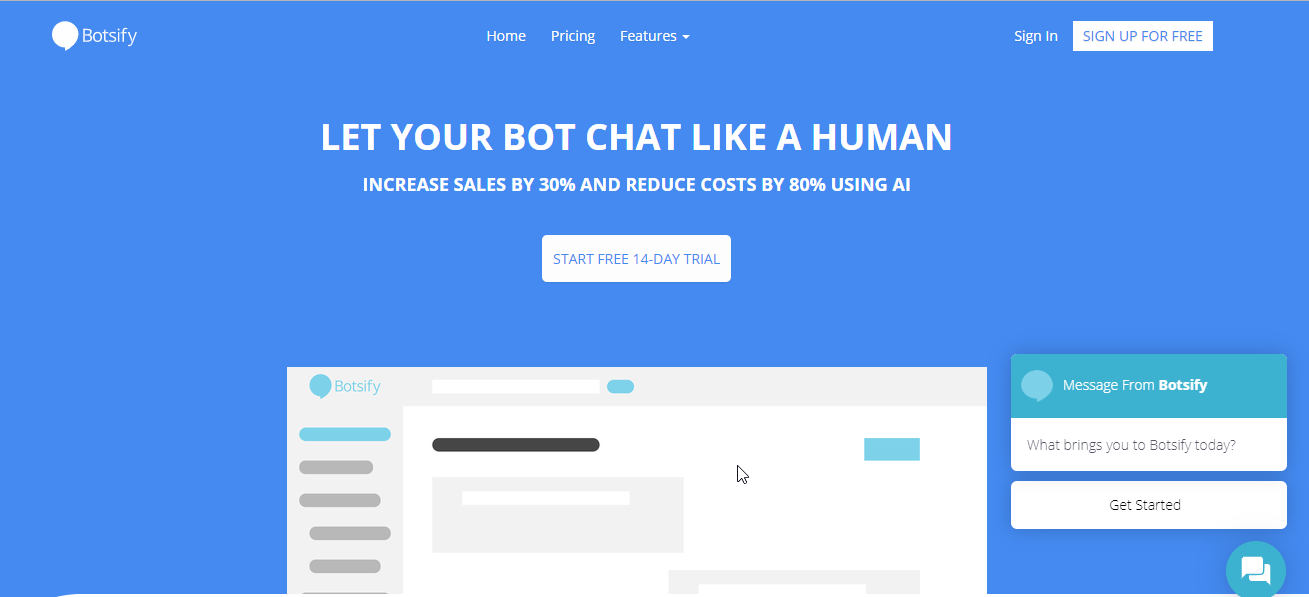 Botsify is an easy to use chatbot builder, which is meant for non-techncal users. It helps to streamline the data that is captured to channelize them for required purposes. Botsify can integrate with Shopify, WordPress, Zapier, and even Alexa. It is easy to make conversation forms with Botsify.
Features of Botsify :
Build chat forms using a visual editor.

Predefined bot templates that ease the process of making conversation forms.

Easy to embed chatbot on websites.

Stores the user data efficiently, which can be a source of lead generation.

You can easily create automated personalized messages and email responses.

Allows attachments on chatbots messages.

Can work on keyword triggered auto-response.

They also support multilingual chatbots.

Pricing starts at $50 monthly with unlimited chatbots up to 30,000 users.
You need not worry about coding for your chatbots when you use Flow XO. Just create, manage and publish your chatbot easily with Flow XO. The chatbot can easily integrate with messaging platforms to create an SMS bot for Messenger, Slack, Twilio, etc. Contains simple onboarding details to help newbies to understand quickly on its working. The chatbots create a flow of your conversation. It has excellent filters to deal with complex ones too. The chatbot also lets you transfer the chat conversation to an agent to carry ahead with the conversation.
Features of  FlowXO :
Excellent conversation starter with all users.

Gathers necessary information using a series of questions and answers.

Chatbots can answer simple questions and also connect with the necessary knowledge base for extra support.

It's free.

Also stores users data for further use.

Keyword auto-response is possible for quick responses.
No special coding skills are required for this chatbot. They have pre-built chatbots to make work easier. Chatteron uses exceptional machine learning and AI-powered chatbots that supports conversations in an outstanding way.  Almost 20 pre-built chatbots conversations are available. Exhaustive documentation is provided for hassle-free usage.
Features :
Easy to use.

Supportive documentation for ease of usage.

Monetization of chatbots possible.

Extensive machine learning is implemented to understand every kind of user.

Pre-built chatbots to make it easy, to begin with.

Rich contents like carousels, gifs, buttons, etc. are also available.

seamless integration with existing backend APIs.
IBM Watson Assistant is more than a chatbot. It knows exactly when to seek an assistant or even search a knowledge base for reference. It runs on cloud and can be accessed from anywhere at your convenience.
Features : 
Easy integration with any channel like Facebook, slack, etc. enabling you to interact with your customers from anywhere.

Skilled routing enables smart ways to answer a query.

Manage a session efficiently with storing necessary details to uphold personalized experience.

When a query arises which a chatbot cannot answer, it hands it over to the human hands.

Can handle simple and complex queries.

Automatic conflict detection when multiple teams work on the same query.

Enterprise-ready always.

Complete data privacy.
Pandorabots help build intelligent conversations across different channels to support your business.It also has a free version which has sumptuous features. 
Features :
Efficient handling of various channels.

Multilingual support.

Also, the higher pricy version offers SLA and Premium support.

Easy to create customized automated replies to your customers.

Chatbots logs are saved for offering personalized experience at other instances.
Augment your pre-sales with a successful integration of intelligent chatbots like TARS. Build your trust with your customers and run a successful happy clientele. TARs also offer dynamic text replacement with advanced chat flow using logical reasoning.
Features of TARS :
Pricing is affordable.

Customizable chatbots and designs.

Zapier Integration.

Seamless Integration with Facebook, Google Analytics, etc.

Multilingual support.

Dynamic text replacement.

Easy drag and drop chat builder.

Enable to build a good conversational landing page.

You can send potential customer ads through message bots.
With flawless integration with Google's dialogue flow, it is a simple plug and play WooCommerce shopping page chatbot. Improve the sales on your WooCommerce store with a faultless smart conversation with your customers. Pricing starts from $34 per year.
Features :
Intelligent conversations.

Timed messages.

Extent promotional offers when customers are intending leaving the website.

Increases customer satisfaction with a smart conversation.

Personalised assistance 24/7.

Artificial Intelligence and NLP enabled.

Easy and quick to work on.

In-chat support.
With proper use of NLP, the wit.ai chatbots can easily handle human interactions. You can efficiently convert conversation into a required format to even set reminders on Calendars and much more. And it is FREE !!.
Features :
 Easy to build chatbots with proficient NLPs.

Convert human conversations into required formats.

Easy to use.

It can facilitate even conversation from wearable devices.

Seamless Integration.
Collect.chat is ideal for faster conversion of leads in a much more transparent way than other chatbots. It delivers optimal leads for businesses through interactive conversations with visitors. The intuitive interface of the chatbot makes it enticing for users to interact easily. The chatbot does not require any coding skills to use, just logical reasoning alone is required.
Features :
Easy drag and drop chatbot builder.

Quicker lead generation.

Can schedule meetings and is smarter in finding the right solution.

Seamless integration with calendar and WordPress.
To Wrap Up
Chatbots are immensely popular for its ease of use and the way it enhances the user experience. Even though chatbots don't replace complete human interaction, it does help to keep your website up and live. Try out some of the above-mentioned chatbots for your WordPress website and revamp your customer experience.
Further Reading