The Best Dialogflow AI Chatbot Built for WordPress
Chatbots are the most convenient channel for the customers to reach you as and when they require your assistance. The other ways like form submissions, sending a direct email to you, or having a telephone conversation might take time and many customers may be reluctant to do it. Since we all are familiar with different chatting apps and social media, it is quite easy and interesting for the customers to reach you through chat conversations. Since the form submissions and mailing puts some kind of formal communication, customers prefer chatbots since they find it more friendly and comfortable.
Another benefit of using a chatbot is, customers will spend more time on your website. This will reduce the bounce rate or any other issues you are facing in terms of SEO. And gradually your site will rank well on Google and it will also improve the potential customer engagement on your site.
Since there are many free and premium chatbot plugins available for your WordPress store, you can choose one which has additional features to satisfy all your requirements. Before picking one WordPress chatbot plugin, check the overall features it offers and the benefits of integrating it into your store.
Now, let us check the important features that should be there on a WordPress chatbot.
Important features that a WordPress live chat plugin should offer
Before jumping on to one chatbot plugin, check whether all the features listed below are offered by that particular plugin.
Offering high security and privacy on data: 

A live chat plugin should ensure the security and privacy of users' data they are dealing with. Since there are chances of exchanging credentials or some important details through the chat, it must be secured and protected. Any security breach or data leakage will affect the entire business of yours as well as your customers. Most of the chatbots store the data in different locations. Hence make sure you will be the only owner of the data and it does not have any external dependency to hamper your day to day business operations if you choose that particular chatbot plugin.

Features for agents: Maybe you might have recruited agents for assisting customers to solve the issues if you receive hundreds of queries and tickets every day. For replying right after the customers raised a question is important to keep your customers' trust towards you. So the plugin you are going to choose should make the agents' task easier and smoother. And it is better if the plugin helps you to create unlimited agents profiles and the plugin should manage it well. For letting know about the new ticket or query received through chat with the agents, it should provide an option to trigger alerts or notifications to the agents to make the reply faster.
Unlimited chat history: The plugin must allow you to store unlimited chat conversations. This can be kept as a record in the future to refer if any requirements arise. So check the limit of the chat history the plugin offers. It is better if you choose one plugin that offers unlimited chat history.
Mobile responsive: Since everyone uses smartphones, it is a convenient way for some customers to reach you if they are viewing your website on their mobile phone. The chat widget should be optimized accordingly to work well on mobile phone screens.
Customization options for the chat widget: Your chat widget should be customizable according to the look and feel of your website. Do not choose a plugin that provides a default chat widget only without providing an option to customize it. If the widget colors do not match with your website it will look odd.
Well, these are the basic features that should present in a live chat plugin. But for better customer chat experience, we need some advanced features like more customization options and AI(Artificial Intelligence) integration. The compatibility with other plugins should also be there for the smooth working of a WordPress live chat plugin.
In this article let us check the best Dialogflow AI Chatbot plugin for your WordPress site. Now let us check an advanced live chat plugin WSChat – ELEX WordPress Live Chat plugin which helps you to easily integrate with AI.
WSChat – ELEX WordPress Live Chat Plugin

WSChat – ELEX WordPress Live Chat is a handy AI-integrated live chat plugin for your WordPress website. It comes with a number of advanced customization features that make the chatting experience more easy and interesting. The main advantage of using this plugin is its higher compatibility with Dialogflow by Google for integrating AI and NLP(Natural Language Processing) for making the responses to the customers faster and accurate.
If you are looking for a live chat plugin that is compatible with AI for triggering automated responses, you can definitely go for WSChat – ELEX WordPress Live Chat plugin.
Why should you integrate your live chat plugin with AI using Dialogflow?
Dialogflow is a robust tool powered by Google's machine learning used to trigger automated responses through mobile apps, web applications, devices, bots, and so on. Its user-friendly interface lets the complex AI integration be easy and simple. There are many reasons you need to integrate your chatbot with AI. One of the important reasons is customers will get quick solutions for their issues even if you are not available online. You do not want to be worried about whether it is holidays or your agents are on leave for getting back to the customers with the solutions. It will trigger automatically if you configured the responses accurately on Dialogflow.
Even if your customers are from different countries and their working times are different, you can give responses to your customers. Instant responses will make the customers reach you and feel you dependable if they are stuck somewhere while using your services or products. Since customer satisfaction is vital for running your business it is necessary that you should be available all the time for them. You can make it practical using this Dialogflow integration.
Check the features that WSChat – ELEX WordPress Live Chat plugin offers with Dialogflow.
You can easily create training phrases by assuming the customer queries and set corresponding responses for them.
Customize responses to give a personal touch to the conversation by fetching values from customers and include it into the responses from your side using prompting.
Besides automated text responses, you can send images, audio, video, or any other files through chat conversation.
Provide replies right after they raise a query even if you are not online.
Easy to integrate Google Assistant, Amazon Alexa, Facebook Messenger, etc.
Compatible with Google Firebase and Google Cloud Platform.
The other features by WSChat – ELEX WordPress Live Chat plugin are:
1. High security and Privacy
Unlike many third-party WordPress live chat plugins, WSChat – ELEX WordPress Live Chat plugin ensures the security and privacy of your data by making you the only owner of your data. You can store your data exclusively on your server rather than storing it in different locations. Since there is no external dependency, you can manage your data as your wish and you can access it from anywhere using a web browser.
2. Unlimited agent profiles and advanced features for agents
You can create unlimited agents with this plugin and manage the tickets effectively by assigning them to the agents. As this plugin is compatible with  WSDesk – WordPress Helpdesk & Customer Support Ticket System Plugin, you can import agents from it as well. And there are many advanced options that make the agents' jobs easier. Agents can initiate a chat from their side to the customers. And you can configure to trigger a sound or email notification to the agents when a customer raises a question. Pre-chat form option will help agents to send the replies through their email, and you can set your activity status as online or offline.
3. Unlimited chat history
WSChat – ELEX WordPress Live Chat plugin does not limit the number of chat history you can store. It is actually a backup and a record to refer in the future if any requirements arise.
4. Monitoring live visitors of your site
You can track the IP address, which page a customer views currently, the operating system they are using, and the time each customer spends on your site. You can monitor it on the Active Visitors dashboard. From here, you can initiate a chat with them for any presale queries.
5. Advanced customization options
In order to make the chat widget more customer-friendly and fitting to your website's theme and color, this plugin helps to customize chat widget background, Header Background, Header Text Color, Chat Background, Agent Message Background, Visitor Message Background, and Message Text Color.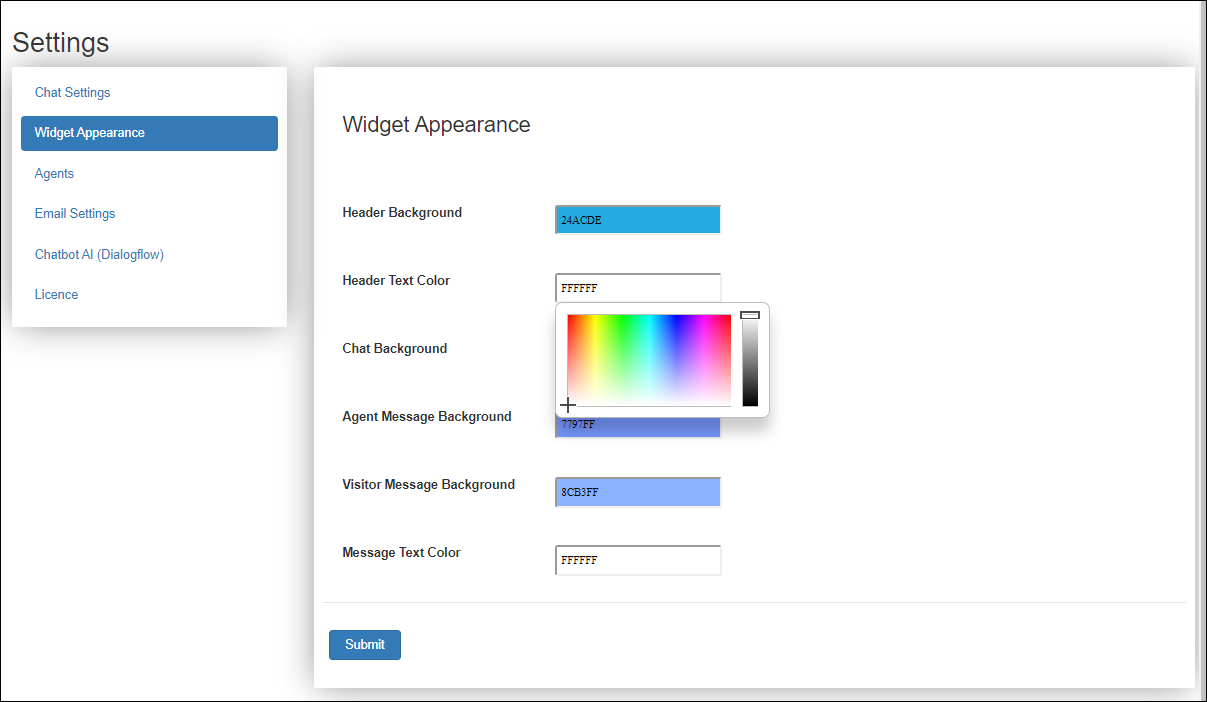 In addition to that, you can customize the chat header by adding a call to action. The plugin provides a default mute button. You can add:
Attachment: If users want to attach a file to send to you, they can use this attachment option.
Video recorder: Users can record a video and send it to you for clarifying the issue they are facing.
Send chat history: They can enter an email ID and send the entire chat conversation to that email ID.
Chat rating: They can rate your support service using a like and dislike button.
It also provides emojis to make the conversation more interesting!
6. Mobile responsive
Since the majority of the customers feel comfortable chatting from their smartphone the plugin comes with mobile responsive features. As an AJAX-based plugin, it works well on mobile phone screens. Customers can enlarge the widget to fit into the screen.
7. Detailed report to analyze the performance
You can view the ratings, quality scores, and the number of tickets associated with all agents in a detailed report for a selected period of time. This will help you to make more improvements in the services you are providing and analyze the overall performance.
Wrap up
WSChat – ELEX WordPress Live Chat plugin is AI integrated and compatible with Dialogflow. It is rich in advanced chatting and agent features. If you are looking for a live chat plugin that is AI integrated and offers advanced features, you can go for this plugin.