The Best Amazon Pay WooCommerce Plugin
Choosing a secure and fast payment gateway for your store is one of the concerns as a WooCommerce shop owner. Picking the best one from a variety of payment gateway plugins that satisfies customers as well as you is not a tedious task.
Before choosing a payment plugin, you should make sure that it offers good security without any errors during the transactions, and it handles the confidential details such as the customers' account number and other details. The transactions should be smooth, quick, and accurate during the product purchases and processing refunds if your customers change their minds later. So each and everything should be flawless to make your customers increase the trust towards you. If any errors occurred in between and transactions it will lead the customers to think twice before purchasing products from your store next time. In this article, let us discuss the best Amazon Pay WooCommerce plugin that will help you to understand more about its features.
Amazon Pay
Amazon Pay is an online payments processing service by Amazon, launched in 2007. It uses the consumer base of Amazon.com and focuses on providing users the option to pay with their Amazon accounts on external merchant websites. Many customers trust Amazon Pay as it offers fast and easy transactions.
ELEX Amazon Pay WooCommerce Plugin is a robust and handy freemium payment gateway plugin that helps to easily integrate your WooCommerce to Amazon Pay and process all the transactions accurately without any flaw. It offers several advanced options to make the integrations easy for you without going through complex steps to integrate. The plugin helps customers to pay with the credit card information stored in their Amazon account. Since you deal with many customer accounts and credentials, you can go for ELEX Amazon Pay WooCommerce Plugin without any doubt to offer a secure service to your customers.
Let us go through more about the plugin and its features.
Why You Should Choose ELEX Amazon Pay WooCommerce Plugin?
As I have already mentioned it offers the top-notch service as well as helps you to make your customers stay on your website even after they check out after the transactions. Even if your company is a startup or a large enterprise with different branches, you can trust Amazon Pay as it has already proven that it helps to grow the customer-business trust. It makes your existing customers stay on your site as well as attracts potential customers. And helps to increase order value, allowing shoppers to bypass the cart and buy products in simple clicks, and flexible to customize recurring payments.
The plugin offers options to:
Add Amazon Pay Checkout button on the cart page

Easily process partial and full refunds

Provide an overview of transactions

Supports recurring payment

Ensure security

Customize
Add Amazon Pay Checkout Button on the Cart Page
Unlike the traditional payment process from the checkout page, you can add the Amazon Pay Checkout button on the cart page itself. It reduces the time of many clicks and checkout time as well as it offers easy and fast transactions. This will increase customer satisfaction as they can click on the payment button from the cart page itself.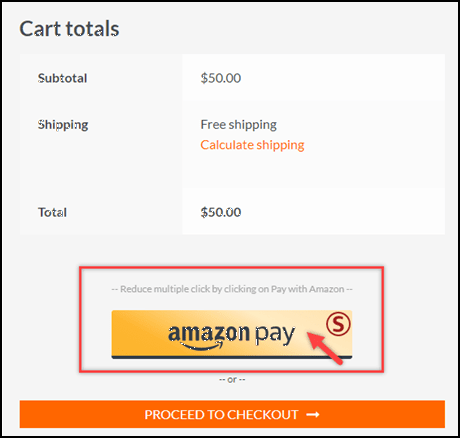 Clicking on the Amazon Pay button will proceed with the payment. Customers can log in to their Amazon account on the opened window.
The customers can log in to their account and complete the payment. After the payment, they will be redirected to a review page of the order and they can place the order easily.
Easily Process Partial and Full Refunds
Returns and refunds are very common in the WooCommerce business. If they find the product does not match up to their expectation or any other damage as well as if they change their mind they will cancel or return the products ordered from your store. In such cases, the refunds should process as soon as possible and the amount should be credited to the customers' account immediately. Otherwise, it will decrease your credibility. ELEX Amazon Pay WooCommerce Plugin helps to process the refund as soon as possible in simple clicks. You can initiate a partial or full refund from the individual order page as well as the Amazon Overview page.
You can go to the individual order page and click the refund option and enter the amount to be refunded and the reason for the refund if required. The admin can capture the refund and proceed with the half or full refund safely and securely through Amazon Pay using the plugin.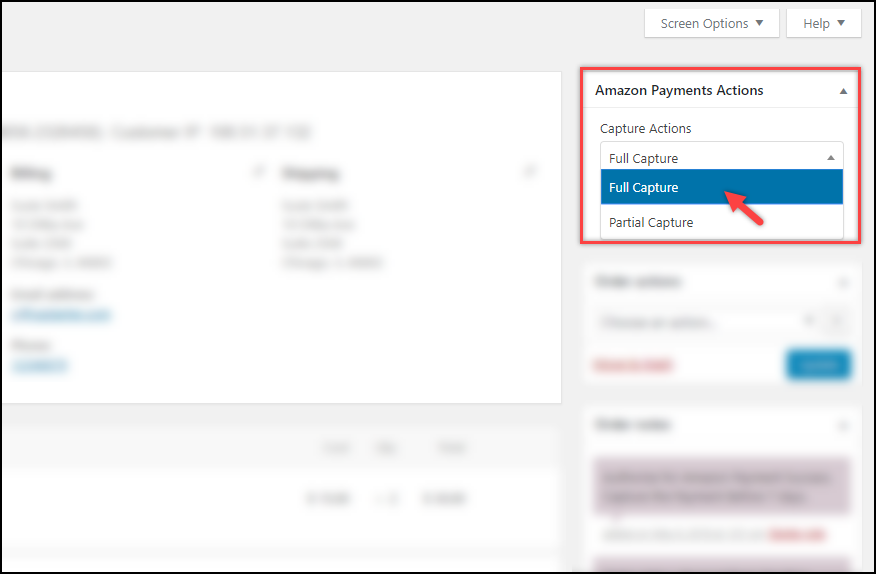 The maximum amount that you can refund to your customer is 15% more than the previously captured amount, or a maximum of $75 more than the previously captured amount, whichever is smaller.
Provide an Overview of Transactions
You can check all transactions done through Amazon Pay and capture the entire transactions and refunds in a single click. You can also see the total captured, uncaptured, and refunds with a graph for the selected time period on the Amazon overview page.
The ELEX Amazon Pay WooCommerce plugin provides an option to show the required number of rows under order details. You can also search for the required order by using the search option for filtering specific orders.
Supports Recurring Payment
Amazon Pay helps businesses to charge recurring payments for subscription-based product purchases. It is possible for you to automatically charge a payment method that is stored in a buyer's Amazon.com account for future purchases and recurring payments. It supports:
Recurring payments for subscription-based products.
Recurring payments of usage-based bills such as mobile phone bills.
Payments for future purchases that the user may make in the future.
Ensure Security
Since Amazon Pay ensures security, your transactions will be safe and secure without any errors. All your users' confidential information is safe without any security breach. If you are a customer of its service, you are already covered by Amazon Pay's fraud protection and customers need not re-enter their information. It ensures your customers will not encounter any errors during the transactions.
Customize
Using ELEX Amazon Pay WooCommerce Plugin, you can do many customizations on Amazon Address Widget, Button Size, Button Color, Button Text, Language, Position of Amazon Pay button on the Cart page, Position of Amazon Pay button on the Checkout page, Amazon Display Banners, Custom description for Pay with Amazon and, Custom description for Seller Policy. You can customize them according to your business requirements.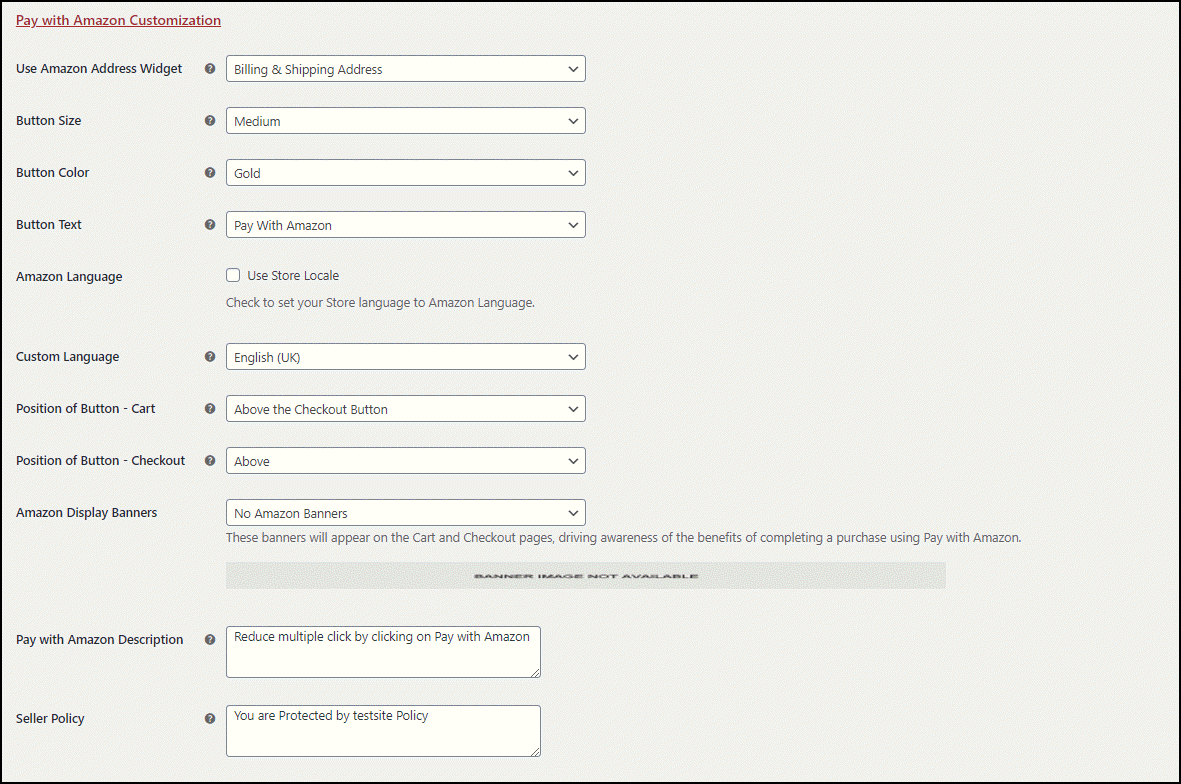 Wrap Up
If you want some basic payment features and do not want to spend on a payment gateway plugin yet, you can go for its free version. But if you want more customization options and refund functionalities you can choose its premium version. With the premium version, you can make the payment faster by adding Amazon Payment on the cart page itself. Hence, if you are searching for the best Amazon Pay WooCommerce plugin, you can definitely go for ELEX Amazon Pay WooCommerce Plugin! To know more about its feature and settings check out the documentation.