Are you wondering how you could sync your WooCommerce store products to Facebook & Instagram so that you can showcase them to a wider audience? If so, you are in the right place!
With the help of a free Catalog Feed for Facebook & Instagram plugin, it's actually quite easy. Without any extra effort, and at no additional cost, you can sync your entire product catalog from WooCommerce and showcase it on your social media pages.
In this post, you'll learn all about the features of this plugin, as well as how to set it up in just a few clicks. You'll also get tips for optimizing your catalog look on Facebook & Instagram, plus ideas for how to make the most of your product listings there. Let's get started!
Benefits of WooCommerce Product Syncing
Syncing your WooCommerce product catalog to Facebook and Instagram could be the smartest and most efficient way to increase your reach and boost sales. After all, you wouldn't want to manually enter hundreds of products twice and yet miss out on potential shoppers because they can't find your products.
Fortunately, with the help of the ELEX WooCommerce Catalog Feed for Facebook & Instagram plugin, you can keep your data in sync across both platforms quickly and easily. Here are some of the major benefits that come with syncing:
Automate your product distribution across channels:

Streamline inventory management and save time by automatically publishing products from one source to multiple channels.

Showcase the same message across channels:

Pass on a consistent brand message to customers, regardless of where they encounter it – Facebook or Instagram.

Enjoy a unified shopping experience:

Allow customers to discover products on both platforms without ever leaving either one for a more seamless experience.

Target more customers:

Increase visibility by exposing products to wider audiences on social media platforms, extending marketing reach beyond existing customer bases.
What Is the ELEX WooCommerce Catalog Feed Plugin?
If you are looking for a plugin to keep your WooCommerce store in sync with your Facebook & Instagram channels, look no further than the ELEX WooCommerce Catalog Feed for Facebook & Instagram plugin. This plugin allows you to create an up-to-date catalog feed of your entire WooCommerce store on both Facebook & Instagram and keep it updated automatically in real-time.
It even lets you customize which products should be displayed in the feed and allows you to set filters so that only the latest or most popular products are shown in the catalog. Additionally, choose languages for the Google product categories, product vendor based customization, and much more.
The best part is that you can create unique ads and campaigns on both platforms using this catalog feed and promote your products quickly. With this plugin, creating professional-looking product catalogs is a breeze and can drive up your sales!
Creating a Product Catalog With the Plugin
Here's how the free ELEX WooCommerce Catalog Feed for Facebook & Instagram plugin can help you.
Step 1: Install & Activate the Plugin
Getting started with the plugin is quite easy, just install and activate it like any other WordPress plugin. You can do that by downloading the plugin from the link above and then heading to your WordPress site after which you may follow these steps:
WordPress Dashboard > Facebook Shopping Feed 
Step 2: Configure the Plugin Settings
You may connect your business to the Facebook Marketplace and alter the language used for Google Product Categories under the Settings tab.
The Google Product Category Language can be changed from the default English to any other language of your choosing based on the needs of your shop here. Use the Google Product Category Taxonomy in that language if you want your items to be noticed by individuals in that nation.
Your Facebook and Instagram accounts will be linked to your business after you click Connect FB. Your Facebook store and WooCommerce are now successfully integrated. Since we already have Facebook connected, the screenshot shows Disconnect FB.
Now you may go ahead and fill in the custom fields and details.
Step 3: Enter The Feed Details and Customize the Plugin
Start modifying the plugin's default settings under the Start menu by going to the Create Feed tab.
You must select an acceptable project name, add a brief project description, and, most importantly, enable the Auto Sync to Facebook option.
Once Facebook auto sync is enabled, you can choose a refresh schedule and time that will determine how frequently the selected catalog feed is updated. (daily, weekly, or monthly). It's crucial to complete this step in order to enable auto sync for your feeds. 
Following that, you may pick a default category, and set up particular countries of sale as well as set up currency conversion and currency code under Advanced Settings. (The Include Variations setting is only in the premium version)
Next, head to the Map Category tab to connect product categories with the appropriate Google categories.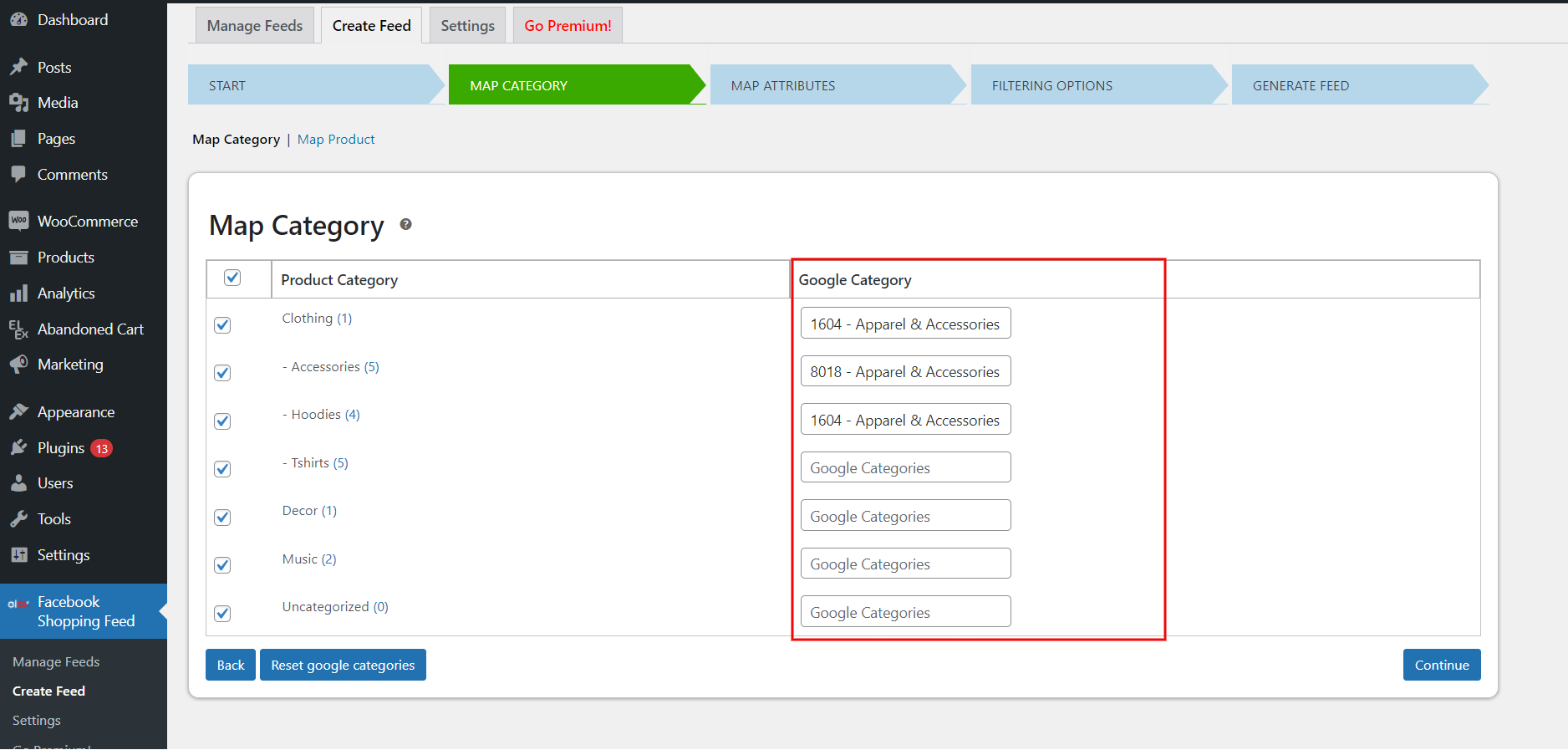 You must link your items to Google's default category if you want them to appear when users search for them in the Facebook or Instagram marketplace. You can start entering the required category in the Google Categories textbox and choose it from the list of auto-suggestions that displays.
By selecting the Map Product tab from the Map Category menu, you may map specific goods if you don't want to map whole product categories. You may quickly link the product names to the proper Google categories by typing them.
The next step is to map the properties of the product under the Map Attributes tab.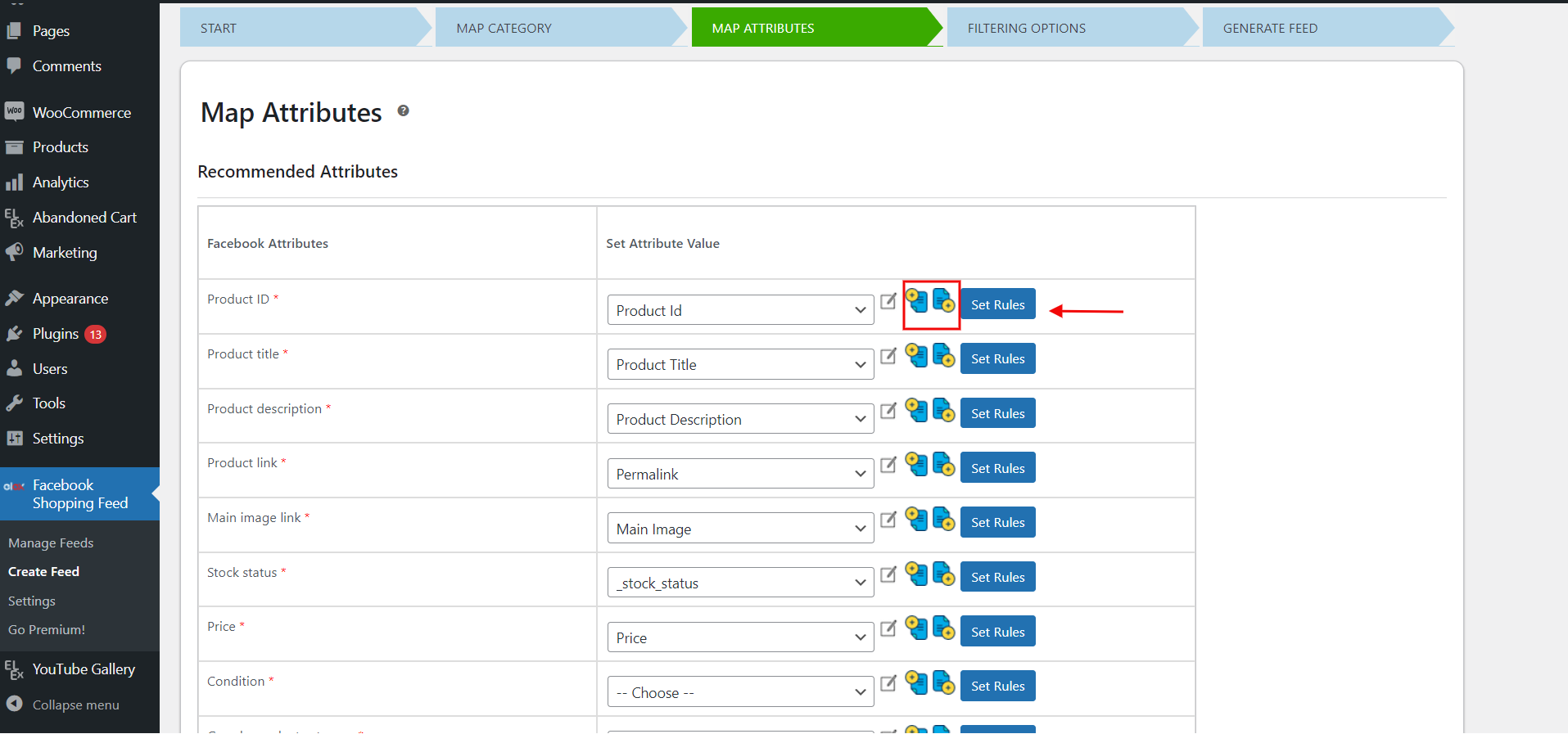 You can connect the characteristics of your items to the list of  Facebook attributes. Some of the required characteristics will be automatically mapped by the plugin. However, you may manually alter them by adding or removing data, and defining rules, to obtain more precise results. 
Finally, move on to the Filtering Options tab.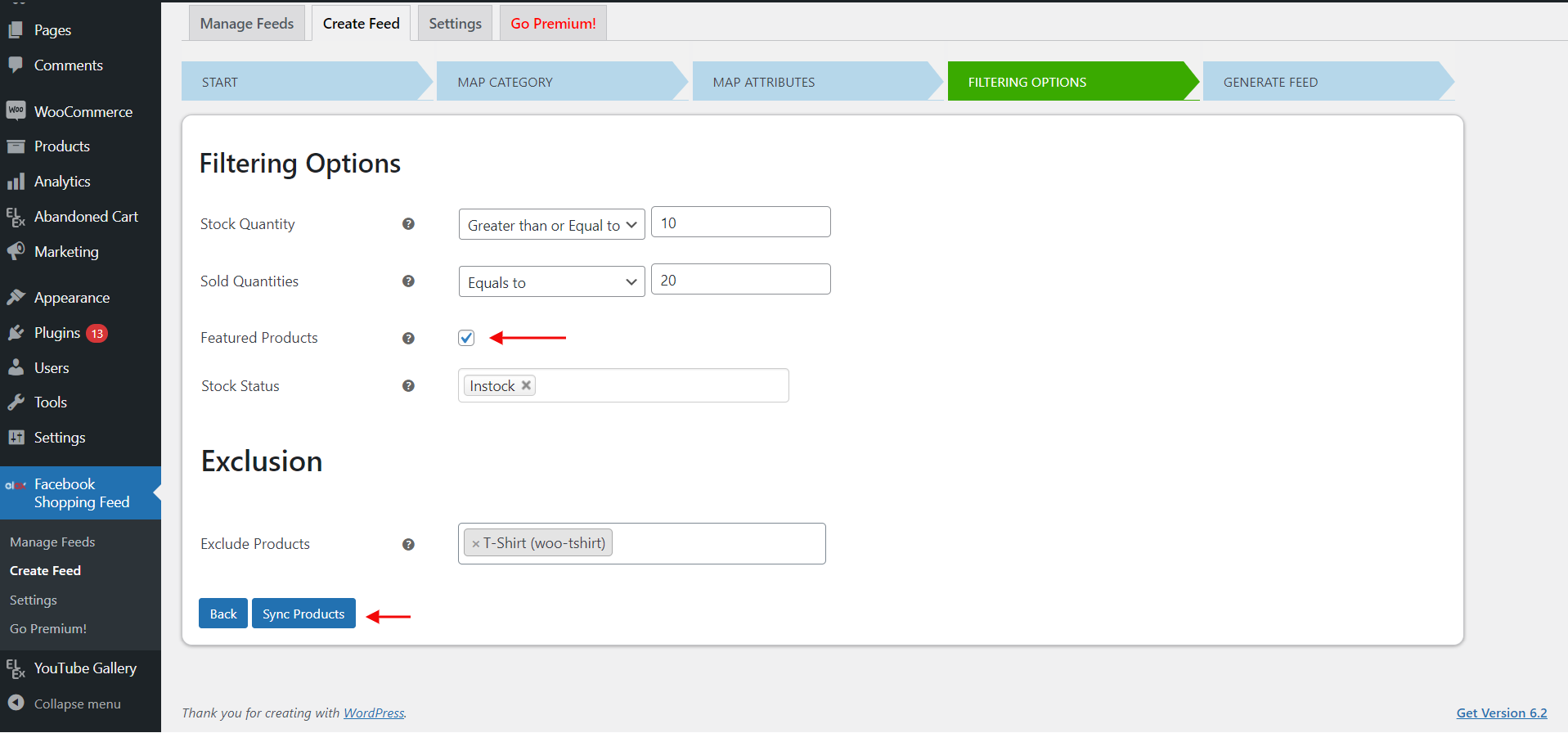 By filtering items based on their Stock Quantity and Sold Quantity, it is possible to create feeds that only contain specific products. Additionally, it is possible to build specialized feeds with highlighted goods while omitting specific products from the feed. 
Click Sync Products once you have finished specifying the options. This will take you to the Generate Feed tab.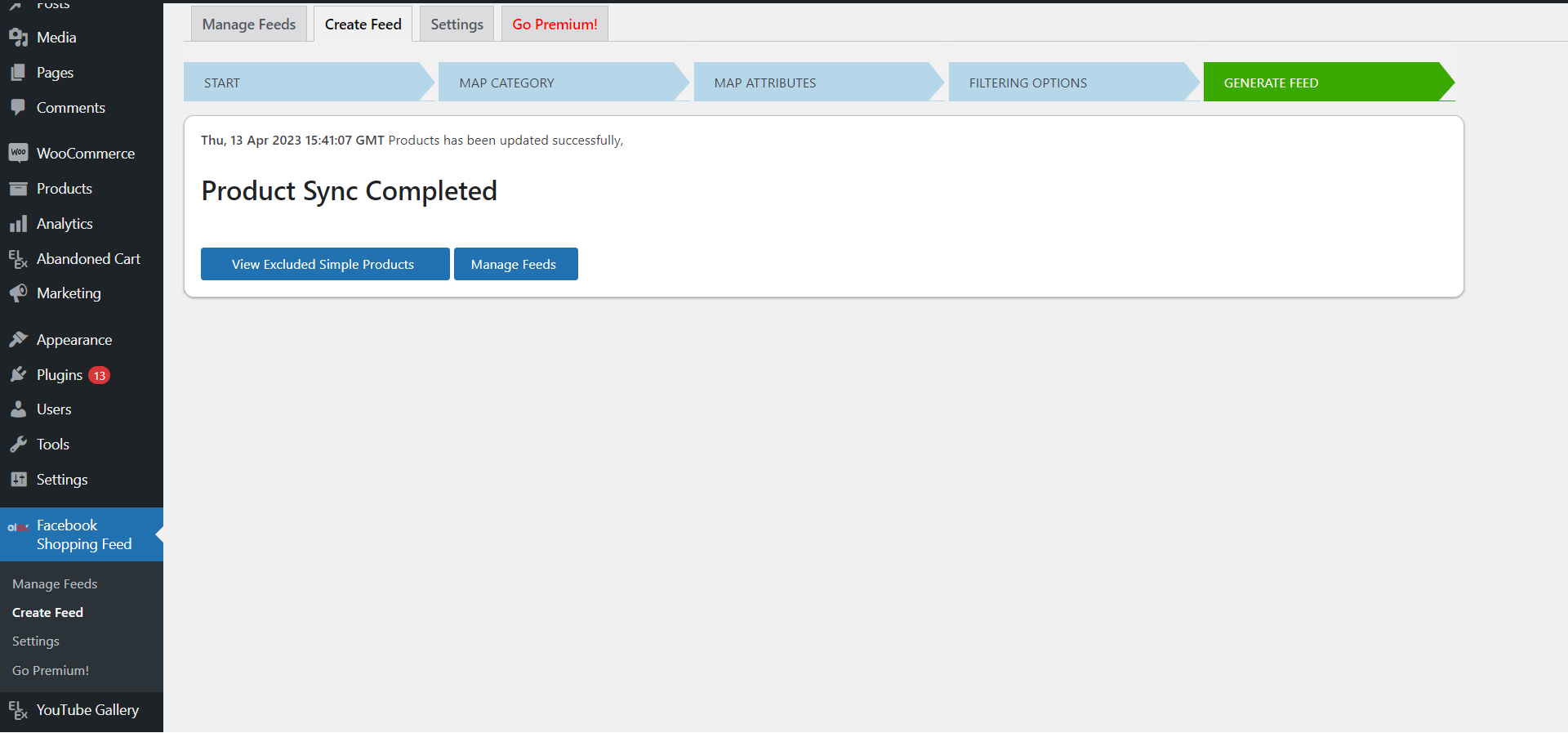 Step 4: Upload the Product feed to Commerce Manager
The product feed file in the XML format that contains information about all your product catalog items needs to be uploaded to the Commerce Manager.
Once you enter the Commerce Manager, click Get Started.
Select Create A Catalog to start building your catalog.
Choose the catalog type. E-commerce is a fantastic option for companies. 
By choosing Upload Product Info, inputting a catalog name, and clicking the Create button, you may add product information.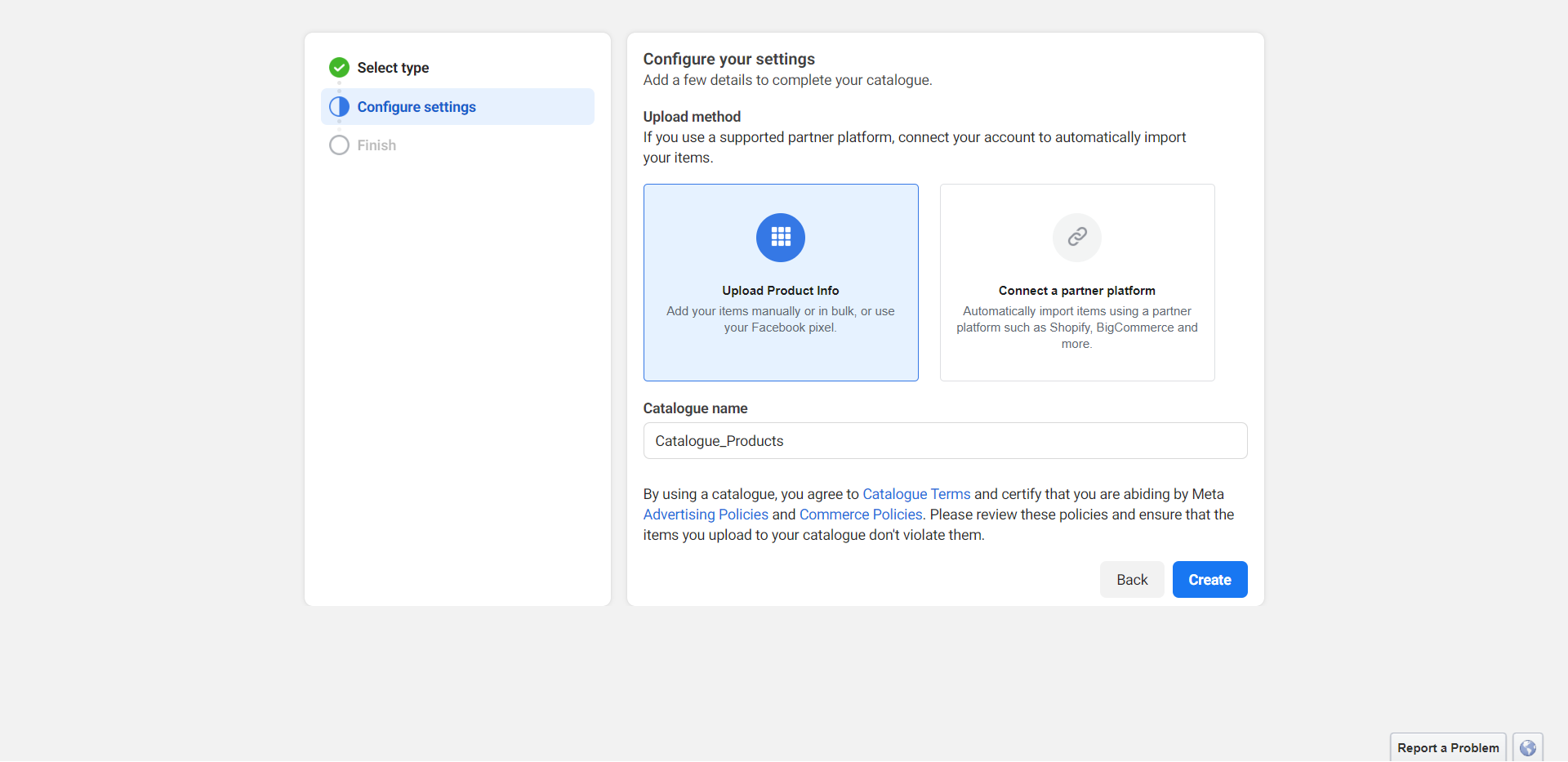 To view the catalog, click View Catalog. The Data Source menu will appear under the Catalogue tab on the left.
Under Add Items, choose Data Feed.
There are three different ways to post your product's information to the Facebook marketplace. In the next tab, you may choose from one of the options being, upload from your computer, enter a URL, and use Google Sheets.
Once you click Upload, after selecting your product feed file, the process is complete.
Once the product feed is uploaded to your Commerce Manger, you need to go ahead and link your Instagram to the Commerce Manager. This will automatically sync the same catalog with Instagram.
By leveraging the features offered by ELEX WooCommerce Catalog Feed for Facebook & Instagram plugin, you can keep all of your products in sync across multiple channels without breaking a sweat, helping you maximize exposure for each item!
Updating Existing Catalogs and Monitoring Performance
Aside from syncing new products, you can also update existing catalogs whenever you want. This plugin makes it easy to stay in control of things, as it automates monitoring and performance tracking. So if a certain product runs out of stock on your website or undergoes any changes in price or description, those changes will be automatically reflected in your Facebook and Instagram ads.
Benefits of updating the product catalogs
Ensure that customers are always seeing the latest versions of products

Make sure that any promotions or discounts are accurately reflected in ads

Help customers identify new arrivals and make informed decisions

Keep shoppers engaged with frequent updates and attract more people through sponsored posts
Tips for Optimizing Your Synced Products Across All Platforms
If you're looking to make your synced products look as appealing as possible across all platforms, there are a few things you can do. Here are some tips you can use to optimize your synced products:
Stick with the same naming 
It's important to make sure that your product names and descriptions are consistent across all platforms. This makes it easier for you to manage and organize your catalog but also helps with marketing automation and customer experience at each touchpoint.
Use high-quality product images
Product images are crucial when it comes to selling on social media platforms like Facebook and Instagram. Make sure that all of the images used for synced products are high-resolution and professional looking, this will help make a better first impression with potential customers.
Optimize with tags and labels
Optimizing tags and labels is another great way to ensure that customers can easily find what they're looking for on all platforms. Use appropriate hashtags to help categorize products; this way, customers searching for items in these categories will be more likely to find what they're looking for quickly and easily.
Conclusion
Keeping your WooCommerce and Facebook/Instagram product catalogs in sync is essential to successful online marketing today. Utilizing the ELEX WooCommerce Catalog Feed for Facebook & Instagram plugin is an easy and effective way to sync your product catalogs and guarantee that your shoppers are seeing the latest and greatest from your store.
Plus, the plugin is free and actively updated, so you can rest easy knowing that you have the most up-to-date integration available. Regardless of whether you're just getting started with your store or are a seasoned pro, you now have the tools to become a master of product catalog sync. 
Keep in mind that the free version does not support product variations. If you wish to support product variations, check out the premium version of the plugin.
Further Reading