There are speculations indicating that we might witness the end of online USPS label printing through plugins. If you are using USPS print labels for shipping in WooCommerce, you might need a different plugin. And if you want USPS as your carrier anyway, then say yes to ELEX Stamps.com Shipping Plugin with USPS Postage for WooCommerce
Stamps.com is now the largest vendor of USPS postage online. In recent years it has acquired most of its visible competitors in the field of online postage.  Names like Endicia, ShipWorks, Shipping Easy, ShipStation are now a part of Stamps.com.
So let's not wait for the end of USPS online labels for WooCommerce, and switch to ELEX Stamps.com Shipping Plugin with USPS Postage for WooCommerce. It is not only cheaper but also offers special attention to packing. It has been a real money saver for a lot of online stores. Many other features will save you from a lot of hassles.
Let's explore more about Stamps.com Shipping Plugin for WooCommerce by ELEX.
The Plugin
ELEX Stamps.com Shipping Plugin with USPS Postage for WooCommerce is a WordPress/WooCommerce extension that helps you completely automate USPS shipping using Stamps.com. It helps to display shipping rates in the cart/checkout page, pay postage & print label from within WooCommerce, pack items automatically into boxes and enable tracking. 
Rated 4.68/5 stars, this premium plugin costs you $69.00 for one year of premium support and updates. You can renew the subscription for future updates and continuous support at 50% discount. This also comes with a 30-day money back guarantee. In which you get your money back if the plugin is not enough for your business requirement. In any such case, ELEX provides additional customization to make the plugin function the way you want.
We'll see the main features of the plugin in detail.
Live Shipping Rate
Live rates indicate the current commercial prices of postage from USPS. This premium plugin integrates the live rates to any WooCommerce store. You get an option to show the live rates to your customers or show them a different price of your calculations. So, you can charge a different shipping rate to your customer, while paying for the actual service used.
Hidden postage helps you prevent the physical postage from appearing on the stamp. The barcode or scatter code on the stamp or mailing label will have all payment information. And this code will be ready to be read by USPS' automated postage scanners.
Hidden postage is available for nearly all kinds of shipments – like First Class mailings except letters, all Primary Mail, Priority Mail Express and other package services, except for a few International Mail options. You also get to use hidden postage with USPS Tracking and Signature Confirmation.
And, you get an option to change the preferred shipping package on the back end. By default, the preferred USPS Service for the print label is set to the USPS service that customer selects during checkout. You can change the service according to your requirement. For example, the customer chose First Class services for shipping, here you can change it to Standard Post for generating labels. It also integrates your postage consumption to your Stamps.com account at the same time. Funds are deducted from your account at specified intervals. To summarize:
It returns shipping rates based on product weight, box dimensions, shipping destination, etc.
This plugin fetches USPS postage rates from your Stamps.com account for both domestic and international shipping services.
You can choose to return list rates or account/negotiated rates.
There is an option to set conversion value in case the shop uses a different currency.
Shipping Price Calculator
Usually, Stamps.com packing algorithm is based on packing items into Flat Rate Boxes. The plugin offers USPS postage rates for most of the shipping services, which is again based on the weight and dimension of product/box and shipping destination. You can have separate boxes for each item or can pack items in one box. While packing in boxes, the price may vary with the addition of items to the box. Following are the shipping services covered by USPS postage. With the scrapping of USPS Label printing, the rest of the services are expected to be added to the list.
First-Class Mail
Priority Mail Express
Media Mail Parcel
USPS Parcel Post
USPS Parcel Select
Library Mail Parcel
USPS Critical Mail
Priority Mail
Priority Mail Express International
First-Class Package Service International
Priority Mail International
And most of the Flat Rate Boxes by USPS
Shipping Label
This premium plugin also prints shipping labels within Woocommerce. Once you log in to the WordPress admin area, you can create a shipment by clicking the 'create shipment' button on the right side of the order details page. Follow the setup guide on the product page here. Shipment details are automatically sent to your Stamps.com online account.  And then you can print the shipping label that is generated (GIF/JPG/PDF). Postage is automatically paid on these labels using your Stamps.com account.
WooCommerce-Stamps.com-Generate-Packages
There is an option to change the shipping service and box/parcel dimensions (if enabled in the plugin settings) manually before generating the label. This plugin integrates with Stamps.com APIs to print domestic or international shipping labels with a tracking barcode. You can also print postage even if you don't use the live rates with this plugin. Also, the free version of the plugin doesn't provide printing of label or postage.
Shipment Tracking
As soon as you create your packages, the tracking number returned from Stamps.com would be added to the order notes. This is sent as part of the order completion email. This enables Shipment Tracking for customers and shop owners automatically. The plugin comes with an option to enable or disable automatic tracking. Tracking facilities are not available with the free version of the plugin.
Box Packing
This plugin offers you three different options for packing. These options are based on the quantity and size of the items. You get special individual level guidance from Stamps.com in packing algorithms. The options available are:
Individual Packing
In this option, each item in the cart is packed separately. Total shipping cost is calculated by adding the shipping cost of each item. This option is selected by default.
For example, the shipping cost of Item X is $10. If the customer adds two quantities of Item X to the cart, the total shipping cost is $10 x 2, which is $20.
Pack into boxes with weight and dimensions
If packing items individually does not suit your business, then you can define custom box sizes under Box Dimensions section. All the cart items are packed into custom boxes defined in Box Dimensions settings. The best fit box is automatically chosen from the defined boxes. This is the recommended option. You can read through setting up box dimensions to understand box packing in detail.
The settings are as shown in the screenshot below.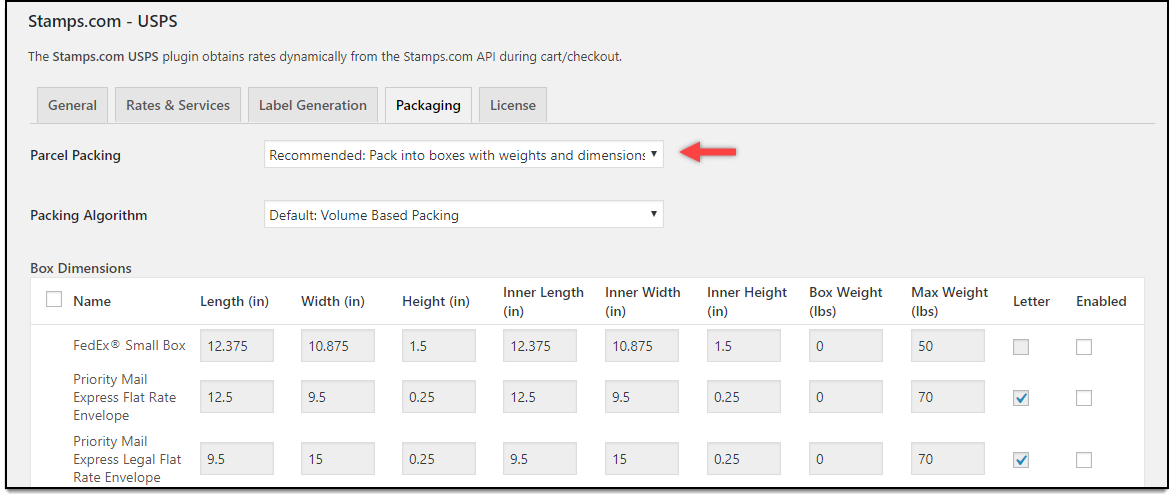 Pack into Weights and Dimensions settings
Packing Algorithm: You can pack items in the following ways:
Volume Based Packing – With this algorithm, the items are placed in the box based on the total volume of both items and the box they are packed into.
Stack First Packing (Beta) –  Using this algorithm, items are stacked or pilled unto one another, based on either length, width or height of items as well as the box they are packed into.
To know more about this algorithm, read what is stack first algorithm?
Box Dimensions:
This setting is applicable only when Pack into boxes with weight and dimension is selected. Here, you can define the outer and inner dimensions of boxes. Outer dimensions are the dimensions of the package. Inner dimensions are the dimensions of the product.
For heavy packing box, enter the weight of the box so that it is added to the product weight, to calculate shipping rates. You can tick the respective Letter checkbox if you want to mail letters. Based on your requirement, you can add or remove box dimensions.
Order Total Weight:
Here you are required to enter a maximum weight limit for packages. In this option, the weight of all the cart items are summed up and items are packed with maximum weight limit in the box(es) and passed to API to get rates. In addition to this, you can specify the process of packing, that is, you can pack heavier items first, pack lighter items first or pack items purely divided by weight.
Get an insight of all packing options and efficient combinations for lesser shipping charges in this article.
Services/Packages Types
First, you get an option to Enable/disable any of the services by checking the boxes available. Only the rates related to the selected services will be shown to the customers.
Second, you can edit the names of the services individually. The customized names are shown at cart/checkout.
Third, you can add an additional amount of $ or %, to the actual rate of the service. For instance, Priority mail to some place costs $20 and you have added $5 to the box provided. Then the final shipping cost shown will be ($20+$5) i.e. $25. Similarly, if you put 5 in the percentage box, the new shipping cost shown will be $20 + 5% of $20 i.e. $21. As we see this adds this extra fee to the actual rates, this helps you make up for your miscellaneous expenses.
Finally, you can also select Package Types under each service. You can specify if it is a package or a letter. This helps the API to fetch exact rates. Checking for the letter will stop you from getting charged for parcels. These functions are not available with the free version of the plugin.
Other features
This plugin offers customization of rate, discounted rate for postage, personalized help in packing, and easy payment for postage. Apart from these, you also get the following functions with the plugin.
Stamps.com Account Manager: This allows you to add funds to your account for different purposes meant for payments to Stamps.com.
WPML Support: WordPress Multi-Lingual Support is also available with the plugin.
Disable Printing Postage Amount on Label: Here you can choose if you want to print the Postage amount on the Label or not.
You can set a fallback rate in case Stamps.com doesn't return any rates.
Conclusion
These features set Stamps.com apart from USPS Label Printing Plugins. Direct online payment feature for postage makes this an easy pick. You save yourselves from hectic packing sessions, as you receive personalized help from Stamps.com people. And now when Stamps.com is the lone player in the market, we can observe business-friendly online postage rates. To try out the latest version of ELEX Stamps.com Shipping Plugin with USPS Postage for WooCommerce you can visit the demo site here. And for any pre-sales queries contact our online support or leave your comments in the comments section below.