Are you searching for a way to showcase videos on your website? Does the thought of creating a video gallery confuse you? Don't worry, we're here to help!
Creating a video gallery doesn't have to be intimidating, and with the right tools, it can be quite easy. We're here to show you how creating a video gallery on your website can be simple and done in just a few steps. Plus, it's pretty fun when you take the time to make something that looks creative and personalized.
Once you get your videos published, it will become easier than ever for your visitors to navigate through all of your amazing content. But first, let's go over the basics: How do you create a video gallery on your website with the ELEX WordPress Embed YouTube Video Gallery plugin? We'll show you that and more!
Why Create a Video Gallery on Your Website?
We all know that videos are one of the most effective ways to showcase and communicate your brand story to your customers. Showcasing videos on your own website can help you create an engaging experience for potential customers, while also giving them more opportunities to learn more about your products and services.
Creating a video gallery on your own website has several key benefits. First, it allows you to control the look and feel of the video player and ensure that it matches the look and feel of your website. Additionally, having videos on your website is great for SEO, search engines are able to index those videos and help bring more organic traffic to you. Finally, having a dedicated video gallery on your site gives you a great way to showcase all the videos in one place in an organized manner, making it easier for potential customers to find relevant content.
Building a Website With WordPress'
Creating your own website to showcase your videos is easier than ever. Thanks to the content management system (CMS) WordPress, setting up a website is no longer the exclusive domain of web developers. With WordPress, even those with little-to-no technical know-how can get an attractive website up and running in no time. Getting started is easy!
Step 1: Just head over to WordPress.org and select one of their many themes for free download.
Step 2: Then install it on your WordPress dashboard
Step 3: Customize it to your liking, and start adding content.
Now, you'll have a fully functional website that looks great, and you'll be ready to start showcasing your videos!
One plugin that makes building a video gallery easy is the ELEX WordPress Embed YouTube Video Gallery plugin. It enables you to create beautiful galleries in minutes and customize each video player with any combination of parameters such as autoplay, lightbox style options, etc. Plus, its user-friendly video blocks make it simple for you to access all general settings within the visual editor without any coding skills required.
Installing the ELEX WordPress YouTube Video Gallery Plugin
One of the easiest ways to add a gallery of videos to your website is by using the ELEX WordPress YouTube Video Gallery plugin. This plugin allows you to quickly and easily showcase a selection of videos from your own YouTube channel on your website, in a stylish and visually appealing way.
Installing the plugin is simple. Just follow these steps:
Step 1: Log into your WordPress website and navigate to the plugins page and click on Upload Plugin
Step 2: Upload the "ELEX WordPress YouTube Video Gallery" plugin file and click Install Now
Step 3: After it finishes installing, click Activate Plugin to get started
Configuring the Plugin Settings
You may move on to the following step and start creating your YouTube gallery after the plugin has been activated. We will go over each configuration for the plugin in great detail.
Settings Tab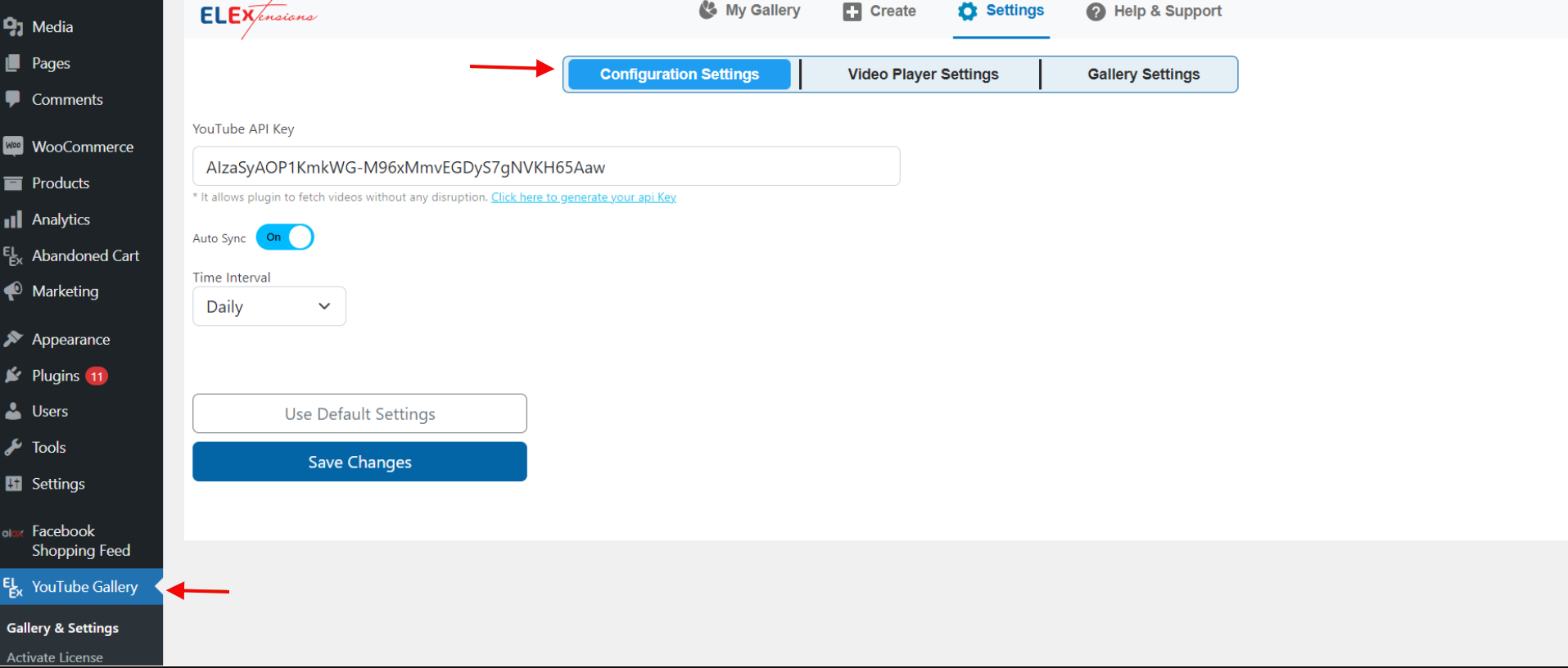 When you go to the settings tab, click Configurations Settings. The YouTube API key must be inserted in the configuration settings of this tab to begin getting data from YouTube. In order to have the YouTube API automatically sync any new uploads you make to the playlists or channels in your feed, you may also enable auto sync.
You may choose to schedule syncs for daily, weekly, monthly, or bimonthly periods when you enable auto sync.
The next step is to choose the default Video Player and Gallery settings, which may be done by selecting the corresponding tabs.
Video Player Settings
Under the video player settings, you may select the overlay color and overlay blur in addition to the pop-up and inline play modes. The default parameters for the global video player may also be entered here.
Gallery Settings
Once you are done with the video gallery settings, you may modify the gallery settings, such as whether to display the header or the YouTube subscribe button, how to give the channel URL for the subscribe button, how to choose the style and pagination mechanism, and more.
Create Tab
After adding a gallery name and category to the create tab, input the source URLs for the videos, playlists, or channels you desire to include in the gallery and click Add to the source list. Use the live preview function to see how the gallery will look after publishing. The source list, color mode, desktop design, subscribe button, and intro video may all be changed on this page.
My Gallery
Under my gallery, you can find the shortcodes for each built gallery.
Adding the Video Gallery to WordPress
By copying and pasting this shortcode into the WordPress page's backend, you can quickly add the gallery to your WordPress website. By selecting "+" in the drop-down menu of the block editor, shortcodes may be selected.
Choose Update after copying and pasting the shortcode. By following the process described, you may show as many video galleries from your YouTube account as you wish.
Once everything is set up, you'll be able to easily showcase a selection of videos from your own YouTube channel on your website anytime as you can see above!
Customizing the Video Gallery Display With Settings
If you're looking to get creative with your video presentation, you can use the ELEX WordPress Embed YouTube Video Gallery plugin settings to customize the look and feel of your gallery.
With these settings, you have complete control over how your videos display in the gallery. You can even showcase multiple videos in a single column if you'd like. Here are some of the things you can adjust:
Number of columns

Number of rows

Horizontal and vertical spacing between videos

Video size

Autoplay for videos in a row and auto-play for all videos in Gallery
And that's just scratching the surface! With these settings, there's no limit to how creative you can be when showcasing your videos. So go ahead, unleash your creativity!
Best Practices for Showcasing Your Videos on Your Website
You've taken the time to create amazing videos, now it's time to show them off! To truly unleash your videos and make sure your audience can access and enjoy them, there are some best practices for showcasing them on your own website.
Create a Video Gallery
Creating a separate section of your website devoted to the videos you've created is an excellent way to show off what you've worked hard on. With WordPress and the ELEX WordPress Embed YouTube Video Gallery plugin, creating a gallery is easy. This allows you to easily upload all your videos and showcase them in an organized way. Plus, with cool features like pagination and filtering, your viewers can easily find what they're looking for.
Show Off Your Best Work
You want to make sure that you feature only your best work in the video gallery so that it leaves a lasting impression on viewers. Displaying too many mediocre-quality videos can water down the overall message you are trying to send in the gallery. In addition, featuring only the best of your work ensures that viewers understand the quality of content they can expect from you and will come back for more!
Make It Easy To Share
Make sure that each of your videos are accompanied by social media sharing buttons or other plugins which makes it easy for viewers to spread the word about your work. You want users to be able to spread awareness about each video as quickly and simply as possible – so think about how users will interact with this content when making decisions about user experience and design of the video gallery page itself.
Conclusion
Overall, having a video gallery on your website is a fantastic way to give your visitors more content when they visit. Using WordPress and the ELEX WordPress Embed YouTube Video Gallery plugin, you can create a professional looking, interactive video gallery that can be enjoyed by all.
The plugin is user-friendly, provides various options and features, and offers a free version to use. It's a great way to make your website stand out from the rest, and can help to increase engagement and keep visitors on your site longer. 
People often forget that videos can be a powerful marketing tool, and a great way to showcase your business and your services. Give it a try, you won't be disappointed!
Further Reading