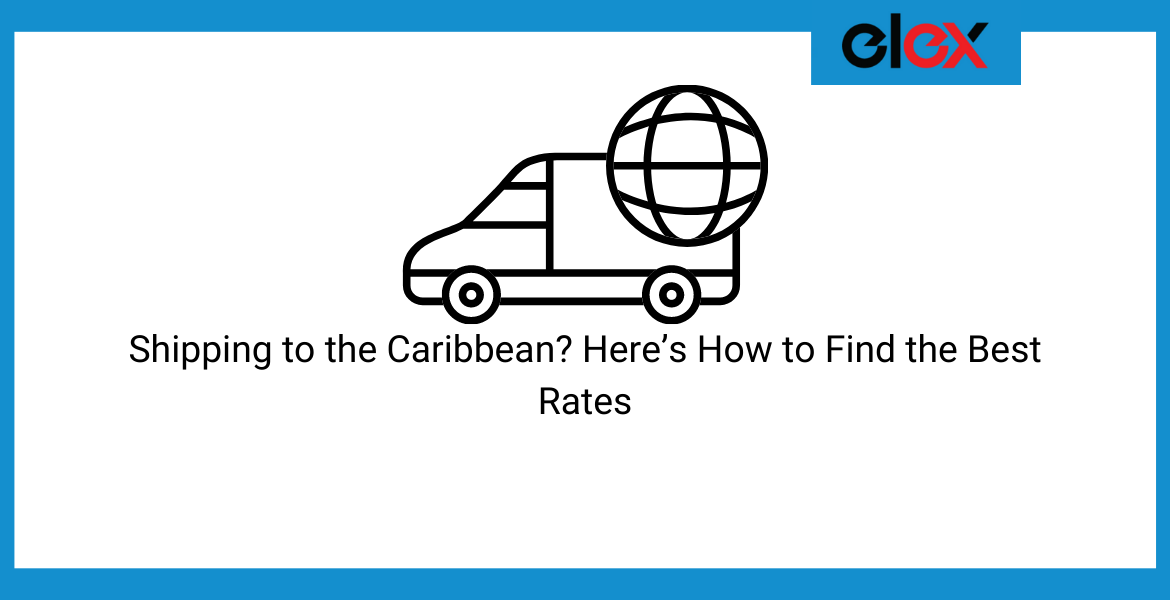 Shipping to the Caribbean? Here's How to Find the Best Rates
If you really find yourself in need to ship to the Caribbean, then you need to gather a few things before you begin with it. Whether you are sending a small package or a bigger one, you need to lay certain guidelines like which couriers to ship with, which all locations fall under the Caribbean, the basic costs involved, etc. With all this information, you can tackle international shipping to the Caribbean more easily.
Here we are breaking down various information to help anyone who wants to ship to the Caribbean. So let's get started.
Which Countries are included in the Caribbean?
The first thing that comes to mind when you think about the Caribbean location is holidaying. Most of the Caribbean islands are popular holiday destinations. Before you ship to these Caribbean islands, you ought to know which of the countries fall into the list of Caribbean countries. Here we have listed the most important ones out of the 7000 islands.
| | | |
| --- | --- | --- |
| Cuba | Haiti | Dominican Republic |
| Puerto Rico | Jamaica | Trinidad and Tobago |
| Guyana | Suriname | Guadeloupe |
| Martinique | Bahamas | Belize |
| Barbados | St. Lucia | Curaçao |
| Aruba | St Vincent and Grenadines | US Virgin Islands |
| Grenada | Antigua and Barbuda | Dominica |
| Cayman Islands | St Kitts and Nevis | St Maarten |
| Turks and Caicos | Saint Martin | The British Virgin Islands |
| Anguilla | St Barthélemy | Montserrat |
Caribbean Shipping Services
The most important aspect you need to consider while shipping to the Caribbean islands is the shipping service you choose to ship with. If you want to get the goods shipped to the Caribbean locations, you need to look for reliable shipping services, who can ensure that the delivery happens correctly.
DHL
DHL is quite popular when it comes to international shipping. Those customers who wish to ship to various locations in the Caribbean like Grand Cayman, Haiti, Bahamas, and Jamaica can always trust the DHL shipping options. Especially the DHL Express shipping options are the best when you want the delivery to happen within a specific time.
USPS
USPS is one of the popular shipping options across US locations. And the best part is that they offer affordable shipping rates both for individual and commercial purposes. This is yet another reliable option to ship to the Caribbean islands. For example, the USPS Priority Mail offers a better affordable rate than other shipping carriers, even though we have to wait a couple of days to get the item.
UPS
UPS offers guaranteed time-definite and day-definite delivery services, no matter where you want to ship to any part of the Caribbean. They have value-added services that make international shipping easy, which includes delivery notifications, pickup/delivery options, and special handling.
FedEx
FedEx is yet another reliable option when it comes to shipping worldwide. It also offers to ship to Caribbean islands including Puerto Rico and the Dominican Republic. They also have day-definite and time-definite shipping services that help the customers when in urgency.
What Products Can I Ship to the Caribbean?
Like all other nations, there are certain restrictions when it comes to shipping to the Caribbean. It is important to know what all products are restricted to the Caribbean. Some might be termed as dangerous goods and some might be restricted ones, which need to be shipped under certain protocols and need to provide certain paperwork to ship it without any issues. Here is the list of items that can be shipped via reputable shipping carriers to the Caribbean.
Car parts

Furniture

Health and beauty products

Home appliances

Documents

Books and collectibles

Fashion accessories

Cameras

Dry food and supplements

Computers and electronics
Here are certain products that cannot be shipped to the Caribbean.
Animals

Cash

Dangerous goods

Drugs

Firearms

Ivory

Loose gemstones
It is important to keep in mind that while shipping something that needs to be frozen to keep it fresh, dry ice is not a feasible option via air and most of the shipping carriers do not accept shipping with dry ice.
Customs formalities for Shipping to the Caribbean
Like all other international shipping formalities, it is important to keep in mind the duties and tax details for shipping to the Caribbean. The best thing about sticking with reputable shipping carriers is that you can always rely on them when it comes to the customs clearance process. As always, if you want to get your products delivered to your customers without any hassle, follow these:
Provide a reachable contact number for the recipient.

Write a detailed product description of the items in the package, including their actual value.

Ensure you provide accurate harmonized codes before shipping.

Provide original invoice or proof of purchase and other necessary documents as well.
How Much Does It Cost to Ship to the Caribbean?
Before you go ahead and calculate the shipping cost to the Caribbean, it is important to know the factors that affect the shipping cost.
Some of these factors include:
Product types

Package size

Destination

Expected delivery time-frame
Let's consider some examples and see how the shipping cost varies.
Shipping an item weighing 4lb shipment going from Miami (Florida, USA) to Nassau (the Bahamas) in a package of dimension 12in x 11in 1.5in.
| | | | |
| --- | --- | --- | --- |
| Carrier | Service | Price | Delivery Time |
| DHL | Worldwide Express | $109.12 | 5 Days |
| USPS | Priority Mail Express International | $80.35 | 3-5 Days |
| USPS | Priority Mail International | $62.50 | 6-10 Days |
| FedEx | International Economy | $127.25 | 2-3 Days |
| FedEx | International Priority | $138.01 | 1-3 Days |
Finally, Few Other Things to Know before Shipping a Package to the Caribbean
Apart from the above-discussed ones, here are a few important things to know before shipping to the Caribbean.
Identify the trustworthy shipping companies that offer feature-packed delivery services.

Get quotes from multiple couriers which you can get using a

shipping calculator

.

Provide accurate weight and dimensions of your shipment to get the most accurate quotes.

Make a comparison of value-added services offered by various shipping companies and choose the one that suits you.

Go for quality above affordability – do not compromise the service quality for a cheap price.

Consider shipping insurance – if your courier service doesn't offer it, you can get third-party shipping insurance.
To Conclude:
If you are looking to expand your business to the Caribbean locations, then you can get it done, with all the above information provided. The first and foremost thing you need to consider is choosing the right shipping options.
If you are looking to integrate the popular, reliable shipping carriers in your WooCommerce store to facilitate shipping to the Caribbean, then don't hesitate to look for these reputable shipping plugins:
Further Reading: