How to Ship Perfumes and Makeup Accessories Safely
Perfumes and makeup accessories are some everyday items, but do you know they are considered dangerous while shipping? If you are selling these products, then you need to be extra careful while shipping them. Hence as retailers, it is essential to know how to ship perfumes and makeup accessories safely.
It is important to know the guidelines when it comes to shipping perfumes and makeup as there might be several risks while shipping them. Hence it is crucial to know all the essential details while shipping, packing and delivering perfumes and makeup accessories. Here we take a look at the details on how to ship perfume and makeup accessories safely and securely.
What are Cosmetics?
Cosmetics mostly constitute chemical compounds derived from natural sources or synthetically created ones. It is created for skincare, hair care, etc. The ones like serums, toners, cleansers etc., are used for skin care to exfoliate, moisturize, cleanse and protect the skin. Some makeup accessories are used to hide the blemishes on the skin. Others are used for eye care and hair care too.
In the United States, the Food and Drug Administration (FDA), which regulates cosmetics encompasses cosmetics as products "intended to be applied to the human body for cleansing, beautifying, promoting attractiveness, or altering the appearance without affecting the body's structure or functions".
Some of these cosmetics contain preservatives such as parabens, salicylic acid, benzyl alcohol, tetrasodium EDTA (ethylenediamine tetra-acetic acid) and formaldehyde.
According to HAZMAT regulations, some of the cosmetic items and perfumes are considered hazardous. It is considered that a liquid is flammable if it has a flashpoint of 199.4 °F (93 °C) or below. Also if the flashpoint is 141°F or lower, then it is considered a hazardous material. Moreover, when cosmetic or perfume products are stored under pressure, the stored energy will escape as thrust when punctured causing problems while shipping.
What are Perfumes?
Perfumes, colognes, etc., are fragrances that contain varying levels of ethyl alcohol, which can be flammable. You can ship perfumes that fall under certain exemptions though. Special Permit 9275 (SP9275) does allow shipping perfumes domestically for those perfume products that have less than 70% ethyl alcohol.
Why are Perfumes and Cosmetics Hazardous?
Even though cosmetics may seem harmless, they are hazardous materials. These are everyday items in use, but while shipping and storing these items, it does pose several risks like product drops, breaks, spills, or when they come in contact with another substance might cause other risks. Majorly these items fall into Class 2 Gases or Class 3 Flammable Liquids. That does not mean all perfumes or makeup accessories are hazardous, it depends on the composition of these items. Here are some of the hazardous items in perfumes and cosmetics:
Aerosol sprays: Any kind of spray item that is packed in an aerosol can is considered hazardous. For example, hairspray, shampoo, deos, etc.
Fragrances: Alcohol-based perfumes, colognes, aftershave etc., fall under this category.
Pressurised cream or foams: Shaving creams or foams that are stored under pressure are also termed hazardous because they are stored under pressure.
Nail Polish and Nail Polish Remover: These fall in the category of flammable stuff, hence they are considered hazardous.
Most of the cosmetics items are flammable. Transporting these items needs to be done with proper precautions as there is a risk of ignition.
Can You Mail Cosmetics and Perfumes?
Mailing cosmetics should be done cautiously as the rules and regulations for each shipping carrier might be different. Here are some quick rules by USPS, UPS, DHL and FedEx.
Rules of USPS:
You can send non-flammable and non-hazardous liquids via USPS, but it has to be packed in a waterproof container that is sealed well.

The package must be marked with orientation arrows and also need to mention the type of liquid that is packed on the label.

If the quantity is more than 4 ounces then the packaging must be made three times safer. Always pack the container initially with a padding material to avoid breaking. Then you need to place it in a leak-proof packaging material, which can help absorb the item in case of damage or spill. Finally, it must be placed in a sturdy box, which is specially made for shipping such items.

If the perfumes contain traces of alcohol then they should not be shipped internationally or domestically. If you are shipping such perfumes, then you can do it via road or rail using USPS.
Rules of FedEx:
To ship perfumes, waterproof containers for liquids with a sealable lid must be used. The bottle should be wrapped enough with a padded material. If you are packing more than one such similar bottle, then each bottle should be wrapped individually and also insulation must be wrapped around each bottle.

Any kind of absorbent materials like insulators must be used as well as inner packing too.

Use waterproof or leak proof material while packing.

Always use sturdy and rigid outer packing to prevent the bottles from any external damages.
Rules of UPS:
UPS has laid no specific rules when it comes to shipping perfumes and makeup accessories. They follow similar guidelines to that of FedEx. UPS requires a special contract to ship such items. Anything that is termed as "dangerous goods" must be shipped following the ADR regulations.
Rules of DHL:
DHL does have their expertise in shipping dangerous goods under the guidance of Dangerous Goods experts who guide how to ship these items safely.
What Are The Rules And Regulations For Shipping Cosmetics And Perfumes?
If you are shipping cosmetics or perfumes, there are certain rules and regulations laid by the U.S, the Department of Transportation (DOT). Here are some major points to keep in mind.
Anyone who is shipping cosmetics and perfumes to anyone must be registered and have paid the appropriate fees to ship such items.

The items must be packed well and must clearly be labelled with proper descriptions.

The paperwork must be clear and precise.
How Do You Package Perfume and Makeup Accessories for Shipping?
Packing beauty products, perfumes and makeup items in the right way is essential and key to proper shipping. Here are some tips to do it rightly.
Packing Materials Needed:
Cardboard box

: Always use a rigid and sturdy box that will be the outermost layer of the packaging. Make sure it is a bit larger so you can easily put insulation against the walls.

Thermal bubble wrap

: Most of the cosmetics are temperature-sensitive items, hence you need to protect them from any temperature changes during transit.

Leak-proof and sealed containers:

These are used to protect bottles of liquids.

Proper Packaging material

: You need to make use of materials like packing peanuts, crumpled paper, and corrugated crumpled cardboard to prevent the container from any unexpected movement in transit.

Adhesive tape and scissors.
How to Pack Perfumes and Makeup items Safely
Here are some methods to keep in mind to ship perfumes and makeup items safely.
It is important to mention the ingredients of the shipment carefully on the shipping labels especially when it comes to international shipping. It is important as most shipping carriers do not allow the shipping of hazardous items via air.

The Shipping services are usually limited to the weight and volume of the item. Hence, if you want to ship anything specific, ensure that you restrict the volume of the items carefully.

Every country has their own

set of rules and regulations

, hence it is important to know about them beforehand.

Make use of symbolic labels that will ensure that your items are safely handled when in transit.

Remember that you need to pay extra, for

special handling charges

for hazardous and dangerous items.

Make sure you use the right marking and descriptions on the shipping label while shipping.
How to Ship Perfumes and Makeup accessories
Here are some steps to ensure you ship perfumes and makeup accessories safely.
Pack the perfumes and cosmetics carefully.

Find the rules and regulations of the shipping origin and destination countries.

Find out the best shipping rates and choose wisely for shipping. You can make use of

shipping calculators

to find out the shipping rates.
Perfumes and makeup accessories fall under hazardous items, hence it is important to ensure that you provide the HS Tariff number in the product information settings, in your store before you sell them.
Once these data are provided for the products, you can also enable the items for special shipping services, which can be chosen in your store easily.
Once the items are classified into these special categories, you can ship them as per the guidelines mentioned in the shipping rules and regulations. You can also add the specific UN Number for the product to categorize them very specifically.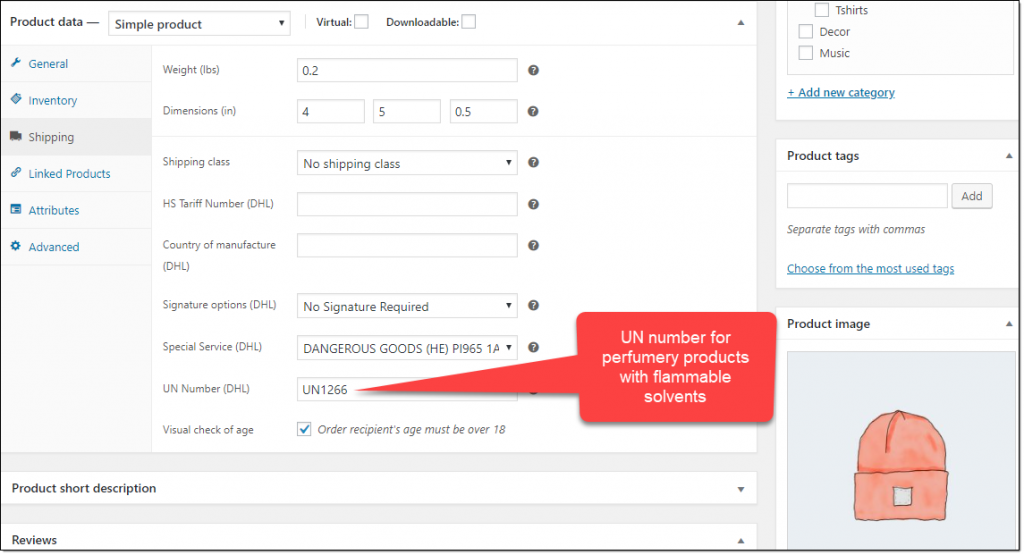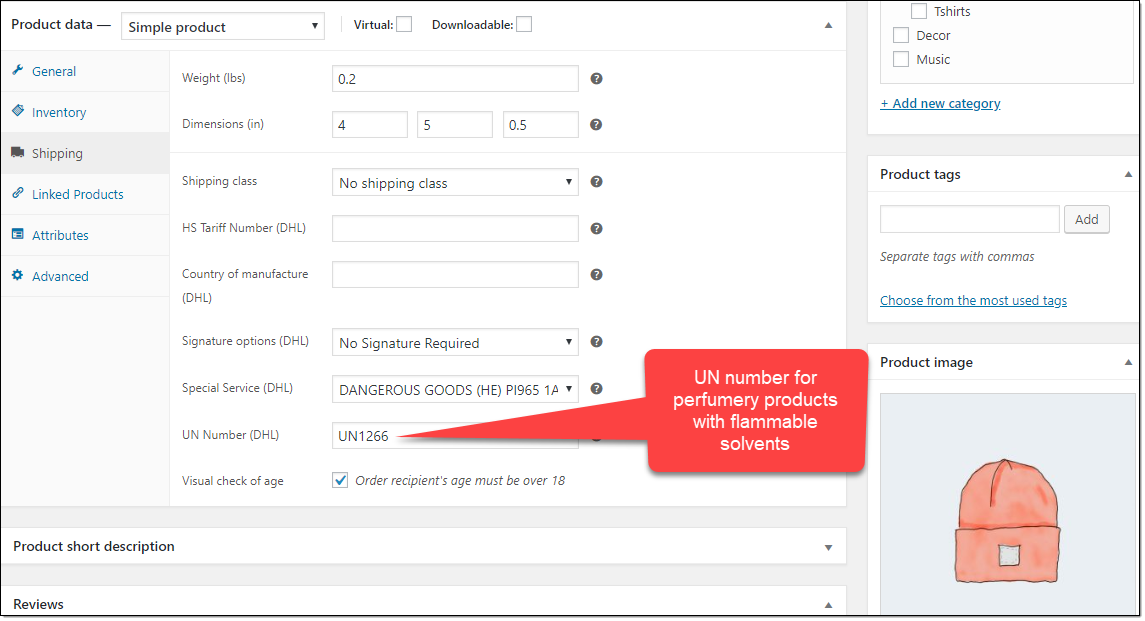 These UN numbers can be mentioned on the shipping labels.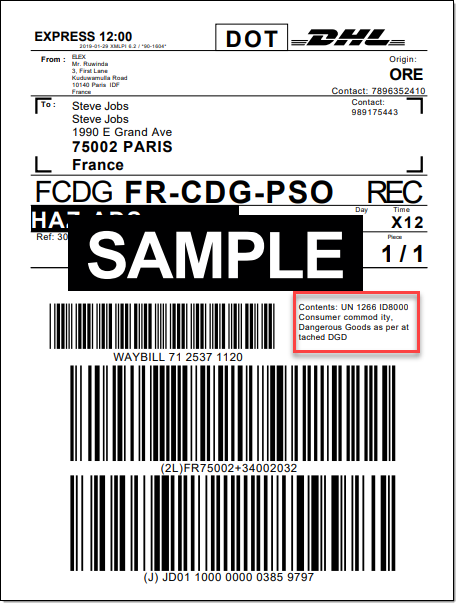 You can achieve these by automating the shipping process in your WooCommerce store using several shipping plugins like:
Each of these plugins can help you ship hazardous, prohibited items strictly following the rules and regulations as per the shipping guidelines domestically and internationally.
Final Thoughts…
Shipping liquids like perfumes and other makeup accessories is quite a task, but again not impossible when following the right rules and regulations. Following the shipping guidelines as suggested by the shipping carriers will help you ship such dangerous and hazardous items safely.
Further Reading: