Shipping alcohol doesn't mean you can just ship it by mail or any other package. It is not impossible though, all you need to do is follow certain rules and regulations. It is not just the rules and regulations by the shipping carrier you have to adhere to, but you need to pay attention to the rules and regulations to the country you are shipping to as well. And yes, they are all different.
In the earlier years, shipping alcohol was indeed prohibited, and maybe that's why most of the shipping carriers are rejecting to take alcohol as shipment. You can't just go take a bottle of wine and ask the shipping carrier to pack it and ship it. 
Each shipping carrier, like USPS, UPS and FedEx, has its own set of rules and regulations, which you must know to ship alcohol with them. 
Can I Ship Alcohol?
If you are an individual or a store with no liquor licence to sell or ship alcohol, then you are not likely entitled to ship alcohol. The capability for shipping alcohol depends on several aspects concerning the laws of the state where the shipper resides and even the laws of the state where the receiver resides.
Is It Illegal To Ship Alcohol?
It is not illegal to ship alcohol, as long as you are complying with certain relevant laws for the transfer or shipping or sale of alcohol. These factors vary with state. Here are some of the questions you need to check before you qualify for the same:
Do you own a business, retail, or even a wholesale liquor license?

To which locations and to whom are you shipping alcohol?

What type of alcohol are you shipping?

How much alcohol are you shipping?
Certain organizations are legally allowed to obtain a liquor license. However, it depends on the type of business you own and the way the local government allows the shipping of alcohol. When you are shipping alcohol, certain locations do not allow you to ship alcohol to their regions. It is important to know what kind of items are prohibited, restricted or even considered hazardous. Beer and wine are commonly allowed to ship to most parts, but alcohol as such is not allowed in most countries. Again there are limits in quantity when it comes to shipping, and you are not allowed to ship beyond the required amount allowed by the government.
How to get the permit from your local state board?
It is important to know and understand your eligibility when it comes to shipping alcohol. Get to know whether you are eligible to ship alcohol or not.
The next important thing to do is find out what kind of alcohol you are eligible to ship. Here is a list of alcohol licence types:
Restaurant Retail Liquor

Liquor Wholesale

Retail Beer (on or off-premises)

Club Liquor—Classes I and II

Wholesale Beer
You can choose the type of license you need and then contact the alcohol board.
Shipping Alcohol with USPS
It's a clear big No from USPS, as they do not allow shipping alcohol domestically or internationally. 
Shipping Alcohol with UPS
UPS does allow shipping alcohol, but with certain caveats. Here are a few of them:
Own a UPS account.

Make an alcohol agreement with UPS

Get a license to ship alcohol according to Federal and state laws.

Make sure you abide by the state-wise rules and regulations while shipping alcohol. 

Use proper packaging. Make sure that the inner packing is done by EPS foam, folded corrugated tray, or moulded fibre tray. Always ensure that while packing the bottle is secured towards the center of the pack, away from the sidewalls of the container. And the container must be sturdy.

Label the package correctly as per the UPS guidelines, and origin/destination guidelines.

Label the shipment as alcohol.

Make sure you need an adult signature at the time of delivery.
Shipping Alcohol with FedEx
FedEx also allows shipping alcohol, with certain restrictions.
You need to have an account with FedEx.

You also need to have an alcohol shipment agreement with FedEx.

Always use sturdy containers and packaging must be intact. Always secure the bottle keeping it right at the center of the container and with packaging components like a folded corrugated tray, EPS foam or molded fiber tray.

Make sure you label the packages correctly.

Always ensure you are sending the package with the necessary documents.

Also, you need an adult signature at the time of receiving the package.
How does the WooCommerce Shipping plugin help ship alcohol?
The ELEX EasyPost (FedEx, UPS, Canada Post & USPS) Shipping & Label Printing Plugin for WooCommerce is the one source for all your shipping needs. Using this shipping plugin, both small and big shop owners can make shipping alcohol easy.
To ensure that the product is shipped under the special guidelines to ship alcohol, you need to mention the same on the product details in the WooCommerce store. You can mark the product as perishable or even inflammable in the store beforehand. You can group the items depending on the class and type and choose the default service option for shipping as shown in the image below:
You need to specify the UN number also while marking the product details on the WooCommerce product page.

For shipping alcohol, you need to choose the packing carefully to ensure that your bottles are not hitting each other, or handled carelessly. To choose an appropriate packing option, you can make use of the plugin, which provides three options to pack efficiently as shown in the image below.
The shipping plugin works with a unique bin packing algorithm, which will help you pack the items carefully and economically. Once done, you can also print the specific shipping labels, to ensure that the packages containing alcohol are shipped carefully.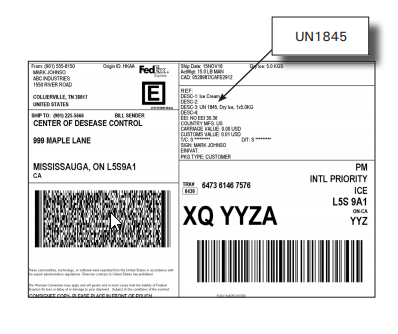 Visit the product page to know more about the plugin.
Final Thoughts…
Shipping alcohol can be made easy, by following the guidelines specified by the shipping carriers. Another important aspect to consider is the customs clearance process, as it might be different for different countries. Hence you need to be extra vigilant about the duties and taxes applicable while shipping alcohol. 
Further Reading: