If you are planning to use the FedEx shipping services to deliver your products worldwide then this article will guide you through the process of Setting up FedEx Live Shipping Rates and Print Label. Let's see what are the benefits of using FedEx and later we will discuss how to integrate all this on your WooCommerce store using a multi-purpose plugin. 
What is FedEx?
FedEx is an American multinational company that works in shipping, supply chain management, and deliveries. As one of the global leaders, FedEx is famous for reliable and time-definite delivery which operates in more than 220 countries and other territories. Other than being an expedited shipping company, FedEx delivers SmartPost for small parcels or envelopes using ground-based transportation for domestic shipping and aircraft for cross-border shipments. 
Benefits of using FedEx shipping services
There are multiple benefits of using a reliable supply chain network of FedEx. Let's discuss some of them below.
FedEx uses a convenient yet unmatched air route network for delivering across borders.

The supply chain company uses leading-edge technology to manage records and track shipments efficiently.

Each day FedEx delivers more than 3.6 million shipments and is known for its timely delivery around the world.

Customer care operatives at FedEx are easily accessible around the clock from any part of the world.

FedEx uses a sophisticated real-time tracking system and provides documented proof of delivery for convenience to the customer and the store owner.
How to Integrate Setting up FedEx Live Shipping on Your Online Store?
Using the ELEX EasyPost (FedEx, UPS, Canada Post & USPS) Shipping & Label Printing Plugin you can easily integrate FedEx on WooCommerce. FedEx shipping services can be accessed with the EasyPost API key after which you can display shipping rates on the cart and checkout pages, print and generate labels automatically, and also pay postage. The existing users have voted this plugin 4.88 out of 5 stars. You can learn more about the product and its features here.
Benefits of using ELEX EasyPost (FedEx, UPS, Canada Post & USPS) Shipping & Label Printing Plugin
Simply install the plugin and enable real-time rates, shipping labels, and Insurance for all your products.

Conveniently generate tracking information and pay postage from your WooCommerce order page.

Customize the plugin according to your requirements or contact our support team for specific work or instructions related to your business that needs to be implemented into the plugin.

Along with FedEx shipping this plugin also fetches UPS, USPS, Canada Post shipping, and postage services for both domestic or international shipment. 

Display estimated delivery time on the Checkout page. 
How to Install ELEX EasyPost (FedEx, UPS, Canada Post & USPS) Shipping & Label Printing Plugin on WordPress
After you have purchased the plugin you can upload it easily. Go to Plugins > Add new. When it's successfully installed click the Activate button.
How to set up the EasyPost plugin to display live shipping rates on the checkout page and print labels
If you want to read the whole step-by-step guide with detailed instructions you can refer to this article: How to set up ELEX EasyPost Shipping Method Plugin for WooCommerce? (with Video)
Go to WooCommerce > Settings > Shipping > General. This will take you to a screen like below.
Now tick the first option Realtime Rates. In the Generic API Settings, select The API Mode between Test Mode if you want to try the features of this plugin on your website. When you are satisfied with the results you can select the Live Mode. Enter the API Test or Live API key that you can easily get after registering with EasyPost.
When you are done click the Save button and proceed to Rates & Services. You will see a few options like below. Let's see what you need to include here for FedEx shipping. 
In the Method Title, you can type a custom heading for the EasyPost shipping method that will be visible on the cart and the checkout page. 
Method Available to: If you want to deliver only to a few chosen countries then you can select the option Specific Countries or allow delivery worldwide by selecting the option All Countries. 
Now, enter a relevant Zip Code, Sender State Code, and the Sender Country name.
If you want to display Estimated Delivery Date you can enable this option. 
In the EasyPost Flat Rate Service(s) box add the FedEx One Rate option. 
Now scroll down, and add the FedEx option in the EasyPost Carrier(s) among the available shipping providers. In the services tabs below, you can choose all or selected services provided by FedEx.
When you are done click the Save button and proceed to the next step Label Generation.
In the Print Label Type option, you can select the file type for the label that will be generated from the admin panel. We recommend using the PNG or PDF file format.
Insurance: You can apply insurance to the items that will be shipped from your online store.
Label Size: Use the default size for labels or you can enter custom dimensions.
In the Default Shipment Services, you can choose among the available FedEx options for Default Domestic Service and Default International Service.
Now enter the Sender Name, Sender Company Name, and Sender Address details in the available fields. You can also use a valid Sender Email and Sender Phone number for better communication.
Provide a Custom Description for your international shipments. When you are done click the Save button.
Display FedEx Live Shipping Rates on the Checkout Page
When the customer will order a product on your WooCommerce store and proceed to checkout they will be able to view the real-time shipping rates provided by FedEx. 
You can see above that 2 shipping rates are available FedEx International Priority and FedEx International Economy corresponding to their prices for shipment. Customers can easily choose one of the available shipping services provided by FedEx and place an order.
How to Print Label For FedEx shipment
When the order is successfully placed on your WooCommerce store you can excess it on the orders page. Go to WooCommerce > Orders and click the latest order placed by the customer. You will be directed to a page like below.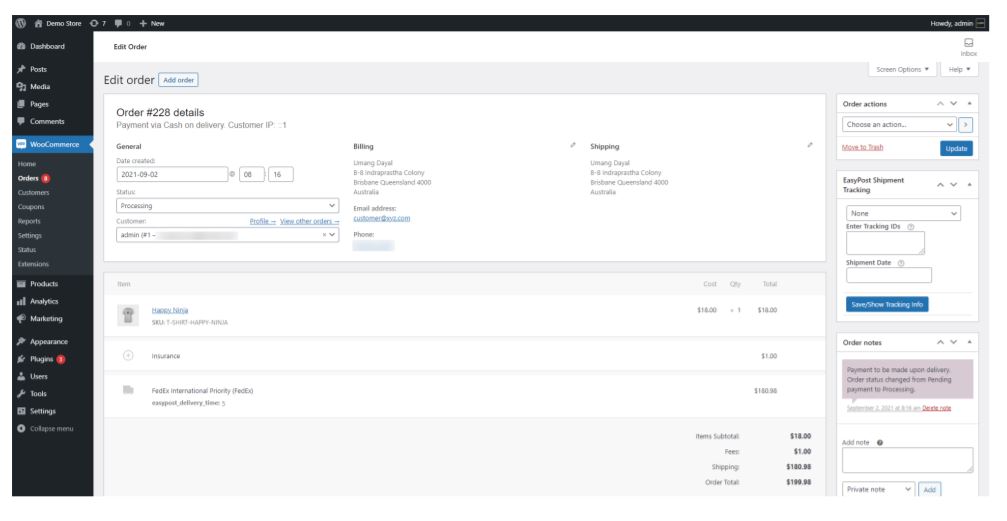 Here you can view all the customer details, estimated delivery time, order number, etc. 
Scroll down and click the Generate Packages button. 
You will see more options in the Generate Shipping Label By Using EasyPost API tab. Here you can view the dimensions of the package and edit them if required. Click the Create Shipment button. 

You can see that the Tracking Number is successfully generated. When you click the Print Label button, it will open a new tab window where you can access the shipping label. You can easily download this label and paste it on top of the packages.
Go ahead and use the above steps for Setting up FedEx Live Shipping Rates and Print Label for Indian WooCommerce Store Owners and make your store more efficient. If you still have any doubts or want to recommend ideas related to the topic you can use the comment section below.
Further reading