You've set up an online business where you sell physical products that must be delivered to customers. Most customers tend to get impatient when not provided with an estimated delivery date. As an online store owner, providing an estimated delivery date during checkout is key to giving your customers the best experience. 
People want to know when their eagerly awaited product will arrive at their homes. In order to do this, you must install a plugin; if your store is powered by WooCommerce, we have the perfect plugin for you, and the best part is that it's free. The plugin we suggest makes it easy for customers to choose their own delivery date during checkout, so they know exactly when their order will arrive.
In just a few clicks, you can activate the plugin, set your shipping days, and add a delivery date field to your checkout. Your customers will appreciate the transparency, and both you and the customer will avoid confusion. Let's get your WooCommerce store set up with estimated delivery dates so, you can keep your customers happy and coming back for more. Let's get started!
What is an Estimated Delivery Date in WooCommerce?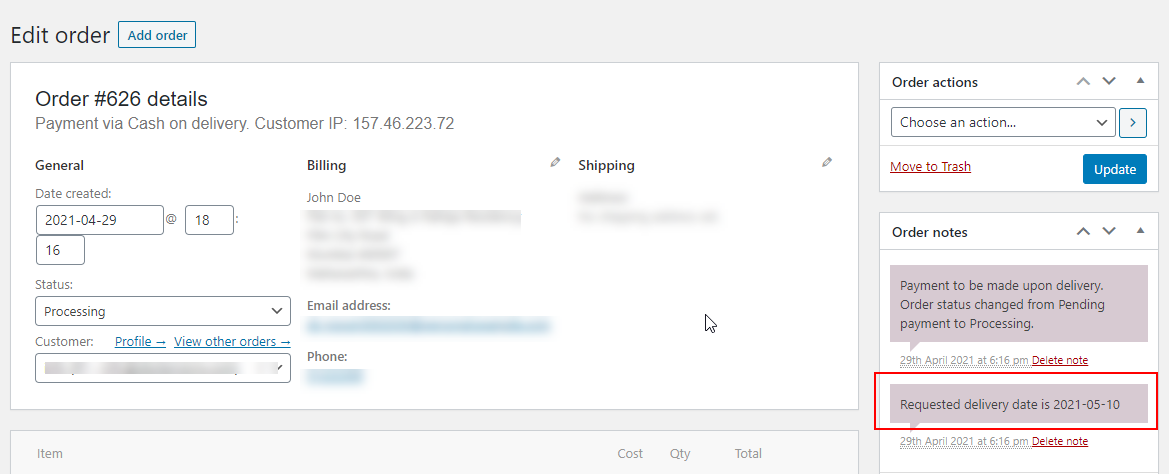 An estimated delivery date lets your customers choose a delivery window for their order during checkout. This convenient feature gives shoppers more control and flexibility over when they receive their items.
With the help of an estimated delivery date feature, online shop owners can give customers an idea of when their items will likely arrive. It aids in establishing the timeline for when customers might anticipate receiving their orders.
The business owner may define multiple factors that affect the delivery period when setting up an estimated delivery date in WooCommerce, such as the minimum number of days to deliver and process the order, and any other relevant factors. Customers then have the option to choose a delivery date on the product page or during the checkout process.
With some configuration, you'll have estimated delivery dates up and running on your WooCommerce site in no time. Your customers will surely appreciate the extra flexibility at checkout! Offering delivery options is a great way to provide quality service and deter abandoned carts.
Benefits of Providing an Estimated Delivery Date in WooCommerce
Offering an estimated delivery date at checkout provides some major benefits for your store and customers.
It gives customers more information to make a purchase decision. Knowing when they can expect their order to arrive helps set the right expectations and gives them confidence in the buying process.

It reduces confusion and questions. Clearly stating the estimated delivery window upfront minimizes customers needing to contact you to ask when their products will show up. Fewer questions mean less time spent on customer service.

It improves the post-purchase experience. When customers receive their orders within the stated time period, it enhances their satisfaction and perception of your business.

It allows customers to plan ahead. Providing an ETA helps customers coordinate to make sure someone is home to receive the delivery. This reduces missed orders.
To enable estimated delivery dates in WooCommerce, you'll want to install a plugin like the ELEX WooCommerce Choose Your Delivery Date Plugin. This free plugin makes it easy to set delivery windows for your products and present the options to customers during checkout. Customers simply choose their preferred delivery date from the available options provided.
Introduction to the ELEX WooCommerce Choose Your Delivery Date Plugin
To offer estimated delivery dates to your customers at checkout, you'll want to use the ELEX WooCommerce Choose Your Delivery Date  plugin. This nifty plugin allows you to set delivery windows for your products, so customers can choose a date that works for them during the checkout process.
The plugin is packed with useful features, such as:
Customers can select a convenient delivery date by entering it in a date field that can be seen on the checkout page.

Include the bare minimum of days required for the product to be delivered.

Set the days your store is closed due to holidays, so that customers cannot select certain dates for delivery.

Display personalized notes to let consumers know the specifics of picking a delivery date and informing customers regarding holidays.
Now that we have a better understanding of the plugin's functionality, let us go ahead and see how to customize the plugin for your WooCommerce store.
Once the plugin is installed and activated on your WordPress, you may access the plugin settings by going to WordPress Dashboard > WooCommerce > Settings > ELEX Choose Delivery Date.
Before customizing the settings, it's essential to understand what features are available on the plugin's dashboard. Let's understand the settings better:
Checkout Field Label: You may add customized text to display on the checkout page to inform customers about the option to choose their own delivery date.
Set Minimum Delivery Days: Tick this box to specify a minimum number of days for product delivery. When this option is enabled, a new box where you can set the minimum number of days you want customers to wait for the delivery appears.
Minimum days you take to deliver products: Enter how many days it will take to deliver the order in the space provided. The days' count will begin the day after the order is placed.
Select Your Weekly Holidays: Checkboxes for each day of the week will be accessible. This row can be used to confirm the days you won't be making any deliveries (such as Saturday and Sunday). 
Additionally, Special holidays might be planned up to a week in advance. As a result, don't forget to uncheck special holidays from the dashboard after the holiday has passed (such as Christmas, etc.)
Note to Customers: Include a customized note for customers with holiday information in this section.
Now that we have an understanding of each of the plugin's features, let us take a look at how these plugin customizations look on the front end of your WooCommerce store.
For the sake of demonstration, we have set the minimum delivery days to 2 and set Saturday and Sunday as a holiday. Additionally, we have provided a note stating the days our WooCommerce store will be closed for delivery.
The result is below,
As you can see the notice is displayed under the delivery date selection box. Once the customer clicks on the box, they can choose the delivery date from the calendar provided (The holidays are blocked)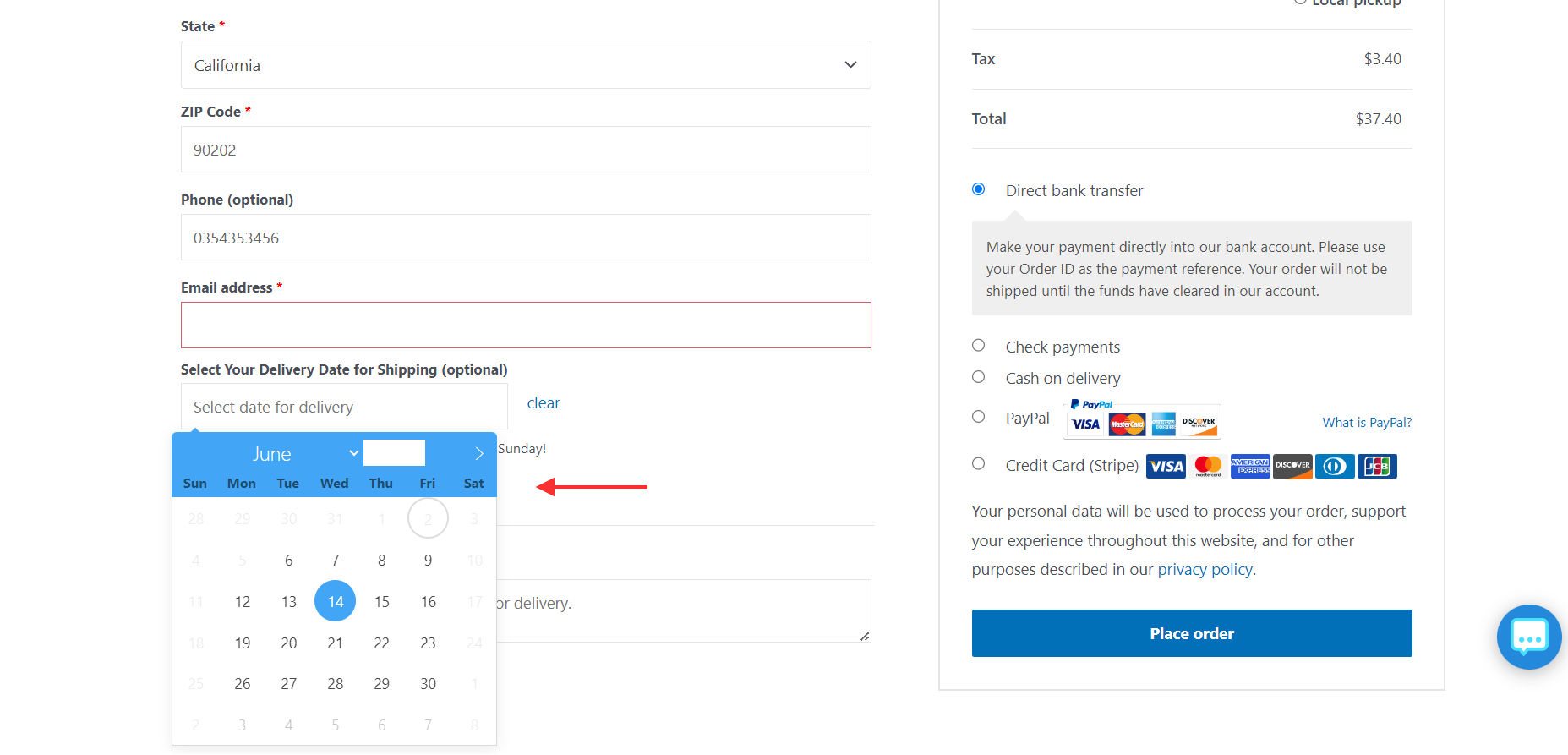 By using this WooCommerce delivery date plugin, you'll be able to provide a better customer experience at checkout and more accurately communicate expected delivery times for your products. Your customers will appreciate the transparency and flexibility in choosing a delivery date that suits them.
Conclusion
So there you have it, with just a few clicks you can offer your customers estimated delivery dates right at checkout and give them more control over when they receive their orders. By providing delivery estimates and the option to choose a delivery date, you're offering an improved customer experience that builds trust and loyalty. 
Customers today expect transparency and flexibility. Giving them the power to choose a delivery date that works for them is a small touch that can make a big difference. Your customers will appreciate the convenience, and you as the store owner will notice reduced confusion related to delivery issues. It's a win-win. 
We hope this post has helped you set up an estimated delivery date option on your WooCommerce store!
Further Reading