Generating revenue from abandoned shopping carts can be a daunting task, but it doesn't have to be! By using the right tools and techniques, you can get your customers back to their abandoned carts so they can complete their purchases.
One of the best tools for this is the ELEX WooCommerce Abandoned Cart Recovery with Dynamic Coupons plugin. This plugin enables you to send WooCommerce abandoned cart emails with discount coupons to encourage customers to complete their purchases. The best part is that the plugin is free!
In this article, we will discuss how you can use the ELEX WooCommerce Abandoned Cart Recovery with Dynamic Coupons plugin to send abandoned cart emails with coupons for free. We'll also show you how easy it is to set up and manage the plugin on your WooCommerce store. So let's get started!
Why Send Abandoned Cart Emails? Recover Lost Revenue and Increase Sales
Abandoned cart emails are an effective way for businesses to recover lost revenue and increase sales. Studies show that abandoned cart emails can bring back up to 10% of customers who have left your store without making a purchase. Additionally, by sending out these emails with discount coupons, you may even be able to get your customers to make higher-value purchases than what they intended earlier.
Using the ELEX WooCommerce Abandoned Cart Recovery with Dynamic Coupons plugin, you can send out a complete series of automated emails with discounts completely for free. The plugin helps store owners send out automated abandoned cart reminder emails and also enables them to create a recovery sequence, which will help in increasing the chances of recovering lost sales. 
It also has a feature called 'dynamic coupon codes' through which discounts are generated automatically for customers on their respective abandoned carts, reducing the need to create manual coupon codes or discounts to send out to customers once they leave the store.
The Disadvantages of Cart Abandonment
It goes without saying that cart abandonment is a major issue for online retailers. According to data from Statista, the overall average rate of abandoned carts across the US was an alarming 72% for desktops and 84% for mobile devices in 2022. That's three out of every four visitors who add items to their carts and leave your site without making a purchase!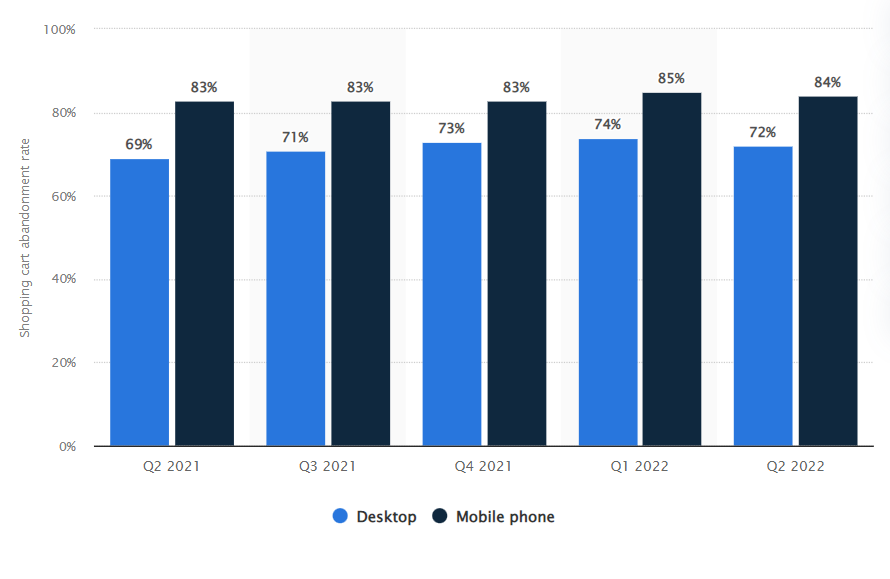 Aside from revenue loss, abandoned carts cost money in other ways, most notably greater customer acquisition expenses. As a result, it is vital to employ cart abandonment recovery strategies and develop ways to re-engage clients who have abandoned your site before they resort to other sellers for their orders. Keeping this in mind, let us take a look at the benefits of recovering these abandoned carts.
Benefits of Recovery Abandoned Carts
The ELEX WooCommerce Abandoned Cart Recovery with Dynamic Coupons plugin makes it simple to recover abandoned carts. 
Before we go through the process of recovering, we need to understand why one should consider recovering abandoned carts. Here are a few key benefits:
Customer Retention

: Recovering abandoned purchases will help keep customers happy and loyal while increasing the value of your existing customer base. It's also far easier for businesses to bring back old customers than acquire new ones.

Brand Engagement

: With abandoned cart recovery emails, you can remind customers of their incomplete purchases and engage them in your brand at the same time. Reaching out to customers in this way helps create an emotional connection that could result in a commitment to purchase from you again in the future.

Cost Effective

: With the ELEXtensions plugin, businesses have immediate access to a free abandoned cart solution without any cost or technical expertise required. This makes it an ideal option for small businesses that don't have the budget or resources for more comprehensive solutions.
Setting Up the ELEX WooCommerce Abandoned Cart Recovery Plugin
Do you want to automate the process of customer abandonment recovery? With the ELEX WooCommerce Abandoned Cart Recovery with Dynamic Coupons plugin, you can do just that. This plugin allows you to send automated emails containing discount coupons to customers who abandon their carts. It's the perfect way to recover lost sales and increase conversions.
Here's how to set up and use the plugin:
First, install the ELEX WooCommerce Abandoned Cart Recovery plugin with Dynamic Coupons plugin. You may tweak the settings after you activate it by going to WordPress Dashboard > ELEX Abandoned Carts.
Now let us go ahead and customize the general settings and eventually move on to the email settings.
General Settings
To identify an order as complete, choose the WooCommerce order statuses that indicate successful cart recovery, activate the Enable Abandoned Cart button, and set the order state to consider an order successful under General Settings.
Enable the Capture Abandoned Cart for Guest User option under Guest Users Settings if you want to track abandoned carts for guest users.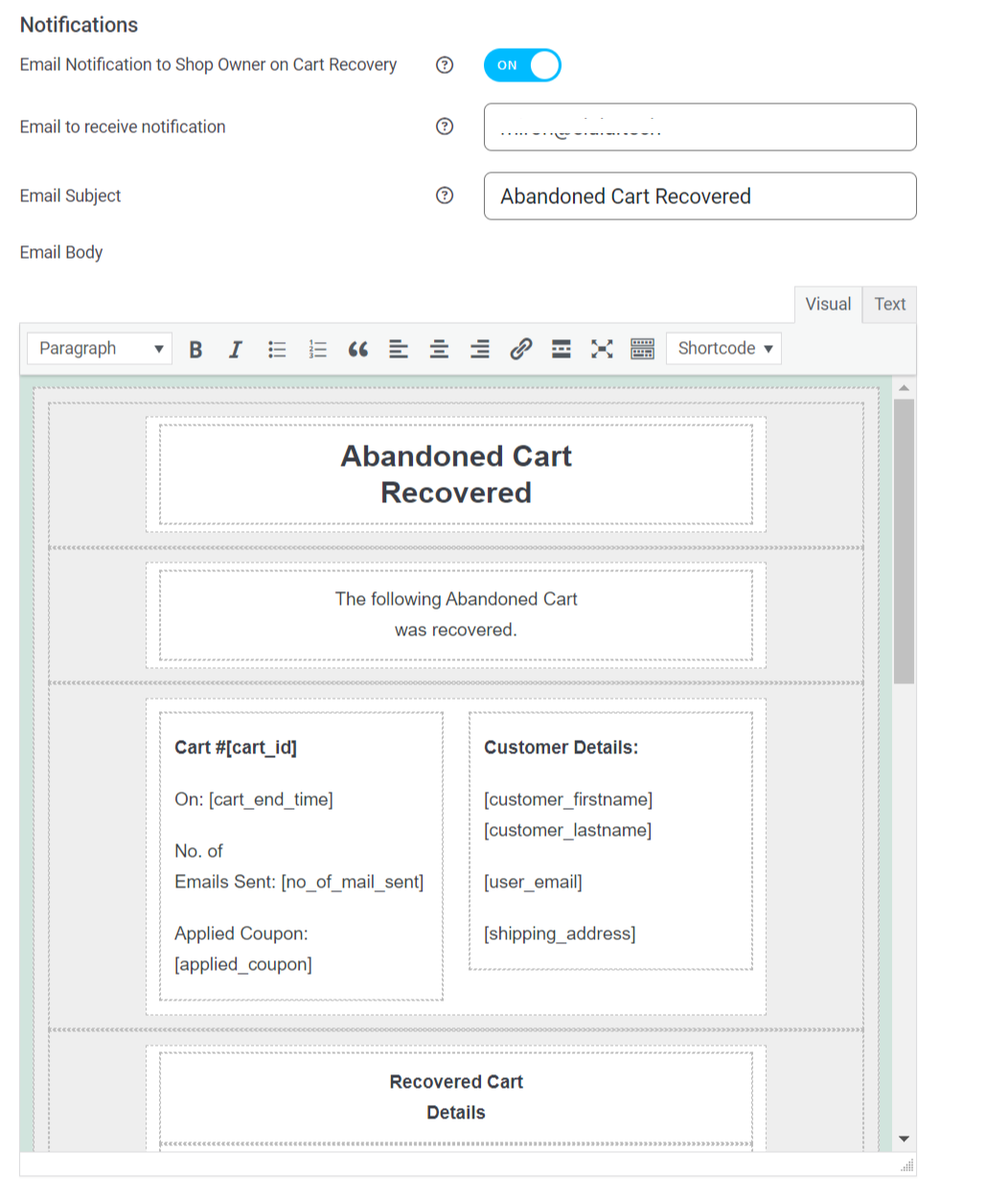 Enabling the Email Notification to Shop Owner on Cart Recovery option in Notification Settings allows you to alter the email's language and content as needed, as well as inform the admin when a cart is recovered.
Let's go to the Email Settings tab now.
Email Settings
Using the three sub-tabs under Email Settings, you may change the rules for sending recovery emails, as well as their templates, and add the automatically generated discount coupons.
To save your modifications, click Add New Rule, provide a suitable Rule Name, choose the AND/OR Rule Type, and then click Add Filter. There are a number of rules that may be tailored to your specific needs.
You may create, update, and remove email templates in this section. If a purchase is canceled, an email with the specifically designed template will be delivered to the visitor's email address. 
A new email template will be produced if you select Add New Template. The following section is crucial as it allows you to add dynamic coupons to your recovery email.
You may select whether to upload a new template or alter an existing one, add a template name and email subject line, input a coupon code, and more on the Edit Email Template page. 
Choose the type of discount, the amount of the discount, and whether or not the coupon is good just once. Then enter the prefix of the promo code.
Additionally, the discount code can also be associated with abandoned products or the customer's email address.
Using the given shortcodes, you can edit the email text and enter default values such as [customer_firstname], [customer_lastname], [cart_products], [cart_link], and [cart_unsubscribe]. 
Send yourself a test email when you've completed personalizing the template and verify how it shows up.
You can customize recovery email triggers under the Email Triggers tab of the email settings. Switch triggers on and off, or remove all triggers from this page.
Finally, navigate to the Cart Details section.
Cart Details
You may access all information about abandoned and recovered cart data under the Abandoned Cart Details page.
So don't just sit around waiting for customers to come back to their carts on their own, take advantage of this versatile plugin and start using dynamic coupons in your WooCommerce abandoned cart emails as you can see below.
Analyze the Results and Optimization Tips
Now that you've set up your free WooCommerce abandoned cart emails with discount coupons using the ELEX WooCommerce Abandoned Cart Recovery with Dynamic Coupons plugin, it's crucial to analyze and optimize your results. To do this, here are some tips for measuring and optimizing your abandoned cart emails:
Monitor Your Abandoned Cart Email Performance Metrics
Using the ELEX WooCommerce Abandoned Cart Recovery extension, you can easily measure the effectiveness of your campaigns. Keep an eye on metrics like the total abandoned amount, total conversion rate, and the total recovered amount generated by your abandoned cart emails. This will help you understand which campaigns are working well and which ones need to be improved.
Test Different Variations
Once you have a baseline understanding of how your campaigns are performing, it's time to test different variations. Try out different email subject lines or offer variations in order to see which works best for each customer segment. Doing so will help you improve the overall performance of your campaigns.
Use Personalization
Personalizing your emails is a great way to improve engagement and increase sales from abandoned carts. With the ELEX WooCommerce Abandoned Cart Recovery with Dynamic Coupons plugin, you can insert personalized content and dynamic coupon codes into each abandoned cart email in order to incentivize customers to come back and complete their purchase. This helps build trust with customers and encourages them to come back for more purchases in the future.
Conclusion
In conclusion, abandoned cart emails can be a great way to encourage customers to finish their purchases and to offer a discount to incentivize them. The ELEX WooCommerce Abandoned Cart Recovery with Dynamic Coupons plugin makes it easy to automate this entire process, and you can get it absolutely free! 
With this plugin, you can easily create email messages, set the timing of when the emails should be sent, and provide the discounts that will be available. By using this plugin, you can boost your sales and improve customer loyalty. 
We hope this post has given you a better insight into abandoned cart recovery using a free plugin!
Further Reading