Have you ever gone to the store, filled up your cart with items you wanted to buy, and then, once you got to the checkout line, decided not to purchase? Chances are, you're not alone.
In fact, nearly 70% of online shoppers abandon their carts without purchasing, which means lost sales for WooCommerce stores. But what if there was a way to keep those customers interested and encourage them to come back and complete their purchase?
That's where abandoned cart plugins come in. In this article, we'll show you how to quickly and easily restore abandoned WooCommerce carts using a free plugin. We'll cover how this plugin works, what it offers, and how it can help boost your sales and improve the customer experience. So let's get started!
Why Cart Abandonment Happens and How It Affects Your Sales
Cart abandonment happens to the best of businesses, may it be a big or small enterprises. It's a situation where a customer visits your website, adds products to their virtual shopping cart, and then leaves without completing that order. Your potential customer moves on without completing their purchase.
But why does this happen? Well, there are a few common reasons for cart abandonment, including confusing checkout processes, unexpected shipping costs, or errors with payment. Cart abandonment can have a big impact on your store's bottom line, in fact, it's estimated that up to $260 Billion per annum is lost in revenue in the USA AND UE regions. That's why it's important to think about how you can restore those abandoned carts and encourage customers to come back and finish what they started.
Benefits of Recovering Abandoned Carts Using a Plugin
When a customer leaves your online store without making any purchase, it can be quite discouraging. But don't worry, you can do something to win back those customers and increase your sales by recovering abandoned carts.
Recovering abandoned WooCommerce carts is a great way to build better relationships with customers and boost sales. First off, you can use a plugin to send out automated recovery emails that remind customers of their abandoned carts and encourage them to come back and complete their purchases. This not only increases customer retention but also helps increase the average order size. Plus, using the plugin will save time and resources for your team as it automates the entire process for you.
Also, using a plugin allows you to customize the email messages you send out so that they are tailored to different customer segments or groups. By carefully designing the email message content, you can better target customers who are more likely to purchase from you again and increase revenue from existing customers. As an added bonus, this also helps improve overall customer satisfaction levels over time as customers will appreciate seeing personalized emails from their favorite retailers.
The Best Free Abandoned Cart Recovery Plugin for WooCommerce
The good news is there is a free plugin that allows you to easily restore an abandoned cart in WooCommerce. The plugin is called ELEX WooCommerce Abandoned Cart Recovery with Dynamic Coupons and it does more than just restore abandoned carts. It also allows you to:
The ELEX WooCommerce Abandoned Cart plugin delivers a graph-based report detailing the total amount of money recovered, the total amount of money abandoned, the total conversion rate, and the total bonus recoveries.

Create rules based on a range of criteria, such as user roles, cart total amount, number of goods in the cart, and product ID.

Include dynamically created discount coupons in the recovery email.

To show that a previously abandoned cart has been retrieved, choose WooCommerce order status.

Allow guests who have not created an account to reclaim their abandoned carts.

When a cart is recovered, you will receive an email message.

You may view all of the emails sent to customers along with information related to them.

And more!
With the ELEX WooCommerce Abandoned Cart Recovery with Dynamic Coupons plugin, you can easily re-engage with customers who have left their shopping carts behind and turn those abandoned carts into revenues. 
How to Set Up the ELEX Plugin?
The ELEX WooCommerce Abandoned Cart Recovery plugin with Dynamic Coupons is simple to install and configure. It is simple and easy to use, so you won't have to spend hours learning how to use it. Let us go through the step-by-step process.
Step 1: Activate and Access the plugin
First, go to the WordPress plugin directory and install the ELEX WooCommerce Abandoned Cart Recovery plugin with Dynamic Coupons. When you activate it, you'll see that you can customize all of its features by navigating to WordPress Dashboard > ELEX Abandoned Carts. From the Dashboard, head over to Settings in order to customize the plugin.
Step 2: Customize the plugin settings
Select the WooCommerce order statuses that signify successful cart recovery, activate the Enable Abandoned Cart button, and define the order status to consider an order successful under General Settings to designate an order as complete.
If you wish to monitor abandoned carts for guest users and just the valid email format, enable the Capture Abandoned Cart for Guest User option under Guest Users Settings.
Enable the Email Notification to Shop Owner on Cart Recovery option under Notification Settings and change the email's language and topic as appropriate, as well as allow the admin to be alerted when a cart is recovered.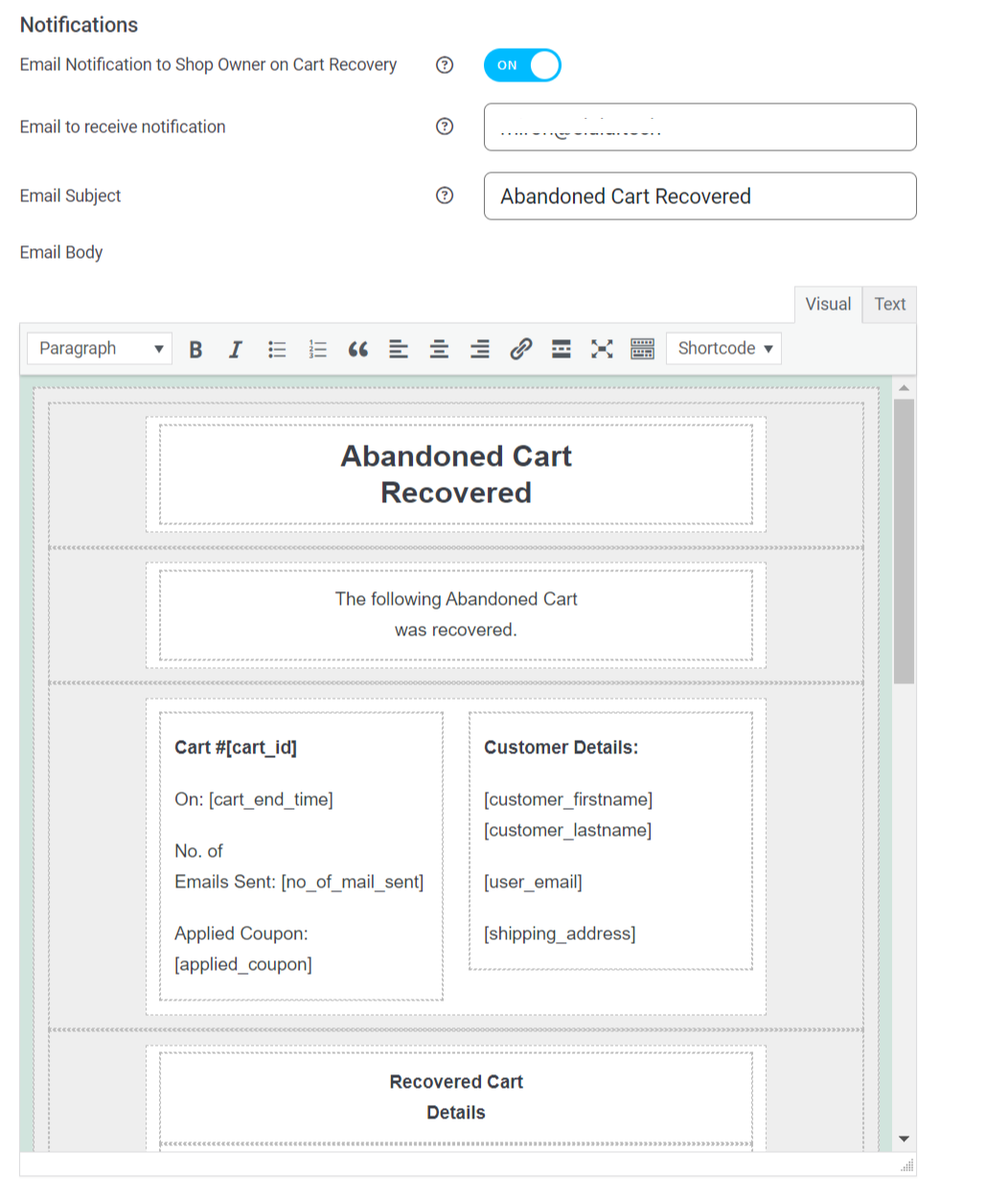 Now let us move on to the Email Settings tab.
You can modify the rules for sending recovery emails, and their templates, and add the automatically created discount coupons by using the three sub-tabs under Email Settings.
Email Rules
Click Add New Rule, provide an appropriate Rule Name, choose the AND/OR Rule Type, and then click Add Filter to save your changes. There are several restrictions that can be customized.
Email Templates
This section allows you to create, edit, and delete email templates. If an order is abandoned, these email templates will be sent to the visitor's email address, along with the dynamically produced discount coupons.
If you choose Add New Template, a new email template will be created.
On the Edit Email Template page, you may choose whether to upload a new template or modify an existing one, add a template name and email subject line, enter a coupon code, and more.
Choose the type of discount, the amount of the discount, and whether the coupon is valid only once or several times. Then enter the promo code's prefix.
The abandoned cart items or the customer's email address can also be used to attach the promo code.
You may change the email text and insert default values like [customer_firstname], [customer_lastname], [cart_products], [cart_link], and [cart_unsubscribe] by using the provided shortcodes. 
After you've finished editing the template, send yourself a test email to see how it looks.
Email Triggers
The Email Triggers tab of the email settings allows you to modify recovery email triggers. Toggle triggers on and off, or delete all triggers from this page.
Finally, go to the Cart Details tab.
Under the Abandoned Cart Details tab, you can view all information in regard to abandoned and recovered cart data.
That's all there is to it. When a customer abandons a purchase, they will receive an email incentivizing them to recover the cart and finish the order. 
Conclusion
In conclusion, avoiding cart abandonment is next to impossible but putting in the effort to recover said abandoned cart is an important part of any WooCommerce store. 
By using a free plugin like the ELEX WooCommerce Abandoned Cart Recovery with Dynamic Coupons to restore abandoned carts, store owners can significantly increase sales and maximize profits. Furthermore, this plugin helps to make the recovery process easy and efficient.
The plugin also works to ensure that customers who abandon their carts can be contacted with personalized messages, and thus be persuaded to complete their transactions. By implementing certain strategies alongside automating the process, store owners can help to boost their sales, improve customer loyalty and ultimately, maximize their profits.
We hope this post has helped you recover sales lost due to cart abandonment!
Further Reading