Shipping labels may appear to be a minor component of the eCommerce workflow, but they are essential for incoming and outward operations, as well as the profitability and fulfillment of your eCommerce store. Shipping labels communicate essential information to your logistics system, assisting both technology and humans in understanding the sources and destinations of your product.
Creating and printing shipping labels is a crucial element of the logistics chain. You can enter the order information on the UPS website to generate a UPS shipping label. Without a doubt, completing the entire procedure right from your WooCommerce dashboard is a faster and more efficient choice. In this article, we will demonstrate how to print UPS shipping label from your WooCommerce store using ShipEngine. So let's get right to it and look at how to generate and print UPS shipping labels in WooCommerce.
What is a UPS Shipping Label?
Shipping labels are a form of identification label that assists in describing and specifying what is enclosed within a shipment. Depending on the carrier you choose, shipping labels will vary, but they will always include basic information such as addresses, sender and receiver names, package weight, and tracking information. This data is crucial for getting your customers' orders to their destinations as quickly and smoothly as possible.
A UPS shipping label will include accurate information that both people and computers can read. Packages might be delayed in transportation, sent to the wrong location, or lost entirely if they do not have a readable shipping label. Any of these circumstances could result in a monetary loss or a loss of client confidence, so the shipping label is crucial.
How to generate and print UPS Shipping Labels from your store's backend?

Let's have a look at how to print UPS shipping labels from your WooCommerce store dashboard. You can print UPS shipping labels from the order detail page of WooCommerce using the ELEX ShipEngine Multi-Carrier Shipping & Label Printing Plugin for WooCommerce.
The following UPS services are supported by the ELEX WooCommerce ShipEngine Shipping plugin:
Ground

3 Day Select

2nd Day Air AM

2nd Day Air 

Next Day Air Saver 

Next Day Air Early AM 

Next-Day Air 

Express 

Expedited 

Express Plus 

UPS Saver 

UPS Standard 
Configuring the Plugin Settings
Click here for instructions on how to purchase, configure, and activate the plugin. Let's begin with a rundown of all the configurations you'll need to specify in order to generate and print UPS shipping labels.
The plugin's settings can be found under WooCommerce > Settings > Shipping > ShipEngine.
Enable Realtime rates under the General tab so that visitors may see live UPS shipping rates on the cart and checkout pages.
You can choose from Live and Test mode for the API, and then enter your ShipEngine API-Key.
Click Save Changes once you've finished making the changes.
Add a custom method title if necessary and provide the sender's shipping information on the Rates and Services tab.
Activate estimated delivery dates and set the working days and cut-off time for your company under Estimated Delivery Date Settings. These variables are used to calculate the estimated delivery date.
Then, if necessary, create a fallback rate under carrier and rate settings. If ShipEngine does not return shipping costs for whatever reason, the fallback rate will be utilized. Choose between commercial and residential rate types, and specify handling fees as necessary. Activate UPS from the shipping carriers dropdown menu, then enable all of the UPS services that you want to activate under services.
To proceed, click Save Changes.
Finally, specify the print label type to PNG, PDF, ZPL, or EPL2 under the Label Generation tab's label printing API settings. If necessary, you can add insurance, change the label size to default or custom, and use the signature option for enhanced protection.
Choose the default shipping options for domestic and international shipments under Default Shipment Services.
Click Save Changes after entering all of your shipping information under the origin address.
Generating and Printing UPS Shipping Labels
Let's take a look at how to generate and print a UPS shipping label when a customer selects a UPS shipping service for their purchase.  On the checkout screen, the customer selects a UPS Service and submits an order.
By logging into your WooCommerce admin account, you may access the order details page WooCommerce > Orders. This page provides access to the specific order.
You'll be able to see which UPS service was chosen by the buyer when they placed their order. To create shipping packages immediately, click Generate Packages under Generate Shipping Label Using ShipEngine API. The weight and dimensions of the shipment will be automatically filled in from the product details page. After selecting the UPS service that the customer has chosen for the order, click Create Shipment.
The shipment will now be generated by the plugin. By clicking Print Label, you can print or download the label. This is also where you'll find the UPS tracking ID. The tracking ID will be sent to the buyer along with the order confirmation email. The UPS shipping label will appear in a new window in your web browser. You can also have it printed if you have access to a printer.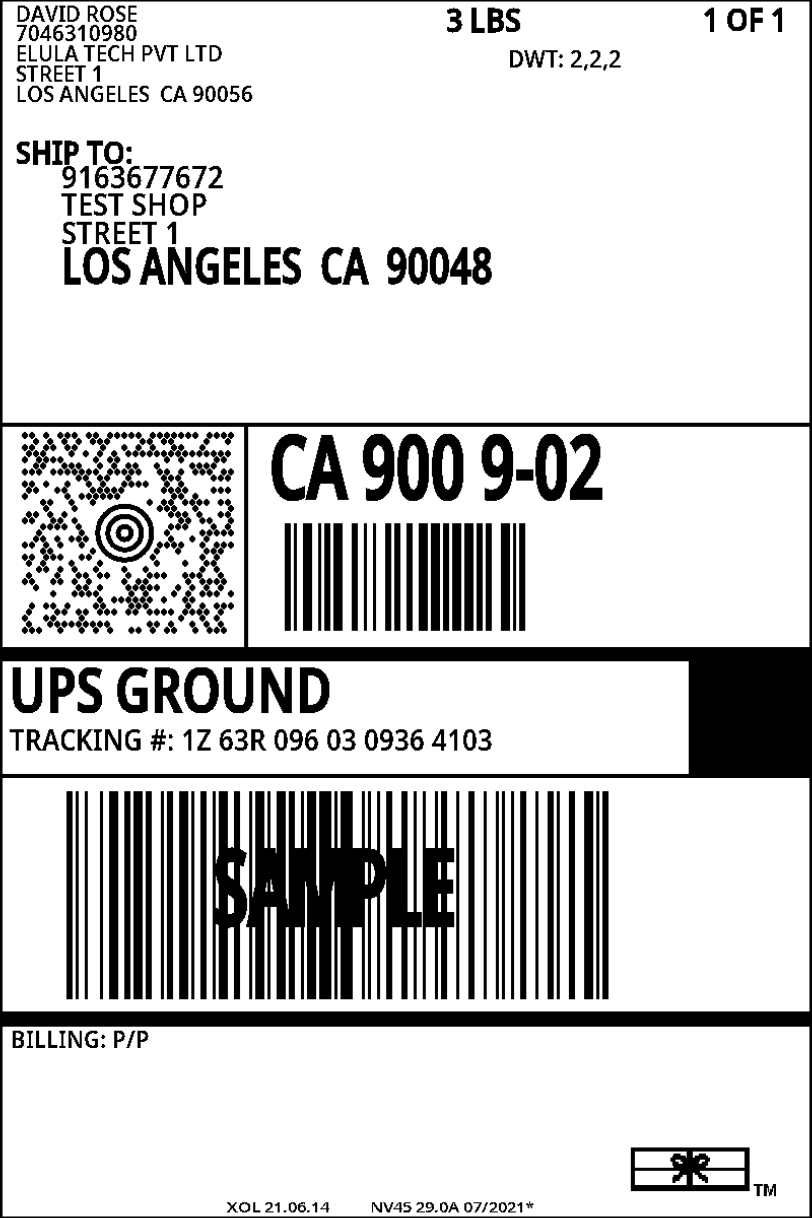 More details regarding the plugin's functionality may be found on the product page. Additional information on how to configure this plugin's many parameters may be found on the documentation page. Please get in touch with our support team if you have any questions about the plugin.
Wrapping up
If you have started your WooCommerce based eCommerce store from scratch, you know how cumbersome and time-consuming it is to visit the UPS website or even a physical office just to generate and print shipping labels in bulk for your orders. It takes up so much valuable time, resources, and energy, on a regular basis.
With the ELEX ShipEngine Multi-Carrier Shipping & Label Printing Plugin for WooCommerce, you can easily create packages, generate and print shipping labels, display live UPS and FedEx shipping rates on your cart ad checkout pages, and also track shipments, right from the backend of your store. It solves all of your shipping problems from one central location. We hope this article gave you a clear idea of how to print UPS shipping label from your WooCommerce store using ShipEngine. If you have any questions regarding the ELEX ShipEngine plugin, please let us know in the comments section below.
Further Reading