Online Retail market is remodelling with Google Shopping. Retail marketing was all about creating text ads and earning a CPC. But with Google Shopping earning a faster reputation among retailers as a preferred medium for advertising their products. Here we are going to focus on the powerful WooCommerce Google Shopping hacks to skyrocket your marketing results and how ELEX WooCommerce Google Product Feed can help you attain the same.
Google Shopping – Your shortcut to brand visibility
Google Shopping has evolved to become a core element of your brand's popularity among Shoppers.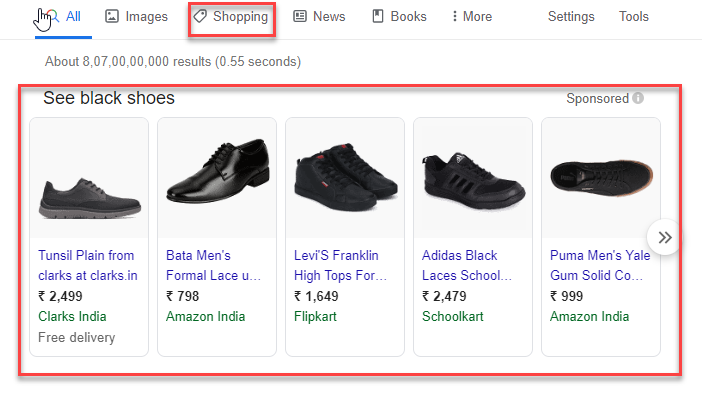 Impressive and Alluring, aren't they. Browse more on the Google Shopping page, the results are impressive.

You can see that the Shopping results are listing the price, style, department and even the Seller. These exciting results are driving vendors to acquire their space in Google Shopping.
It is obvious that over the past few years, with Google Shopping emerging, the variation in traffic has steadily increased the number of vendors whose preferred marketing channel was Google shopping.
It confirms that Google Shopping ads are a prominent way to market your products to upkeep your brand.
Steps to get product visibility on Google shopping
To get your products to be displayed on Google Shopping, you need to go through a 3-step process, like the following :
Create a product feed using recommended methods.
Get your Google Merchant Center account and sync it with your feed.
Get your Google Ads account and then link it with the Google Merchant Center.
Read about how you can get your products to sell on Google Shopping here.
Your product feed is your key to Google Shopping. Generating Google Product feed adhering to the ground rules laid by Google is important. In the case of the WooCommerce platform, it is easy to generate Google Product Feed using ELEX WooCommerce Google Product Feed plugin.
Read on how you can generate a WooCommerce Google Shopping Feed using the plugin.
Powerful Hacks to Skyrocket your marketing results
Here are some powerful hacks you can implement in your WooCommerce Google Shopping Feed to supercharge your marketing campaigns.
1. Custom Label Function
If you create a WooCommerce Google Shopping feed using ELEX WooCommerce Google Product Feed, you will come across a custom labels option in the Optional Fields.
These custom label functions have a direct influence on the Google Ads campaigns.
The Google Merchant Center has certain formats for the same:
To set up a custom label, you need to monitor your marketing campaigns and list out your best sellers during a particular time of the year. With this, it would be easier to track, what are triggering your product campaigns. In a way, distinguish your best selling products from the good ones and market it separately.
2. Adword Redirect Attribute
Use Adword Redirect Attribute to test the alternate landing pages. You can set your Adword Redirect attribute in the plugin in the Map Attribute page from the other fields.
Upon mapping the Adwords redirect, the traffic can be even generated on useful pages. Using this attribute, the shoppers can also be redirected to a category page, wherein they can be entertained with many more options related to their search preference. In this way, you can also cross-sell your products. In a way, this can help you to increase the shopping cart value by selling what ultimately the shopper wants.
3. High-Quality Product Images
Image results are the reason that Google Shopping is predominantly becoming a core choice. While searching for a product, the shopper lands on various alternate options that appear in the search results. Shoppers make a quick judgement when they see the product image. Their perception when it comes to images, the quality is directly proportional to the engagement it brings in. It is pivotal to host high-quality images when it comes to your products on the eCommerce platform.ELEX WooCommerce Google Product Feed plugin facilitates the addition of the main image as well as an additional image to give a better idea about the product.
It makes a difference when it comes to image clarity. It is better to use images that clearly showcase your product.
4. Well-Written Product Description
A well-crafted product description can give your customer a better understanding of your products. It is impressive if you can use genuine product descriptions. It augments your product's reputation as well as yours too.  While focussing on writing product description with an intention to sell, it is important to keep in mind a few details :
No Copy paste of description.
Easily readable.
Optimized description.
Provide all the necessary details supporting the product.
 Use stories instead of research style product description.
Focus on the user's perspective.
It is important to convey what the product is meant for and the target audience to reach out perfectly.
5. Multiple Landing Pages
A landing page is like a stimulus for getting your customer to buy a product. The landing page should contain products that give prominence to the item that the shopper clicked. It should also contain certain upsell stocks that will also be of some interest to the shopper.
Ensure that the landing page contains all the expected results by the shopper, who is driven to the landing page from the Google Shopping results. The landing page data results must be in line with customer expectations.
In a survey by Search Engine Land, it was found that almost 34 % of shoppers brought those products they clicked on Google Shopping. An effective landing page should not just be the product, but also show other products in a similar category
6. Identify your top brands from the good ones
Dig the best out of the good. Using the Google Ads account linked to the Google Merchant Center, you can find better products that are popular. Finding it will help you determine which are the popular brands in your store that are driving traffic to your site. If you want to earn more online, the best way to do it is:
Find a niche product that triggers a sale.
Focus on the target market where your product is in demand.
Once you get to know what brings traffic to your online shop, you can enhance the ways to market other products too, using upsell.
7. Negative keywords – Stress the Don'ts
Negative Keywords are certainly important when you consider eCommerce. According to Google :
A type of keyword that prevents your ad from being triggered by a certain word or phrase. Your ads aren't shown to anyone who is searching for that phrase. This is also known as a negative match
Check out what Google Ads has to say on Negative Keywords.
Negative Keywords helps in better targeting and helps to reach the right customer. Popular ways to Find Negative Keywords are manually searching, Keyword research in Google Ads, Google Suggest etc.
8. Use non-converting upper funnel keywords with a successful Abandon cart
Usually, a business has a conversion funnel, which is important to build a brand. Each funnel has a set of importance and is characterised to build customer awareness.
Here is a simple explanation on the Conversion funnel. 
In short,
Awareness is how to invite visitors to the site.
Interest is all about engaging with content to glue the visitor on to your page.
Desire is all about building trust and confidence in the visitor about your brand.
Action is the critical part, wherein you convince your visitor to be a consumer of your product.
In some cases, the visitor might just drop the idea of purchase leaving cart unattended. Abandoned cart, can also be kept bustling enough to drive in your visitor to be a consumer too. Using the upper funnel keywords monitored by Google Ads linked to your WooCommerce platform, such visitors can be retained to bring in sales at a later point.
9. Pair your WooCommerce Google Shopping Feed with structured Data Markup
Your WooCommerce Google Shopping Feed is the key to your brand visibility in Google Shopping. The better managed Google Feed will generate excellent traffic. Google allows mapping of your products with Structured Data Markup. In order to do the same, the products are to be kept up-to-date, which can be facilitated with ELEX WooCommerce Google Product Feed feature Refresh Schedule. It helps to update products timely, giving Google a better understanding of your product. To complete the successful pairing of products with Structured Data Markup, use the benefit of automatic updates of products in the WooCommerce Shopping Feed.

10. Price plays a vital role in Google Shopping
Price is a pivotal factor that drives sales to a product. It is quite common to find that the lowest prices attract shoppers to buy. You can bring in low-priced products as entry points to lure customers into your eCommerce website and then upsell your high-margin products. If you provide data on your WooCommerce Google Shopping Product Feed that is fetched by ELEX WooCommerce Google Product feed plugin, ensure you provide an accurate price. The plugin also facilitates you to provide a sale price which can be an attraction factor to your customers.
According to Research, the cheaper the price, the better traffic it brings to the eStore.
11. Keep your Taxes and Shipping Clear
Hiigh Shipping rates and taxes will surely wade off your customers. "Free Shipping" does attract most customers easily. If you look out for products on various other eCommerce platforms you can see they offer free shipping on the majority of products, which is a selling factor that brings a sale.
Ensure that your product feed created using ELEX WooCommerce Google Product Feed plugin has all the necessary Shipping as well as Tax rates mentioned clearly.
Research shows that free shipping does attract a good amount of buyers.
You must be upfront when you mention taxes on your products, as it might cause them to lose trust in the brand. The product page must clearly emphasize the tax rates applied to the products.
Final Thoughts on hacks to supercharge your Marketing Campaigns
As Google Shopping is emerging day-by-day, it is important to keep a check on updates happening as well as the above hacks to supercharge your existing marketing campaigns. For any eCommerce platform, success depends on how you use your keywords With efficient usage of Google Ads, Google Analytics, WooCommerce Google Shopping Product feed plugin (example: ELEX WooCommerce Google Shopping Product Feed plugin ) you can simply trigger the traffic to your WooCommerce Products and strengthen your Marketing campaigns.