WSDesk – ELEX WordPress Helpdesk & Customer Support Ticket System Plugin
You are protected by our 30 Day Money Back Guarantee.
Each installation of the plugin will require a license key.
The license entitles 1 year of support & updates.
Customize your support desk the way you want.
Description
Description
WSDesk is the premium WordPress Helpdesk  Plugin & Customer Support Ticket System that offers top-notch features for the best customer support experience. With this plugin, receive all your customer queries, issues, and suggestions in the form of tickets.
The plugin's value is amplified with unlimited tickets, unlimited agents and has features like supervisor profiles, email piping, auto-tagging tickets, auto-assigning tickets, custom ticket submission form, email filtering, email blocking, triggers & automation, quick reply templates, improved and optimized reports, agents' satisfaction rating, and customer feedback and much more!
Unlike other SaaS-based plugins, WSDesk does not store your data in the cloud rather, all your data is stored in your system, making it one of the best WordPress support desk plugins in the market. Data privacy is one less thing to worry about with WSDesk!
Features
Unlimited Tickets & Agents
WSDesk offers no restrictions on agent profiles and tickets. You can handle unlimited tickets and create unlimited agent profiles at no cost.
Simple Interface
WSDesk's AJAX-based design makes it easier for a support agent to use the whole interface without reloading the page. Bulk changing of Ticket status, Merging tickets, Ticket search & filters, Custom ticket views, and Quick settings for tickets are some of the advantages with which you can make your customer service run quicker and smoother.
Custom Ticket Views
Create custom ticket views for easy access to agents. You can create custom ticket views based on Agents, Ticket tags, Forwarded emails, Tickets received only through Form or Email, Imported Zendesk tickets, Emails, and much more.
Triggers & Automation
Triggers are helpful in setting up automated actions based on various conditions. Few of the use cases are given below,
Agents can receive an email notification whenever a new ticket is raised, or when a ticket is not replied by an agent within a specific period of time.
Set notifications to Support Agent for a long-pending ticket.
Automatic closing of Pending Tickets for more than configured number of days.
Setting different actions for the tickets based on the source like email, support forum or Zendesk.
Assigning the tickets to respective Department Agents.
Treat your tickets based on the Priority.
You can even schedule the triggers for future action using the Automation feature.
And many more.
Trigger Custom Messages to Agents via Google Chat
Keep your customer support team updated regarding all the tickets through Google Chat. When a certain action takes place, like a ticket is updated, a custom Google Chat message will be triggered to the agents from the bot as instant alerts!
Email-Based
If you have a dedicated email address of your domain, you can convert your unread emails to tickets using IMAP or Google OAuth. You can delete emails after they are imported to WSDesk. Also, whenever a ticket is raised by customers, an email is sent to them. The customers can also reply to the emails directly, instead of logging into your website & replying through the support form.
Canned Responses & Rich Text
If there is a standard response for queries, accessible to all support agents, your replies will be much faster. This is why WSDesk provides you an option to create and save reply templates known as "Canned responses" for common queries.
Also, Agents have various rich text formatting options while composing replies to the customer as
QuillJS
is integrated with WSDesk.
Analyze Reports
For analysis purposes, the plugin generates Custom agent reports, Date-wise reports for Tickets, Satisfaction survey reports, Ticket resolution reports, and Reports based on Ticket tags and Ticket Resolution Time.
Agent Satisfaction Score
Store admins can analyze each agent's performance with the Satisfaction score. This score is calculated based on the Satisfaction survey that can be carried out with a simple trigger.
Backup & Restore
Secure your existing tickets and settings information with easy backup to an XML file. You can even restore data using an XML file. This process is very helpful if you are moving to a different domain and would like to retain all the tickets and your current WSDesk settings.
WooCommerce Integration
Once you have integrated WooCommerce, you can retrieve the Total number of orders, Order number, and Total purchase price information in the ticket details of the customer. The products from your WooCommerce store are automatically populated for creating ticket fields and for creating triggers.
Easy Digital Downloads (EDD) Integration
Not just with WooCommerce, WSDesk can easily integrate with Easy Digital Downloads (EDD) as well. The products from your EDD store are automatically populated for creating ticket fields.
Pay For Support Integration
Are you looking for a way to charge your customers for the consultation or support service you provide?
Pay For Support Add-On
for WSDesk - ELEX WordPress Helpdesk Plugin enables you to convert the purchases to credits and helps you to manage the credits allocated based on customer usage. You can charge for the services (like a consultation, expert guidance, etc) you provide by configuring these services as products or subscriptions on your WooCommerce store. Once you have integrated this Add-On with WSDesk plugin, you can,
Accept Payment for the Support Services & Convert the payments to Credits.
Check the Credit Balance of the Customer.
Track all Credit Transaction History.
Check Subscriptions and Balance from Users Dashboard.
Create Unlimited Credit Rules.
Create Triggers that deduct Credits, etc.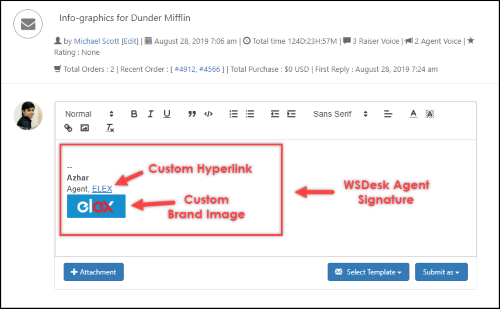 Add Professional Agent Signatures
With the help of our
agent signature add-on
, you can add a custom signature to your agents and supervisors, in HTML format. This signature will be reflected in the ticket replies (as shown in the screenshot on the right) and emails exchanged with the customers. This will help in your company's brand recognition and also help in redirecting your customers to desired landing pages.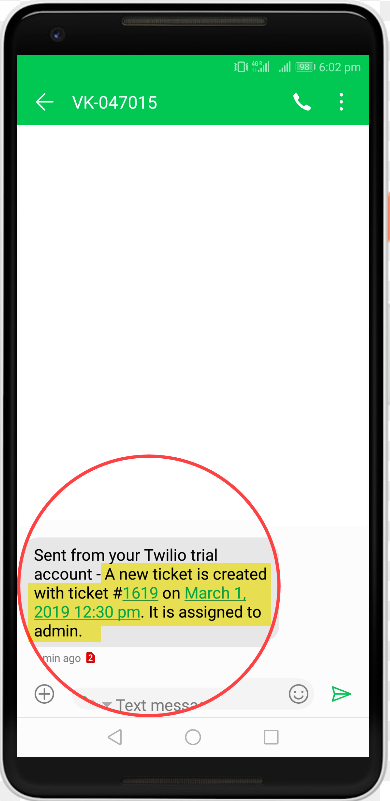 Send SMS Notifications
With the help of
SMS Notification Add-On
, you can send SMS notifications to Customers, Agents, and Ticket Assignees. You need to create WSDesk triggers to send SMS notifications. You can create triggers to send new ticket notification to customers & agents, update customers with the current ticket status, and so on.
Advanced Convenient Features
There are a lot of handy features that WSDesk offers and that cater to a much more advanced customization level. Some of these features are Deeplinks, Custom Redirection URLs, Support for several attachment extensions, Export to CSV file for analyzing the data, Integration with Contact Forms & Gravity Forms, WPML compatibility and much more!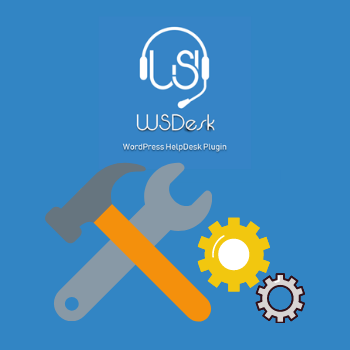 Customize Your Help Desk Support System
We offer custom development services to help you set up a full-fledged customer support help desk system according to the requirements specific for your Business. You can opt for these services if you need a tweak to our plugin from scratch to
make it perfectly fit into your support system
.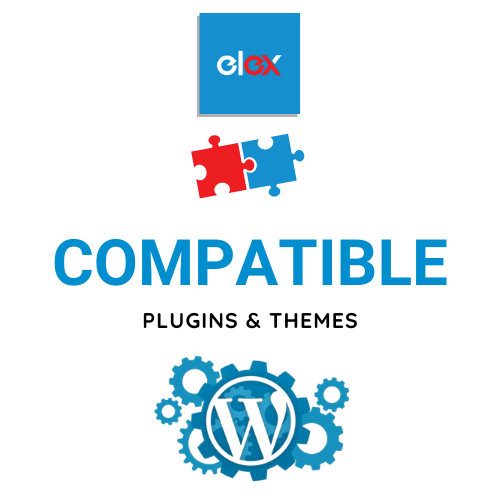 Plugin Compatibility
WSDesk - ELEX WordPress Helpdesk Plugin is compatible with,
Plugins
Themes
More Features
Restrict Tickets Access for Assigned Agents Only: Restrict the access to the tickets for assigned agents only. The other agents cannot visit or access the ticket.
Auto-Tagging And Assigning: Using Triggers, you can use tags to automatically assign tickets to the agents.
Auto Suggestion System: This feature allows Agents to select blog articles from the auto-suggested list while replying to tickets. And for Customers, it is shown while raising a ticket. The auto-suggestion feature works on title, content, and tags of the articles.
Ticket Custom Views: Based on certain conditions, you can create custom ticket views based on agents, ticket tags, ticket status, and so on.
Triggers & Automation: Using Triggers, you can automate certain responses in WSDesk.
Canned Responses: If there are several tickets that require a similar reply, you can create a custom template of your own. This will save your time and reduces the effort to type the same message for several tickets.
Bulk Edit & Merge Tickets: Bulk edit/update ticket assignee, ticket labels, ticket tags, the subject of the ticket and reply the tickets in bulk. This process will merge tickets automatically.
Agents Management: Configure and manage agent roles, their user rights and associated Ticket Tags of each agent.
Agent Notifications: Like real-time email alerts, the agents can receive notifications whenever a customer creates a ticket. Not only customer's action, but a Support Agent's response to the ticket or even a change in ticket status can trigger the emails.
Automated Emails: Send acknowledgment emails whenever a ticket is submitted and replied.
Agent's Satisfaction Rating: Using Triggers, a satisfaction email can be sent to the customers to request feedback on your customer service. This will also help to analyze each agent's performance.
WSDesk Backup & Restore: Backup and restore the WSDesk settings and tickets data within a specific date range, in simple steps.
Change Requester Email: Change/update the ticket raiser's email address.
Unlimited Agents: Create unlimited agent accounts in WSDesk.
Customizable Ticket Fields: Create custom input fields for your customer support form.
Customizable Support Form: Create custom interfaces for support form. You can also create multiple support forms as well.
Multiple Attachment Fields: Customers can upload multiple attachment files while submitting the ticket.
Unlimited Days Reports and Analysis: Tracking ticket reports and agent reports are not limited to certain days but can be tracked for any custom duration.
Rich Content with Formatting Options: WSDesk comes with a rich text editor with advanced formatting options.
AJAX Based System: WSDesk is built with AJAX based design, that helps load information faster. No need to reload the page every time to get updated information.
Email Support System: Customers can reply to tickets from their emails. Hence reducing the need to login to your website to reply to the tickets.
Advanced Short Codes Supported: WSDesk supports advanced short-codes that enhance some functionality of the plugin.
Import Zendesk Tickets: Existing Zendesk tickets can be imported to WSDesk in simple steps.
WooCommerce Integration: WooCommerce can be integrated with WSDesk. WooCommerce fields will be used for ticket handling. You can even track WooCommerce reports separately.
Easy Digital Downloads (EDD) Integration: Just like WooCommerce, WSDesk also integrates with Easy Digital Downloads (EDD).
One Year Support & Updates: Every license of WSDesk comes with a one-year premium support and plugin updates.
100% GDPR Compliant: Keeping the GDPR compliance in mind, we have prepared our privacy policy as an information manual for how we, at WSDesk collects, maintains, uses and discloses information gathered from users.
Top Testimonials
I've tried nearly every support plugin I could find and uninstalled them one by one when I found one problem after another. Then I came across WSDesk and it was like someone had created the perfect support plugin for my needs. I particularly like the excellence of the overall design, great usability, high coding quality, and solid technical support. I had no hesitation in upgrading to the paid version and I expect it to be the technical support foundation of my business for years to come. A well deserved 5 stars. Great job guys and gals!
Cory Herlihy
Verified owner
If you require a ticket support system to help your customers, then this is the MUST HAVE ticket system. We had a few bumps in the beginning, but with the help of WSDesk support team, we were able to get up and running in no time at all. Plus they quickly added a feature request that my department really needed to help support our customers. I highly recommend this plugin!
Hi there, Just want to give the short review after using the WSDesk for several weeks. I've spend several weeks and tried about 8 support plugins to find the best possible plugin for the job.The WSDesk exceed my expectations and provide the solid foundation for the support on our website! What's really important for us is the fact that their support team is very responsive and willing to help with any request that we have. So I could highly recommend the plugin to anyone who need the best cost efficient and full of necessary features support plugin! Cheers, Keep pushing the boundaries of wordpress ——- Sorry for my English, it's not my native language 🙂
Great product, exceptionally good and friendly support! WSDesk is the right tool if you want to offer your customers professional support. The plugin is easy to install, configure and makes the support job much easier. The support of WSDesk is exceptionally fast and competent. Suggestions for further features are quickly recorded and, if they make sense, implemented just as quickly. WSDesk is highly recommended. As a thank you for the great service, I will help to translate the plugin into German.
I would give more stars if possible! I am using this plugin to support my web design clients. The support staff offered exceptional support all along while setting it up, as well as adjusting it to fit our growth. This is 100% the honest truth. I have NEVER received such exceptional support as I have received from you guys. Keep doing what you're doing! You've already surpassed all big support system providers with your offer!
FREQUENTLY ASKED QUESTIONS
What happens when the one year license expires?
After the plugin's one year license expires, the plugin will continue to work as usual, but the download permission will be revoked. So, the updates for the plugin will stop.
I want my customers to first see their ticket view while logging into my site, and then have the option to create tickets. Is this possible with your plugin?
Yes, you can use the shortcode [wsdesk_support display=check_request] if you want your customers to see their existing tickets when they log in to your support page.
Is the auto-suggestion feature compatible with Knowledge Base plugins like "WP knowledge base"?
Yes, Auto Suggestion feature of WSDesk is compatible with Knowledge Base plugins.
Can I change the text and color of the 'Submit Request' button?
Yes, The color of the button is fully based on your WordPress theme. You can change it through CSS. We can help you to change the text. Please contact our support team.
Is there a way to activate WSDesk on our dev server and then remove the activation and reactivate on our live server?
Yes, you can find your active license key from WSDesk > Settings > Activate. You can deactivate the license key and then go to the dev/live server and enter the same key and email ID there to activate.
You can also find your active license key and email at MY API KEYS section of your My-Account page.
Is the plugin supposed to send an automatic reply email when a user submits a new ticket?
Yes, Automatic sending of emails can be achieved through WSDesk Triggers and Automation feature.
Can I configure the system to accept emails? For example, all emails to support@mydomain.com will appear as a ticket?
Definitely. It will appear as a ticket. For that, you need to configure your email via IMAP correctly.
Your IMAP details will be available in your Domain CPanel -> Email.
If you are using Google GSuite emails, then read this article.
How do I configure IMAP on WSDesk?
Configuring IMAP on WSDesk is very easy. You can follow the steps explained in this article.
I have several websites - support@domaina.com, support@domainb.com, support@domainc.com. I would like the tickets to come to the same desk. I also want to tag them based on which email address the ticket was sent to. Is this possible?
Of course, you can set up an email forwarding from these different email IDs to the main support email that you wish to set up using IMAP in WSDesk. Now, if you want to create a separate view based on the email from which the ticket is forwarded from, then we do have an option to create a view based on that specific email ID. 
After users fill out Ticket support form, they get message 'Support Request Received Successfully'.
Can I set up a redirect to a custom page?
Yes, WSDesk has an option to give a customized redirection URL after a ticket is submitted.
Any suggestion on a WordPress Live Chat Plugin which has integration with WSDesk?
Will my agent get notified when a ticket is created or updated using this plugin?

Yes, you can trigger notifications to the agents when a ticket is created/updated using its Triggers and Automation feature.