ELEX WordPress HelpDesk & Customer Ticketing System (WSDesk | Free)
A WordPress Support Ticket System Plugin that is powered by features like Ticket creation & management, Email piping, unlimited agents, unlimited tickets, customizable email reply, complete ticket history, and file attachment to tickets.
The Premium version includes integration with OpenAI ChatGPT, HTML Replies with Rich Text formatting options, Auto-Tagging and Assigning, Auto-Suggestion System, Triggers & Automation, Automated Emails, Bulk Edit & Merge Tickets, Agent Satisfaction Rating, and Customer Feedback Survey, and much more!
You are protected by our 30 Day Money Back Guarantee.
Each installation of the plugin will require a license key.
The license entitles 1 year of support & updates.
EasyPost charges are applicable.
100% Money Back Guarantee.
If you are not fully satisfied with our product, We do 30 days full refund. Learn more on Refund Policy.
ELEX WordPress HelpDesk & Customer Ticketing System Plugin (WSDesk | Free version) packs all the basic features required to set up online support which includes ticket creation & management, email piping, unlimited agents, unlimited tickets, customizable email reply, complete ticket history, file attachment to tickets and much more!
ELEX WordPress HelpDesk & Customer Ticketing System is a Simple and User-friendly WordPress Support Ticket System Plugin that would help you in managing your customer queries seamlessly. With this plugin, all your customer complaints turn into trackable support tickets, making your job effortless and swift.
Why choose ELEX WordPress HelpDesk & Customer Support Ticketing Plugin?
Offering excellent customer support is critical for the success of any organization. ELEX WordPress Helpdesk plugin has been designed keeping into consideration every issue we have faced in the process of finding the right support system for our website. Apart from being very easy to use, this plugin offers all the essential features required for a helpdesk system. It is light and AJAX-based, thus it won't interfere with your website's loading speed.
Unlimited Tickets & Agents
Create agent profiles and tickets without any limits. Handle unlimited tickets and create unlimited agent profiles at no cost in simple clicks.
Simple & Intuitive Interface
The AJAX-based design makes it easier for a support agent to use the whole interface without reloading the page. Ticket search and quick settings for tickets are some of the advantages with which you can make your customer service run quicker and smoother.
Custom Ticket Views
Create custom ticket views for easy access to Agents based on Agents, Ticket tags, Forwarded emails, Tickets received only through Form or Email, Emails, and much more.
Essential Triggers & Automation
Triggers are helpful for setting up automated actions based on conditions. Set a trigger to send an automatic email to the ticket assignee.

Email Piping
Convert your unread emails to tickets using IMAP or Google OAuth with the dedicated email address of your domain. You can delete emails after they are imported to the ELEX WordPress Helpdesk plugin. Create tickets directly through emails, and send ticket responses too via emails. Provide ticket status updates to customers through email as well.
Email Filtering and Blocking
Filter emails from spammers by blocking specific email IDs to send and receive emails.
Canned Responses & Rich Text
Make your replies much faster with a standard response for queries that are accessible to all support agents. WSDesk provides an option to create and save reply templates known as "Canned responses" for common queries. Also, Agents have various rich text formatting options while composing replies to the customer as QuillJS is integrated with WSDesk.
Detailed Visual Reports
Get performance reports for the last 7 days of agents and easily analyze how you can improve customer experience.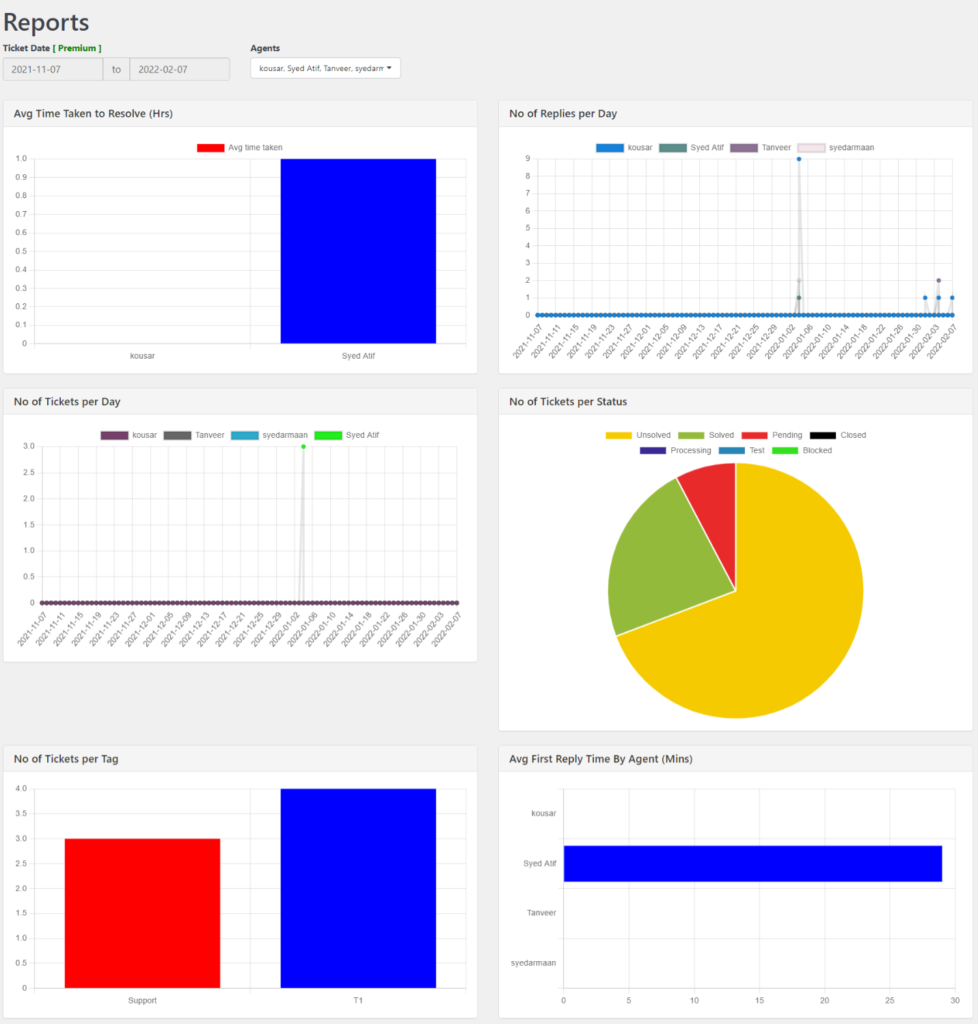 Agent Satisfaction Score
Analyze each agent's performance with the Satisfaction score. This score is calculated based on the Satisfaction survey that can be carried out with a simple trigger.
Attachment Support
Attach photos (jpg, jpeg, gif, png), documents (.doc, .docx, .csv, .pdf, .xls, .xlsx, .txt) and zip files to deal with customers in a better way. The basic version supports only a single attachment file.
Backup & Restore
Secure all tickets and settings information with easy backup to an XML file as well as restore data using an XML file. Retain all the tickets and your current WSDesk settings information while you are moving to a different domain.
Easy Digital Downloads (EDD) Integration
WSDesk can easily integrate with the Easy Digital Downloads (EDD) plugin. The products from your EDD store are automatically populated for creating ticket fields.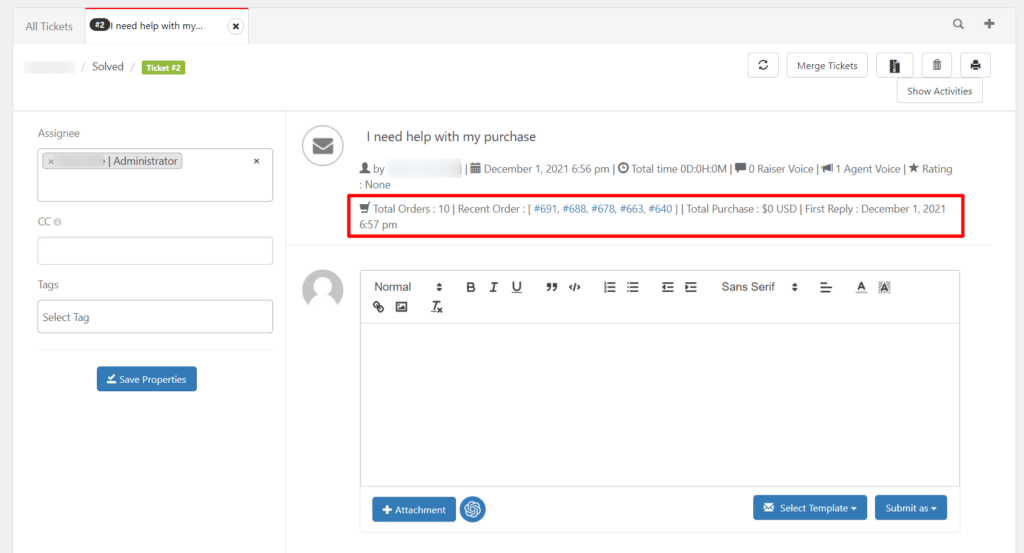 Seamlessly Integrated to WooCommerce
Retrieve the Total number of orders, Order number, and Total purchase price information in the ticket details of the customer by integrating with WooCommerce. The products from your WooCommerce store are automatically populated for creating ticket fields and for creating triggers. In addition to this, a separate tab is created for WooCommerce in the Reports dashboard, which shows tickets based on your products and their categories for the last seven days. In addition to this, a separate tab is created for WooCommerce in the Reports dashboard, which shows tickets based on your products and their categories for the last seven days.
Add Multiple IMAP Accounts
Add multiple IMAP accounts for converting emails into tickets when a customer sends the query to those email addresses.
Plugin Compatibility
ELEX WordPress HelpDesk & Customer Ticketing System (WSDesk | Free Version) plugin is compatible with
Plugins
Unlock Premium Version for More Advanced Features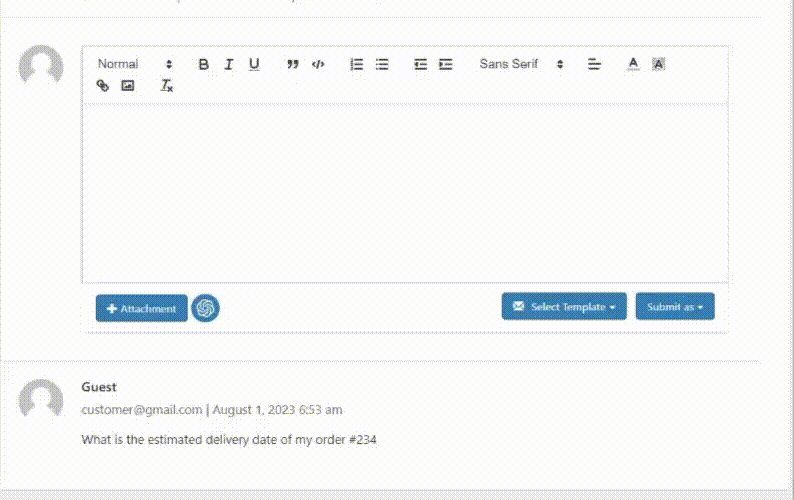 By Integrating OpenAI ChatGPT, You Can Send Automated Responses
Using AI in your help desk is a great way to boost client satisfaction. WSDesk's (premium version) polished responses from the help desk are guaranteed by its integration with OpenAI ChatGPT. It checks for spelling mistakes before responding to customers' inquiries, and converts the response text into a business tone, all while automatically generating smart and contextually relevant auto-responses.
Archive Tickets
Archive tickets and retrieve them as and when required in the future.
Restrict the Ticket Raisers
Configure who can raise tickets on your website by selecting registered users, guest users, or all users.
Auto Suggestions to Ticket Raisers for Quick Solutions
Provide auto-suggestions of support documents or articles to the customers when they are raising a ticket. If they find the answer from the resource, they will not raise the ticket!
Trigger Custom Messages to Agents via Google Chat
Keep your customer support team updated regarding all the tickets through Google Chat. A custom Google Chat message will be triggered to the agents from the Bot as instant alerts when a certain action takes place!
What is a Help Desk or Support Ticket System?
In customer service parlance, a ticketing system or support ticket system is software that takes all incoming customer support requests, creates a unique customer service ticket, and then routes it through a defined customer support process based on the SLA.
People call it different names such as Support Ticket System, Customer Support System, Service Desk, Support Ticketing System, IT help desk, or Support Desk Software. But ultimately, a help desk software typically allows the support team to manage, track, sort, and search for issues (user queries) making ticket management much easier for the agent to help the customer more quickly solve the issue to their satisfaction.
Why do you need a support ticket system to handle customer support?
Better customer experience starts with better help desk software. It can turn support tickets into amazing customer experiences. The helpdesk system enables support agents to track, prioritize, and solve customer support tickets. A great help desk is at the heart of great customer support.
Help desk software helps streamline customer support with time-saving tools like triggers and automation. It's intuitive and easy to use because it's built with both customers and support desk agents in mind. A help desk's shared inbox enables the support team to collaborate and resolve issues without worrying about overlapping or missing support requests. Every request sent to the support email becomes a ticket in the helpdesk. Support tickets can be easily categorized and prioritized and then assigned to the right people in the support team.
Issues such as multiple agents responding to the same ticket or missing some of the tickets are taken care of as each support agent can see who is working on what ticket and its status. It's time to get started with a customer support ticket system if you already don't have one.
Different types of support ticket systems
Web helpdesk software: Also referred to as cloud-hosted or software-as-a-service (SaaS), web helpdesk is hosted on the vendor's server. Customers need to pay a monthly subscription fee to use this kind of customer support system.
On-premise helpdesk software: An on-premise helpdesk system is a customer support system that is usually installed on its own server after buying a license. Such helpdesk systems usually involve a one-time setup fee and additional customization charges based on the requirement.
Enterprise helpdesk software: These are help desk software solutions with robust features, featuring advanced modules other than standard help desk features such as ticketing, time tracking, and knowledge base. Some enterprise helpdesk systems also include modules such as IT asset management, account management, service request management, and survey management.
Open-source helpdesk software: This is one of the popular helpdesk software types as some of these apps are offered for free.
Benefits of open-source helpdesk software
An open-source help desk allows developers to access its source code, as opposed to proprietary software. So, an open-source helpdesk can be modified or enhanced beyond the level of simple integration and adding plugins. Developers can add features or modify processes or fix bugs in the system.
ELEX WordPress Helpdesk plugin is an open-source support ticketing system that works with WordPress and WooCommerce. This is the best helpdesk software available for WordPress/WooCommerce platform if usability and customer support are considered. WSDesk is a complete in-house Customer Service ticket platform for WordPress, and I have used it for over 6 months now. I asked IT customer service, to implement custom code to integrate it further with Fluent Forms PRO across two domains. The support team and the technician have gone the extra mile to write custom code, and fix some of my accidental deletions of code, all this extra work for free. And WSDesk is only about US$90 per annum, much… Awesome support, awesome plugin, highly recommended, we are using the WSDesk for almost one year, we had a small problem and contacted the support they solved it in seconds, amazing team!!! Hi there, Just want to give the short review after using the WSDesk for several weeks. I've spend several weeks and tried about 8 support plugins to find the best possible plugin for the job. The WSDesk exceed my expectations and provide the solid foundation for the support on our website! What's really important for us is the fact that their support team is very responsive and willing to help with any request that we have. So I could highly… The plugin works really well. I had some issues with setting up and needed some help with this. The customer service is fast and managed to help me with all the issues I had. Great plugin! I've tried nearly every support plugin I could find and uninstalled them one by one when I found one problem after another. Then I came across WSDesk and it was like someone had created the perfect support plugin for my needs. I particularly like the excellence of the overall design, great usability, high coding quality and solid technical support. I had no hesitation in upgrading to the paid version and I expect it to be the technical support foundation of… I built my website. Attracted customers. Generated revenue. But I was struggling with the best way to provide online support/ticketing to my customers. I looked at several possible solutions before finding WSDesk. What a difference! Easy. Simple. Effective. And I'm thrilled with the support. I highly recommend you give WSDesk a try. You won't regret it. If you require a ticket support system to help your customers, then this is the MUST HAVE ticket system. We had a few bumps in the beginning, but with the help of WSDesk support team, we were able to get up and running in no time at all. Plus they quickly added a feature request that my department really needed to help support our customers. I highly recommend this plugin! The WSDesk product is fantastic, but the people behind it are excellent. They're able to provide speedy resolutions to niggly issues and all they ask in return is a great review: well here it is! 🙂 WSDesk is by far the best Helpdesk system for WordPress! I love the trigger & automation feature is super powerful! And the support is just awesome! Great product, exceptionally good, and friendly support! WSDesk is the right tool if you want to offer your customers professional support. The plugin is easy to install, configure and makes the support job much easier. The support of WSDesk is exceptionally fast and competent. Suggestions for further features are quickly recorded and, if they make sense, implemented just as quickly. WSDesk is highly recommended. As a thank you for the great service, I will help to translate the plugin into…
We only allow verified purchased customers to write reviews.
Frequently Asked Questions
Unlike other SaaS Cloud-based systems, never lose your flexibility and control over your data. All the data such as your tickets and settings are saved with you instead of third-party cloud storage. Also, ELEX WordPress HelpDesk & Customer Ticketing System is the only plugin that offers features such as email piping, email blocking, etc. free of cost.
You can go to the "My Account" section of the website and download the latest version from the "Downloads" tab.
After you have purchased the Premium plugin, you have to delete the basic version and then install the premium. Note that the settings in the basic version will not be impacted and the data will be retained.
Absolutely! ELEX WordPress HelpDesk & Customer Ticketing System provides seamless integration with WooCommerce.
ELEX WordPress HelpDesk & Customer Ticketing System enables you to view customer order summary, where the revenue generated by that customer is shown. Also, while adding products, all the products at your WooCommerce store will be automatically added to the list. It also offers WooCommerce Reports where you can easily see the top categories and top products of your store, based on previous sales analysis.
There is no trial period for our free versions. You have a lifetime of usage.
If you are facing any issues, you can raise a support ticket by choosing "Query Category" as "Issue with the Free Plugin". Our support team will contact you based on the priority.