Description
Description
Do you want to add DHL Shipping to your WooCommerce store? Struggling to show the WooCommerce DHL shipping option on your cart page? Want to know how to easily print DHL shipping labels from your WooCommerce Order's dashboard?
The ELEX WooCommerce DHL Shipping Plugin with Print Label allows store owners to easily access DHL shipping rates and print DHL shipping labels for DHL Express, DHL Paket, and DHL eCommerce. Also, we are an Official DHL Partner (known as XAdapter WooCommerce DHL Plugin), giving you another reason to trust this plugin for your WooCommerce DHL integration.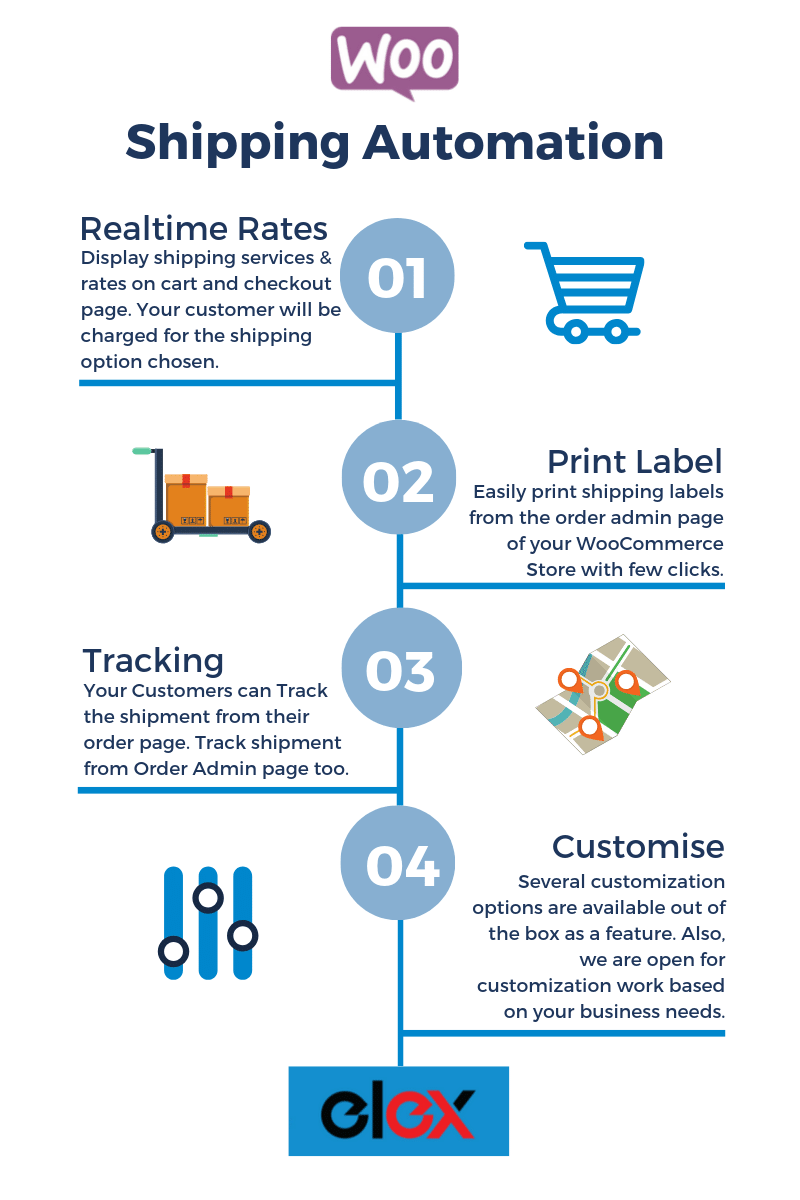 How does ELEX Shipping Plugins work?
1) Install the Plugin, input your DHL Account details and enable Real time rates, Shipping label, and Insurance.

2) The customer sees real time shipping rates provided by DHL, based on items in their cart before placing an order.

3) Pay Postage, Print Label and Generate Tracking info from within WooCommerce order page.

4) Customize the plugin using various settings options. Contact our support if you want to do custom work specific to your business need.
Top Features
Access DHL Shipping Rates
Based on the product weight, box dimensions, shipping destination, etc., this plugin fetches both DHL domestic and international shipping services. You can choose to return list rates or account/negotiated rates and also show the breakdown of each service with estimated delivery time, making it one of the best WooCommerce DHL plugin in the market. The plugin consists of DHL Express, DHL Paket, and DHL eCommerce shipping service. You can choose the desired shipping service based on your region to access the DHL shipping rates.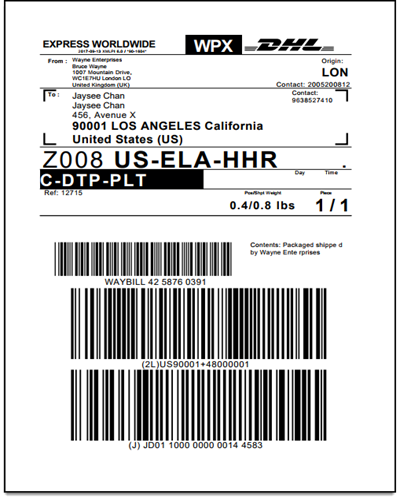 Print DHL Shipping Label
You can print your own shipping labels for DHL on your WooCommerce store. Shipment details would automatically be sent to the DHL Express account, and then the shipping label would be generated, which you can print. Postage is automatically paid on these labels using your DHL account. The plugin also provides store admin an option to change the shipping service before generating a label. This plugin integrates with DHL Express APIs to print domestic or international shipping labels with a tracking barcode. Although you can create shipments in bulk in the WooCommerce Orders Page, you can use the
bulk label printing add-on
to create multiple shipments at once as well as print them in a single PDF file.
Print DHL Return Labels
Just like printing Shipping labels, you can print DHL Return Shipping labels as well. If you have multiple items in a single order, you can choose the desired items to process return shipment. In addition to this, you can even configure custom shipping service for return shipments.
Print DHL Archive Air Waybills
A DHL Archive Air Waybill helps in services like ensuring package safety, customs clearance and works as a proof of consignment to track the shipment. You can choose to print either one or two archive documents. Once you have enabled the Archive Air Waybill setting, an Air Waybill will be attached with Shipping label as well as Return Shipping label.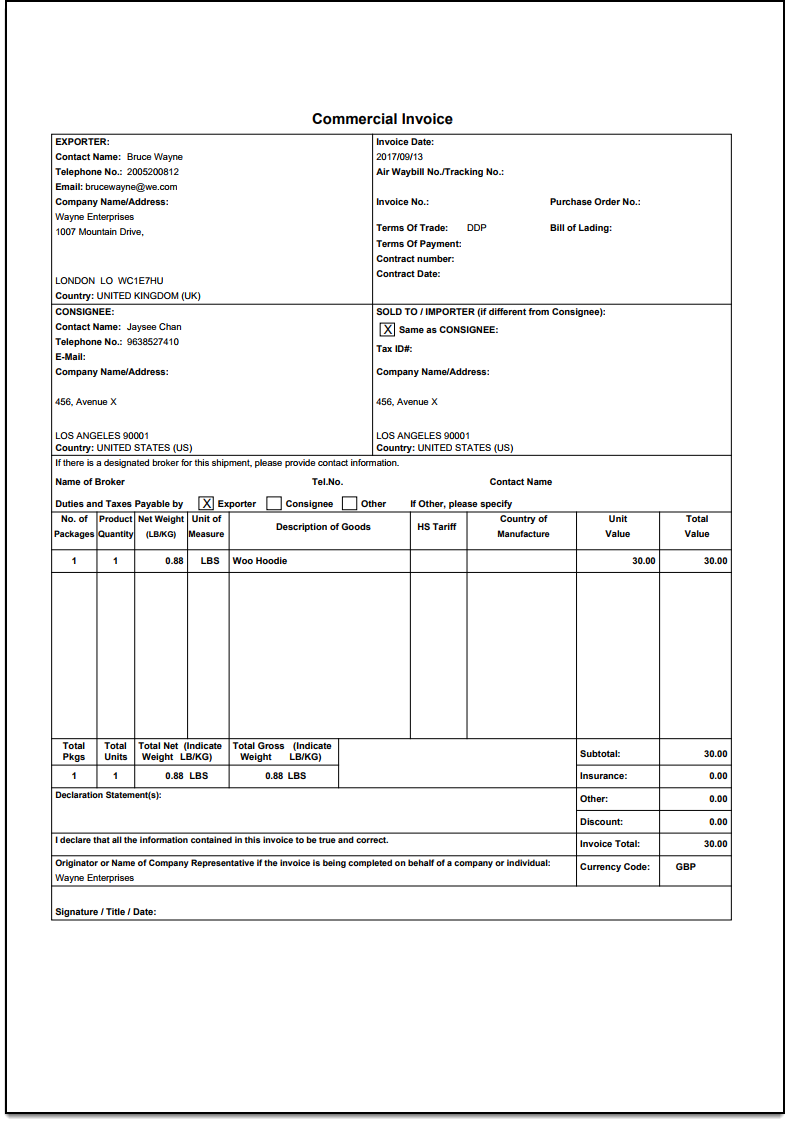 Print DHL Commercial Invoice
If you shipping internationally, your products have to face Customs clearance. In such cases, you can generate a Commercial Invoice for your package(s). You can go paperless with DHL Paperless Trade (PLT) feature. With this feature, you do not have to print physical copies of commercial invoices, rather the invoice information is sent to Customs via DHL. If you are sending domestic shipments to restricted areas like Military base, Airforce base, etc, you would need a commercial invoice too.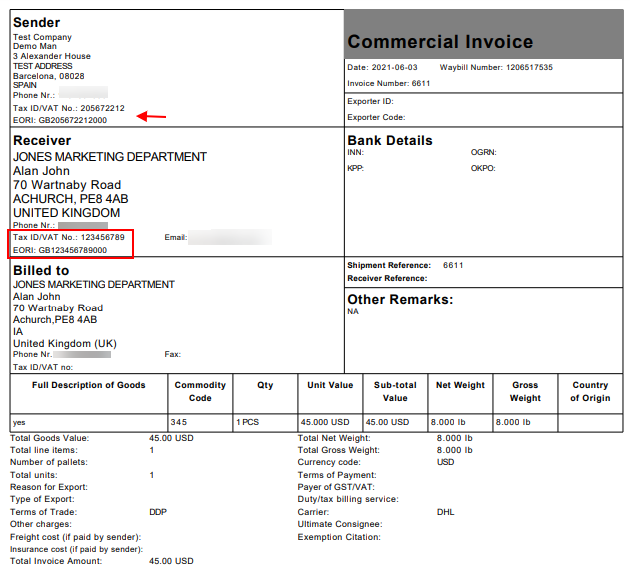 Compliance with EU Regulations
Create shipments to EU countries by adding yours and your shoppers' EORI and VAT numbers. These details will be added to the commercial invoice for authorized shipping to EU countries.
Add the Shipper Tax Registration Details for Seamless Shipments
Enter your shipper tax registration details to create shipments to New Zealand, Norway, Australia, and the EU countries barrier-free for your customers. These details will be added to the commercial invoice, which makes the customs process easier.
DHL Shipment Tracking
Store owners can track DHl shipments using the tracking number returned from DHL while generating the label. This tracking number would be added to order notes and will be sent as part of the order completion email. A visual representation of tracking status can be seen in the Order edit page by Admin and in Order's section of the customer's My-Account page. The tracking information shows the current status of the shipment in transit.
Parcel Packaging Options
Based on the weights and dimensions of the products in the cart, the rate will be calculated and applied to the final price of the order. Once the order is placed, the items will then be automatically packed into the configured boxes. You can choose from the following Packing options:
Individual Item Packing
Pack Into Custom Boxes with Weights and Dimensions
Weight-Based (You can pack heavier items first, lighter items first, or pack purely divided by weight)
Price Adjustments
Configure handling fees for each shipping service, in terms of amount or percentage value. A positive value results in markup, whereas negative value results in a discount.
Parcel Pickup Request
The plugin allows you to place a parcel pickup request to DHL while creating shipments. You can specify the desired pickup day, time, and contact details. After successfully placing the pickup request, the store owner will get a unique booking number.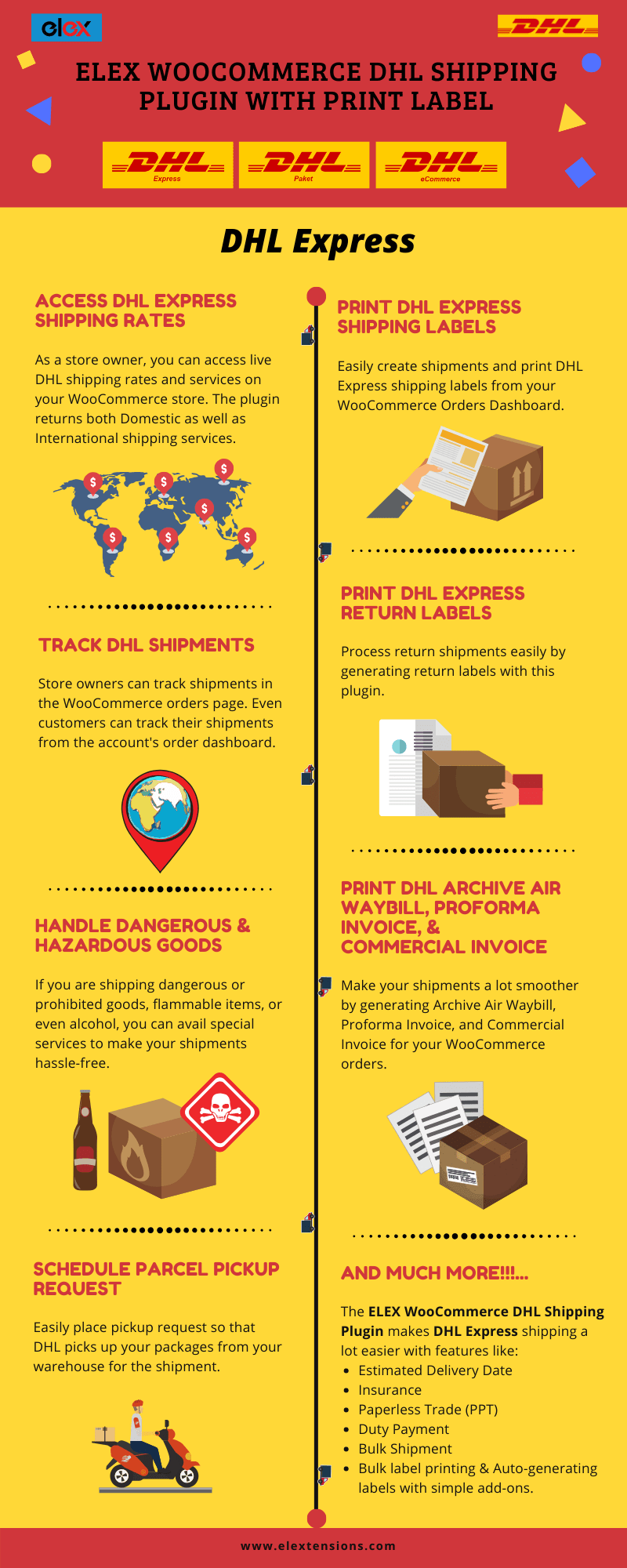 DHL Express
In addition to DHL shipping rates, label printing, and shipment tracking, DHL Express comprises of the following:
DHL Shipping Price Calculator: Get prices for following domestic and international shipping services.

DOMESTIC EXPRESS 12:00
B2C
JETLINE
SPRINTLINE
EXPRESS EASY
EXPRESS EASY
EUROPACK
AUTO REVERSALS
BREAKBULK EXPRESS
MEDICAL EXPRESS
EXPRESS WORLDWIDE
EXPRESS 9:00
FREIGHT WORLDWIDE
DOMESTIC ECONOMY SELECT
ECONOMY SELECT
DOMESTIC EXPRESS 9:00
JUMBO BOX
EXPRESS 9:00
EXPRESS 10:30
EXPRESS 10:30
DOMESTIC EXPRESS
DOMESTIC EXPRESS 10:30
EXPRESS WORLDWIDE
MEDICAL EXPRESS
GLOBALMAIL BUSINESS
SAME DAY
EXPRESS 12:00
EXPRESS WORLDWIDE
EUROPACK
ECONOMY SELECT
EXPRESS ENVELOPE
EXPRESS 12:00

Return Label: Just like shipment labels, you can generate DHL Express return labels as well. This option is available in edit order page. You can set custom package, and choose different service for return shipment.
Archive Air Waybill: For package safety and custom clearance purposes, you can request a DHL waybill. An airway bill gives you proof of consignment with a unique number, which you can use on DHL's website to track the shipment.
Commercial Invoice: A commercial invoice is generated as a receipt as soon as Paperless trade is initiated.
Box Packing: Box packing with DHL boxes and custom boxes. Pack items individually or using the built-in box packer.

BIG BOX
SMALL BOX
BRIEFCASE BOX
EXPRESS EASY BOX 1
EXPRESS EASY BOX 2
EXPRESS EASY BOX 3
EXPRESS EASY BOX 4
EXPRESS EASY BOX 5
EXPRESS EASY BOX 6
EXPRESS EASY BOX 7
EXPRESS EASY BOX 8
JUMBO BOX 5
JUMBO BOX 8
EXPRESS PALLET
SNAP BOX
LARGE SNAP BOX
Print DHL Express shipping labels in Bulk
With the help of
DHL Express Bulk Label Printing Add-On
, you can generate DHL shipping labels in bulk and download them in a single PDF file. You can bulk print labels using WooCommerce Order IDs or Order date range. This saves a lot of your time on printing labels one at a time.
Auto-generate and email your DHL Shipping labels & Return labels
The
DHL Express Auto-generate and Email labels Add-On
makes your label generation task easier by automatically creating shipments, generating DHL labels, and sending an email notification with the shipping label, for you and your customers. This saves your time on manually generating shipping labels and providing a seamless WooCommerce DHL integration. Similarly, you can generate and email DHL Express return labels as well.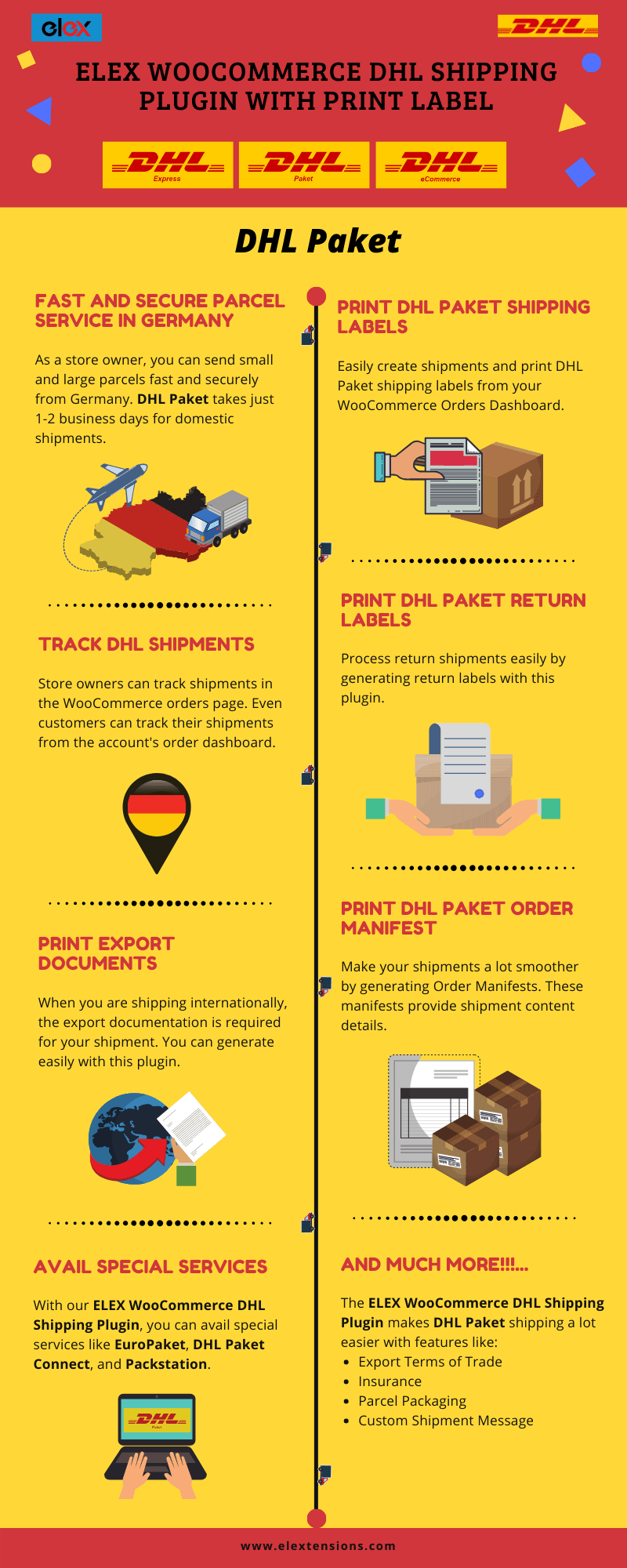 DHL Paket
In addition to label printing and shipment tracking, DHL Paket comprises of the following:
DHL Europaket Compatibility: The plugin is compatible with DHL Europaket. DHL Europaket is tailor-made for business-to-business parcel shipping – fast, reliable delivery to 27 European countries.
Packstation Compatibility: Enables your customers to drop off their packages at the nearest store.
Create Manifest: Generate manifest by providing the start and end date.
Return Label: Generate and print DHL Paket return labels for your shipments.
Bulk Creation/Deletion of shipments: You can create shipments in bulk using the plugin and easily print the labels from the order overview page in WooCommerce.
DHL Paket Domestic Shipping: The following domestic services are supported -

Delivery on Time
Delivery Early
Express 09:00
Express 10:00
Express 12:00
Delivery Afternoon
Delivery Evening
Express Saturday

Box Packing: Based on the weight and size of the items in the order, a packing box is selected from predefined box sizes available for DHL Paket. The following boxes are available by default -

Päckchen XS
Päckchen S
Paket S
Paket M
Paket L
Paket XL
Reisegepäck
DHL eCommerce
In addition to live shipping rates, label printing and shipment tracking, DHL eCommerce comprises of the following:
Diverse Range of Services: The following services, along with a few more, are included:

DHL GM Business Priority
DHL GM Business Standard
DHL Parcel International Standard
DHL Parcel International Direct
DHL GM Publication Priority
DHL GM Publication Standard
SM Marketing Parcel Ground
DHL SM Parcel Plus Expedited
DHL SM Parcel Plus Ground
DHL SM Parcel Expedited
DHL SM Parcel Ground
DHL SM Parcel Return Light
DHL DHL SM Parcel Return Plus
DHL DHL SM Parcel Return Ground
DHL DHL SM Parcel Expedited Max

Box Packing: Based on the weight and size of the items in the order, a packing box is selected from predefined box sizes available for DHL eCommerce.
Shipment Contents Description: The plugin provides an option to include a description for the contents of your shipment.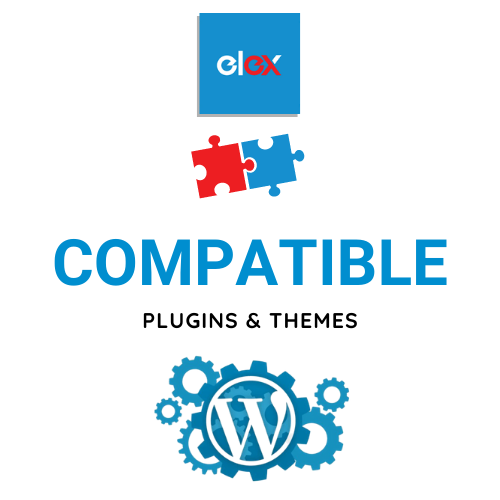 Plugin Compatibility
Top Testimonials
This is one of the most complete and refined plugin the we have in our online store. I found this solution by way of the review on google and now I'm leaving my own that hopefully also help others.If you ever name "Lorenzo Marak" popup in your inbox, know that you problem is solved! the man has too much class and manage the plugin to the smallest of details which guarantee a short time frame for your store be up and running an case of any issue after you purchase the plugin.But things doesn't end there; I ask DHL regarding the API access and they gave me the green light with this plugin, which made me more confident about my purchase and support.Overall great experience and thank you so much once again Mr. Lorenzo.Ruben.
The support was fantastic, the localization is a bit confusing. I would wish there was an option to use the plugin in english. 🙂 Can recommend.
This plugin helped me centralise everything on my webshop and eliminated the need to go to MyDHL page to ship items, which saves a lot of time. Add to that automatic price calculation and you got yourself a great plugin for your business 🙂
What is DHL Express?
The DHL Express is one of the premier shipping services DHL shipping carrier. It allows you to send your parcels all around the world. It helps in domestic as well as international shipping.
The ELEX WooCommerce DHL Shipping Plugin with Print Label is a WordPress/WooCommerce extension that helps you display DHL shipping rates on the cart and checkout pages, print labels from within WooCommerce, pack items automatically into boxes, and track DHL shipment.
This plugin is Verified by DHL International (UK) Ltd. This plugin will work in all countries where DHL Express service is available.
What is DHL Paket?
DHL Paket is a special service from DHL that allows you to send small and large parcels fast and securely within Germany. It is a fast delivery service that takes approximately 1-2 business days, provides insurance coverage up to 500 euros, provides DHL shipment tracking online, and includes climate-friendly shipping.
The ELEX WooCommerce DHL Paket Shipping (Versand) Plugin allows you to pay postage and print label using DHL Paket, from an order view page in the WordPress Admin. If you also need the shipping rates to be shown on the checkout page, you may need to set the weight and zone-based rates manually. For this, you can make use of DHL Express or any other weight-based shipping solution.
This plugin has been Approved by DHL Paket Quality Control and allocated an official App Id for integration. The DHL business customer shipping API permits the management of shipments and the online purchase of postage and is typically aimed at senders with a volume of more than 200 shipments per year. For DHL business customers who do not have a DHL business customer account (EXP), and who have a shipment volume less than 200 shipments per year, shipping documents are created via the private customer shipping API.
The business customer shipping API takes care of:
The preparation of shipping documents for national and international shipping.
Creation of export documents.
Booking or cancellation of a pick-up request for a shipment from any point of origin and delivery to any destination location.
Retrieval of labels.
All operations apart from those required for booking and canceling pick-ups are available for the following shipping types: Day Definite (DD) and Time Definite (TD).
What is DHL eCommerce?
Looking for standard domestic and international parcel pick-up, delivery and return solutions for business customers as well as e-commerce logistics and facilitation services? Here is the solution! DHL eCommerce offers all this and more!
FREQUENTLY ASKED QUESTIONS
What happens when the one year license expires?
After the plugin's one year license expires, the plugin will continue to work as usual, but the download permission will be revoked. So, the updates for the plugin will stop.
Will the plugin work in my country?
DHL Express module will work if your country has the DHL Express service. You can contact DHL Express team and open an account and get the API credentials from them.
But the DHL Paket module works only in Germany, and the DHL Ecommerce works only in the USA.
Does the plugin get the account specific shipping rates from my DHL express agreement?
Yes, the plugin is capable of retrieving your account-specific rates.
Can I show live DHL shipping rates in my shop?
Yes, the DHL Express and DHL Ecommerce have the option to show live shipping rates. But the DHL Paket does not have the option since its API does not provide the rate request to access the live shipping rates.
Is this compatible with a Multi-Vendor plugin?
Will the tracking information be sent to the customer once the label is generated?
Yes. Once the labels are generated, you need to mark the order status as 'Completed'. Also, make sure you have enabled order completion email in the WooCommerce setting.
Would like to clarify if this means $79 yearly to use this plugin? Are real-time rates the only feature available for free?
Yes, the $79 fee is a first-time purchase rate. After a year, if you wish to get the plugin updates, you may repurchase the plugin. But the existing premium plugin will still work finely without any issues. This means both labels and rates feature will work unless your WooCommerce version requires the plugin update.
Can I create Return shipment with this plugin?
Yes, you can create Return shipment if you have enabled return shipment option in the plugin settings. Once you create a shipment, you get the option to create return shipment as well.
Does DHL deliver on Saturday? If yes, how can I configure with your WooCommerce DHL plugin?
Yes, DHL does provide Saturday delivery and you can easily configure it with our WooCommerce DHL plugin on your store. You can read this article to know how.
Do you support 6x4 PDF labels?
Yes, we do. There are a number of other formats which the plugin supports, including 8×4, ZPL, & EPL. 
Does my store need to be in dollars by default for your plugin to work, or can I have it as my country's primary currency, which is South African Rands?
No. It is best to have the country's currency as shop's base currency since it makes fewer complications when it comes to currency conversions. The plugin will work fine with US Dollars too.
Can I bulk print labels?
Although this plugin allows you to create shipments in bulk in the WooCommerce Orders page, we recommend using our bulk label printing add-on, as it creates multiple shipments at once and prints all the shipping labels in a single PDF file.
My packages are getting held at Customs? Can this plugin help me with processing Customs?
Yes, the plugin allows store owners to provide product information that are needed for a smooth Customs processing. This information will also be printed on the shipping documents. Read more…
Can this plugin help me track DHL shipments?
Yes, the plugin is capable of DHL Tracking facility, where the store admin as well as customers can track their packages. Read more…
Can I add some extra days to show the estimated delivery date to customers on my website?

Yes, you can add some additional days on the estimated delivery date field based on your requirement in the plugin dashboard.
Can I restrict the shipping services based on conditions?

Does the plugin provide the shipment receipt?
The DHL web services do not provide shipment receipt. We have confirmed with the DHL team that you don't require it if you're creating shipment labels using the plugin.
Will DHL come and pick up the shipment once the labels are generated?
Yes, you can create a pickup request. Once you generate the labels, you need to enable the pickup option in the plugin settings, under the "Label and Tracking' tab.
Make sure you enter the time format in 24hours (like 14:00).
Do DHL Paket and DHL Ecommerce have rate quote option?
Unfortunately, the DHL Paket and DHL Ecommerce API do not provide the rate quote option. You can only print the shipping labels and the manifest. To show rates in the front end, you'll have to use some flat rate, table rate shipping option, or use DHL Express.
Does your plugin support DHL connect service?
Yes, the plugin supports DHL connect. You can enable that service in the plugin settings towards the bottom of the page.
Is it possible to charge the customer, an additional fee for Insurance using your DHL Express plugin?
Yes. The plugin has a setting to enable this.
Is it possible to restrict the DHL insurance option on the checkout page only for specific countries?
Yes. The plugin has a setting to restrict DHL insurance option only for those specific countries you want. 
I want to display an estimated delivery time for each DHL Express services offered to the customer. Is it possible?
Yes. The plugin has a setting to enable this.
Is it possible to turn off the breakdown charges displayed on cart/checkout page along with each DHL Express Shipping Services?
Yes. The plugin has a setting to turn this off.
What is DHL Express Paperless Trade?
DHL's Paperless Trade service allows you to electronically transmit commercial and proforma invoices, eliminating the need to print and physically attach them to your shipments. Moreover, it saves your valuable time when preparing your shipments. Our plugin has an option to enable it and when it is activated a receipt will be generated for the commercial invoice to customers.
What is DHL Express Archive Air Waybill?
The Waybill is a shipping document that helps to ensure package safety, customs clearance, etc., and works as a proof of consignment to track the shipment. Our DHL plugin has an option to generate a waybill with every shipment label created.
Few of the products I ship through DHL Express are classified as Dangerous Goods. So, a compliance warning should be displayed on the Shipping Label. Is it possible using your plugin?
Yes! You can enable 'Special Service' under Shipping settings tab of individual product page settings. Once this setting is enabled, a compliance warning will be displayed on the DHL labels.
Is it possible to set my company logo on Shipment Labels and Return Labels?
Can I enforce Customer Signature upon delivery of the shipment?
Yes. Our DHL Express plugin has an option which allows you to select the various signature options for delivery of the shipments.
Is ELEX DHL Plugin compatible with Composite Products?
Yes. Our DHL Express plugin is compatible with Simple, Variable &Composite products.
Can I bulk print labels?
Although this plugin allows you to create shipments in bulk in the WooCommerce Orders page, we recommend using our bulk label printing add-on, as it creates multiple shipments at once and prints all the shipping labels in a single PDF file.
What are the maximum allowed dimensions for DHL Paket?

The maximum allowed dimensions of DHL Paket is 120 X 60 X 60 cm.
Does this plugin comply with recent EU regulations?

Yes, this plugin complies with VAT 22, Brexit, ICS2 changes, and completely follows EU regulations.