ELEX WooCommerce Australia Post Shipping Plugin with Print Label & Tracking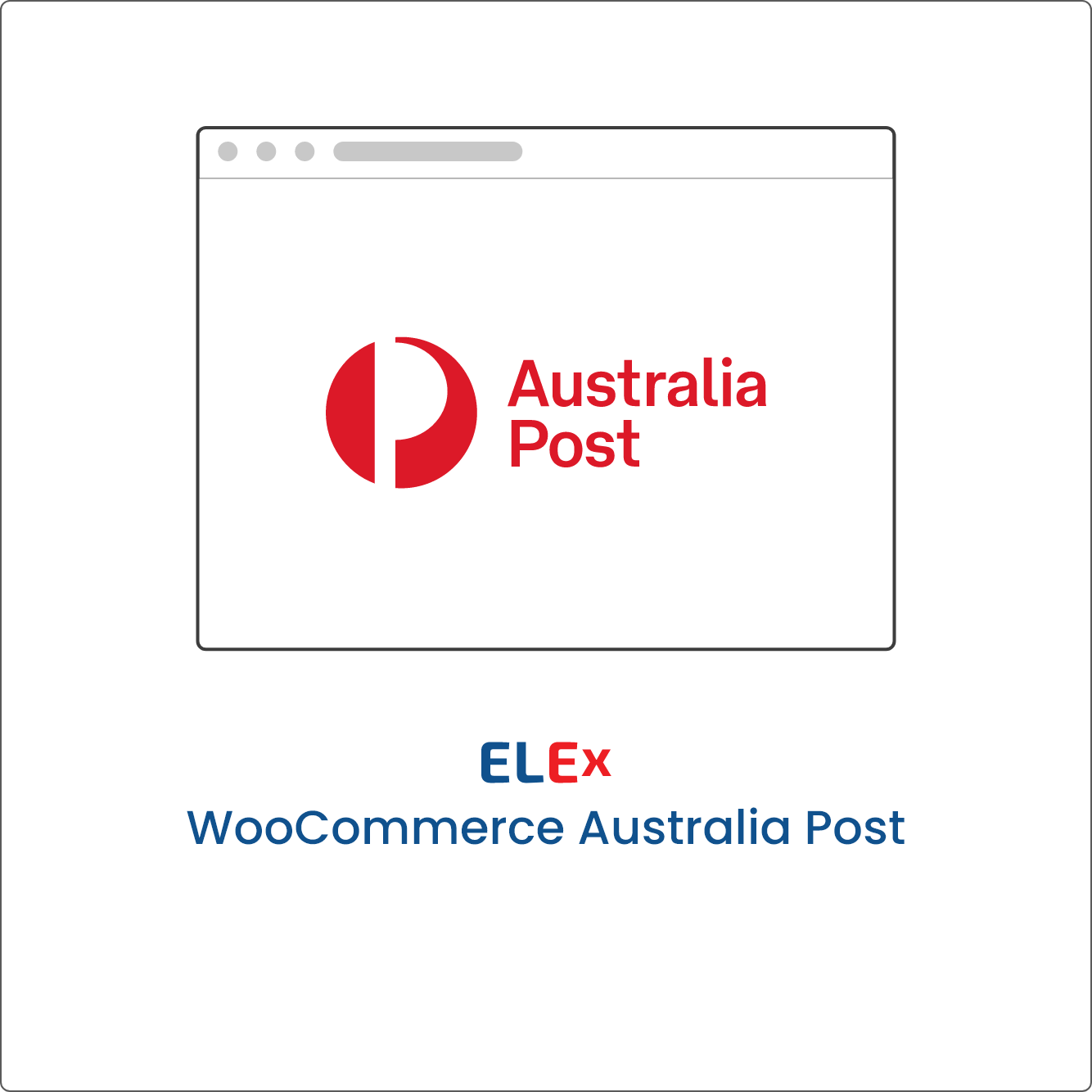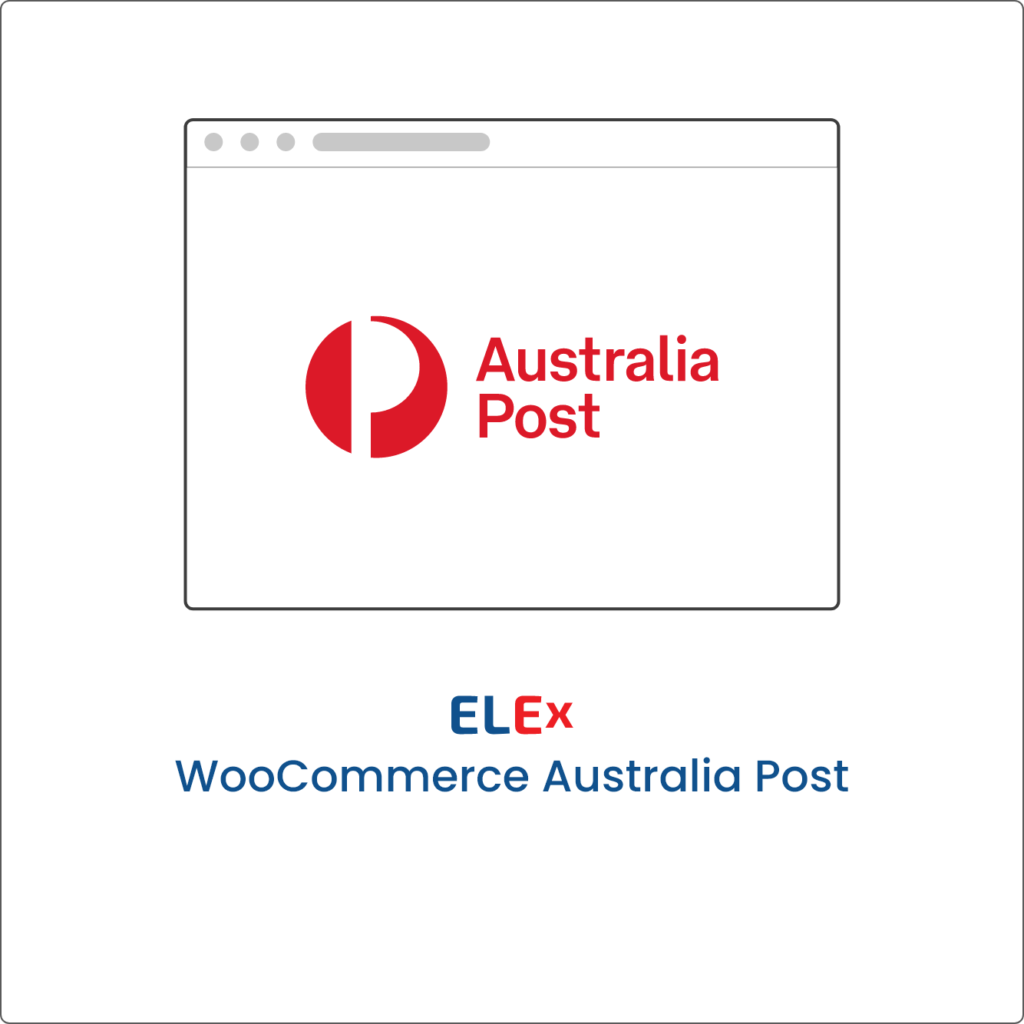 With ELEX WooCommerce Australia Post plugin, you can offer real-time rates for Australia Post services including eParcel, StarTrack Courier, and MyPost Business.
You can also create and print shipping labels with ease, track shipments in real-time, and set up customized box packaging methods for the shipments to ensure that your customers receive their orders in perfect condition and on time.
Developed by ELEXtensions; an Official Australia Post eCommerce Platform Partner!
100% Money Back Guarantee.
You are protected by our 30 Day Money Back Guarantee. The license entitles 1 year of support & updates.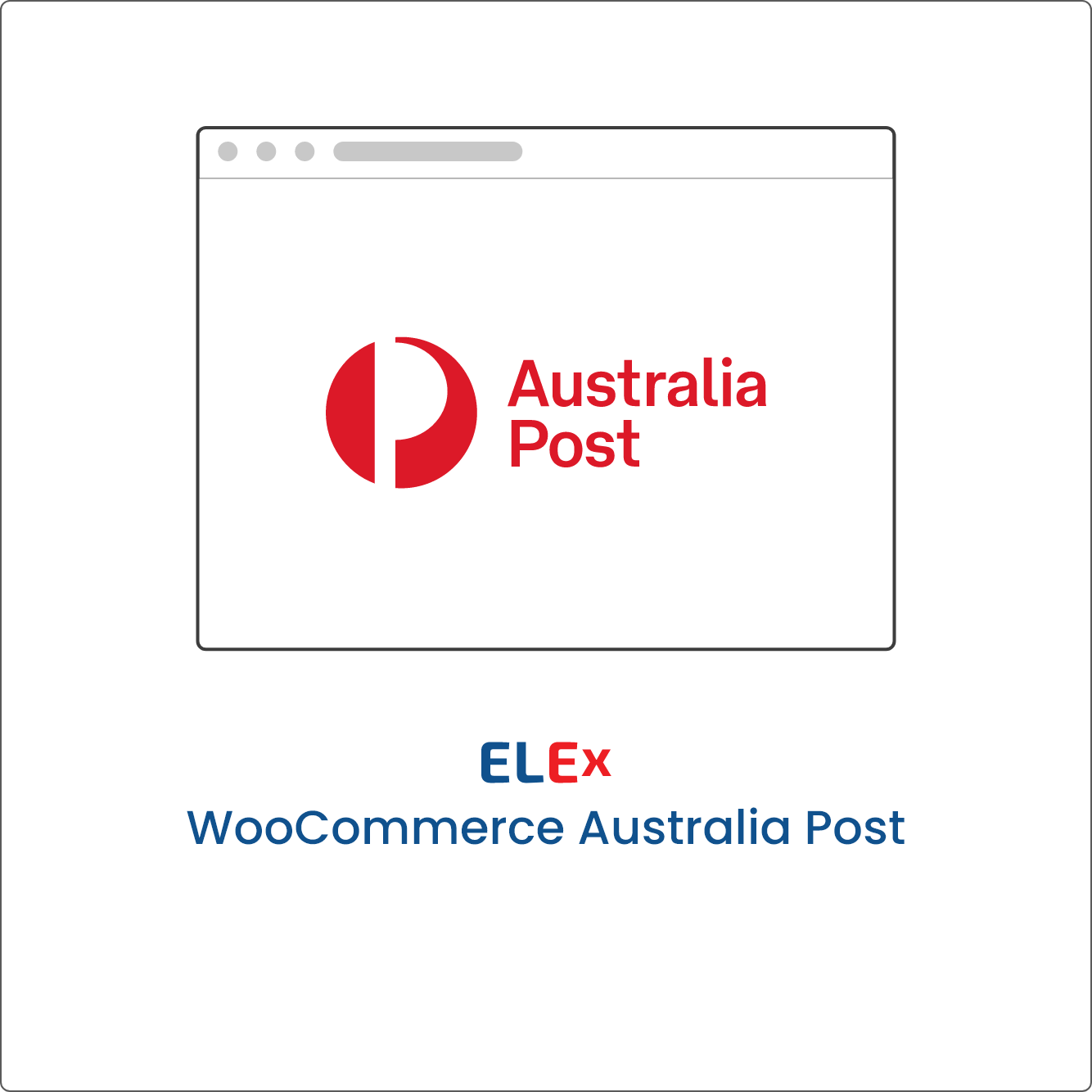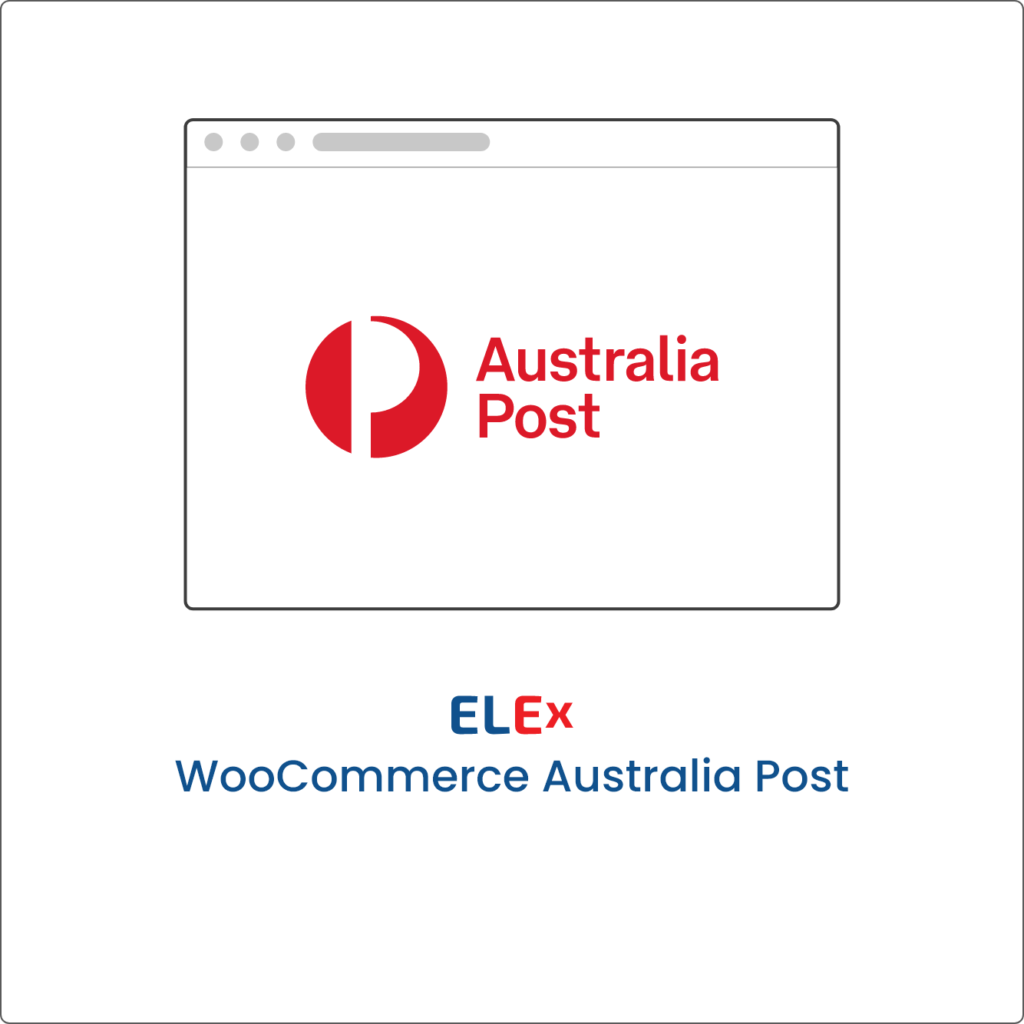 You are protected by our 30 Day Money Back Guarantee.
Each installation of the plugin will require a license key.
The license entitles 1 year of support & updates.
100% Money Back Guarantee.
If you are not fully satisfied with our product, We do 30 days full refund. Learn more on Refund Policy.
Integrate Australia Post with WooCommerce
Are you looking for the easiest & most efficient way to integrate Australia Post eParcel, StarTrack Courier, and MyPost Business with your WooCommerce shopping cart? Here is the solution from ELEXtensions, an Official Australia Post eCommerce Platform Partner! Using this plugin, shop owners can easily integrate Australia Post with their WooCommerce Store and Print Australia Post Shipping Labels.
ELEX WooCommerce Australia Post Shipping Plugin with Print Label & Tracking is a WordPress/WooCommerce extension that helps you to automate Australia Post shipping by displaying shipping rates on the cart/checkout page, tracking shipments from within WooCommerce, packing items automatically into boxes and printing shipping labels. These and more features make this plugin the most functional Australia Post shipping calculator for WooCommerce.
How does this Plugin Work?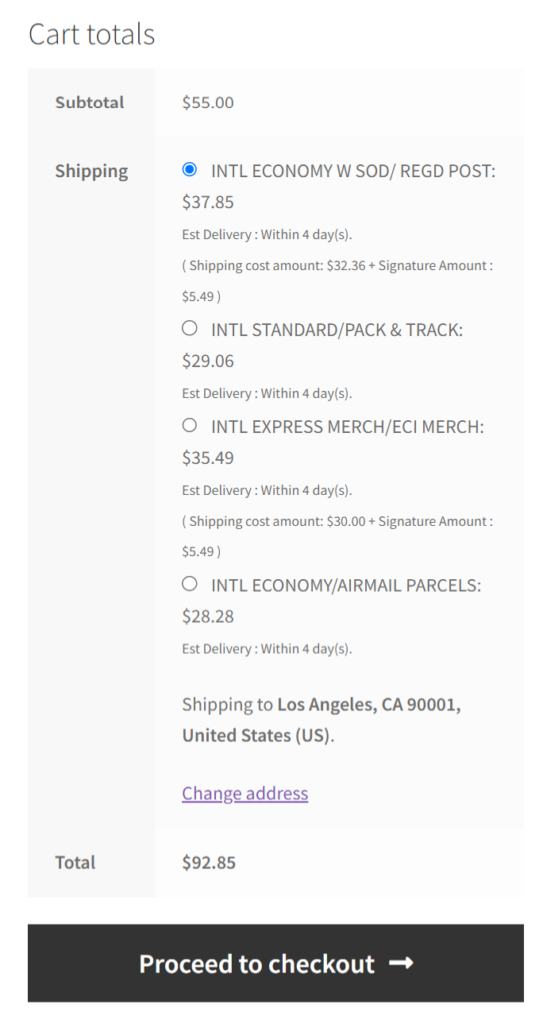 Live Shipping Rate
Based on the product weight, box dimensions, shipping destination, etc., this plugin fetches Australia Post postage rates for both domestic and international shipping services. If you have a Contracted account, you can choose to access only contracted services.
Estimated Delivery Date
Display the estimated delivery date along with different services on the checkout page, based on your business working days, cut-off time, and the lead time for proceeding with the shipment on the same day. If the order is received after the cut-off time, it will be shipped based on the next working day.
Print eParcel Shipping Label (for Contracted Rates)
Print Australia Post eParcel shipping labels, both domestic & international from within WooCommerce.
After logging in to the WordPress admin area, you can create a shipment by clicking the 'Create shipment' button on the right-hand side of the order details page. Shipment details would automatically be sent to the Australia Post online account, and then the shipping label would be generated, which you can print.
Although you can create shipments in bulk on the WooCommerce Orders Page, you can use the bulk label printing add-on to create multiple shipments at once as well as print them in a single PDF file.
Postage is automatically paid on these labels using your Australia Post account. The plugin prints shipping labels with a tracking barcode. You should know that the printing shipping label is only available for Contracted accounts.
eParcel International Shipping Documents
International shipping document contains four labels – One to attach to the item, one Australia Post copy, one Customs copy, and one for Sender.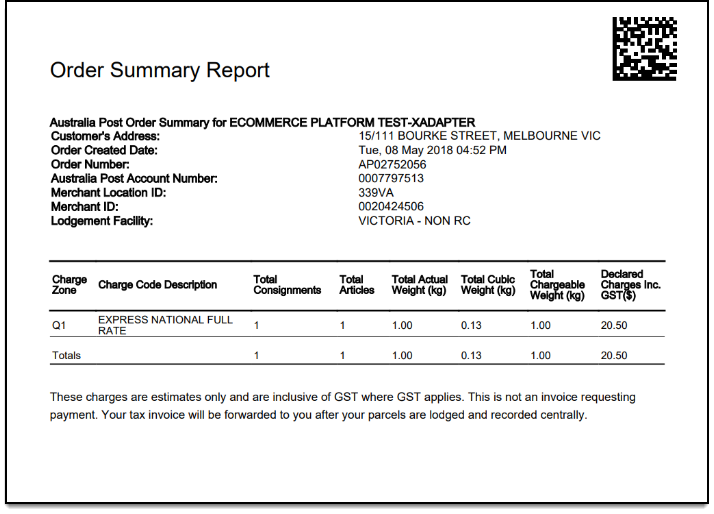 Order Summary / Manifest
Once the shipments are created, you can easily generate an Order Summary / Shipping Manifest for the desired orders. This Manifest is basically used for Customs purposes while shipping globally. A single manifest can be generated for the group of Shipments happening on a particular day.
Parcel Packaging Options
Based on the weights and dimensions of the products in the cart, the rate will be calculated and applied to the final price of the order. Once the order is placed, the items will then be automatically packed into the configured boxes.
You can choose from the following Packing options:
Individual Item Packing
Pack Into Custom Boxes with Weights and Dimensions
Weight-Based (Based on the maximum weight of the package)
Offer Best Price for Multiple Purchases with Group Shipping
Group Shipping allows offering the best price to customers when he or she purchases multiple products and chooses to pack the products individually.
Australia Post eParcel Services
The plugin uses 
Australia Post eParcel service
for contracted rates. The eParcel service is popular for its flexibility, efficiency, safety, and cost-effectiveness. Australia Post offers discounted rates for eParcel account holders. If you are shipping both domestic and internationally, you can opt for eParcel service.
Australia Post StarTrack Service
The Australia Post StarTrack service mainly focuses on domestic regions of Australia. You can access following StarTrack services for real-time rates, with this plugin:
PREMIUM
1,3 & 5KG FIXED PRICE PREMIUM
EXPRESS
Australia Post MyPost Business Service
MyPost Business is a courier service offered by Australia Post that offers a customized way for your company to send packages. It is most appropriate for businesses that send fewer than 2,000 parcels per year. If you send more than 2000 shipments each year, the Australia Post eParcel courier is a smarter choice. With 
MyPost Business
, the more packages you ship, the more money you save on postage. There is no requirement to guarantee a minimum or consistent amount of packages, which is why new and growing eCommerce businesses benefit from MyPost's volume-based rates and discounts.
Australia Post StarTrack Shipping Labels
You can generate shipping labels for the orders placed using StarTrack services. You can also select the desired shipping service while creating the shipment.
Australia Post MyPost Business Shipping Labels
Shipping labels can be generated for orders placed using MyPost Business services. While creating the shipment, you may also choose the shipping provider you want. The plugin also has the ability to generate MyPost Business shipments in bulk.
Add Import Reference Number for Seamless Shipments
Enter your import reference number to create shipments to EU countries barrier-free for your customers. This number will be added to the shipping label, which makes the customs process easier.
Australia Post Services for Real-time rates
You can access the following Australia Post Services:
Australia Post Domestic Services –
Regular / Parcel Post
Express Post
Courier Post
EXPRESS POST
PARCEL POST W/SIGNATURE
EXPRESS POST W/SIGNATURE
PARCEL POST + SIGNATURE
EXPRESS POST + SIGNATURE
EXPRESS POST SATCHELS
PARCEL POST + SIGNATURE
EXPRESS POST + SIGNATURE
NATIONAL FULL RATE
EXPRESS NATIONAL FULL RATE
Australia Post International Services
PACK & TRACK INT'L 8
International Post Courier
International Post Express
International Post Standard
International Post Economy Air
International Letter Courier
International Letter Express
International Letter Registered Post DL
International Letter Registered Post B4
International Letter Economy Air
REGISTERED POST INT'L 8
EXPRESS COURIER INT'L MERCH 8Z
INTERNATIONAL AIRMAIL 8Z
EXPRESS COURIER INT'L DOC 8
Print Shipping Labels in Bulk
With the help of our 
Australia Post Bulk Label Printing Add-On
, you can generate shipping labels in bulk and download them in a single PDF file. You can bulk print labels using WooCommerce Order IDs or Order date range. This saves a lot of your time on printing labels one at a time.
Auto-generate and Email your Shipping Labels


Print Return Labels
The 
ELEX WooCommerce Australia Post Return Label Add-On
 lets you generate return labels separately for individual items for 
Australia Post
 and 
StarTrack
services. With this extension, you will be able to choose a return shipping service before proceeding to generate the return label. Additionally, it allows you to add a custom new return address rather than the default shipper address.
Plugin Compatibility
All the ELEXtensions plugins are developed on the same framework. This makes them fully compatible with all our plugins. You may combine them together to get a better, more powerful & complete solution for your business.
We are doing our best to make them compatible with the other most popular plugins on the market. Great product, so well supported, and does exactly what it says. the support team took the time to help me set up the free version and trial it ahead of purchasing the full version. They even went as far as debugging the app on my site to address compatibility issues. You couldn't ask for more 🙂 Love the plugin, provides us with absolutely everything we need for our customers, both domestic and international. The biggest bonus for us is that it covers both parcel and letter rates, which gives us the flexibility we need to ship our product in various sized options for customers. Support is second to none. Prompt and professional! No hesitation at all in recommending it! The ALL TIME best plugins for shipping within Australia. I have now purchased 2 plugins from ELEXtensions (DHL & Australia Post) and the support has been amazing. The label printing feature for both DHL and Australia Post shipments has saved our staff hours of time! The support is above and beyond what you would expect from a WordPress plugin – their response time for any issues is outstanding. Couldn't have done it without you. Keep up the good work, I… This has been a brilliant plug-in to automate our shipping, along with their plug-in to hide certain shipping options for different scenarios, and the aftercare support is super impressive This plugin is easy to use and setup. There after sales support is exceptional, I would recommend this plugin for anyone wanting to link their woocommerce site to Australia Post.
We only allow verified purchased customers to write reviews.
Frequently Asked Questions
After the plugin's one year license expires, the plugin will continue to work as usual, but the download permission will be revoked. So, the updates for the plugin will stop.
Yes. Once the labels are generated you need to mark the order as completed. The tracking information will be sent to the customer. Make sure you have enabled the email service enabled in the WooCommerce settings for order completion.
Yes, you can use weight-based packing. But all products need to have weight and dimension in them since the API require at least two package dimension to be over 5cm.
Yes, you can disable the real-time rates option in the plugin settings and use the plugin only to create shipment labels. But make sure the order has some shipping option already selected in the order and the products need to have weight and dimension.
No. The Australia Post service works only if the 'ship from address' is Australia (AU). It will not work if you have a ship-from address outside of Australia.
Supported layouts include A4 & Thermal Label.
Yes, to use Eparcel or Startrack services, you need to have a contracted account with Australia Post. Our plugin is now compatible with MyPost Business. Also, If you have a non-contracted account with Eparcel, you can use the Real-time rates functionality with this plugin. In case you do not have a contracted account, you can use MyPost Business with a business account that needs to be added to the ReachShip dashboard.
Yes, you can choose to print manifest in the WooCommerce menu and choose the date for which you want to print the manifest.
No. The Satchel rates option is available only for non-contracted users by AusPost API and to print the labels you need to have a contract account. 
Yes, we have added the Extra Cover option to choose the insurance option as well as the signature option on the shop's checkout page. The customers can then choose to include those options at extra cost.
We have a field to enter the HS Tariff code on individual product pages. Shop owners can enter & save the HS number of the product so that international shipments are processed smoothly.
Yes, this plugin complies with IOSS and completely follows EU regulations.