ELEX WooCommerce DHL Express / eCommerce / Paket Shipping Plugin with Print Label (Free)
With this plugin, you can provide real-time rates for the DHL Express service.
The Premium version includes DHL Paket and DHL eCommerce shipping options. Also, you can print shipping labels, track shipments, and customize box packaging methods for the shipments, in addition to various other customizations.
You are protected by our 30 Day Money Back Guarantee.
Each installation of the plugin will require a license key.
The license entitles 1 year of support & updates.
EasyPost charges are applicable.
100% Money Back Guarantee.
If you are not fully satisfied with our product, We do 30 days full refund. Learn more on Refund Policy.
If you are looking to access DHL Express real-time rates on your WooCommerce store, here's a free WooCommerce plugin for you!
The ELEX WooCommerce DHL Express / eCommerce / Paket Shipping Plugin with Print Label (Free Version) helps WooCommerce-based stores to streamline DHL Express shipping integration. This plugin helps you to get shipping rates from DHL APIs based on product weight, postcode, and other relevant details. Based on the postal codes and other parameters, all available shipping services along with the rates are listed for the customers to choose from.
In addition to this, you can show the estimated delivery date on the Checkout page, show breakdown charges, show DHL Account rates, and much more!
ELEX WooCommerce DHL Plugin (Previously known as XAdapter WooCommerce DHL Plugin) now becomes an OFFICIAL DHL PARTNER!
Access DHL Express Real-time Rates
Based on the product weight, box dimensions, shipping destination, etc., this plugin fetches DHL postage rates for both domestic and international shipping services.
Show Breakdown Charges
You can show breakdown charges of shipping rates returned from DHL Express in the cart and checkout pages. This breakdown may include Weight charges, DHL Handling charges, and so on.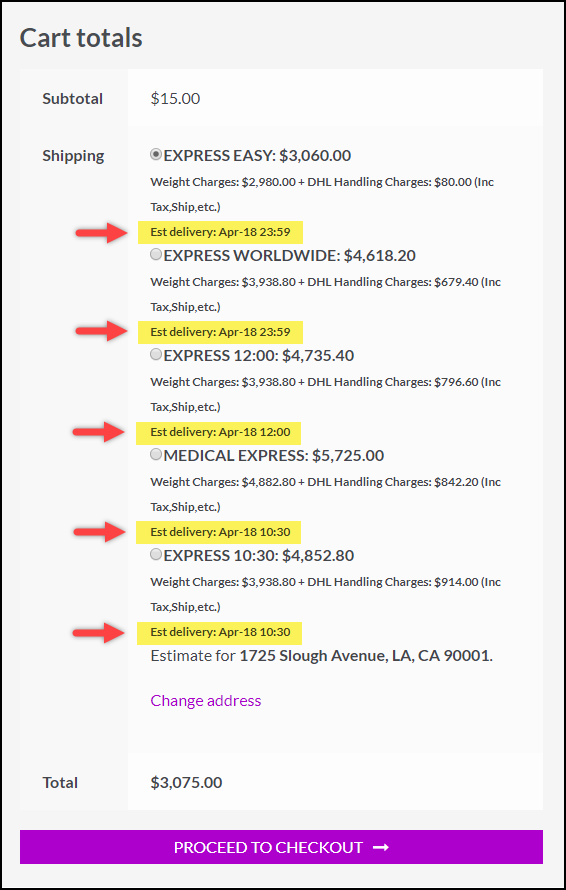 Show Estimated Delivery Date
Show your customers when they expect their package by showing an estimated delivery date on the cart and checkout pages.
Set Currency Conversion Rate
The plugin has an inbuilt currency conversion mechanism, that converts your local currency to DHL's currency. You need to just specify the conversion rate and the plugin will calculate the amount accordingly.
Show DHL Account Rates
You can use the standard DHL rates or choose to opt for DHL account rates as well. Once enabled, you'll seamlessly receive DHL account rates on your WooCommerce store.
Adjust Shipping Prices
Configure handling fees for each shipping service, in terms of amount or a percentage value. A positive value results in markup, whereas a negative value results in a discount.
What does the Premium version offer?
The premium version of the ELEX WooCommerce DHL plugin features print labels using DHL Express, DHL Paket & DHL eCommerce.
DHL Express Premium Features:
Print shipping label with Postage.
Return Label.
Commercial Invoice.
Archive Air Waybill.
Create & Delete shipments in Bulk.
Use the paperless trade feature and get a commercial invoice from DHL.
Auto Shipment Tracking: Tracking info will be available to the customer while generating the label.
Box packing with DHL boxes and Custom boxes.
Enable/disable, edit the names of services and add handling costs to shipping services.
DHL Paket Premium Features:
Print shipping label with Postage.
Create a Manifest.
Return Label.
Cash on Delivery.
Shipment Tracking.
Bulk Creation/Deletion of shipments.
DHL Europaket Compatibility.
Packstation Compatibility.
Box Packing using predefined box sizes available for DHL Paket.
DHL eCommerce Premium Features:
Print shipping label with Postage.
Box Packing.
Diverse Range of Services.
Shipment Tracking.
About DHL Express
DHL Express is a division of the German logistics company Deutsche Post DHL providing international courier, parcel, and express mail services. Deutsche Post DHL is the world's largest logistics company operating around the world, particularly in sea and air mail.
The Deutsche Post AG, operating under the trade name Deutsche Post DHL Group, is a German postal service and international courier service company, the world's largest. The postal division delivers 59 million letters each day in Germany, making it Europe's largest such company. The Express division (DHL) provides services in 220 countries.
About DHL Paket
DHL Paket is an easy, affordable, fast, and reliable shipping service to over 220 countries around the world.
About DHL eCommerce
DHL eCommerce provides standard domestic and international parcel pick-up, delivery, and return solutions for business customers as well as e-commerce logistics and facilitation services.
We only allow verified purchased customers to write reviews.
Only logged in customers who have purchased this product may leave a review.
Frequently Asked Questions
The DHL Express module will work if your country has the DHL Express service. You can contact the DHL Express team and open an account and get the API credentials from them.
Yes, the plugin is capable of retrieving your account-specific rates.
After you have purchased the Premium plugin, you have to delete the basic version and then install the premium. Note that the settings in the basic version will not be impacted and the data will be retained.
Yes, the plugin has a setting to enable this.
If you are facing any issues, you can raise a support ticket by choosing "Query Category" as "Issue with the Free Plugin". Our support team will contact you based on the priority.
You can go to the "My Account" section of the website and download the latest version from the "Downloads" tab.
There is no trial period for our free versions. You have a lifetime of usage.