ELEX Amazon Payments Gateway for WooCommerce (Free)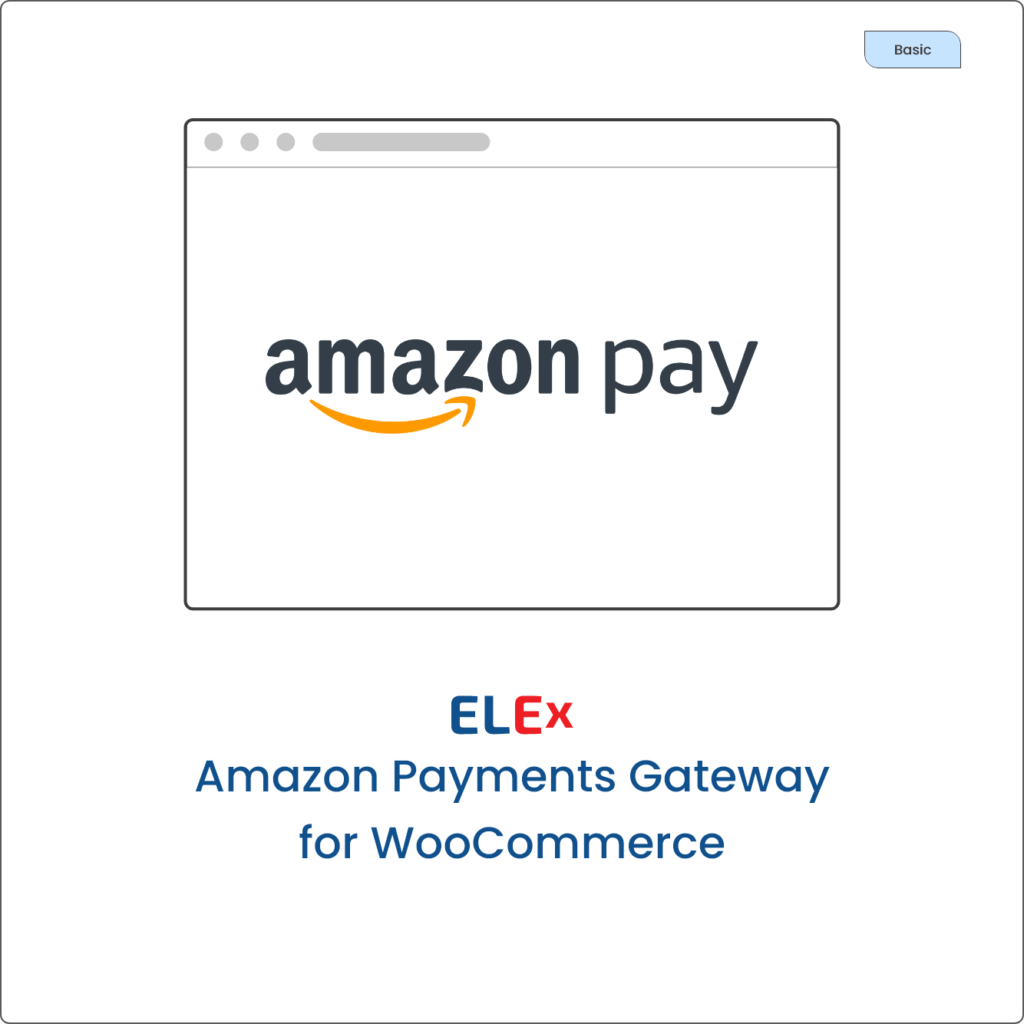 With this plugin, you can easily accept Amazon payments in your WooCommerce store. A custom Amazon pay button will be placed on the Checkout page for payments.
In the Premium version, you can add an Amazon Pay button on the Cart page, capture payments, process refunds, and customize the look and feel of the Amazon Pay button. You also get an Overview page, that shows all your Amazon Pay transactions.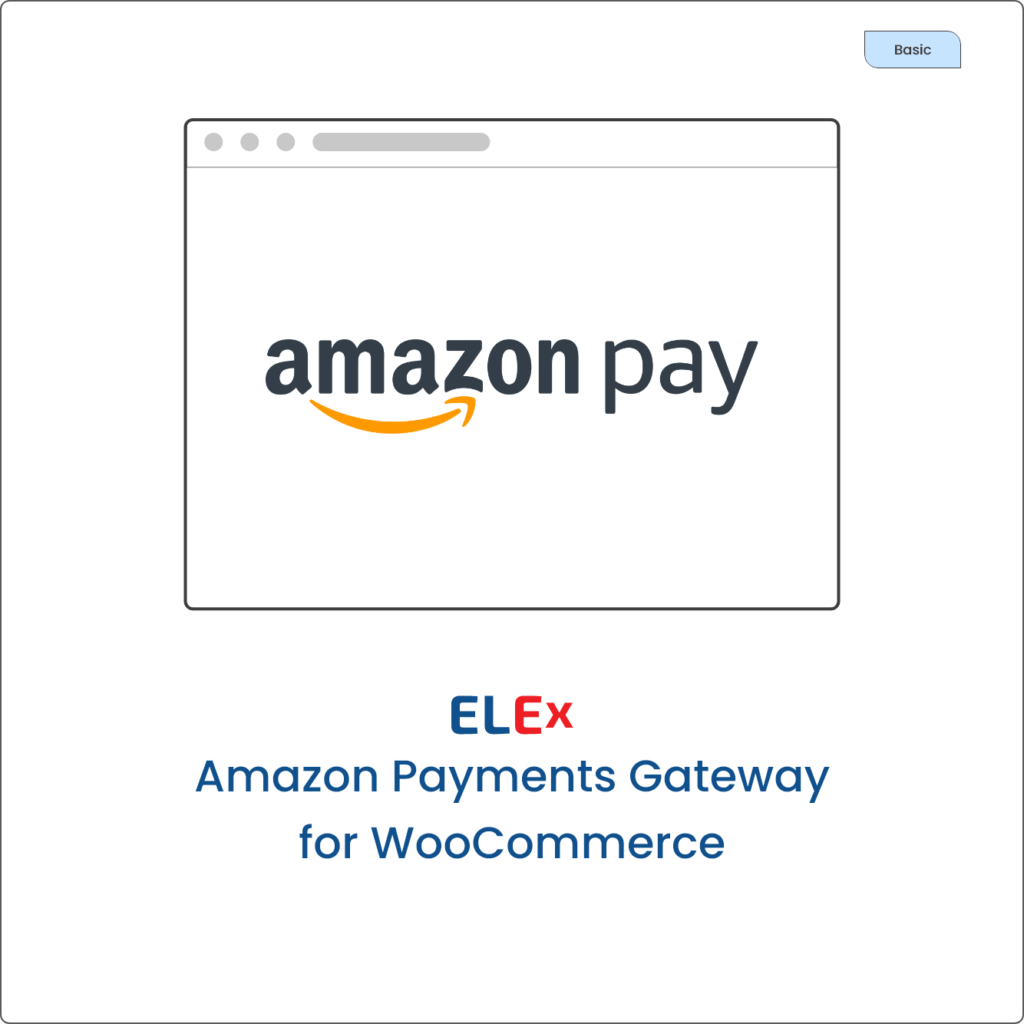 You are protected by our 30 Day Money Back Guarantee.
Each installation of the plugin will require a license key.
The license entitles 1 year of support & updates.
EasyPost charges are applicable.
100% Money Back Guarantee.
If you are not fully satisfied with our product, We do 30 days full refund. Learn more on Refund Policy.
Do you want to accept Amazon Payments on your website? Our ELEX Amazon Payments Gateway for WooCommerce (Free Version) lets you accept Amazon payments directly on your website via Amazon Pay.
With this plugin, Pay with Amazon your customers can check out of your store with payment and shipping information already stored in their Amazon account. When you add Pay with Amazon, anyone who has an Amazon account is ready to buy on your site!
This plugin is the basic version of ELEX Amazon Payments Gateway for WooCommerce.
About Amazon Pay
Amazon Pay is an online payment processing service that is owned by Amazon.com, Inc. Launched in 2007, Amazon Pay uses the consumer base of Amazon.com and focuses on giving users the option to pay with their Amazon accounts on external merchant websites.
Amazon Pay provides the option to purchase goods and services from websites and mobile apps using the addresses and payment methods stored in the Amazon account, such as credit cards or direct debit bank accounts.
Amazon Pay offers a familiar and convenient buying experience that can help your customers spend more time shopping and less time checking out. Amazon Pay is used by large and small companies. From years of shopping safely with Amazon, customers trust their personal information will remain secure and know many transactions are covered by the Amazon A-to-Z Guarantee. Businesses have the reassurance of our advanced fraud protection and payment protection policy.
Smooth and Easy Payment Gateway
Your customers can use the card stored in their Amazon Pay account to make smooth payments on your WooCommerce store. A separate, interactive Amazon Pay button is placed on the Checkout page to make the payments.
Add a Custom Seller Policy
You can add a custom Seller Policy on the Checkout review page. This setting can be used to give special instructions to customers.
WPML Compatible
The plugin is WPML compatible and supports the following languages:
French
German (Deutschland)
Italian
Spanish Great products, very flexible, intuitive UI, and also has many addon plugins to expand functionality. For the most part, works out of the box. Also agree with other reviews – email support is very good compared to competitors. Resolves issues quickly or at least answers questions adequately. Products and a company you can rely on. Ten stars! These plugins are superb and the support is LEGENDARY! Up to now, everything works like a charm. Glad I found this plugin! Also, customer support is lightning fast, impressed with the ELEXtensions team! Great, even for more complex stores… we have many different rules for different combinations and categories that did not work out of the box with only this plugin, but the customer service was great, they understood what we needed and recommended combining it with another of their plugin and now it does exactly what we needed! btw, this was the 3rd plugin we tried, the others didn't get close to providing this functionality! superb! This is one of the most complete and refined plugins we have in our online store. I found this solution by way of the review on google and now I'm leaving my own that hopefully also help others. ELEXtensions support team has class and manages the plugin to the smallest of details which guarantees a short time frame for your store to be up and running in case of any issue after you purchase the plugin. Overall great experience and… Thank you ELEXtensions for your professional support. They provided a great understanding of the issue I was experiencing and their advice was clear and solved the problem. This was in stark contrast to other plugin suppliers. I have no hesitation in recommending their products and I will certainly use them again. The plugin is fantastic, but the people behind it are excellent. They're able to provide speedy resolutions to niggly issues and all they ask in return is a great review: well here it is! 🙂 My business heavily relies on my payment processors to function EVERY TIME someone wants to buy a product. These plug-ins are always up to date with the latest WooCommerce and WordPress platforms. I never have issues with payments. I do not have to worry. The technical support is fast, reliable and very available. Great product. Easy to use and setup. Hallelujah – THIS Plugin works just fine PLUS I can actually chose wether I need the button to be on the cart site, checkout site or both. Also, I need to say that the customer service is absolutely accelent. Thank you! Prompt and professional support, I can only recommend the purchase of ELEXtensions plugins. I had a compatibility problem and they fixed it for me without any problems. good job!!!
We only allow verified purchased customers to write reviews.
Frequently Asked Questions
The plugin will work wherever Amazon provides a seller account for the payment. The supported currencies are Euro (EUR), Pound Sterling (GBP), and US Dollars (USD).
There is no trial period for our free versions. You have a lifetime of usage.
If you are facing any issues, you can raise a support ticket by choosing "Query Category" as "Issue with the Free Plugin". Our support team will contact you based on the priority.
You can go to the "My Account" section of the website and download the latest version from the "Downloads" tab.
After you have purchased the Premium plugin, you have to delete the basic version and then install the premium. Note that the settings in the basic version will not be impacted and the data will be retained.