Keeping up with your customer emails may be frustrating, tedious, and exhausting. It's easy to accumulate a good chunk of unopened emails. With countless emails cluttering up your inbox on a daily basis, completely clearing your inbox can feel practically unattainable. You must organize emails in order to bring some organization to the madness. Each and every year, day in and day out, businesses spend so much time reading, drafting, forwarding, filtering, labeling, archiving, and responding to emails. Simple changes in your email and customer communication systems can have a tremendous impact on your team's overall productivity. When you have the right tools at your disposal, in less time, you can accomplish a lot more. To help you level up your email communication system, we have compiled all of our easiest and most convenient email management tips into one article.
How to take control of your email?
Let's have a look at some tips and tools for taking back control of your email inbox over Gmail and Outlook.
Gmail
Personalize your Inbox Layout with labels
You can alter the look of your inbox in Gmail. Labels can be used in Gmail to sort and prioritize mails. Labels include categories like Inbox, Starred, Important, Trash, and Drafts which is a wonderful way to keep your inbox organized. You can also add many Labels to an email, which is really helpful. You also have the ability to color-code your email categories. Google has already done an amazing job by sorting emails into primary, social, and promotions. By creating a simple filter you can apply customized labels and sort emails as soon as they hit your inbox.
Use layouts to highlight more important emails
Positioning important emails near the top of your inbox, such as those labeled important or starred, is an excellent approach to keep it structured. In Gmail, you have six options for organizing your inbox: default (displays the emails in the standard format i.e. order in which they were received), important first (Gmail uses its own algorithm to identify which emails are most significant, and it marks them with a yellow sign and shows them before all other emails), unread first (Unread emails appear above new emails when this option is enabled), starred first (Everything else is displayed after the emails that are marked as starred), priority first (Gmail analyzes the types of emails you open most frequently and ranks them accordingly), and multiple inboxes (You can add up to five unique sections in addition to your inbox, such as starred items, drafts, and so on), of which only the default, priority first, and multiple inboxes can be customized.
Email sorting
You can easily create a filter that will allow you to redirect comparatively less important emails into other folders. Email filtering in Gmail is really powerful. Emails can be filtered based on the subject, source, receiver, message, and other factors. You can tell Gmail what to do with them after you have set up the filters: categorize and prioritize them. You can define criteria and actions, and Gmail will automatically deal with any emails that satisfy the criteria.
Outlook
Folders
Folders are a terrific way to keep your emails organized and accessible. Using Outlook folders, you can organize your email by subject or category, which is great for finding what you need in your inbox quickly. All emails will be directed to your inbox, and once you've dealt with them, they will be moved to the appropriate folder. Alternatively, you may automatically route incoming emails to the appropriate folder based on the email subject or source. You may create folders in Outlook to better manage your emails, such as Drafts, Sent Mail, Priority, Spam, Clients, Suppliers, Collaborations, and so on.
Color code your inbox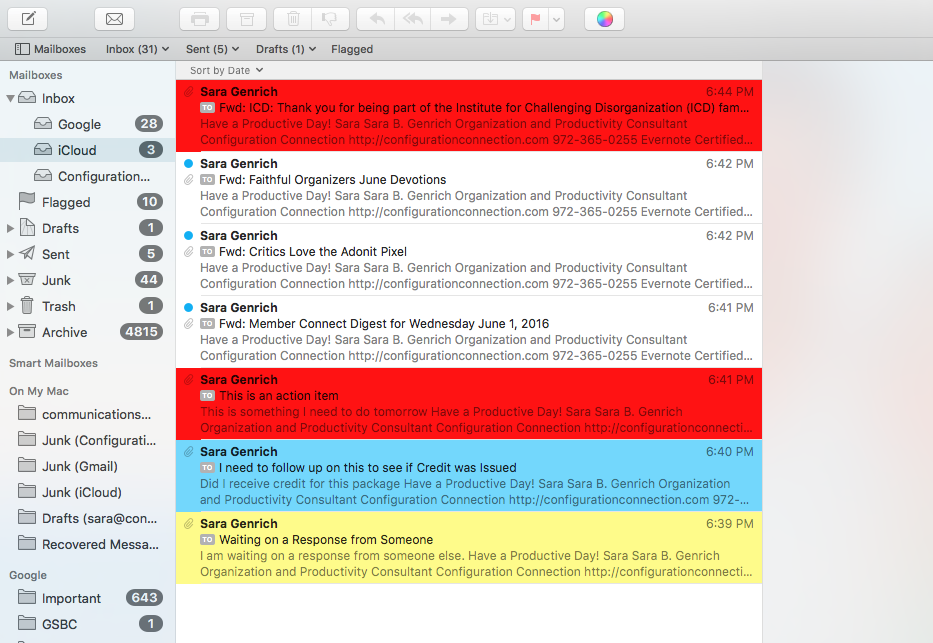 To save time trying to find specific emails in your inbox, color-code emails based on the subject. This strategy will assist you in efficiently identifying various email categories. 
Delegate Important Mail Using the Focus Inbox
Focus Inbox divides your inbox into two tabs: Focused and Other. You may effortlessly toggle between Focused Inbox and Other using the View option, allowing you to keep all of your important customer emails in one location. You may freely transfer emails between the two inboxes as required, and you can have all emails from specified senders automatically delivered to your Focused Inbox.
Basic Email Management Tips
No matter which platform you use for customer emails, these tips will help you streamline your communication process for sure.
Delete outdated emails that you wouldn't require
We're all guilty of not emptying out our inboxes unless absolutely necessary. However, you do not require that two-year-old expired discount code. Taking some time out on a regular basis to empty your inbox can greatly assist you in keeping up with the steady inflow of emails.
Unsubscribe
When you already have a ton of important emails to get back to, promotional emails just add to the clutter. You don't need black Friday deals in your business email, so unsubscribe right away.
Analyze if your communication strategy is working in your favor
Emails and especially support emails may go on forever with huge unnecessary time gaps. Make sure you are spending your time, energy, and resources in the right place and know when to shift to a more real-time communication option like call or skype.
Templates
You may find yourself sending the same emails over and over again. You can save time by creating email templates that you can use to send out emails rather than drafting the very same text over and again. To help you write emails faster, you can use tools like Gmail's Smart Compose and Smart Reply.
Organize Your Email Using These Tools
Outside the features provided by Gmail and Outlook, there are a lot of tools that can help you streamline your email communications. 
The tips that we've mentioned earlier are not something new or surprising. Everybody knows they should clear their inbox, and the idea of labeling, sorting, and organizing isn't rocket science. But if you really want to take control of your emails as a whole in the true meaning of it, WSDesk, the WordPress Helpdesk & Customer Support Ticket System Plugin from ELEX is exactly what you need. You can receive all customer emails, inquiries, issues, and comments in the form of tickets with this plugin. Emails from all your communication platforms like Gmail, Outlook, and even chat (in case you use WSChat) can be automatically converted into actionable, trackable tickets. Not only does this simplify and streamline your entire process of communication, but it also does not store your data on cloud storage thereby eliminating all possibilities of issues with storage. Unlimited emails (tickets) and unlimited agents are allowed along with auto filtering, canned responses, email automation and triggers, customer satisfaction score and agent performance score, and a lot more.
As mentioned above promotional emails can unnecessarily take up a lot of space in your inbox and your workload. Manually sitting and unsubscribing from each one of them seems unattainable. Unroll.me will display a list of all your subscription emails, allowing you to immediately unsubscribe from anything you no longer want. It's never been easier to keep your inbox in order. With just one swipe, you may unsubscribe from unnecessary emails and combine the emails you would like to receive. After you've finished unsubscribing from unnecessary emails, you may combine your favorite email subscriptions into a comprehensive digest known as 'The Rollup.' Rather than scrolling through your entire inbox, you can use The Rollup to quickly see the email subscriptions that are most valuable to you.
With these two tools, most of your email worries will automatically go away. Not only will having a specific strategy and the correct set of tools help organize and manage your emails but it will make the everyday battle of dealing with separate inboxes much easier and it will also let you focus on the more important things that will help your business. We hope you've picked up a few tips and tools for organizing your Gmail and Outlook inboxes so that dealing with your regular email flow isn't like putting out fires every day. If you have any questions regarding managing customer emails, please let us know in the comments section below.
Further Reading