Shipping items from one location to another appears to be rather simple to the majority of consumers. It just involved going to the closest shipping carrier, and they will take care of the rest of the process. Shipping is a completely different situation for eCommerce businesses. Now that customers may make purchases from just about anywhere in the country and even internationally, and have them delivered quickly, competition has gotten a lot tougher. Although most owners of eCommerce businesses would like to spend most of their time, energy, and resources developing a business model, drawing up innovative promotional strategies, and coming up with newer products, they frequently find themselves stuck in the complicated system of shipping and logistics.
In order to manage the delivery process in the face of growing customer requirements and competitive dynamics among eCommerce platforms, eCommerce businesses must choose a multi-carrier shipping solution provider. Successful eCommerce businesses can only afford and genuinely rely on a multi-carrier shipping solution to get their product deliveries completed in a timely manner. A multi-carrier shipping solution can cover more geographical areas than a single carrier system. Furthermore, an eCommerce store that uses a multi-carrier shipping solution is always prepared to limit risk by having backup choices in case of any failure or unforeseen issues during shipping.
What is multi-carrier shipping, and how does it work?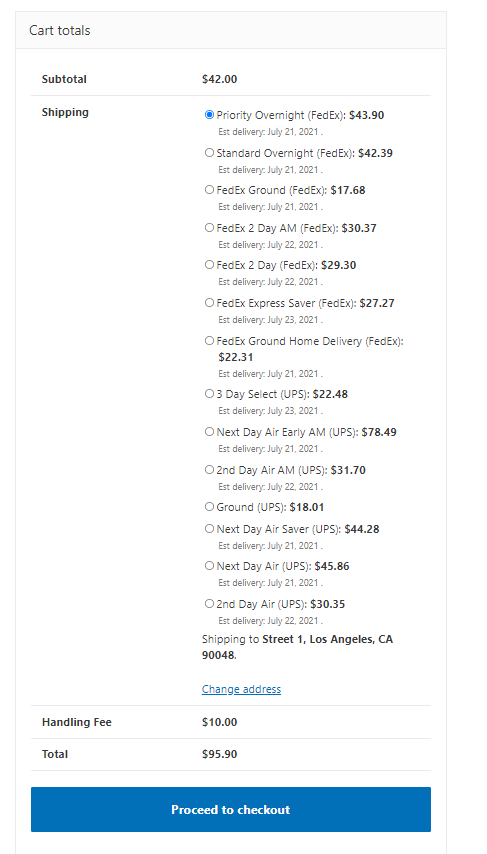 A multi-carrier shipping strategy entails employing the services of multiple shipping carriers for each shipment, based on your requirements. This includes the use of a multi-carrier shipping plugin that compares shipping costs and services from several shipping companies. The best available carrier can then be selected to deliver the shipment, and the same plugin is used to print shipping labels and track the shipping processes. Because carriers differ in their capabilities, none of them can meet all of your shipping requirements. A multi-carrier method diversifies your strategy and gives you the ability to fulfill orders more efficiently.
Previously, eCommerce businesses could get away by partnering with a single carrier to ship their products. It used to be advantageous to use multiple carriers because it allowed for better shipping cost negotiations and a standard shipping method. However, this increases the risks to emerging businesses today. Because carrier services are constantly changing, utilizing multiple shipping carriers as options as part of a multi-carrier shipping approach can put your company ahead of the competition by offering more competitive prices.
What are the advantages of implementing a multi-carrier shipping strategy?
It enables you to take advantage of each carrier's unique strengths
Different shipping carriers will offer different perks and cater to different shipment types, so limiting your business to a single carrier means you will only receive the most of one shipping carrier. Having diverse courier services to choose from allows you to provide the best possible client experience, guaranteeing that your packages arrive on time and at the most reasonable prices. Furthermore, several carriers excel in handling specific shipment types, so you'll want to make sure you have a wide range of professional couriers on hand at all times. Carriers that focus solely on large goods, for example, can help make sure that your packages are dealt with appropriately, delivered on time, and at a lower cost than ordinary carriers.
It is less expensive
Some businesses believe that partnering with a single shipping carrier is the most straightforward and cost-effective approach to launch their eCommerce store. Because sales volume isn't high enough to think about employing more than one shipping service, the single-carrier approach makes sense in the early stages of the development process. However, this becomes a problem when online sales increase and business owners refuse to update their shipping procedures. Companies can efficiently compare costs for different considerations that impact shipping costs with a multi-carrier shipping solution, discovering the best pricing among several carriers. When you use multiple carrier services, you can choose the most cost-effective shipping option for each parcel.
It enhances customer service and shipping experiences
Shipping carriers can have rough patches, therefore having a multi-carrier strategy allows you to choose an ideal carrier based on considerations such as pricing and levels of service. This gives your company an advantage since it gives you more negotiation power and the ability to hold shipping carriers answerable. Because shipping carriers are aware of this, they will make every effort to make you win their trust. You'll notice whenever a certain shipping carrier isn't reaching your desired quality of service if you use multi-carrier shipping. You'll be able to hold shipping carriers liable if they don't meet your standards, and you'll be ready to share evidence to reassess shipping rates. Ultimately, you'll be able to incorporate multiple carriers into your shipping strategy in order to get the best rates and service options.
Expectations and Demands of Customers
Customers are increasingly demanding more shipping alternatives, quicker delivery, and on-demand availability as eCommerce grows. Customers increasingly expect to have the option to select either free shipping and same-day or next-day delivery at an additional cost, as well as the ability to tailor their delivery alternatives. Bringing on shipping carriers that can provide same-day delivery as well as free shipping is quickly becoming a must-have, with same-day deliveries slowly becoming the new normal. A multi-carrier shipping plan can help save the day in this situation.
ShipEngine – The best multi-carrier shipping carrier plugin for WooCommerce
ShipEngine is a multi-carrier shipping logistics leader. It offers an outstanding developer experience while allowing clients to shop rates, validate shipping addresses, print shipping labels, and much more. ELEX ShipEngine Multi-Carrier Shipping & Label Printing Plugin for WooCommerce is a multi-carrier shipping plugin for e-commerce websites, online stores, and marketplaces. The ShipEngine API is used to integrate shipping with several shipping carriers. It integrates with UPS and FedEx to provide multi-carrier shipments. The plugin effectively automates WooCommerce UPS and WooCommerce FedEx shipping by showing live shipping costs on the cart and checkout pages.
You can pay for postage and print shipping labels straight from your WooCommerce store using ShipEngine APIs. You can also use the plugin to inform your buyers how long it will take for their products to arrive at the delivery address they specified. When this option is activated, the estimated delivery dates will be presented on the cart and checkout pages depending on the data supplied by the API. The plugin's best feature is the ability to select multiple shipping services for each parcel if the order contains multiple packages.
Wrapping up
Now that we've discussed the advantages of having multiple carriers, it may seem intimidating if your company now only utilizes one. Multi-carrier shipping plugins should be considered if you want to drastically fast-track operations and expand into new market segments. They not only give you access to a larger eCommerce market, but they also give you a backup plan in case something goes wrong.  Because of its ability to compare shipping rates and services, a multi-carrier shipping plugin will help you save money on shipping by allowing you to select the ideal service at a competitive price. 
Further Reading