The expense of gaining new clients is 5x times more than holding your current client. Without a devoted client base, it will be hard for you to secure your advertising endeavors. Things being what they are, how might you cultivate client loyalty? And what will your clients get for being loyal? A straightforward solution is to run the best WooCommerce loyalty program.
While thinking about whether to execute a WooCommerce customer points system for your WooCommerce site, an inquiry that might be on top is, "Do loyalty programs truly boost deals?" 
The apt response is yes. 
75% of members are probably going to make another buy in the wake of getting an incentive. 
Luckily, with the assistance of the Loyalty points and rewards for the WooCommerce plugin, you can offer discounts and other exclusive offers as rewards for returning to your site. Setting it up takes only a couple of strides. Also, using ELEX WooCommerce Dynamic Pricing and Discounts Plugin, apply dynamic pricing and discounts across the product, combination, category, and cart.
In this blog, let us check out what loyalty rewards programs mean in online retail. Then, we will walk you through setting one up utilizing the Loyalty points and rewards for the WooCommerce plugin. How about we begin! 
WooCommerce ultimate points, rewards, and its benefits
WooCommerce ultimate points and rewards program is an act of recognizing a client's loyalty towards a brand and offering them selective points and WooCommerce rewards utilizing the WordPress loyalty program plugin. Client loyalty is significant for the accomplishment of a business. Thus, it is fundamental for storekeepers to recognize esteemed clients through steady endeavors to make their shopping experience remarkable. 
Loyalty is how likely a client is to turn into a recurrent purchaser at your online store. Since returning customers will generally spend more than new ones and are more affordable to market to, expanding your client loyalty can prompt genuine enhancements in your sole concern. 
Loyalty programs are valuable for clients. There are numerous approaches to empower brand loyalty. One technique you might know about is offering points or different awards to bring customers back. Here are only a couple of the advantages of carrying out WooCommerce rewards programs in your online store: 
Lift income and Increase client retention:
Rewards and loyalty programs give clients motivation to return and make more buys. With WordPress loyalty programs you can accomplish the greatest client retention in your store. When clients are retained, it will expand your income because loyal clients trust your brand and are willing to spend more than new clients. 
Draw in reference business:
Verbal exchange is probably the most ideal approach to advertise your business, and rewards give clients motivation to bring their mates. 
Make your advertising savvier financially:
Rewarding existing clients for purchasing more items and referring to new customers is incredibly practical. 
Better engagement:
Running the best WooCommerce loyalty programs will encourage better correspondence with your clients. You can request ideas and feedback to make changes to your store and make it more customer cordial. Clients will likewise be more sure to resolve their issues. So you can similarly plan your services. 
Draw in new leads:
When you are offering rewards and points in your store for reliability, it will expand the interest of new clients. When you provide points for sign-up, then you can add individuals to your email list. This way, without much of a stretch, you can boost your conversions. Loyal clients will transform into brand advocates and draw in new leads through reference programs. 
Keep your clients cheerful:
Glad clients go through more cash, which is incredible for your primary concern. 
When you include every one of these benefits, they make a convincing contention for utilizing this method. All you need is the right WordPress loyalty program plugin to begin. 
How to promote client loyalty? 
Client loyalty is the principal aspect of any association's development. It is unmistakably evident that you need to contribute bunches of time and exertion to acquire their trust and cultivate loyalty. In any case, you may ask, for what reason do I require loyal clients? 
Loyal clients are vital because they spend more on their buy than new clients. Furthermore, loyal clients can improve your income. 
Here are a couple of tips to improve client loyalty, 
Run the best WooCommerce loyalty program. 

Running a powerful reference program. 

Offer clients centric discounts. 

Don't conceal a single thing from them. More straightforwardness brings more trust. 

Engage with your clients better. 

Listen to your client's criticism. 

Provide the best

client service

. 
Incredible customer service improves loyalty
Incredible customer service improves loyalty.
Giving great client support is essential to winning the trust of your clients. When you provide them extraordinary experiences with your brand, that will leave a positive impact on them. Consequently, because they are fulfilled and glad, it will be simpler for them to be retained and ultimately become loyal to your business. 
We all need support after we purchase a new product or even before buying one. In every business, it is necessary to offer pre-sale and post-sale support to customers. Here are the best WordPress modules to support client care: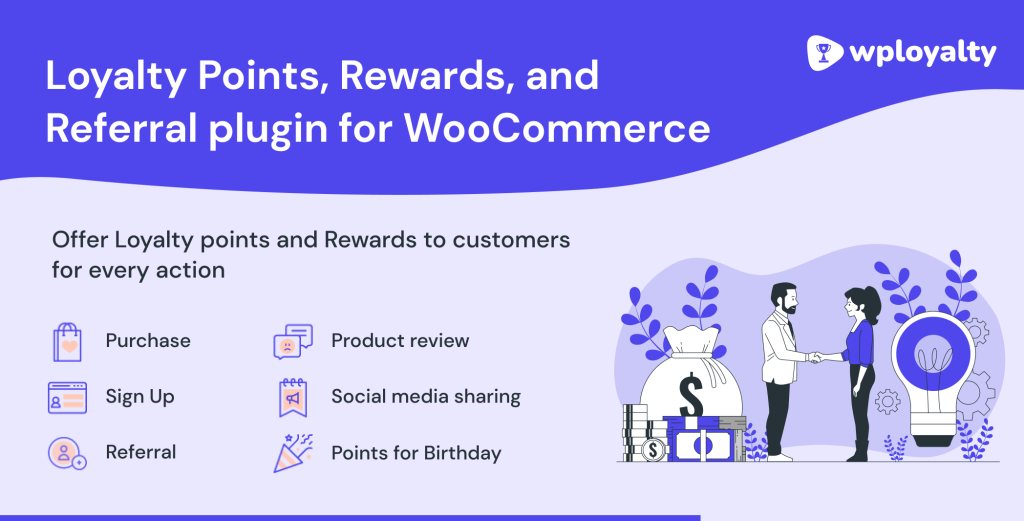 The plugin has Customer loyalty incentive schemes, WooCommerce referral systems, and other methods that can help you increase customer engagement and revenue. With this plugin, you can create dynamic WooCommerce customer loyalty programs. A customer loyalty points system can help your store gain more brand loyalists. Create referral programs for WooCommerce that reward your company. Make every interaction count and increase brand credibility through word of mouth.
Some of the key features:
The plugin is fully customizable. You can make it blend in with your store's logo.

Make it simple for customers to find your rewards.

Showcase the benefits of making a purchase, leaving a review, signing up, and referring others.

The design is mobile-friendly. There is no need to code. You can use the WordPress Customizer to make changes.
WSChat is a premium live chat plugin for WordPress and WooCommerce websites. It is a lightweight, intuitive, and AI-integrated automated chat response solution. It helps you to interact with customers promptly and convert their concerns to trackable tickets.
Some of the key features:
Provides limitless agents and limitless history of customer chats

Initiate Chat From Agent Side

Email notifications and agent alerts

Monitor website visitors in real-time

Numerous chat widget customization choices 

experience fascinating, and some more. 
WSDesk is a plugin with excellent features for providing excellent customer service. Tickets can be issued to receive all customer concerns, clarifications, and suggestions. WSDesk does not store any information in the cloud. Because the system saves all your data, you won't have to worry about data security.
Some of the key features:
Unlimited tickets & agents

Email filtering & blocking

Simple interface

Triggers & automation

Create agent signatures & reply templates
Why is a referral program necessary for your store?
Convert your loyal clients into brand advocates utilizing the WooCommerce referral points plugin. Offer them selective awards for each valid reference. Reference programs favor both the clients and storekeepers; do you want to know how?
Clients are bound to buy an item that was suggested to them by their friends. That is the power of referrals. Furthermore, for each valid reference, your loyal client gets a reward. How about we take a look at a couple of more reasons to understand why it is vital,
Gives an easy promotion.
Boosts your deals.
It exposes your business to a new set of audiences.
Consume almost nothing from your investment.
Elevates your ROI.
It increases your client retention.
Foster better client engagement.
How to create loyalty program & rewards in WooCommerce
The best part about the Loyalty Points and Rewards for WooCommerce plugin is that the rewards and loyalty point framework seamlessly integrates with the plugin. So there is no extra module that you need to pass by and design.
The best part about this plugin is that it puts all of these features under one roof!
Alright, so we should get into setting up your points and rewards system.
Step One – Add Plugin 
Choose the WooCommerce ultimate points and rewards plugin and download it. 

Sign in to your WooCommerce site and click the Add New Plugin button.
Step Two – Plugin Installation
After clicking the "add new plugin" button, it will redirect you to a page where you can download the plugin. Or upload the downloaded zip file of the plugin to complete installation.
Step Three – Complete Installation
When you click the "upload plugin" button, you are provided with an alternative to choose the downloaded zip file of the plugin and launch it.
Step Four – Plugin Activation 
When you install the plugin, you need to enter the permit key of the product and click the "Activate Plugin" button.
Presently the plugin is activated, and you are prepared to make energizing WooCommerce points and rewards referrals. 
Step Five – Loyalty Program Plugin Overview 
Once the plugin is activated, you can choose a loyalty program depending on your business needs. For instance, you can select "refer to a mate" and other such loyalty programs from the settings segment.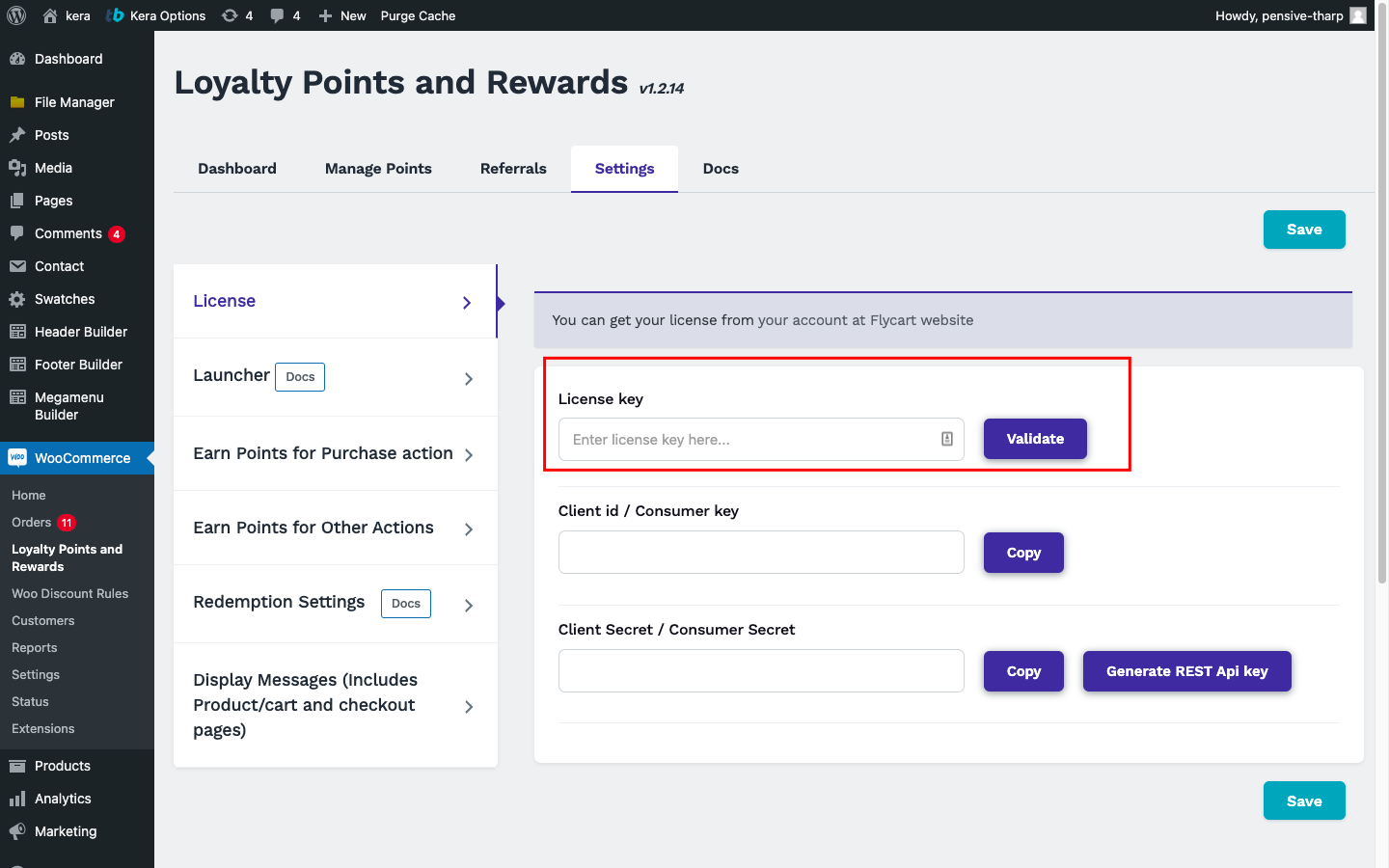 Step Six – Earn Points for Action 
You have the option of giving your clients reward points based on other actions like signing up and leaving a review for your business. You can also send custom messages to your clients along with the reward points once they sign up or leave a review.
When this earn points for another action is empowered, the client who signs up will be provided 50 points. You can fix the reward points for sign up according to your desire. A tweaked message can be conveyed to the client after they sign up. 
If a client receives a nominal discount for simple actions like signing up and leaving reviews for your products, they will want to come back and redeem those points, in turn buying more products.
Step Seven – Earn Points for Purchase 
"Earn points for Purchase" is one of the oldest tricks in the book. Whenever your client makes a purchase, they earn some points to redeem in their next purchase.
You can customize the parameters upon which you want to offer these points to your customer.
Step Eight – Points Redemption 
Here you can customize how the customer will be able to redeem the points that they have earned. You can set the minimum and maximum discount that one can receive with the reward points. You can also set the minimum and maximum amount that the customer has to spend to redeem the points earned.
When customers receive discounts for signing up, referring products to people, leaving reviews for products, and making purchases, they will automatically be more motivated to keep coming back for more.
Step Nine – Customized Messages 
You can set customized messages that you want to display to your customer on the product page and checkout page that indicate the number of reward points or discounts they will receive when they make the purchase.
You can modify the message delivered to your client in the checkout window or on the item and cart page. 
Bonus tip: To become the first choice of customer
In the eCommerce business, competition is increasing with each passing minute. To stand out in the crowd, you need to provide some value to your customers for them to keep coming back for more. Loyalty points & rewards Launcher widget can do that for you.
Launcher Widget is a plugin "button" or "floating bar" incorporated on your site. The guests click on it to make associations with your special rewards in the WooCommerce store.
Model: Chatbot, Social media sharing button, and so forth
With a single click, guests can collaborate and associate with their favorite online stores.
Benefits
Help in acquiring new clients through reference 

Accomplish more clients with effective retention advertising 

Expands the profit in all angles 

Boost your client to drive repeat deals 

It helps increase your client conversion rate 
Build your Loyalty points & rewards Launcher button
Need to fabricate your exclusive WooCommerce loyalty point chat-like widget? It's all conceivable with the customization cycle where you can set your launcher button on your own by customizing templates, styles, appearance, and so forth.
Your clients will think that it's more alluring when there's an attractive launcher button in your online store. So, how about we begin customization!
Stage 1: 
You can begin the customization by clicking the "Customize" button in the launcher settings.
When you are in, you can see a bunch of choices available in the customize launcher area.
Stage 2: 
Launcher You can alter the content textual style, header background tone, text, and body background tone. And even add your logo on the header. You can likewise tweak the Launcher button all the more stunningly with this choice.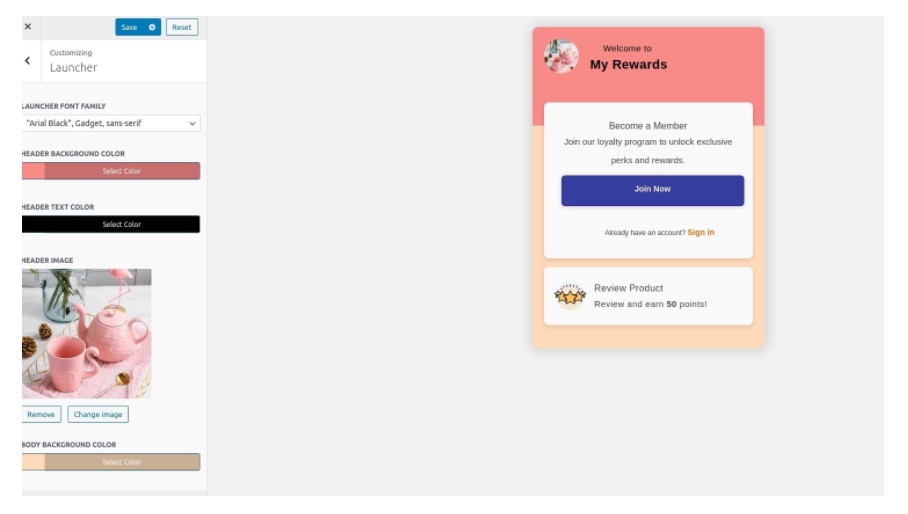 Stage 3: 
Appearance For Logged in User- At the start, click the "Header" button to set the Title. 
You can make various cards to dazzle your clients and keep them connected by showing awards in the WooCommerce store. 
Examples:
Birthday card – Enter the birth date to get prizes on your special day. 

Refer to a friend card – Gain points by alluding to a companion's circle. 
The essential arrangement of the above cards incorporates, 
Enable or disable the accessible card 

Pick the card display arrangement like first, second, and so forth.

You can likewise alter the Card heading, Card name, Button text, Button and Background tone, Button text tone, and Image of the current cards. 

Pre-constructed Shortcodes accelerate the handling of your layout.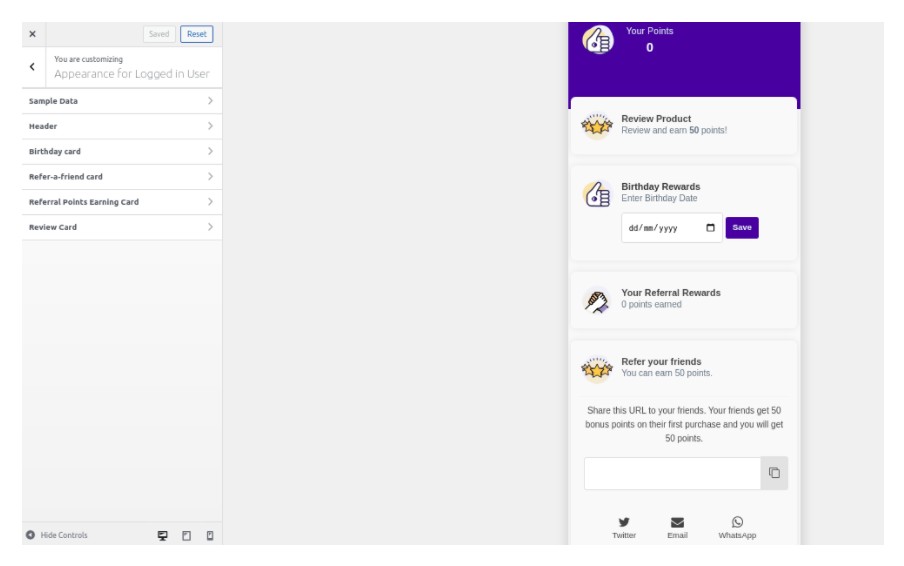 Stage 4: 
Appearance For Guest User- To get long-run loyal clients, set the welcome board more successfully. 

Header – Set the card caption

Sign-Up Card- Create an appealing Sign-up heading and content.

Review Card – Notify your clients that they can acquire points dependent on product reviews.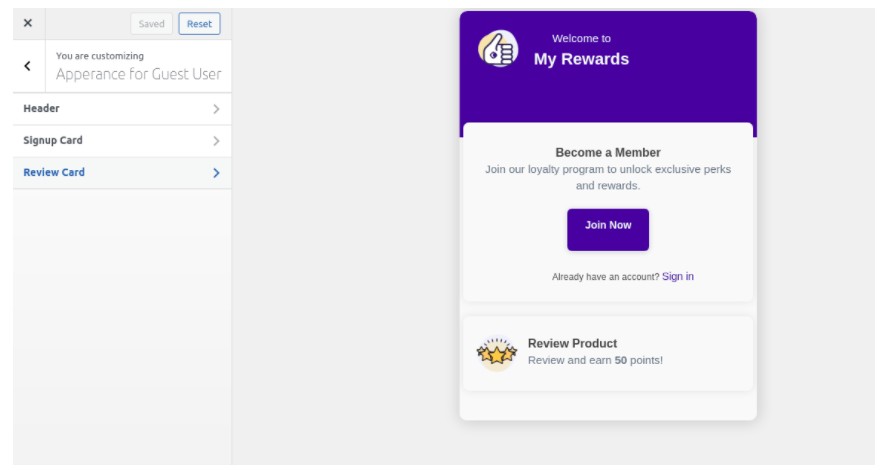 Stage 5: 
Custom style and Import/Export Customization settings 
Click the "Custom style" button – To apply the novel style by executing your Custom CSS code into it.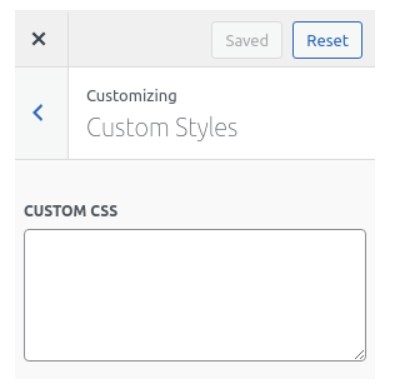 Image title: Custom CSS code
Furthermore, you can likewise import/export the entire customization settings by tapping on the "Export" or "Import" button.
To sum up!
For an excellent rewards plugin WooCommerce experience, you need to have WooCommerce loyalty rewards download. Loyalty points and Rewards for the WooCommerce plugin make the cycle as consistent as could be expected. Setting up and dealing with a loyalty program is a huge venture. It requires some investment and exertion. And, you need to gauge the volume of sales you can acquire from returning clients against the discounts you'll distribute as remunerations.
The business growth will repay you for the time and energy you have invested, and the discounts will pay for themselves.
WooCommerce doesn't give you the tools to make one. This Loyalty points and rewards for the WooCommerce plugin will.
Do you have any inquiries concerning devotion rewards programs? Leave them for us in the comments area underneath!
Author details: This is a guest post by Tharani Asokan. Tharani is a blogger and round-the-clock learner. Apart from blogging, she has years of experience writing content for social media promotion, explainer video scripts, project case studies, and various forms of content. When not busy writing, you can find her exploring movies, cooking, and of late discovering the amateur voice artist in her.