What can we help you with?
WooCommerce Shipment Tracking using EasyPost UPS, USPS & FedEx Shipping Plugin
EasyPost offers a multi-carrier shipping API that offers instant access to popular shipping carriers like FedEx, UPS, USPS, etc. With the help of ELEX EasyPost Shipping plugin, you can easily integrate the services of FedEx, UPS and USPS to your WooCommerce store. In addition to displaying live shipping rates of their services, you can also print shipping labels, automate box packing and provide tracking information to customers. In this article, we will specifically look into the process of managing WooCommerce shipment tracking with the help of ELEX EasyPost UPS, USPS and FedEx shipping plugin.
When you generate a shipment label of one of the supported carriers using the EasyPost plugin, a tracking code will be automatically generated. You can pass on this tracking code to customers to provide them live tracking of their shipments.
The tracking code will be added to the order notes, which will provide visibility on the store admin level.
The tracking code can also be added to the order completion email. For this, you need to enable order completion emails in your email settings.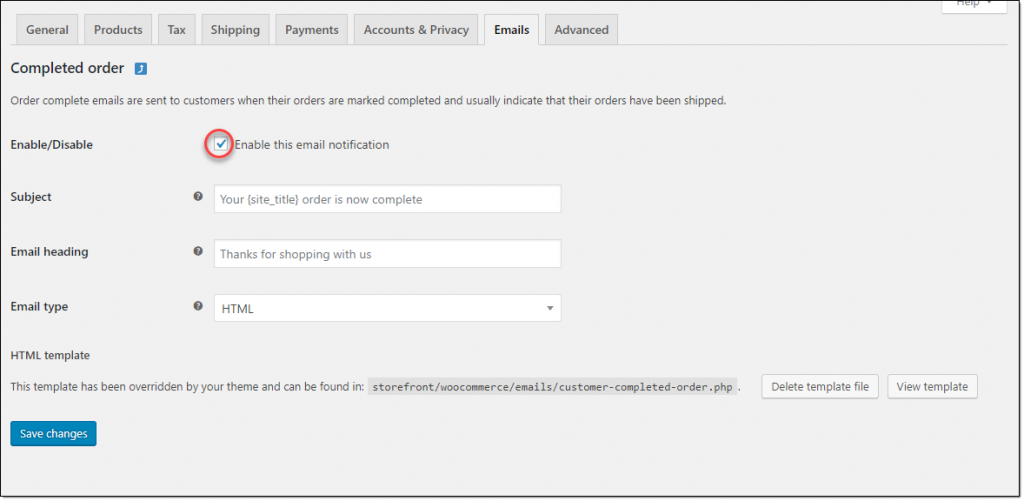 Once this is enabled, when you change the order status to completed, the plugin inserts the tracking code in the order completion email.
Customers will also be able to view the tracking details from the orders section of their My Account page as well.
Benefits of providing shipment tracking to customers
According to several studies, large percentage of eCommerce customers consider shipment tracking as an important aspect of their experience with an online shop. So, WooCommerce store owners need to consider shipment tracking as an important part of their store strategy. Though it will be customers who are the primary beneficiaries of this feature, as a store owner, you will also find several benefits in offering shipment tracking through your online store. Here is a quick look at some of the benefits that shipment tracking can offer to you as a store owner.
Encourage repeat purchases
When you provide the best experience to customers repeatedly, chances are more for them to return to your store. This would mean more purchases or more opportunities to showcase your other products.
Avoid calls regarding shipment status
When customers have made an order in your store, a lot of them would be keen to know the status of the shipment. Chances are high that they will repeatedly contact you to get an idea of the delivery status. With live shipment tracking, you can avoid such inquiries, as the information is made readily available to customers.
Your company's reputation will improve
Providing shipment tracking to customers will help to create a better perception of your brand. Your customers will perceive your store as a dependable and trustworthy option for continued purchases.
Connect with customers more effectively
Providing multiple updates of shipment status might open more opportunities to contact with your customers. You can contact them more through advanced notifications, texts, or emails. You can include your branding in all these communication channels to improve your brand recognition.
Improved efficiency
You can achieve better operational efficiency with live shipment tracking. This is particularly important when tracking return shipments. You can manage the warehouse logistics better with clear ideas on the specific requirements. Moreover, real-time tracking with multiple checkpoints helps you be more aware of the gaps in your fulfillment process. For example, you can find out the reasons for delayed shipments more effectively when there is an end to end tracking. Overall, you will be more efficient in managing the entire fulfillment process and that will reflect on customer satisfaction.
Fix issues more easily
There will be several times when you have to change your fulfillment plans due to unexpected circumstances or delays. In such cases, proper shipment tracking can be a big help. You will be able to know exactly where to contact to reroute a package or to provide a specific delivery instruction.
Better reporting options
As an online business, you need to consistently improve your service quality. With shipment tracking, you will be able to create robust reports customized using your tracking data. This would enable you to identify flaws and improve the process.
Features of ELEX EasyPost Shipping plugin
The plugin helps you integrate the services of multiple shipping carriers to your WooCommerce store. Here is a quick look at some of the features of the plugin:
Helps to display multiple services and their live shipping rates of UPS, FedEx and USPS. You can also display the average shipping time of each of these services.
Make price adjustments to each of these services according to your specific requirements.
Generate and print shipping labels of carriers like UPS, FedEx and USPS.
Bulk label printing with the help of an add-on.
Automatically generate and email labels with an add-on.
Automate packaging with three options – pack items individually, pack into boxes with weight and dimensions, weight-based packing.
Enable EasyPost insurance with a single click. Customers can choose to include insurance with their order. From the customers who opt-in, 1% of the order value will be charged as premium for the insurance.
Checkout the documentation or try the live demo to understand more about the plugin.
For any queries, contact our support team.