What can we help you with?
How to Remove the WooCommerce Sale Price from Products in Bulk?
In this article, we will discuss how to bulk edit product sale prices using the ELEX WooCommerce Bulk Edit Plugin.
Now, let's look at the process of bulk editing sale prices on your WooCommerce store.
You can watch the video tutorial below:
Step 1 – Filter the products from which you want to remove the sale price.
With the help of ELEX Bulk Edit Products, Prices & Attributes for the WooCommerce plugin, you can filter products based on a range of parameters. Use these powerful filters to selectively edit the sale price field of your products.
On your WordPress admin panel, navigate to WooCommerce > Bulk Edit Products to access the plugin settings.
Your specific needs can now be taken into account when filtering the products. Sort your products using the following criteria: Product Title, Regular Price, Product Title, Type, Categories, Attributes, and Attribute terms. After you've adjusted your filters, click Preview Filtered Products to see how they'll look.
If you want to select all the products in your store, leave all the fields blank.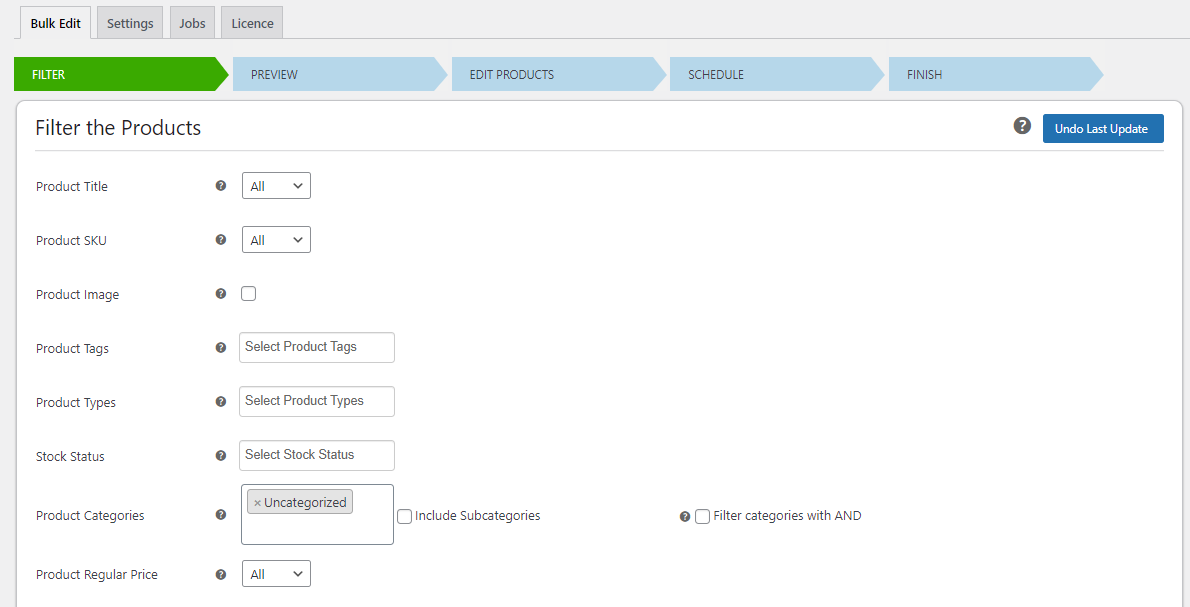 Step 2 – Preview the filtered products
The following screen will show you how you used the filters to choose products selectively. In the preview, the plugin displays the products with sale prices. Clicking the Back button will take you back to the previous screen if there are any problems with the product selection at this stage. Alternatively, clicking the Continue button will take you to the next step.
Step 3 – Edit Products
On the following screen, you can make the required edits. Scroll down to the Price section and update the Sale Price field by selecting the decreasing by percentage to "100" option for removing the sale price in bulk.

Results 
Once you completed the job then the plugin will remove the sale price from the products.
You can now see your product sale prices have been updated according to the specific requirement of your discount strategy. This way, you can use this plugin for different use cases even if you have more than 10000 products in your store. You can update products in a matter of minutes thanks to the plugin's powerful filtering features and quick processing.
If you are looking to set up dynamic pricing rules for your products based on several parameters, you can also check out the ELEX Dynamic Pricing and Discounts Plugin.
And, if you are running a wholesale store, and would like to offer user role-based prices for your customers, the ELEX Catalog Mode Plugin might help.
Contact our support team if you have any questions about how these plugins work or if you want to discuss a unique use case.