What can we help you with?
How to Print DHL Return Label using ELEX WooCommerce DHL Shipping Plugin?
Creating return shipments has become easier with DHL. If you have a WooCommerce store, then you can process return shipments and print DHL return labels easily with ELEX WooCommerce DHL Shipping Plugin.
You need to provide import DHL account number for processing return shipments. You can also provide custom return address if you are processing return shipments in a different warehouse. Additionally, this return address will be affected in the Archive Air Waybill (if any) and Commercial Invoice (if any) of the package.
Printing DHL Return Label
Follow the below steps to print DHL return labels.
1. Enabling Return Label setting in the plugin
Go to WooCommerce > Settings > Shipping > DHL Express > Label & Tracking.
Scroll down to find the Return Label setting. Enable the setting to reveal further settings.
If you are targeting your store to an international audience or have customers from outside the country where your shop is located, you need to provide your import account number provided by DHL in the Return Label Account Number setting.
Additionally, if you handle return shipments in a different warehouse whose address is different from your shipper address, you can enable the Return Address not same as Shipper Address checkbox and provide the new return shipment address.
Save the settings once you've configured them.
2. Enabling Shipment Tracking for Returns
Not just printing return labels, you can track the shipments as well. You can enable the Tracking setting to track the returning packages.
Read the Configuring Label and Tracking settings section of the product documentation to configure the tracking settings. You can also read How to track your Shipment section to know how customers and store admins can track shipments with the plugin.
3. Processing Return Shipment
You can only process return shipments after you have created a shipment and print shipping labels for the packages.
Open the desired order to process returns. Scroll down to find the DHL Express meta-box. Click the Process Return Shipment button to start process return shipments, as shown in the screenshot below.
Next, if there are multiple products in the order, you will be allowed to choose the desired product for return. Also, if there are multiple quantities of a product, you can choose to process a return for a selected number of products.
In the sample screenshot below, there is one unit of "Woo Logo Hoodie" product and two units of "Happy Ninja". Let us process return for only one unit of "Happy Ninja" product.
Click Generate Return Packages to proceed further.
You can choose the desired shipping service that you want to use for returning the package, add shipment content (for dangerous and fragile items) and shipper comments. Lastly, click on the Create Return Shipment button, as shown in the screenshot below.
Finally, a DHL tracking number for the return package is generated and displayed. You can either click on the DHL tracking number to be redirected to the DHL website or click on the Search icon next to the tracking number to view the status of the package in a pop-up window right away.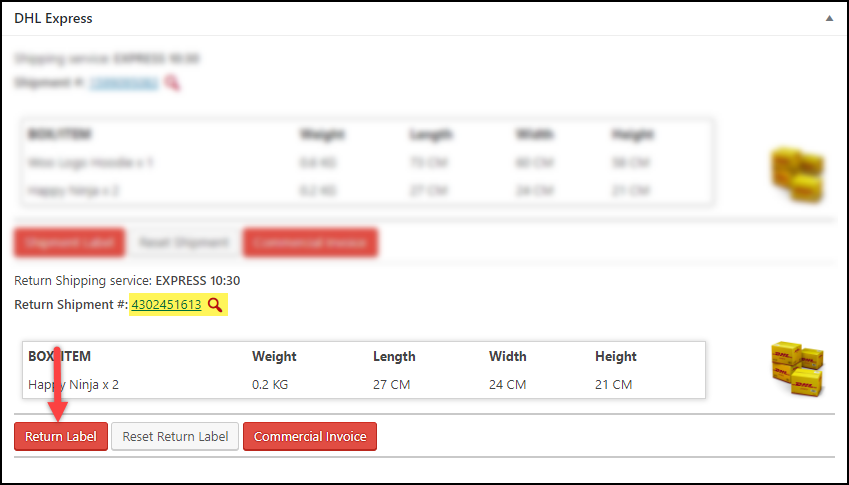 Click on the Return Label button to view the generated return label.
The below screenshot shows the DHL return labels generated for the sample product "Happy Ninja".
If your package needs a commercial invoice, it will be generated with the return label. You can click on the Commercial Invoice button to view it. A sample DHL commercial invoice is shown below.
Hence, in this way, you can print DHL Return Label with ELEX WooCommerce DHL Shipping Plugin.
---
To explore more details about the plugins, go check out ELEX WooCommerce DHL Express / eCommerce / Paket Shipping Plugin with Print Label.
Read the product documentation to understand the plugin, in detail. Or check out the knowledge base for more related articles.
You can also check out other WooCommerce and WordPress plugins in ELEX.