What can we help you with?
How to hide WooCommerce Shipping Methods with Custom Rules (with Video)
WooCommerce is a powerful suite of tools to enable e-commerce functionalities on your WordPress site. With WooCommerce, you can add your catalog of products, set taxes, shipping zones, and prices. If you run a WooCommerce business online, you know how critical shipping is to the customer experience. WooCommerce itself offers core shipping methods for Free Shipping, Flat Rate, and Local Pickup. What's more, third-party plugins exist for DHL, USPS, EasyPost and other shipping services. Creating custom to hide  WooCommerce Shipping Methods can help cut down shipping costs your business incurs.
What is "hiding WooCommerce shipping methods"?
WooCommerce comes with three shipping options that you can configure to your requirements. Flat Rate is when you charge customers a flat fee to deliver products. Local Pickup is for customers who wish to drive to a location to pick up their bought goods. Free Shipping is a great marketing trope that most businesses have used at least once.
Usually, the shipping costs in 'Free Shipping' are compensated with increasing the product price. If the price increase is too much, customers won't buy it and you might have to take the hit, financially. Hence it is important to figure out the specifics regarding shipping expenses when it comes to enabling 'Free Shipping'.
If a customer is ordering a product where 'Free Shipping' is applicable, he or she doesn't need to choose the other shipping methods. Incorrectly chosen shipping methods in your sales funnel can impact your overhead significantly. This is the reasoning behind hiding WooCommerce Shipping Methods with custom rules.
ELEX Hide WooCommerce Shipping Methods Plugin: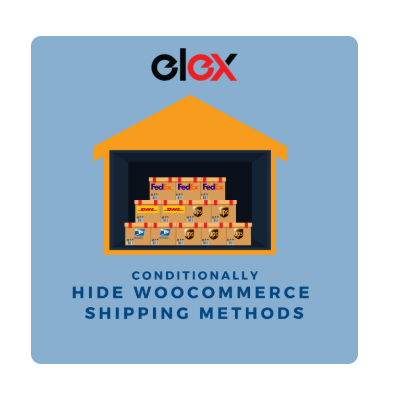 If you happen to use a third party shipping services plugin like ELEX EasyPost (FedEx, UPS & USPS) Shipping & Label Printing Plugin for WooCommerce hiding WooCommerce shipping methods becomes tougher. We recommend you use the newly released ELEX Hide WooCommerce Shipping Methods Plugin for setting custom shipping rules. Here are some ways the plugin can help you hide WooCommerce shipping methods. The plugin lets you set filters that act as triggers for hiding shipping methods by offering users a simple way to create and manage complex shipping rules. The first step in this process, after installation, is to set up your filters. The plugin hides WooCommerce shipping methods in the checkout page based on whether the product qualifies for the requirements you set.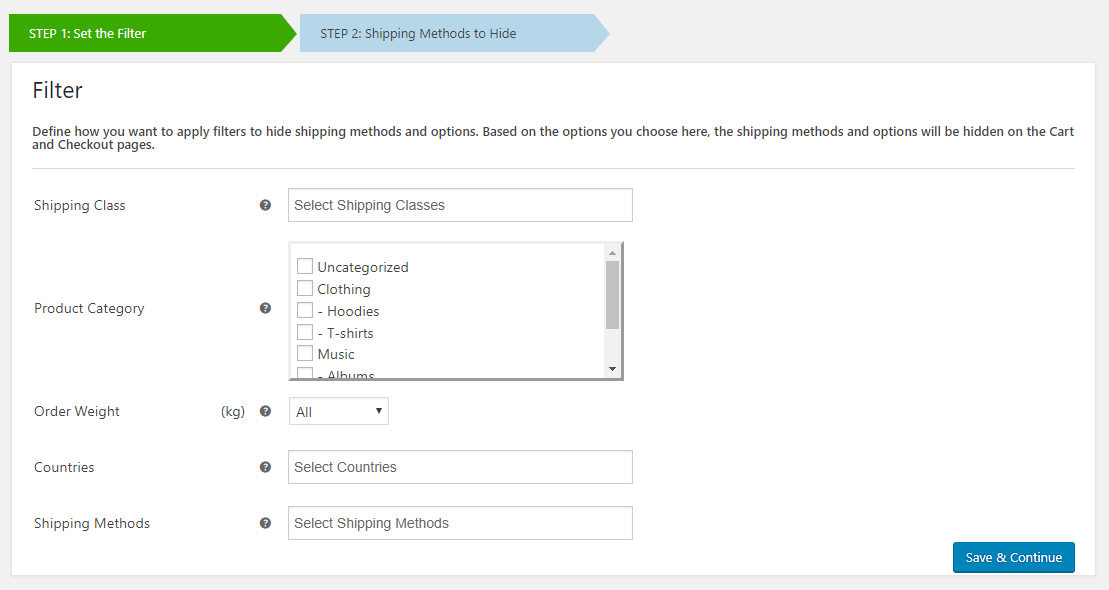 How to Hide WooCommerce Shipping Methods?
Check this video to understand the process of hiding specific shipping services using the ELEX Hide WooCommerce Shipping Methods plugin:
The Shipping Classes you set in WooCommerce can be used as a filter. So all your pre-existing Shipping Classes can be used as a filter to set shipping rules. Apart from this, you can set your internal product categories as filters as well. This lets you set shipping method rules for specific categories instead of each product.

You can further fine tune your hide shipping methods rule by adding filtering by order weight. We all know that order weight is an important aspect of calculating shipping costs. ELEX Hide WooCommerce Shipping Methods plugin lets you set rules for orders by their weight. With the plugin, you can accommodate different weight ranges as well as exact weights. So if the order weighs above a certain weight, the 'Free Shipping' method is hidden and 'Flat Rate' is shown. 
You can also choose to filter by the destination country. This becomes particularly useful when you're dealing with a lot of international orders and shipping platforms. You can also configure these rules based on zip code as well. Additionally, you can choose states from the countries you picked in the previous field. This lets you fine-tune your geographic filters even more. 

Once you have set up your filters we can move on to the next step: choosing which methods to hide. In addition to this, you can even set rules depending on which methods are actually available for that destination. Using this filter you can set up very useful rules, for instance, if a product qualifies for a shipping method, hide the others.
Here, you can set entire Shipping methods to be hidden using the Shipping Methods filter.

If you use third party shipping platforms like USPS, DHL, or EasyPost and have plugins installed for this, you can set specific services from these platforms to be hidden from the user. Consider a user wishes to order a product off of your site. While different shipping platforms have different policies and prices for products, there will be one service that is the most cost-effective. Using ELEX Hide WooCommerce Shipping Methods plugin you can hide the services based on which ones aren't optimal.
In Shipping Options, if you want to hide a specific service from your premium shipping method, you can add the HTML value of the desired shipping service in the respective field. You can add multiple services by separating them with commas.
To get the HTML value of a specific service, inspect the checkout page, and take the value. Check an example:
The below screenshot shows the HTML value "wf_easypost_id: Priority" for Priority Mail (USPS) service returned using ELEX WooCommerce EasyPost Shipping Plugin.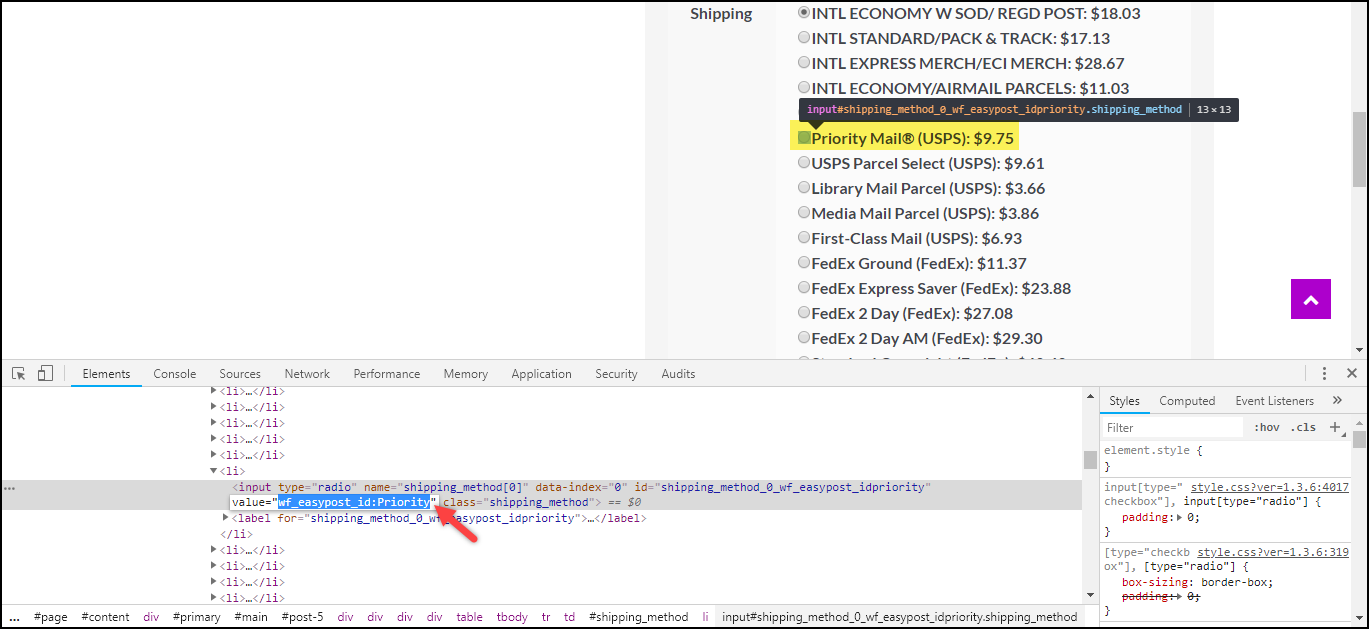 You can add the value in the Shipping Options filed.
The plugin lets you create unlimited such rules irrespective of how complex they may be. You can also manage these all these rules from one single window. It also all the parameters you've set a rule with. 

What really sets this plugin apart from the competition is the immense granularity it offers in terms of setting rules. For each of the filters, you can set one or more values. This means your hide WooCommerce shipping methods rule can be as complex as you need it to be. 
Conclusion:
The ELEX Hide WooCommerce Shipping Methods plugin is compatible with almost all themes and plugins available for WordPress. The flexibility of the plugin helps you fine tune your WooCommerce site, decreasing overhead and improving customer experience. You can find out more about the plugin, here.