What can we help you with?
How to Enable the Retail Ground Shipping Option on the USPS Shipping Plugin?
In this article, we will demonstrate how to display and enable the retail ground shipping option using the ELEX WooCommerce USPS Shipping Plugin with Shipment Tracking & Print Label.

Please Note – Effective July 10th, 2023, USPS has discontinued the individual services of USPS Retail Ground, Parcel Select Ground, and USPS First-Class Package. These services have been consolidated into a single service, henceforth referred to as Ground Advantage.  For more details, check out this article.
What is Retail Ground shipping?
USPS Retail Ground® service is a ground shipping product for packages, thick envelopes, and tubes (with a maximum weight of 70 pounds) that are not required to be mailed at First-Class Mail® service.
The delivery service standard for USPS Retail Ground has been upgraded effective August 1st, 2022 to 2-5 days. This applies to items shipped within the contiguous United States. The following Retail Ground items must be shipped by ground/surface transportation and will maintain the 2-8 day delivery standard:
Items containing

hazardous materials

Items containing live animals

Items shipped outside the contiguous United States (for example, Alaska, Hawaii, overseas military addresses)
Note: As per the norms of USPS, Retail Ground prices can be fetched through OFFLINE rates only instead of click-N-ship rates.
Steps to activate Retail Ground shipping on the USPS Shipping plugin:
Go to WooCommerce settings, then under the shipping section, click on 'USPS'. Once you access the settings page of USPS, choose "use OFFLINE rates"  for the field of Shipping rates as per the below-attached screenshot.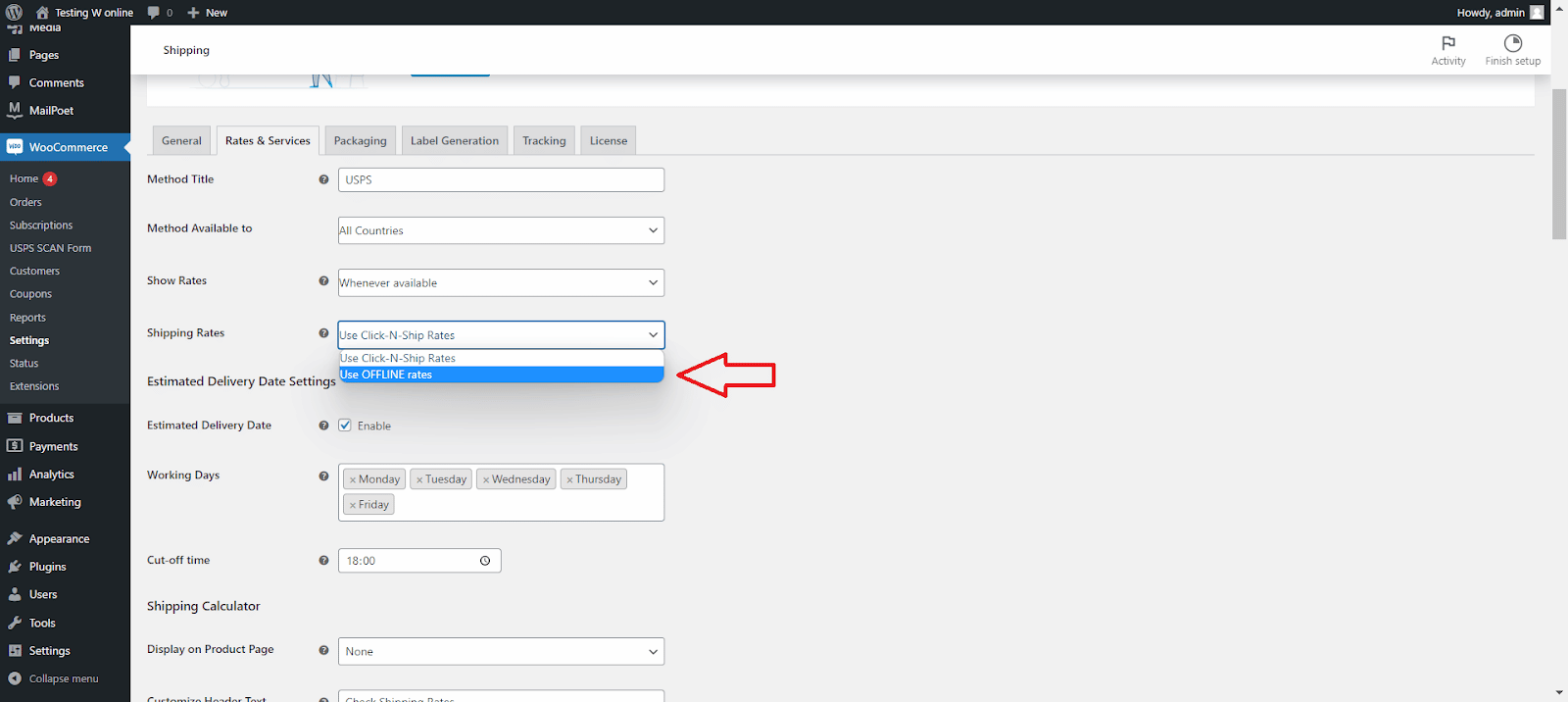 You can now compare the rates before and after the OFFLINE rates were activated.
Before activating the OFFLINE rates
After activating the OFFLINE rates
We hope this article has given you a clear idea of how to enable the retail ground shipping option on the USPS shipping plugin. More information about our USPS Shipping plugin is available on the product page.
For any queries, contact our support team.